Applying for a job can be scary; trust us – we know.
But that doesn't mean it needs to be confusing, too.
However, there's this one uneasy thought that puzzles job-seekers, especially first-timers.
"Resumes? Cover letters? Aren't they the same thing? How am I supposed to know what goes where?"
We get that a lot.
So, to help you cut down on confusion and get your job application right, we're going to talk about cover letters vs resumes and settle on the difference once and for all.
In this guide, you'll find out:
What the difference between a resume and a cover letter is;
What should be included in each document;
How to make sure your cover letter makes it to the top of the pile.
Let's dive right in!
Cover letter vs resume: what's the difference?
Upload & Check Your Resume
Drop your resume here or choose a file. PDF & DOCX only. Max 2MB file size.
So, how are a resume and a cover letter different?
While the purpose of both is to prove to the hiring manager that you have what it takes to get the job, they do so in two very different ways.
Basically, you can consider your resume to be a summary of your work and education experience, while your cover letter focuses on how this experience relates to this specific job.
Have you heard that saying in the beauty community that says your eyebrows should be sisters, not twins?
You can apply that same logic to your cover letter and resume.
These two documents should complement each other, not copy each other exactly.
One big difference we can name right off the bat is that pretty much every employer requires a resume for a job application, but not a cover letter.
However, including one always boosts your chances of success (unless the posting specifies that you shouldn't send one, of course).
Now then, to really understand what the difference between a cover letter and a resume is, we will take a quick look at what each of them is at its core.
Ready?
Let's go.
What is a resume? What does a resume include?
In short, a resume summarizes your work experience and educational background.
It's a detailed account of the jobs you've had, the schools you've attended and the degrees you got, any awards and certifications you might have, your skills, etc.
Most commonly, a resume is formatted as a list with bullet points. This makes the document easily scannable and eliminates fluff, which is perfect for a busy hiring manager.
Usually, you should write your resume in the third-person and be as clear and concise as possible, using few words and not going into too much unnecessary detail.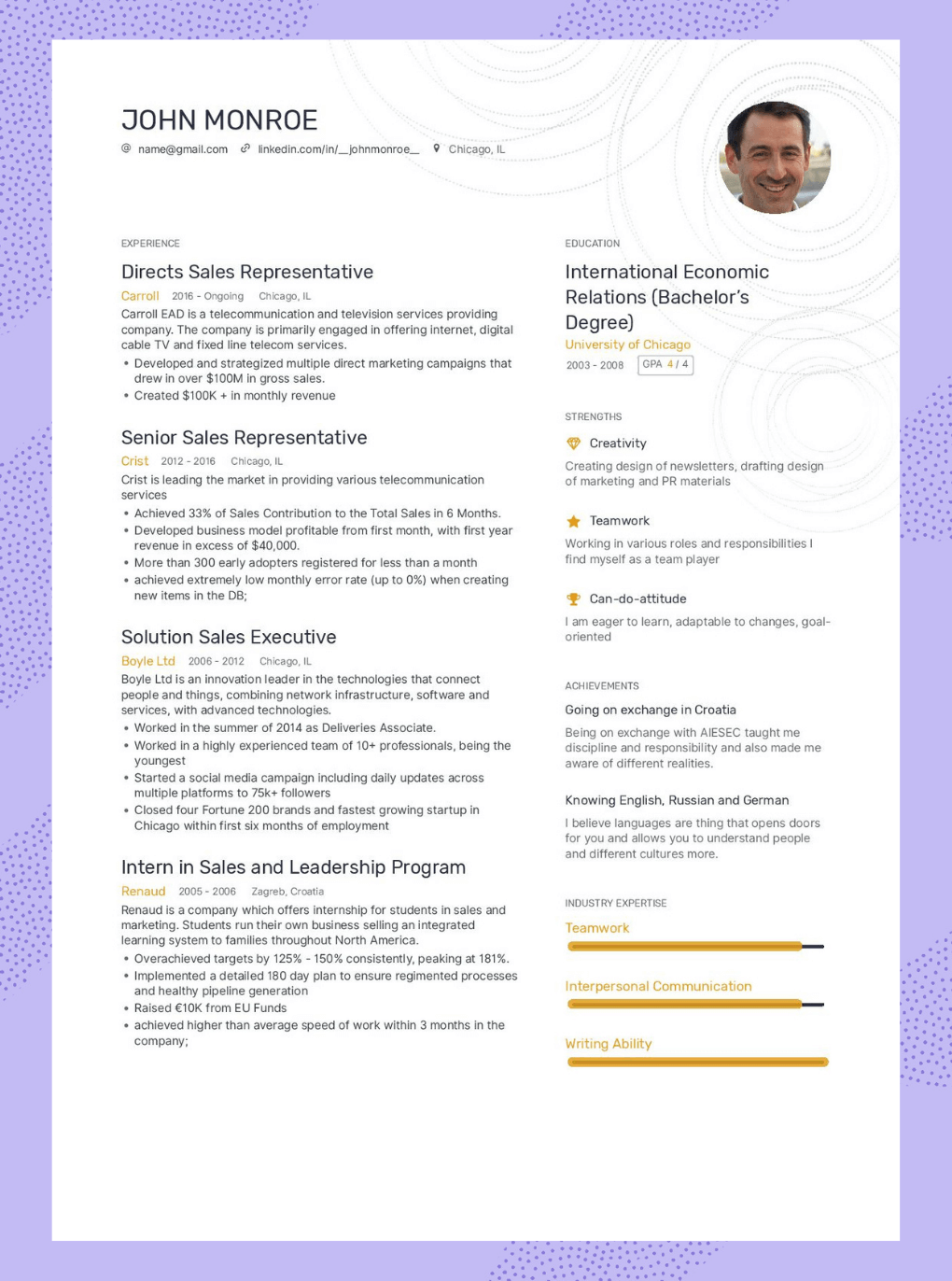 So, here's a list of what your resume should include:
Contact information
Summary, or objective
Work experience
Dates of employment
Education
Skills
Additional information, such as certificates, spoken languages, etc.
But what about cover letters?
What is a cover letter? What does a cover letter include?
A cover letter adds relevant context to your resume.
It highlights what your qualifications are and how they relate to the particular job you're applying for.
Basically, what a cover letter does is give the employer all the reasons why you are the best candidate for the position.
It shows off your skills and gives examples from your experiences to back them up.
You write a cover letter in a letter format, unsurprisingly. It consists of a greeting, three or four body paragraphs, and a closing. And, as opposed to the resume, you should use the first-person.
When writing your cover letter, keep in mind that employers are likely to refer to your resume to make the connection between the person and the job applicant.
So, seeing how they're probably going to be reading them at the same time, don't make your cover letter a carbon copy of your resume.
Rather, it should expand on the points you've made in your resume, giving real-life examples that showcase your skills and letting the employer know just how perfect you are for the job.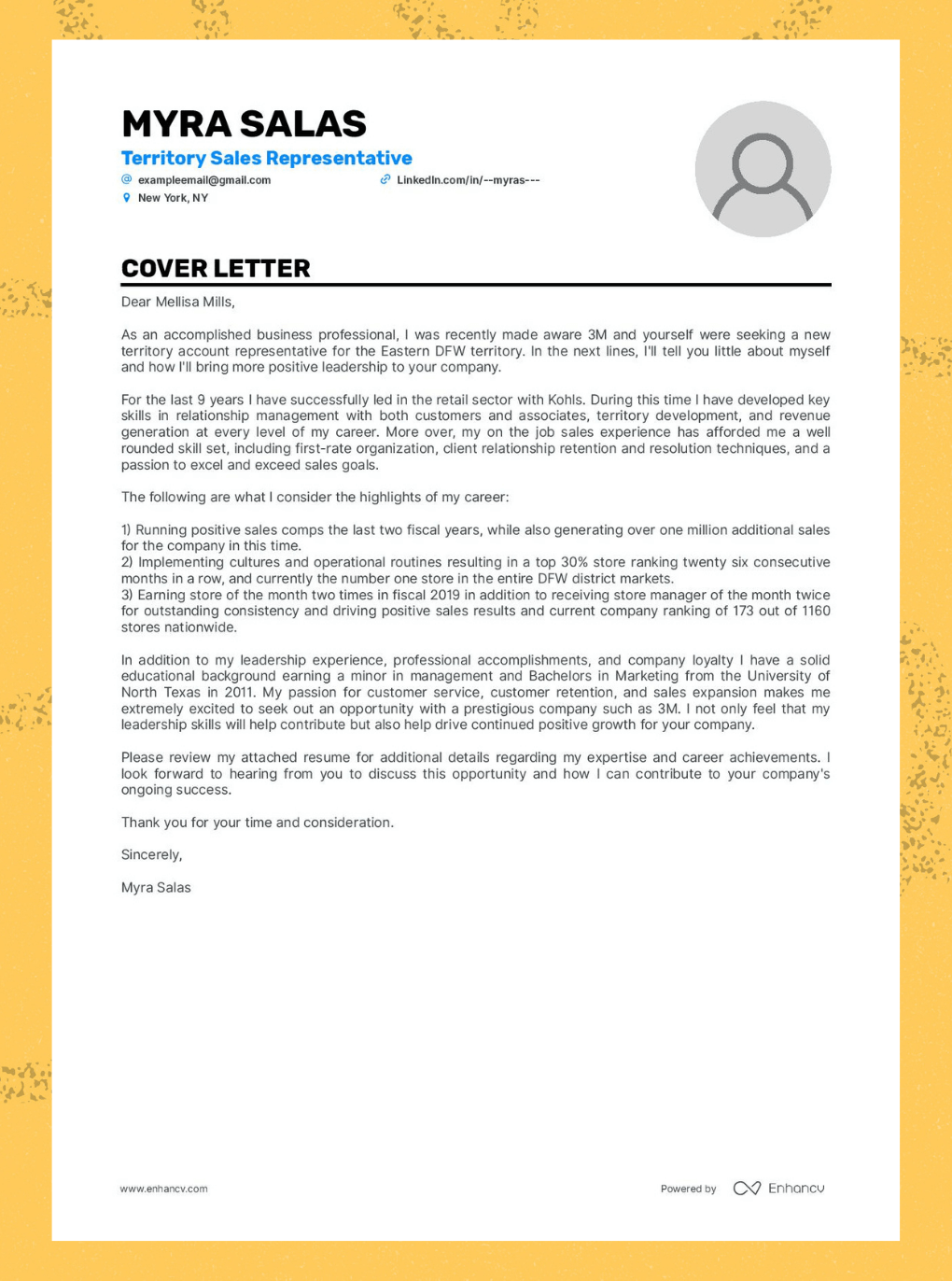 But what should you include in your cover letter?
Professional heading
Address section
Formal salutation
Show-stopping introduction
Your reasons for applying for this particular company and position
Your skills as they relate to the job
Closing words on your excitement to join the company
A call to action
Oh, and don't forget to read the job offer carefully and include some keywords in your letter!
So, now you know what a cover letter and a resume are, and what they should include.
Let's move on and cover the main differences between the two.
Three major differences between a cover letter and a resume
Knowing what each of these documents does is not always enough.
You need to understand how they differ.
So, in this section, we'll go over three of the most important distinctions between a cover letter and a resume.
Resumes and cover letters differ in importance
We'll make a wild guess here and say that you probably haven't come across a position in your job search that didn't require a resume.
Now, how many postings have you read that didn't need a cover letter?
Enough to notice, we're sure.
That's because resumes and cover letters aren't equally important.
The internet is rife with information about which one is more important with various arguments supporting both sides.
However, we think that, unless the job posting specifies that a cover letter is not to be submitted, you should absolutely include one in your application.
You can't skip out on the resume, though.
Cover letters and resumes use different structures
As you may have already noticed, one of the main differences in the "cover letter vs resume" battle is the structure.
A resume is usually one or two pages long and contains specific sections, bullet points, and other graphs used to represent a candidate's professional skills.
A cover letter, on the other hand, has 3-4 structured paragraphs, an introduction, and a closing paragraph, and is usually no more than 300-500 words.
The goal of a cover letter vs a resume is different
Another crucial difference between the two documents is their purpose.
A resume's goal is to provide the hiring manager with lots of varying information, but in a brief format – just a page or two.
They'll use your resume to quickly decide if you're qualified for a particular job (at least on paper – the proof comes with your cover letter).
The purpose of a cover letter is to let you tell a story about yourself as a person, not just an employee.
It helps you expand on the points you made in your resume and give some much-needed context to the employer.
So, there you have it – these documents are different in many ways, however…
Resumes and cover letters go hand in hand
We already mentioned this above, but cover letters and resumes complement each other well, so they should be used accordingly.
While a resume is quickly scannable, a hiring manager might struggle to make sense of all the data you're throwing at them, especially if your resume is on the longer side.
That's why a cover letter is a good addition to a resume, as it helps translate that information into paragraphs, making it easier to read and take in.
But that's not all – a cover letter and a resume, as different as they are, should stick to the same design.
There's not a single recruiter out there that wants to spend their valuable time trying to match a resume to a cover letter like it's a puzzle.
Cover letters are also a great way to make sure your resume doesn't end up in the trash.
Lots of employers read the cover letter first to help them decide if the resume is worth reading at all.
So, boost your chances and type up that cover letter.
3 expert tips on writing a cover letter vs. a resume
Are you struggling to separate your cover letter from your resume, wondering how to make them complementing, yet different, or you just want some tips on how to write a stellar cover letter?
Well, then read on!
We've got three pieces of advice for you, coming straight from the professionals.
Don't make your cover letter repetitive
We already said this before, but we'll say it again – do not make your cover letter an exact copy of your resume!
Nobody wants to read the same thing twice.
You wouldn't, so why should your employer?
Don't be afraid to let loose a little bit and use a more conversational tone than you would on your resume.
Your cover letter should show the hiring manager your qualifications, but also your personality and your passion.
Don't go into too much job or education detail. Mention them briefly and talk about how they shaped you into the perfect candidate and what you learned from the experience.
Keep it short and sweet
You wouldn't want the recruiter to fall asleep halfway through your cover letter, would you?
So, keep it short, clear, and straight to the point. Leave all the unnecessary details out, talk about relevant experiences only, and most importantly, make it captivating.
As for the specific length, aim for three or four paragraphs and try not to fill more than 3/4 of a page.
Use a subjective tone
A cover letter allows you to talk about things you wouldn't mention on a resume.
No resume contains a section about how you found the position, how passionate you are about it, or how each skill you've mentioned relates to the job.
Yet, these are all important aspects to a hiring manager.
So, you can afford to use more subjective information when writing a cover letter.
Let them know why you are certain you'd make a good fit. After all, you're the one that knows what you can bring to the table, right?
And there you go – you're now ready to craft that perfect resume and throw on a stellar cover letter for good measure.
Example resume and cover letter
If you'd like a little extra help, take a look at these great resume and cover letter examples.
Hopefully, they'll help you get on the right track!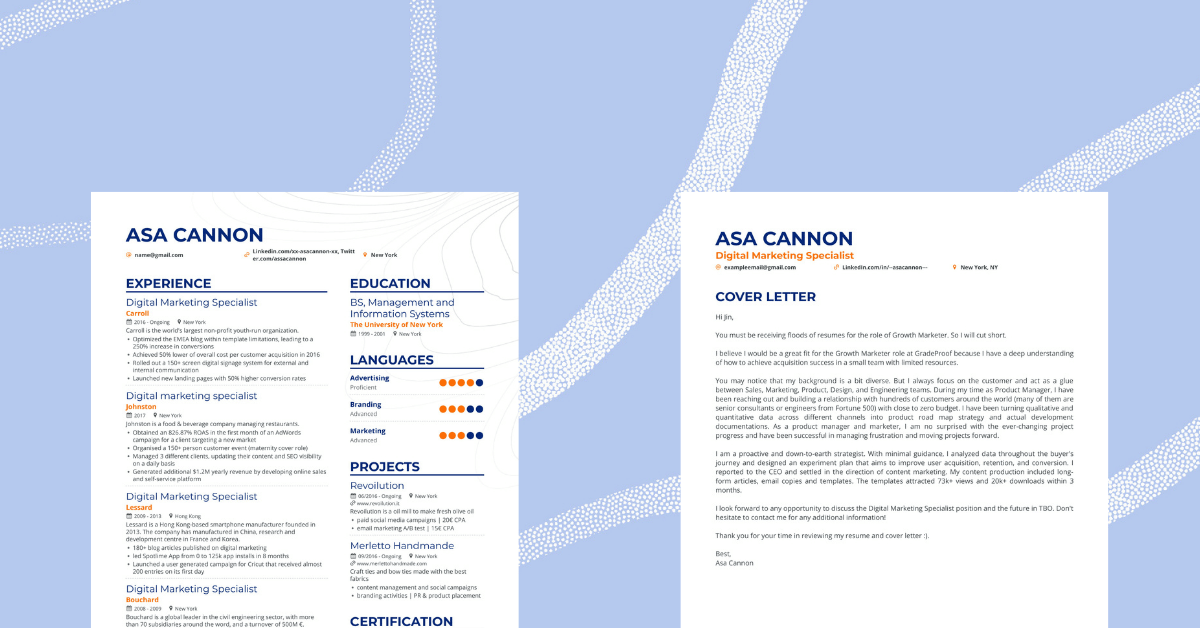 And, if you're looking for an even easier way out, take our resume builder for a spin and save yourself the headache.
Takeaways
Yes, a resume and a cover letter are two separate worlds. But they really are two sides of the same coin.
To summarize, here are the most important differences in the battle of cover letter vs resume:
A resume is always required for a job application, while a cover letter can be optional.
Resumes are formatted as a one or two-page document with bullets and sections, while a cover letter uses a letter format and has the standard introduction, 3-4 body paragraphs, and a closing.
Cover letters are often what helps resumes get read.
A resume and a cover letter should complement each other, while still being different.
A resume is written in the third-person and is more objective; a cover letter uses a subjective tone and is written in the first-person.
Resumes outline your work and educational background, achievements, certificates, and skills. Cover letters focus on how those skills and experiences relate to the job at hand.
***
Was this information helpful to you? Do you feel ready to tackle your resume and cover letter? Share your thoughts with us in the comments!
Make your move!
Your resume is an extension of yourself.
Make one that's truly you.