20+ Must-Check Cover Letter Tips To Get a Callback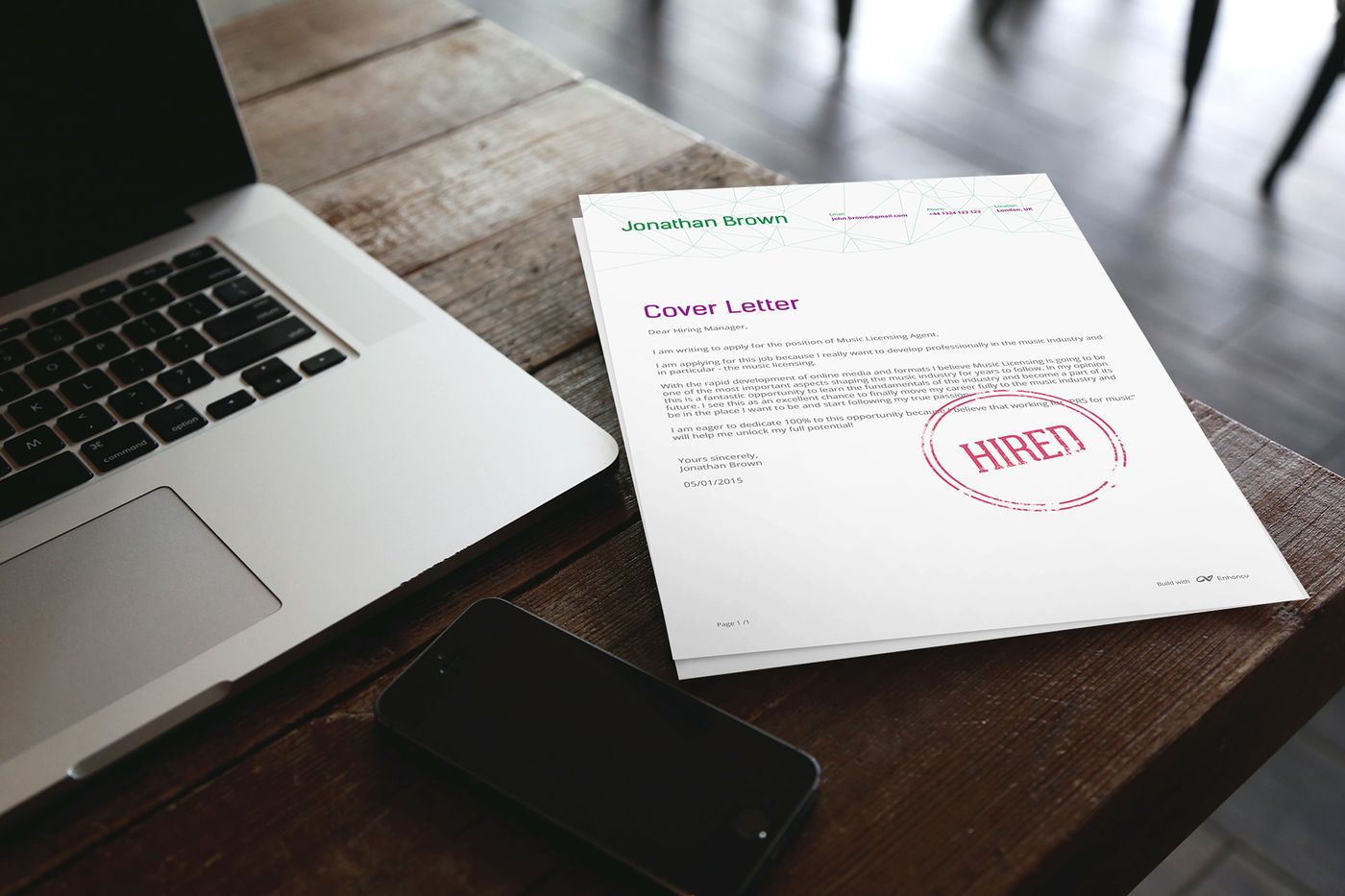 You have found the perfect job.
You've dotted the "I"s and crossed the "T"s.
But they reject you…
Why?
Every day a Hiring Manager reads tons of applications – your job is to stand out. Make your cover letter impeccable and you will be noticed!
In the following lines, we're going to show you 20+ cover letter tips.
Of course, you can cut a corner by checking out our Cover Letter Examples… But don't tell anybody.
Are you ready to start with our pro tips?
Cover Letter Content Tips
1. Tell the story behind your resume statements
Your cover letter should be more informative than your resume.
Use the statements you made in the resume and explain how you achieved them.
However, when describing things, make sure it's not 100% identical to your CV.
Shift your perspective a little bit and change your approach in your cover letter. Maybe there's a bigger story as to how you secured those $20 000 in sales last quarter, right? Don't waste the space by saying the exact same things.
2. Use storytelling
If you use generic statements in your cover letter you could easily wipe your chances out.
Instead, tell the Recruiters how you achieved your goals in your previous position. Tell them your best accomplishments and what good you did for the company. Increased sales, more closed deals, higher profit, etc. – these things are all worth describing.
This is what a cover letter SHOULD NOT include:
"My previous occupation involved working closely with the Legal Department. I participated in various processes and activities. I was also responsible for the proofreading and editing of their documentation."
Here's a better way to express yourself.
"For 3 years I worked as a marketing specialist – I had to write, proofread, and edit legal, pharmaceutical, and marketing-related documentation. In addition, I participated in the development of 4 marketing campaigns that tripled our monthly revenue (quote any relevant number that you can). It was my responsibility to write and edit site contents for the official website of the company (give a link to the website)."
3. Why do you want to work there?
How do you know about the position? Why do you like the company?
The answers to those questions are an inevitable part of every cover letter.
Why?
Because the Recruiter needs to know why you are interested and whether you are going to be a good fit for the company.
4. Show you did your homework
Include company's projects that you know and what impression they made on you.
This way the Hiring Manager would know that you took your time and researched the company.
It only takes a couple of minutes and it can take you one step closer to your dream job.
5. Emphasize your strengths
Emphasize your strengths, but not in a cocky way.
Focus on your strong skills which are going to be helpful for the position and tell them why.
6. One-page cover letter
You know that you have to keep your resume short, depending on your experience. One, two or more pages are enough to tell the key activities and achievements.
However, if you write a cover letter keep in mind to make it just one page.
Recruiters have hundreds to read every day.
Sharing only the important parts of your experience will not bore them and will give them the opportunity to get to know you better.
7. State the exact role you are applying for
It is not enough to just write the name of the company or what you are skilled in. They could have a lot of open positions and sometimes there could be more than one in a department.
In that case, if you say that you have Marketing experience for 3+ years, but the company has 3 open positions in the Marketing team, they will have no idea what you have applied for.
So, include the exact role you are applying for.
9. Add relevant keywords to match your job description
This is one of the most important cover letter tips we will ever give you.
Before you start writing your cover letter keep in mind:
Keywords for soft and hard skills
The ones describing the experience (the years, responsibilities, etc.)
Keywords describing the company culture
Why do you believe you'd be a good fit?
After you do this, make sure you spread those words in your cover letter. The key here is to make it look natural rather than stuff every section with keywords.
Other keywords to look out for:
Certifications;
Tools or programs required for the job;
Sometimes companies need specific degrees – Ph.D., master's, or specific bachelor's;
Location: Companies often use city names to narrow down candidates for local-specific jobs
Focus Recruiter's attention at your extracurricular activities, such as volunteer work, student councils, etc. However, it should be somehow related to the position you are applying for.
You could have been part of an international non-governmental organization or part of some local club, it doesn't matter.
Tell the Recruiter that you have organizational skills, you are motivated and driven, and also you want to help others.
Also, don't forget NGOs help you develop yourself and bring greater purpose in your life.
11. Include a call to action
For example, a call to action for a political candidate is "Vote for me!"
The call to action for a cover letter is to ask to be considered for the job and to schedule an interview. It would be best if you write that you are going to call next week to  inquire about the possibility of an in-person interview and how you can make an impact in the company.
Recruiters should know that you are really interested in the position and you are looking forward to being invited to an interview.
Cover Letter Design Tips
12. Create an impression with the power of good cover letter design
Use colors, not too bright, not too pale.
Draw the Recruiter's attention by coloring important parts of your cover letter, such as name, location, and title.
A pro tip is to use the company's colors when making your cover letter. This way, they will know that you have made your research.
However, if you are applying for a strictly corporate or governmental job, better play it safe.
Use a black and gray palette.
13. Choose the right font
It is important to choose a readable font for your cover letter. It's best if you use Sans-Serif font for digital format and Serif font for printed one.
Keep the size between 10 and 12.
You don't want the Hiring Manager to have aching eyes after reading your cover letter.
14. Customize your cover letter header to boost your chances
Customizing your cover letter will catch the Recruiter's attention in a second.
If you mess it up, it will make your whole application look unprofessional.
This could be a dealbreaker. But don't worry. One always working tip is to match the header of your cover letter to your resume.
15. Use a photo (with caution)
Whether to have a photo on your resume and cover letter is a controversial topic.
If you decide to have one, make it professional.
However, go through the company policies and the regulations of the country. It is possible that it is forbidden to include photos in your resume and cover letter.
You don't want to go against the law, right?
16. Address the cover letter to the actual hiring manager
You have made your cover letter perfect. But do you know to whom to send it?
If you don't send it to the right person, you may never get the chance to go to an interview.
Research. Who is the decision-maker in your case?
This way, you could address the cover letter to the person that is actually interested in reading it.
17. Use bullet points in the body of the paragraph when you talk about your achievements
Your achievements are one of the most important parts of your cover letter.
It is better to emphasize them by using bullet points.
Catch the attention of the Hiring Manager, that would give you bonus points because the key things are going to be easy to find.
18. Export your cover letter as a PDF
Remember to export your cover letter as a PDF.
If you have different screen resolutions or MS Office and you haven't saved it in PDF, it is possible to be "broken" when the Recruiter opens it.
Ensure that there will be no bad surprises.
19. Don't sign a digital cover letter format
In the past, when cover letters were written mainly by hand, people used to sign them.
However, nowadays in the digital era, there is no need to do that. Leave your habit of signing behind.
Type, design, correct, and send.
20. Proofread and edit
Did you proofread your cover letter?
Because having spelling or grammar mistakes is going to be a deal-breaker.
Even if you think of yourself as a grammar nazi, you can always forget a comma, or mistype a word.
Edit your cover letter and make it even better.
Nobody wants an employee that can't write correctly.
21. Friend check
After you are ready, give your cover letter to a friend.
They haven't invested a couple of hours to write it, so they are neutral. So they would be able to see if you have written something sincerely (pardon our French)  … silly.
Hope your friends love you and will show you your mistakes.
Conclusion
Use all these tips, you are ready to be hired. No more wondering what to write and how to do it.
Now go to our Cover Letter Builder and start while the information is still fresh.
Make sure your cover letter is just as polished and prepared as your resume.
Don't forget: The recruiter wants to know more about you. Don't be afraid to add personal elements that reveal who you really are.
Show why you are the perfect candidate!
***
Do you have any interesting tips that we have missed? If yes, tell us in the comments below.