Did you know that writing a digital marketing cover letter could be your job-converting strategy?
Even though recruiters may not read your cover letter in full detail, it's an opportunity to show your personal brand - thus highlighting that you are willing to put in the extra effort.
As a bonus, the cover letter showcases your ability to write compelling copies for a specific audience.
Think of your cover letter as a well-targeted outreach campaign.
Still not sold on the idea of cover letters?
In this guide, we explore why cover letters are a must in 2022.
Read a real digital marketing cover letter example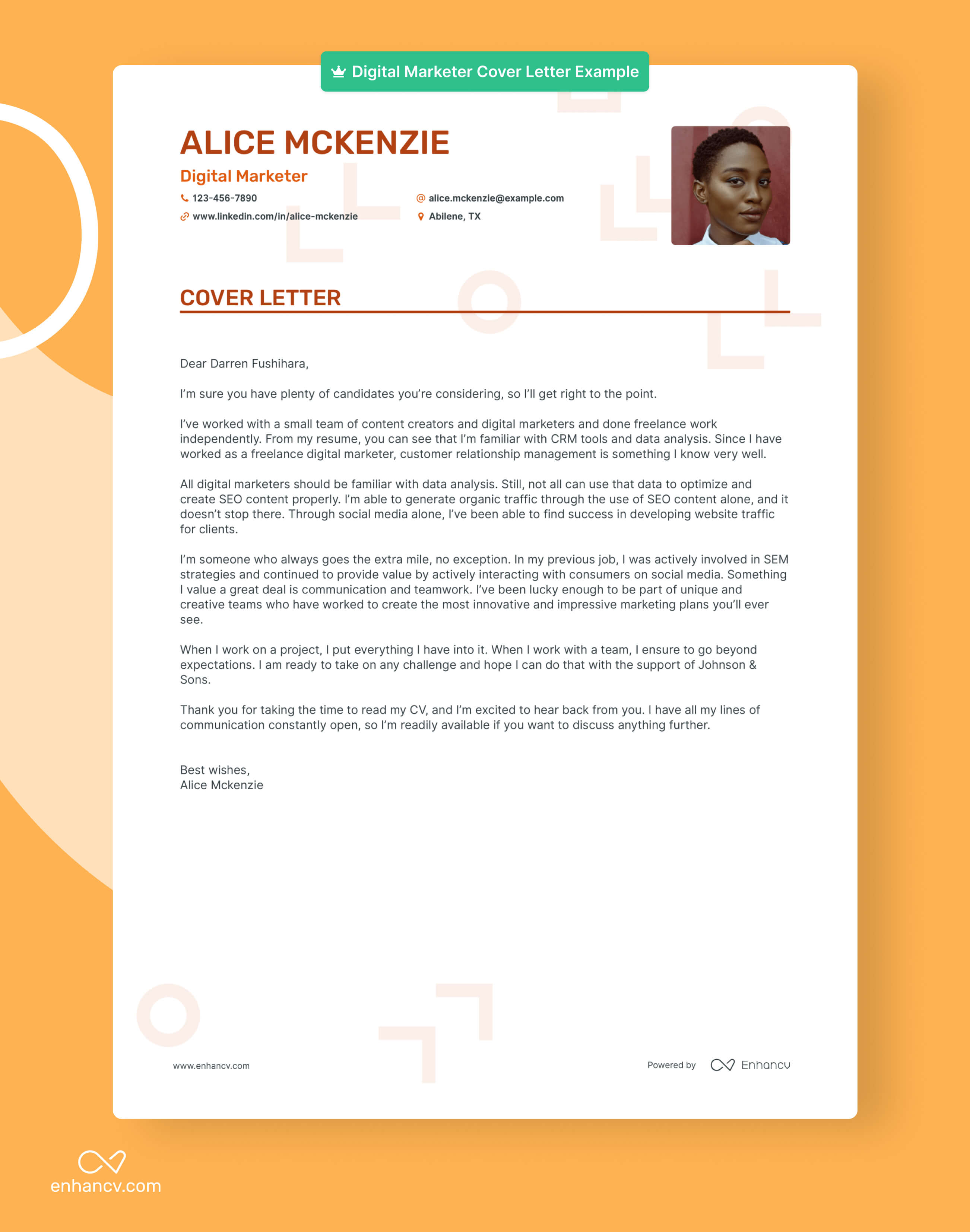 What to write in a digital marketing cover letter
The key ingredients to any successful digital marketing communication are adaptability and preparedness.
The same skills are applicable to your cover letter.
It's an activity of adapting your experience to fit the specific position you're applying for.
And - yes, it is an opportunity to shine a light on your personal brand, but always keep in mind that this is a professional form of communication.
Neatness and formatting are always popular amongst recruiters.
So where do you begin writing your digital marketing cover letter?
In the below guide, we'll look through:
the salutation or how not to sound like a chatbot;
introduction of what makes you stand out;
transferable skills with a focus on results;
company brand understanding;
call to action: always be active!
If you're interested, read more about what should a cover letter say, we have a guide just for you and a cover letter checklist of what your digital marketing cover letter should include.
Without further hesitation, let's dive right in!
Choose the right salutation
Within your marketing campaigns, have you noticed how target audiences respond better to personalized greetings?
Starting off your communication on the right note can play a huge part in your success, especially when writing your cover letter.
That's why it's important to tailor your salutations to either the specific person or company/role you're applying for. If you happen to know who you're addressing, start off your cover letter with:
Dear Mr/Ms/Mrs [Last Name],
Dear [First and Last Name],
Or if you don't know, you can select one of these safe bets:
Dear [name of team or department you're applying for a position in],
Dear [position title] Hiring Manager,
Dear [hiring manager, recruiter, or name of point of contact],
Dear Human Resources Manager,
Your cover letter will have a far better track record if it doesn't start off like a chatbot.
The infamous 'Dear Sir or Madam,' sounds like something a character out of Mad Men would write… It's a bit outdated.
Craft a strong introduction
That first paragraph - the introduction - is the element recruiters pay most attention to when going over your digital marketing cover letter.
Use it as an opportunity to highlight what makes you better than the rest of the digital marketers that may be applying for the role.
Think about your proudest achievements and career highlights - now is the time to boast a little about them.
But remember that the best approach to this is to take your audiences on a journey rather than just read a plain text about your professional life.
Your cover letter's introduction is an extension of your personal brand that needs to be both engaging and formatted professionally.
On a final note - numbers and results are always a good focus for your introduction.
Emphasizing your digital marketing skills in your cover letter
In the next section of your cover letter, you can go into more detail about the skills you possess that make you the best candidate for the role.
Wondering where to start?
Your application most often goes through an Applicant Tracker System (ATS) - that matches your documents to the relevant keywords from the job advert.
What you can do here is look at the skills requirements and then emphasize them with your experience and the results you have achieved.
But we all know the fact that no digital marketer roles are the same.
At one point, you may find yourself working solely on outreach campaigns, while at others - you may be head of creative concepts behind a new product launch campaign.
That's why we suggest your cover letter should highlight those transferable technical skills - such as working with different software to manage campaigns - that would be good for your new job.
Top digital marketing soft skills for cover letter
Multitasking - in their day-to-day job, digital marketers are responsible for various activities to achieve results. For example, they'd have to respond to messages simultaneously, while collecting and analyzing customer feedback. Multitasking is a soft skill that works wonders in the field.

Creative thinking - to innovate within the industry, you'd need a dash of imagination. But at the same time, the ability to never go over the top - by aiming to achieve the desired outcome of your campaigns.

Strategy - marketing is a game of processing data and planning; of understanding audience behavior to implement best practices. That's why showcasing a strategic way of thinking could be the winning approach towards your cover letter.
Show that you did your research before applying
Creating a campaign without knowing your audience is a Sisyphean task – any experienced marketer can confirm this statement.
The same goes for your cover letter.
Understanding who you're writing to (or for) is a strategy used only within the best digital marketing cover letters.
Use the body paragraph of your letter as an opportunity to showcase that you have done your research about the company/role you are applying for.
This would also go to highlight to recruiters that you aren't afraid to go the extra mile to land the job.
The final call to action
Active language is what makes good copies. The final paragraphs of your cover letter are no exemption to this rule.
Your cover letter is an opportunity to highlight what makes you the most suitable candidate for the role.
And the end is the time for the call to action - or what follows next?
Suggesting to recruiters your availability for an interview would be a step further in ensuring that you are booked to speak with them.
Don't be afraid to be pushier at the end of your cover letter.
And if you need some extra help on how to end your cover letter, check out the following guide, with plenty of samples and examples.
Pair your cover letter with a digital marketing resume that beats luck
Your application would be most favorable for recruiters if you have included a neat and formatted cover letter and resume.
And regarding your digital marketing resume, we have a guide of over 26+ tips on how to make it better with expert advice.
Both these documents go to show not only your adaptability for a given role but your character as a digital marketer.
Key takeaways
Use your digital marketing cover letter as an opportunity to highlight your personal brand and your ability to write engaging copies
Ensure that the whole letter is formatted and personalized - you don't want to sound like a chatbot
Speaking of achievements, always mention the outcomes rather than the plain activities
Focus on your transferable skills between your current role to the role you're applying for
Pro tip
Make sure that your digital marketing cover letter has a clear and precise copy. That it's easy to read and can be scanned through.