Quick Answer:
The About section in your LinkedIn profile is critical to making a lasting impression on recruiters and influencing their decision to contact you. To make your profile stand out, share information that's personal and not obvious in other parts of your profile. Also, optimize your profile for search appearance by including relevant keywords in your summary. Finally, write a hook followed by 2-3 skills to highlight, and wrap up with a call to action that encourages recruiters to read more.
The About section of your LinkedIn profile is one of the most important sections that influences a recruiter's decision to send you a message or to connect. Most people, however, write an ineffective About section that often times does not make them stand out of the crowd. Follow these tips and tricks to write an eye-catching About section that will enhance your LinkedIn profile!
LinkedIn About Section Goals
Share little obvious info about yourself

The About section of your LinkedIn profile is your opportunity to share information about yourself that may not be obvious in other parts of your profile. It is your chance to provide a first impression.

I always tell my Career Counseling clients that you may be a bit more personal in your LinkedIn profile than your resume.

Some examples could be to talk about what motivates you, what you like about aspects of your job/field, or what types of challenges you enjoy.

When writing, you can use 1st person instead of 3rd person, and you may be more informal than formal. Taking a more personal tone is completely optional, and it is ok to keep it more formal and sticking to 3rd person if you prefer. Just make sure to keep it consistent.

Make the visitor read more about you
Another goal to consider when writing your LinkedIn About section is the "see more" button in the bottom right corner. This should be the call to action for what you write.

If your goal is to get the user to click this button and read more, it means that the first few lines are the most critical parts of the About section. In other words, the first few lines need to be hooks that make the viewer want to read more.

There is a 2000-character limit for the entire About section and LinkedIn defaults to only showing the first 3 lines, or about 300 characters before the "see more" button. Make those 300 characters count.

Optimize your profile for search appearance
Another key goal to keep in mind is that the LinkedIn search algorithm scans words from your About section when determining search results. So if you want your profile to show up when a user performs a search on LinkedIn, make sure to include the keywords you want to be associated with and put them in your LinkedIn summary.

You can see a personalized breakdown of how you show up in searches by going to your own LinkedIn page, going to your dashboard and then clicking on "Search Appearances". This will show you what key search words your profile shows up in the search results.
Writing a good hook

There is no one "right" way to write a good hook, but there is a spectrum we can use to help guide us in writing one that matches the tone we are comfortable with.

On one end of the spectrum, you can keep it strictly business and professional. On the other end of the spectrum, you can be more personal. Not too personal where you reveal too much detail, but think in terms of talking about what motivates you or personal anecdotes that are relevant and interesting. Think of where along this spectrum you feel comfortable sharing information with the goal of getting someone to click "see more".

With this spectrum as a framework, let's look at some possible examples of hooks to help get you writing.
Formal and strictly business – the Quote hook

If you want to stick to a formal tone, a good method is the quote route. Don't just pick any quote, though. My recommendation is to find a quote that isn't too long AND it is a quote about a skill or something that motivates you in doing the work you do.

The quote is your hook. Then, you bridge the hook by talking about the skills you possess. You want to highlight your key skills for success in the profession you've chosen.
Example LinkedIn About hook:

Robert G. Thompson once stated that "customer-centricity should be about delivering value for customers that will eventually create value for the company". This focus on the customer as a conduit to creating overall value has informed my work throughout my career in B2B SaaS sales and account management.
Slightly personal and more empathetic - the Pain Point hook

Connecting with your audience/viewer with a common or shared experience is an effective way to catch their attention and draw them into your profile. One way to do this is to hook them with a pain point that they can relate to.

If you are in any customer facing role, the first thing they teach is to know your customer's pain point. Why don't we use the same approach when writing an About section targeting profile viewers (recruiters in this case)?
Example LinkedIn Summary hook:

I was in Miami, FL when I got the call from my bank. Sir, I regret to inform you that there was a security breach and your account had been compromised with fraudulent charges made. I had gotten hacked. I was angry and frustrated and vowed I would never let that happen again. Little did I know at the time, but that was the moment when I started on my path in a career in Cybersecurity. Flash forward 5 years, and I'm now a Cybersecurity Analyst fighting the bad guys to protect people from this happening to them.
More personal – the Motivation hook

What gets you up each day to go to work? Why do you enjoy what you do? Why do you like the challenges that your profession or job presents you? These are all questions that aren't typically answered just by looking at your experience section on LinkedIn or even your resume.

The About section can be an opportunity to show this side to your viewer and could be a powerful way to show who you are, what your personal brand is and a bit more of your personality as well.
Example LinkedIn About Section:

I remember the first time I heard about Cryptocurrency. I was taking an upper division Econometrics course at Stanford, and my professor went off on a tangent about one of his interests: a new decentralized digital currency called Bitcoin.

I was fascinated by the potential of Bitcoin, what it represented and the vision of how it could change the global financial system. I've always felt that innovation coupled with "outside-the box" thinking are the keys to solving complex challenges.

I would never have imagined, however, that 10 years later I would build a career around cryptocurrency and would be working at Coinbase.
I've written a hook, now what?

After writing a hook, the next thing to do is to bridge your hook with 2-3 skills you want to highlight for your audience. Write a small paragraph for each of these skills, with examples from your career.

Example:

I would never have imagined, however, that 10 years later I would build a career around cryptocurrency and would be working at Coinbase. And here are the 3 key competencies that have made me successful.
Leadership: My management style is to adopt servant leadership. I've led teams as large as 10 across multiple departments, including operations, marketing and customer success…
Wrapping up the About section with a call to action

After writing your hook, a bridge and 3 paragraphs about key skills you want to highlight, wrap up your Summary section with a final paragraph about what challenges you enjoy undertaking and a call to action. Your call to action could be to have them read an article you wrote, click on a link to an interview you gave, or simply ask them to connect.

Final Tips & Takeaways

Do not write long paragraphs for the 3 skills you highlight
Don't hold back on your achievements, especially when highlighting your skills
If you are pivoting careers, this is an opportunity to control your narrative and explain why you are switching

***

Now go on and make your LinkedIn summary rock! And, you can always get in touch with me and I can help you revamp your LinkedIn profile.
Make your move!
Your resume is an extension of yourself.
Make one that's truly you.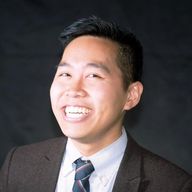 Paul Tran
Career Counseling Manager | Resume Writer | Partnerships @ Enhancv Crafting your message: from Students to Executives