Writing a Email Marketing cover letter might feel like skating on thin ice – choosing between buzzwords mentioned in the job description and original content, while worrying about making even the slightest mistake.
And what can make this experience a bit more fun and exciting? You guessed it. Relying on expert advice and examples.
Luckily, we have you covered. Check out our tips on writing a memorable cover letter below.
How to write a email marketing cover letter that makes you proud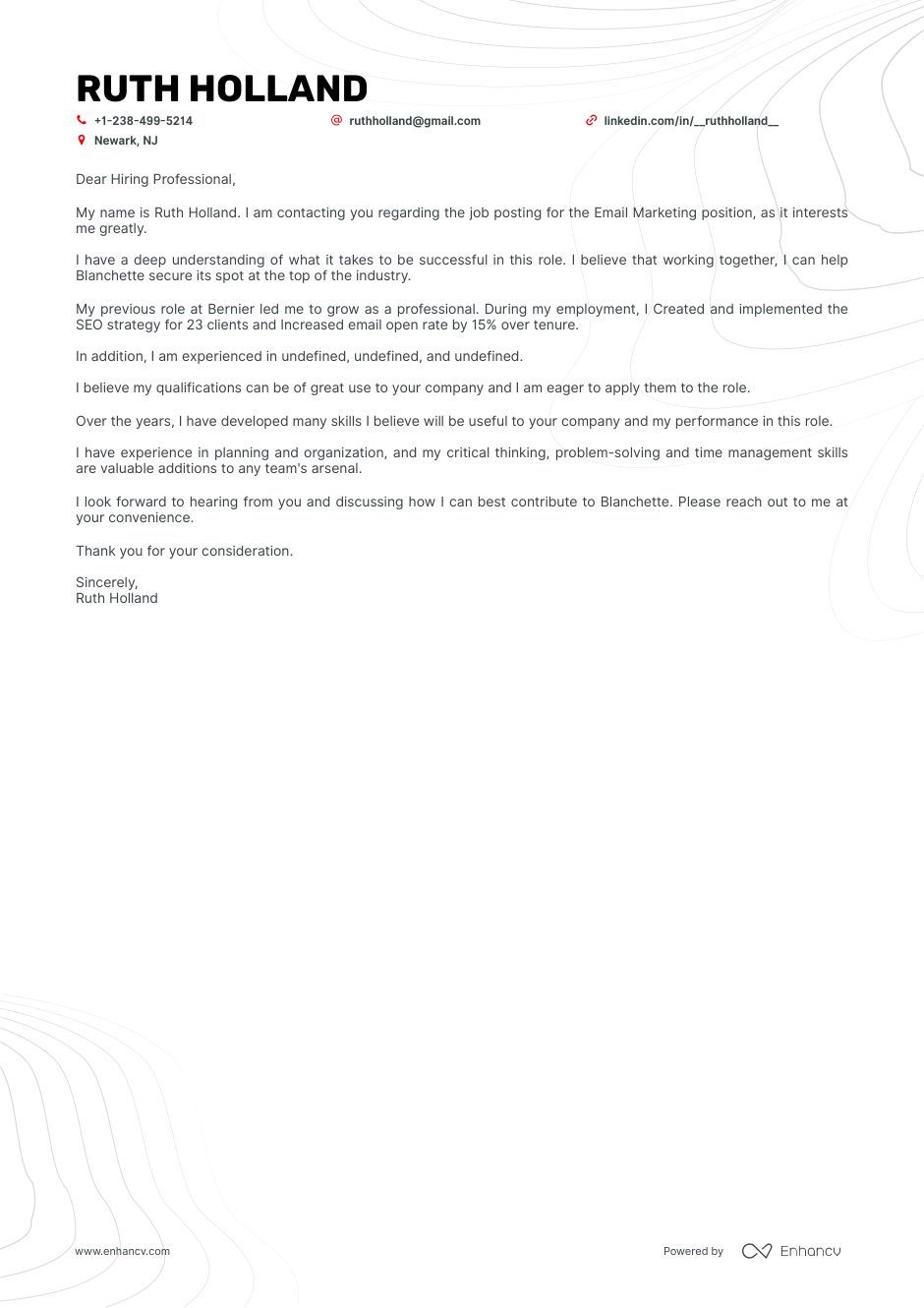 By now you've probably learned that a well-written cover letter will complement your resume and increase your chances of getting the job.
It will also introduce the recruiter to your strengths and your capacity to handle challenges.
In short - it will make them want to learn more about you!
Check out our guide on what your cover letter should include for some additional inspiration.
Now it's time to move on to what you actually came for – our professional tips and examples that will help you write a memorable cover letter and land an interview.
Choose the right salutation and craft a strong introduction
Address your cover letter directly to the hiring manager, whenever possible. This has proven to be a good approach for two reasons.
First, it shows your attention to detail.
Second, it proves that you're willing to do some research and go the extra mile for the sake of success.
But if finding the recruiter's name is too difficult, you can go for a traditional gender-neutral phrase.
Here's our selection of strong salutations. Feel free to borrow any of them:
Dear Ms. Smith,
Dear Peter Roberts,
To the [company name] Recruitment Team,
Dear Hiring Manager
Coming up with a good introduction is your chance to make the right impression and give the hiring manager a solid reason to remember you.
So instead of going for popular opening lines such as "I found your job advert on website X", prove that you are actually passionate about the position. Share why you would like to grow in this field and what makes the company exciting.
Link your hard and soft skills to your achievements
The resume is the place to list all your hard skills. The Email Marketing cover letter, on the other hand, is the ideal place to emphasize your soft skills and link them to your achievements.
Think about times when your skills have helped you achieve certain goals that seemed too difficult. And don't worry about admitting some of your weak sides – this is a great way to show recruiters your potential and ability to grow, both professionally and personally.
Looking at the specific job posting requirements could also give you insight on what skills should be included in your resume by all means. This will help you pass applicant tracking systems (ATS) that screen cover letters for keywords before passing them on to recruiters.
Show that you know the company and its problems well
Showing that you've researched the company and are familiar with it is a good way to prove your work-readiness.
It will also point the recruiter to the fact that your skills and qualifications will have a long-term impact on the company. Just link some of your strengths to the ways in which current or potential issues can be resolved.
Choose the right closing line
The last paragraph of your cover letter should briefly sum up the whole text. This is the time to express your motivation to get to the next step of the hiring process, but also your gratitude for the reader's time and consideration.
You can be creative or use traditional closing lines here – it all depends on your preference and the company culture.