So are cover letters necessary for Marketing Associate jobs?
Well, the cover letter is your chance to tell a personal story to the hiring manager. It can help you prove you're a real professional who knows what they bring to the table.
It's also your opportunity to get into more detail about your personal qualities and success stories. But most importantly – it's the first place to show your motivation.
So yes, having a cover letter is essential.
But what should yours look like? Let's see…
Have a marketing associate cover letter that tells your story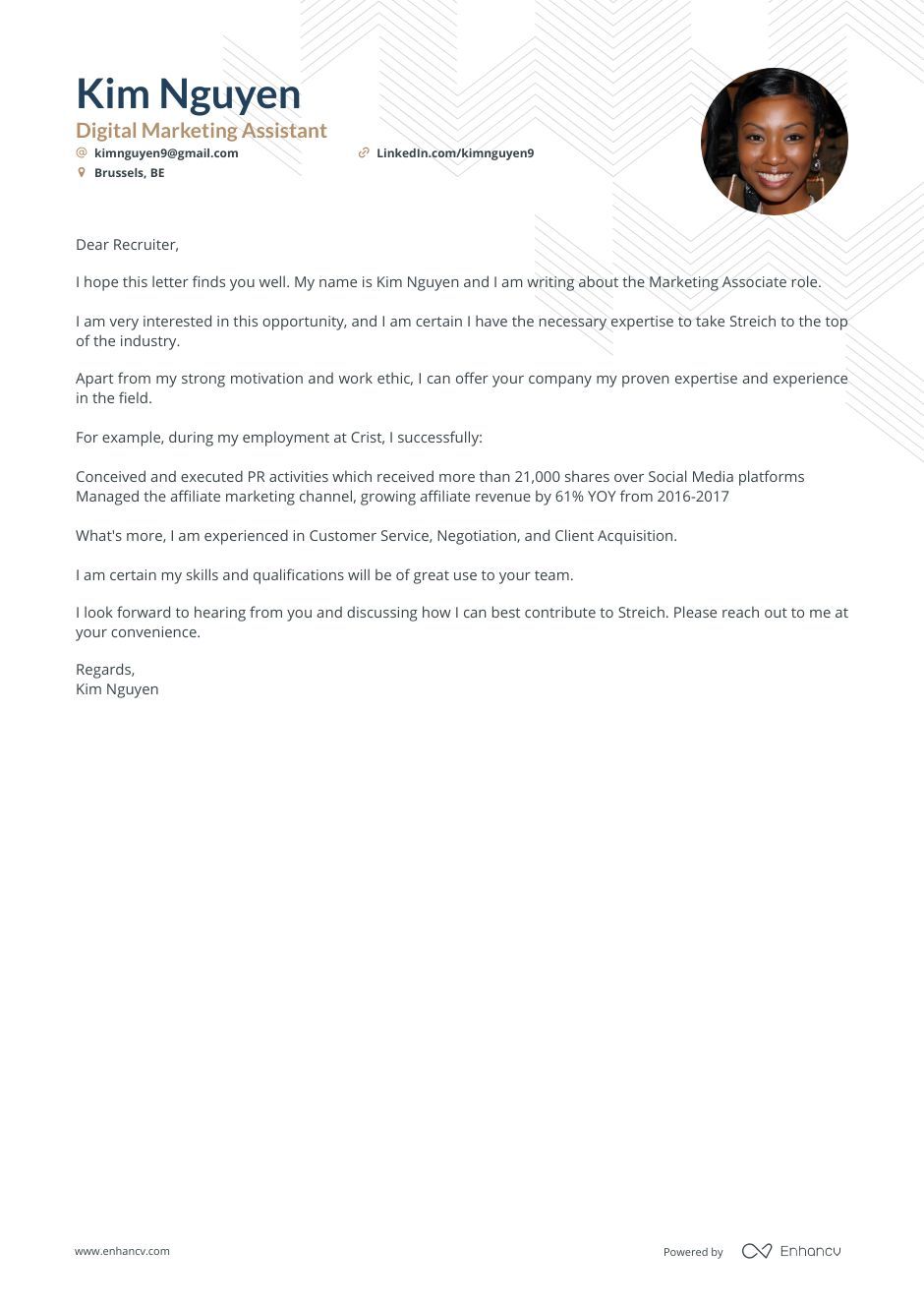 By now you've probably learned that a well-written cover letter will complement your resume and increase your chances of getting the job.
It will also introduce the recruiter to your strengths and your capacity to handle challenges.
In short - it will make them want to learn more about you!
Check out our guide on what your cover letter should include for some additional inspiration.
Now it's time to move on to what you actually came for – our professional tips and examples that will help you write a memorable cover letter and land an interview.
Choose the right salutation and craft a strong introduction
It's always better to address your cover letter to a specific person. This shows that you've taken the time to research who the hiring manager might be and that you're attentive to detail.
However, in case you don't know the recruiter's name, you can go for traditional gender-neutral salutations.
Here are some of our suggestions:
Dear Mr. John,
Dear Ms. Petersen,
Dear Hiring Manager,
Dear Dr. Todd,
Dear Head of [team you're applying for]
Coming up with a good introduction is your chance to make the right impression and give the hiring manager a solid reason to remember you.
So instead of going for popular opening lines such as "I found your job advert on website X", prove that you are actually passionate about the position. Share why you would like to grow in this field and what makes the company exciting.
Focus on your soft skills but don't forget about the hard skills too
Listing hard skills on your resume is quite straightforward, isn't it? But when it comes to writing a memorable Marketing Associate cover letter, you need to be a bit more creative.
The thing is, cover letters are designed to tell a story. To show the thought process behind your achievements and motivations. To put the recruiter in your shoes and allow them to get to know you better.
Maybe you want to share how you deal with challenges? Or what helps you reach your goals? It doesn't really matter.
And while soft skills are important, hard skills shouldn't be skipped either. Mentioning some hard skills (especially the ones listed by the recruiter) is always a great idea. This will help you pass applicant tracking systems (ATS) that screen documents for certain keywords.
Prove that you've researched the company and are aware of industry problems
Showing that you've researched the company and are familiar with it is a good way to prove your work-readiness.
It will also point the recruiter to the fact that your skills and qualifications will have a long-term impact on the company. Just link some of your strengths to the ways in which current or potential issues can be resolved.
End on a positive note
Ending your Marketing Associate cover letter in a suitable way can help you land an interview. Why? Because strong endings portray applicants as considerate and, what's even more important – passionate about the job.
Just make sure that your ending (just like your cover letter's body) matches the company culture. If you prefer to be on the safe side, go for traditional closing lines such as "Looking forward to hearing from you".