Quick Answer:
While it's not always necessary, a well-crafted cover letter can make you stand out from other candidates. To create a winning cover letter, grab the recruiter's attention with a powerful opening statement that states the role you're applying for and addresses the recruiter personally. In your cover letter body, highlight your relevant skills and accomplishments, explain how you can benefit the company, and showcase problem-solving abilities. Finally, wrap up your cover letter with a call to action that expresses your excitement to join the company and suggest a specific time for a further review of your application.
Getting an internship is a great way to "infiltrate" a company and get one step closer to securing a full-time position.
Easier said than done, isn't it?
Every year there are tons of fresh-faced students looking to join a company. So, what makes you unique?
Recruiters often have to sort through plenty of applications to find the right candidate.
The secret might just be hiding in knowing how to write a cover letter for an internship that wows the hiring managers and stands out among the rest.
You need to keep the reader captivated from the start right until the end.
In this guide, you'll learn how to do just that, as well as see some internship cover letter samples to help you get on the right track.
Here's what's in store for you:
How to grab the recruiter's attention right from the start with a powerful opening statement
How to make sure your cover letter stands out from the crowd
What you should include in your internship cover letter so to avoid repetition with your resume's contents
How to make sure your lack of relevant previous work experience doesn't hold you back
How to seal the deal at the end of the cover letter
Use this example cover letter for an internship
Are you struggling to find the right words? Not sure how to write a cover letter for an internship that gets your foot in the door?
Wouldn't it be easier if you had a base you could work from? Take a look at these cover letter samples and get your creative juices flowing.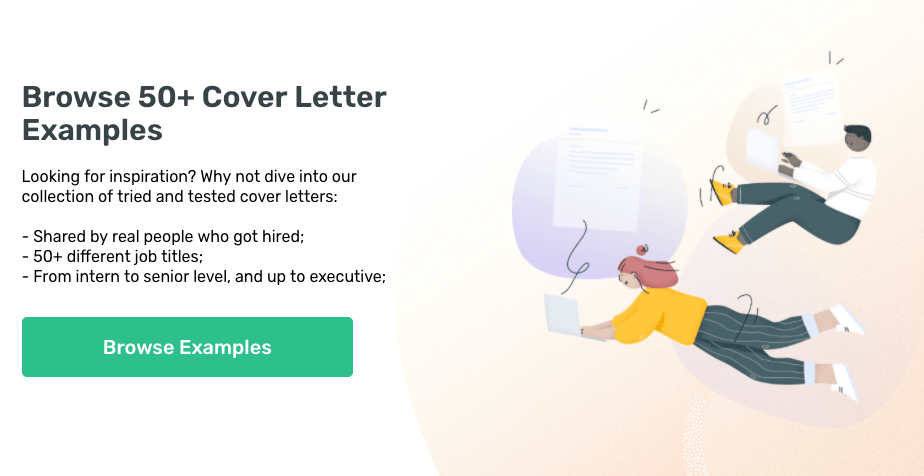 Or, if you're looking for cover letter examples for a specific industry, check out our extensive list.
So, let's get right down to it and go over everything you need to write a stellar cover letter.
But first, let's get one question out of the way.
Do I need a cover letter for an internship at all in 2020?
Well, technically, unless the company specifies that they expect a cover letter, then you don't need to write one.
However, a cover letter is an excellent addition to a resume, especially for an internship where you may lack previous work experience and want to make your case as to why they should hire you.
Don't just write a cover letter for the sake of writing one, though.
Only include one if you're going to do it in a way that supports your resume and clearly highlights what you can bring to the table and how it can benefit the company.
How to write a game-changing cover letter that strikes the right chords
A standard cover letter that you'd use for any job might not guarantee you get the internship you're aiming for.
The perfect, one-size-fits-all cover letter doesn't exist.
Apart from the letter design, consider the following points when writing your intern cover letter:
Know what the company is looking for; and
Show why you are the best choice for the position
How to start your cover letter the right way (+ examples)
Have you ever opened a book, looked at the first line, and found it so captivating that you didn't want to put the book down?
That's the effect you should be going after with your cover letter intro.
There are two things you should keep in mind when you start to write:
State the exact role you're applying for
Playing the guessing game with recruiters is never a good tactic.
So, make sure you always mention the exact role you're applying for.
This implies that you have a clear goal and idea about what makes you the best fit for the job.
Not only that – it also means you have crafted your cover letter specifically with their company in mind.
Finally, it shows the hiring team that your skills and qualifications are a great match for the exact position.
For instance, this cover letter opens with the job title right in the first line:
(example – https://enhancv.com/cover-letter-examples/intern/ – Mac Kelly letter, first paragraph, "I am excited to apply for…")
Notice how they mentioned the name of the company at the end of the paragraph, too?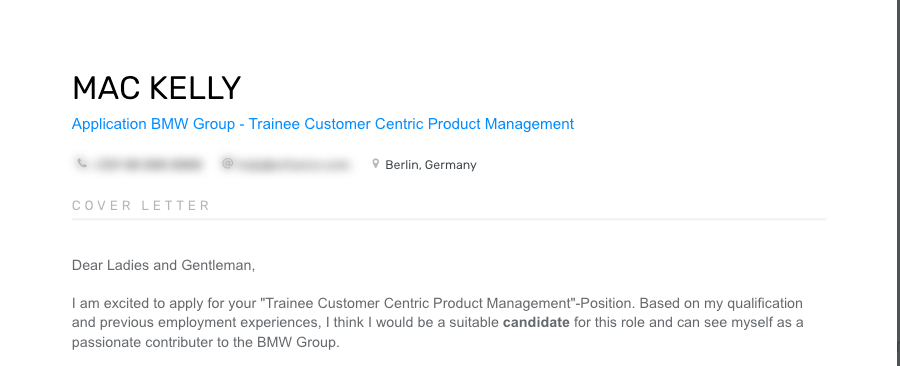 Show you know who you're addressing
Everyone likes feeling they're being spoken to personally. Have you noticed how often brands use that trick in their advertising?
Apart from mentioning the company's name, when you address the hiring manager by their name in your greeting, it gives your cover letter that personal touch.
It shows that you have done your research on the company and know why you want to work with them.
All of this instantly makes your application stand out from the rest.
Sure, it might be challenging to find out who the recruiter is.
However, making them feel special by using their name will give you an edge on the competition.
Keep in mind the tone of voice you use, too.
A law firm might expect a strict, professional letter; applying to a tech startup could mean you can let loose (a little bit) and present your personality and creative side.
Pro tip: If the recruiter is part of the internal HR team of the company of your choice, go to LinkedIn, and search for the company page. Employees, especially recruiters, keep their profiles up-to-date so their role within the company should be noted.
Ready for the next trick?
Write a stellar internship cover letter body
So, you've produced a show-stopping intro to your internship cover letter. You've got their attention – now it's time to seal the deal.
The cover letter body shows the hiring manager that you're the perfect candidate for the job.
What you should include here are your accomplishments, what your skills are, and how they, as a company, can benefit from bringing you on.
So, make it count.
Start with your strongest asset
This differs for everybody. You can include a soft skill, a technical one, or talk about your experience with specific software.Basically, take what you're best at (that's relevant to the internship) and start with that.
Show you're a problem solver, not just looking for a job
Companies offer internship positions (or any other role, really) because they have a problem they want to solve.Show them that you're not only aware of their needs, but you're also the solution to their problems.Giving examples of your past problem-solving experiences can boost your chances of success.
Explain why you're a good fit for the role
This is your value proposition. You need to create a connection between your skillset and the company.Carefully read the job description and note which skills the recruiter is looking for, then pick out the most relevant ones that you have and focus on them.Throw in a couple of sentences that show how your abilities and qualifications relate to the internship itself and what you can bring to the company.
Add relevant keywords to match the job description
You've already read the job description? Good. Now re-read it.Pay attention to keywords used throughout the posting and use them in your cover letter.Using the right keywords can make your application stand out to employers that quickly skim cover letters for words related to the position'.Another benefit is that it can help you pass the ATS (Application Tracking System) software that sorts through applications quickly, saving the hiring manager's time and effort.

For example, if the posting mentions you need good "time management" skills, talk about that one time-sensitive university project you handled gracefully.
Bring on the assets: relevant coursework, projects, extracurriculars, classes
Since you're likely to have limited previous work experience if you're looking for an internship position, your personal and academic work and accomplishments are often what make or break your application.Any relevant coursework, extracurricular activities, and volunteer work you've done are great additions to a cover letter for an internship.Just make sure you include the stuff that truly relates to the job or industry.It's questionable whether your accounting class will help you land an internship as a graphic designer, isn't it?
Type in your relevant skills – create a match between your value proposition and what the company wants
The hiring manager needs to see that what you have to offer can benefit the company.So, to boost your chances, highlight any relevant skills, knowledge, and expertise.These can be any skills you've gained from former work (paid or voluntary), classes and projects, etc.However, remember that you need to back up any abilities you talk about with specific examples.

The recruiters won't trust you blindly. They need concrete evidence.

Don't undersell yourself
Confidence (not overconfidence, though) is attractive to a potential employer.Apologizing for your lack of experience and underselling your skills makes you look uncertain.That's not what you should be aiming for.Don't focus on what you lack – instead, pay extra attention to your strengths and achievements. And, most importantly, never apologize.
Say what you expect to gain from the internship spell
While recruiters are mainly interested in how you can benefit them, your expectations for the role are also important.Most internships are designed to serve the company, as well as help young people and students further their industry knowledge and kickstart their careers.So, talk about your hopes, what you want to achieve during the internship, and why you think they're the perfect company to help you reach that goal.
Take a look at this cover letter body. It has everything the recruiter wants to see!
They open with their academic accomplishments and their highest relevant skills.
(example – https://enhancv.com/cover-letter-examples/intern/ – Dixie Daugherty letter, paragraph 2, "During my bachelors…")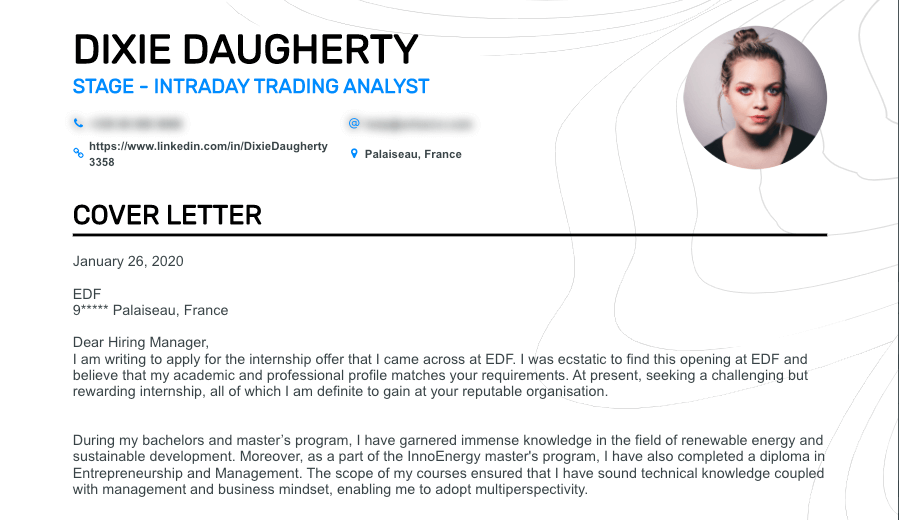 They continue with additional abilities, where they acquired them and where they currently come in handy.
(example – https://enhancv.com/cover-letter-examples/intern/ – Dixie Daugherty letter, paragraph 3, "Additionally, under the…")

As a conclusion, they summarise what they can bring to the company, as well as what they expect to gain from the experience.
They finish it up with a reason for the recruiter to contact them and discuss their application further.
(example – https://enhancv.com/cover-letter-examples/intern/ – Dixie Daugherty letter, paragraph 5-6, "I firmly believe that…")

Put a ribbon on your intern cover letter with a call to action
The conclusion of your internship cover letter is the cherry on top; it's what makes the recruiter want to pick up the phone and get you on board.
So, once again, talk about how thrilled you are to join the company. And don't forget the call to action.
To really get their minds set on you, you can suggest a specific time to meet or schedule a call to review your application further.
It can be this week, next week, or whenever you decide would be appropriate.
However, keep in mind that you need to have something to give back for their time and interest in you when you're asking for something.
Obviously, no one expects you to show up to your meeting with a gift basket.
But reassuring the hiring team that you'll show them exactly why you're the best choice for the job is enough to get them to call you back.
Oh, and also, make sure you include your contact information at the bottom (if you're writing an email cover letter; if it's a physical one, have it at the top).
Conclusion
So, now you know how to write a cover letter for an internship that gets you the results you're striving for.
To summarize, here are the main points you need to pay attention to:
A cover letter is a great addition to your resume if done right.
Clearly state the position you're applying for and showing you know the company will give your cover letter that personal touch.
The letter's body is the place to talk about your relevant personal and academic skills and accomplishments.
Finish up with a call to action to really get their attention.
***
What part of this post did you like the most? Was this advice useful? Do you have any tips and experiences of your own? Share them in the comments!
Make your move!
Your resume is an extension of yourself.
Make one that's truly you.