Writing a Data Science Intern cover letter might feel like skating on thin ice – choosing between buzzwords mentioned in the job description and original content, while worrying about making even the slightest mistake.
And what can make this experience a bit more fun and exciting? You guessed it. Relying on expert advice and examples.
Luckily, we have you covered. Check out our tips on writing a memorable cover letter below.
Have a data science intern cover letter that tells your story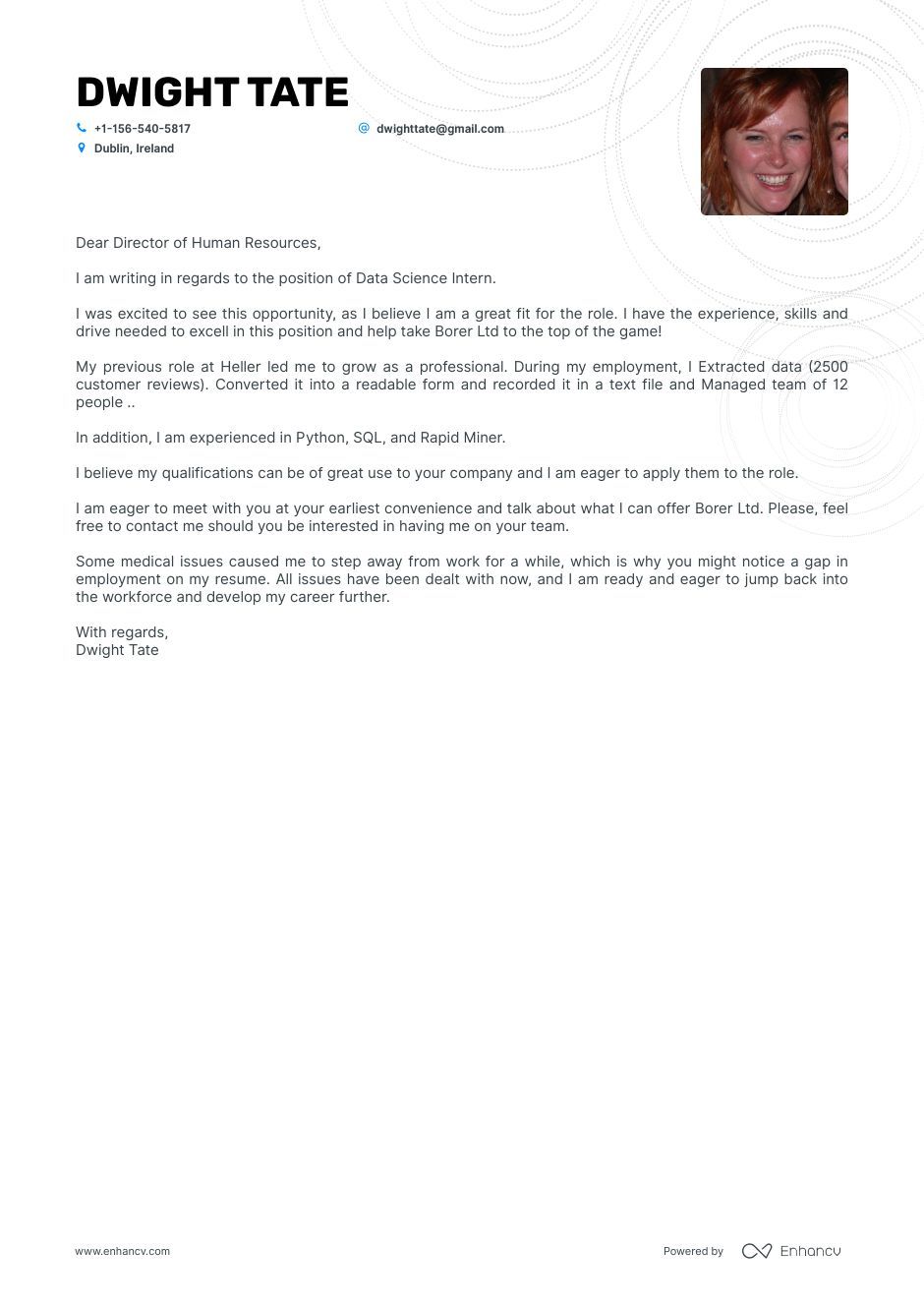 So what's the difference between a cover letter and a resume?
In short – the resume showcases your achievements and skills, while the cover letter focuses more on your personality and motivations.
Of course, you should mention some of your relevant skills in the cover letter as well. But make sure you're not repeating your resume word by word.
Now let's move on to the things that make every cover letter great!
How to choose the most suitable salutation and make a good impression
Addressing your cover letter to a specific person works in your favor for two reasons: it shows your attention to detail, and it proves that you've taken the time to research who the person might be.
However, sometimes this might be much more difficult than expected. On such occasions, we advise you to focus on salutations that go beyond the impersonal "To Whom It May Concern".
Here's a brief list of suitable phrases:
To the Human Resources Department,
Dear [company name] Recruiter,
Dear Angela Stone,
To the Recruitment Team
The introduction of your Data Science Intern cover letter is what will get you remembered. But how can you make sure that your opening line is good enough?
Rumor has it, many people out there have started using phrases like "I found your job advert on website X and decided to apply" ever more often. But more importantly – that recruiters are already getting tired of it.
So instead of saying what everyone else is saying, we advise you to go for a more honest approach. Begin your cover letter by explaining what excites you about the company and how this excitement will help you on your journey towards success.
Link your hard and soft skills to your achievements
When it comes to listing skills on a cover letter, there's only one thing that could be said about it – do it in a well thought out way!
We mean, don't just plainly list all your skills on your cover letter. Instead, link them to achievements and goals. Share how your expertise can add value to the team. Maybe even tell a personal story. It's up to you.
Just make sure to include both soft and hard skills – especially the ones listed in the requirements section of the job advert. This will help you pass applicant tracking systems that screen documents for certain keywords.
Prove that you're familiar with the company
Having a paragraph that shows you're aware of the company and the issues it faces is always a good idea. It proves your enthusiasm to join the team and makes a great impression.
For bonus points, you could also share how some of your strengths could help resolve company or even industry problems.
Go for a strong ending
While a strong introduction makes a great first impression, a confident, yet considerate conclusion is essentially what will get you a callback.
There are different ways to end your cover letter. But remember – the closing line you choose should match the company culture.
Your safest bet would be going for traditional phrases like "Looking forward to hearing from you" or "Looking forward to your reply". For bonus points, add a simple "Thank you for your time and consideration".