So are cover letters necessary for Intern jobs?
Well, the cover letter is your chance to tell a personal story to the hiring manager. It can help you prove you're a real professional who knows what they bring to the table.
It's also your opportunity to get into more detail about your personal qualities and success stories. But most importantly – it's the first place to show your motivation.
So yes, having a cover letter is essential.
But what should yours look like? Let's see…
Make your intern cover letter stand out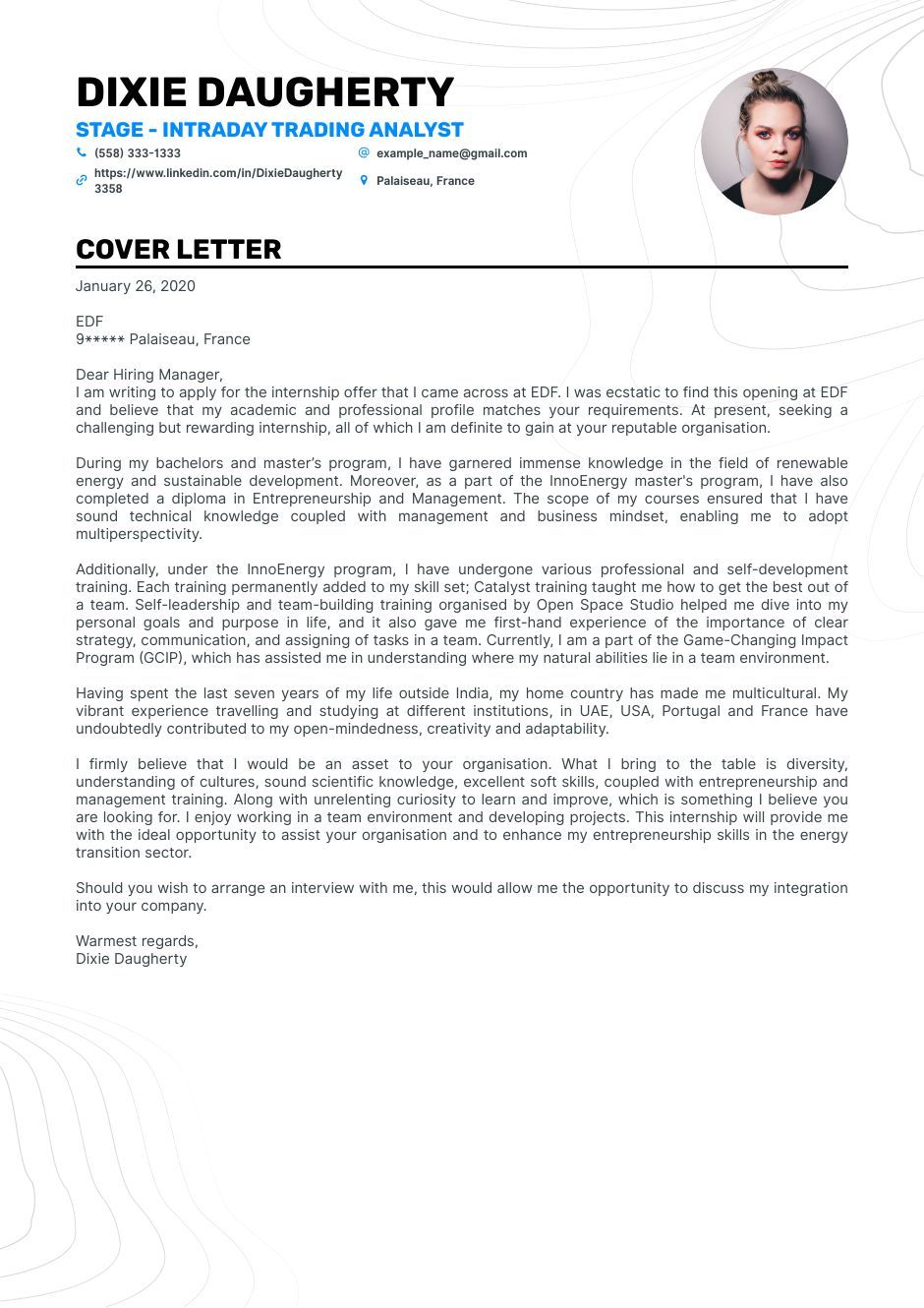 By now you've probably learned that a well-written cover letter will complement your resume and increase your chances of getting the job.
It will also introduce the recruiter to your strengths and your capacity to handle challenges.
In short - it will make them want to learn more about you!
Check out our guide on what your cover letter should include for some additional inspiration.
Now it's time to move on to what you actually came for – our professional tips and examples that will help you write a memorable cover letter and land an interview.
How to choose the most suitable salutation and make a good impression
Addressing your cover letter to a person is always something you should aim to do.
But finding who's responsible for the recruitment process might not be the easiest thing. We get it.
In such cases, we advise you to stick to the gender-neutral cover letter salutations.
Here are some examples of suitable classic salutations:
Dear Human Resources Manager
Dear Mr. Johnson
Dear Head of [team you're applying for]
Dear Nathan Lovelace
The introduction of your Intern cover letter is what will get you remembered. But how can you make sure that your opening line is good enough?
Rumor has it, many people out there have started using phrases like "I found your job advert on website X and decided to apply" ever more often. But more importantly – that recruiters are already getting tired of it.
So instead of saying what everyone else is saying, we advise you to go for a more honest approach. Begin your cover letter by explaining what excites you about the company and how this excitement will help you on your journey towards success.
Mention both your hard and soft skills
So you've listed all your hard skills on your resume, now what?
It's time to think about the soft ones. But remember, it's essential to not just list your soft skills but to link them to the actual ways they can help you do well in the future.
And what about hard skills, have we completely crossed them out? No, not at all. You still need to mention some of these if you want to pass applicant tracking systems that screen texts for certain keywords. Check the requirements section of the job advert for a complete list of phrases you need to include.
Prove that you've researched the company and are aware of industry problems
Showing that you've researched the company and are familiar with it is a good way to prove your work-readiness.
It will also point the recruiter to the fact that your skills and qualifications will have a long-term impact on the company. Just link some of your strengths to the ways in which current or potential issues can be resolved.
Go for a strong ending
The last part of your cover letter should briefly sum up everything you've said so far. It should also express your gratitude for the hiring manager's time and consideration.
The tone of the closing line depends on two things – your personal preference and the company culture. Don't go for overly creative phrases if the company you're applying for relies on strictly corporate language.
Traditional lines such as "Looking forward to your reply" are usually considered a safe bet. So when in doubt, stick to them.