Internships count because they provide tangible work experience to those new to a specific industry. This is especially important for those who have recently graduated from college and are looking to make a transition into the workplace.
Even those who have work experience through unpaid internships have a leg up on fresh graduates. In fact, it might be the deciding factor for a hiring manager when choosing between two equally qualified entry-level candidates for a position.
If you're interested in updating your resume and including a recent internship as part of your work experience, scroll through this article. You'll gain a ton of useful information, including:
Why are internships important?
How do internships count as work experience?
How to include an internship on your resume?
Templates and examples to follow
If you're interested in taking your resume to the next level, you should look into Enhancv's Resume Builder. It allows you to create a modern, aesthetically appealing resume, which highlights all of your major achievements.
And if you'd like to increase your chances of landing your dream job, Enhancv has a team of career experts who can help you wow prospective employers. These career counselors can help you to stand out from other applicants during the interview process.
Is your resume good enough?
Drop your resume here or choose a file. PDF & DOCX only. Max 2MB file size.
Why Are Internships Important?
Internships count because they let you try on a career without the pressure that would come with working in the same role as a salaried employee. Not only do you gain technical skills and relevant experience, but you also learn important soft skills, like how to manage your time and collaborate in a team.
Check out the list below to learn all of the reasons that internships matter if you're trying to land your dream job.
Test drive a career
Interested in testing the waters for a new career? Wanting to gain some hands-on experience without a long-term commitment to a company? Well, completed internships can actually help you to better refine your career goals.
An internship can give you the ability to get an entry-level position in your desired industry. It can also allow you to get your foot in the door for a prospective employer.
Work for a desired length of time
Most internship experience is confined to a specific length. Although they can fluctuate in length from a few days to more than a year, most internships fit within a defined time frame similar to a contract position. Some internships even mimic summer jobs and are set in the summer and last between three to four months. This allows full-time college students to apply for them during the time when they're out of school.
Gain experience
There's no other way to gain practical knowledge like getting hands-on experience. In fact, if you've been able to complete an internship at a well-known company, you can show that you have the ability to thrive in your industry.
Name recognition can help to turbo-charge your career. For example, if you're in the tech industry and you've completed an internship at a successful Silicon Valley firm, like Google, you may have more opportunities open to you than someone who didn't complete an internship.
Make mistakes without pressure
One of the best things about doing an internship is that you're able to learn and grow without the pressure that an average employee would have. If you're a fresh graduate who is new to the workforce, you're able to make mistakes and try new things without the same stress that salaried employees may have.
Grow your network
Get your foot in the door through an internship. According to the National Association of Colleges and Employers (NACE) study, 53% of those in the survey were actually hired at the company where they completed their internships at.
Even if you don't get a job at that company, you still have the opportunity to grow your network. If you've worked hard and made a name for yourself during your internship, you can expect a great reference from your manager. You can also keep in touch with managers or members of the team, gaining insights about industry changes and employment opportunities.
Gain college credits
Some colleges allow you to gain academic credit by working in an internship. This can help you attain the credits that you need to graduate.
Internships Can Count as Work Experience, Depending on a Few Key Factors
Do internships count as work experience? Yes, they do, but only for those who are new to the workforce or new to an industry.
When you're new to an industry, it can be a daunting task to fill out a one-page resume. You want your resume to be tailored to the job you're applying for, with only the most relevant experience. If you had no other experience in this field, then it might be a great idea to highlight the skills you gained during your internship.
If you're on the fence about whether an internship counts as work experience, then ask yourself these questions:
1. Did you handle relevant responsibilities to the role you're applying for?
Your experience matters, especially if you've already handled specific tasks that are directly relevant to the role that you're applying for. Even if you're applying for an entry-level role, employers would like to see that you can handle yourself in that role.
For example, if you worked as an intern in an IT department, you could list how you gained a real working knowledge of computer coding, cybersecurity, and maintaining company-wide intranets. If you were to apply for an entry-level cybersecurity analyst role, you can show that you have direct experience.
2. Do you lack practical work experience?
Imagine that you've got more than a decade of experience in your industry with several companies. If that's the case, then you may choose to take your internship off of your work experience section.
But for those who are brand new, internship programs help college students gain entry-level work experience. Also, if you're changing careers, an internship could be exactly what you need on your resume to show that you've got some experience in this field.
3. Can you quantify your experiences?
Employers are always looking for ways to quantify the work that potential employees have done. Therefore, come up with ways to list real facts and figures of your achievements as an intern. For example, if you worked in a sales role as an intern, you can mention how you built rapport with ten customers, established great customer service with them, and all ten even became repeat customers as a result of your work.
By putting numbers and facts next to any of your achievements, you're giving a hiring manager the opportunity to see how exactly you can make a difference at the company.In fact, one of the ways he can prove that your internship counted as work experience and you weren't just doing "grunt" work, is by showing how you had a tangible impact on the company.
Further Reading
Here's How You Can Include an Internship on an Entry-Level Resume
Whether you are an entry-level recent graduate or a seasoned professional, showing your internship experience on your resume can show the wide scope of the work that you've done. The two main areas where you could include internship experience are your objective statement and the work experience section.
Your objective statement is a good way to start
If you are a recent graduate, and are coming right out of an internship and applying for a regular position, you may wish to include your previous internship experience in your objective statement. A resume objective statement is basically an elevator pitch, a short, succinct explanation of your career goals and how you're working to reach those through your experience.
Resume objective Dedicated and committed graphic designer who is looking to practically apply the skills that she's developed. Working in an intensive internship at XYZ Designs, a large design firm in Dallas, the applicant gained valuable information on how to use complex design software, including Adobe Photoshop and Illustrator. Interested in applying those skills, while also discovering new avenues for growth at ABC designs.
Here, the applicant has put the skills that she's learned through previous experience in the internship program front and center. This isn't a bad idea, especially if your most recent work experience includes your internship. As well, if you did an internship at a large, well-known company, then it might be in your best interest to put that upfront in your resume objective statement.
Including it, in your work experience
The principal place that you will want to put your internship experiences is in the 'Work Experience' section. This section lists all of your major work experiences over the last few years. As mentioned above, if you have very little practical work experience in the field that you are applying for, then your internship may be something that can tip the scales and give you the ability to present yourself well as you apply for a new job.
Work Experience Example
Customer Experience Intern
•

Worked closely with the sales manager, cultivating the skills to build rapport with clients, and provide them with the best customer service for their needs.

•

Worked closely with the sales manager, cultivating the skills to build rapport with clients, and provide them with the best customer service for their needs.

•

Work closely with the IT department, and even provided insights into the new customer relationship management software that they were integrating into the website.
RIGHT
All the bullet points listed above provide a practical and quantifiable experience in which any hiring manager can see the value. Showing that an internship was more than just simple work, this applicant has actually shown that they took initiative by helping them to pick customer relationship software.
Three Tips to Use When Adding An Internship to Your Resume
1. Use proper formatting standards
Formatting is an important step in creating a resume. The most popular format for a resume is the first chronological order, meaning that the first work experience listed will be your most recent one.
Consider the font style and size
Font and style can also affect how a resume is received. For example, if you use an unfamiliar or very small font, then a hiring manager may choose to not look at your resume. Therefore, stick with a common font, like Ariel or Times New Roman, and make sure that the font is 12 points.
2. Focus on responsibilities and achievements in bullet points
It's important to include detailed information in the bullet points underneath your work experience. A good tip is to compile all of your duties and achievements in your previous role and decide which ones are worth mentioning. Those will be the ones that make up your bullet points.
3. Update your resume with new skills acquired
The best resume is an up-to-date resume, and therefore you should include any new skills acquired. This is especially true if you've gained professional experience through an internship program.
You may also list other extracurricular activities that you may have done while working as an intern. Mention any conferences, classes, or courses that you have taken to help boost your worth to your new company.
Conclusion
Many hiring managers would count internships as real work experience, and the reason for this is that new employees gain valuable skills throughout their internship process. There's no better way to gain hands-on experience than with an internship. Don't be afraid to include your internship experience on your resume, and make sure to provide real examples with facts and figures to back up your experience.
If you're interested in learning more about how to better represent yourself on a resume, speak with a career counselor at Enhancv. Whether you're a recent graduate or someone who has held several full-time positions, they can help to point you in the right direction as you seek to reach your career goals.
Make your move!
Your resume is an extension of yourself.
Make one that's truly you.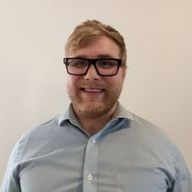 Dave Van Kooten
Is a human resource expert that helps passionate jobseekers to put their best foot forward to prepare for an interview. He believes that success can be achieved through going out of your comfort zone.