You did it! You made it through the interview!
But before you pat yourself on the back and congratulate yourself, your interviewer asks,"Do you have questions for me?"
Every great interview ends with this question, so coming prepared with a few questions to ask can be your way to show that you have prepared for the interview and are interested in the role.
By asking informed, thoughtful questions at the end of an interview, you can gain more information about the company's culture and how you will fit.
Ready to turn the tables on your interviewer by asking thoughtful questions?
Here are the main things that you'll learn from this article:
Discover 15 questions that you can use as an example for your next interview (for a junior position, senior employee position, and an executive position)
Gain an understanding of what answers you may expect
Learn insights into how the question will portray you.
Gather helpful tips and tricks on how to prepare and ask interview questions.
If you're interested in excelling in your next interview, Enhancv has a career counseling service which can give you an edge over your competitors.
Questions to ask at the end of an interview if you're a junior employee
AI-Generated Interview Questions from Your Resume
Drop your resume here or choose a file. PDF & DOCX only. Max 2MB file size.
If you're interviewing for a junior position, you have an opportunity to discover more about the company's goals and values before you apply to the company.
When you're entering a work field, you have a lot of potential to build a career with that company, so finding out more about the company culture, leadership styles of managers, and personal development options available to you are all important as you seek to grow in the company.
Check out these list of questions to gain an understanding of the opportunities available to you as someone new to the industry:
1. What do you love the most about working for this company?
The answer you receive should give you a little more of an understanding of the benefits of working for the company. By asking your hiring manager what they love about the company, you can see what attracted them to the company in the first place and why they've built their career there.
This question is really similar to the interview question, "Why do you want this job?"
This question will portray you as someone who is excited about the company, and is excited to know more about it. It can also allow you to build rapport with the interviewer, as you can ask directly what they're passionate about.
What insights will you gain?
Greater understanding of the company's culture
gain a personal understanding of the interviewer
Related: Ace your next interview with the correct body language
2. In this role, what are your expectations for me to succeed and how do you define success?
This question allows you to define expectations, giving you the ability to gain a better understanding of whether you will be a good fit at the company.
It also portrays you as someone who is eager to succeed in the position, as you are eager to know the primary goals of the company.
What insights will you gain?
Define expectations
Find a path to succeed in the role
Discern whether you are a good fit for the role
3. What do you think is the most challenging aspect of this role?
Before stepping into a role, it is always best to learn the most you can about the job, including the most challenging aspects of it.
This question portrays you as someone who is discerning, wanting to know the most difficult thing that you'll be asked to do while working in this role.
What insights will you gain?
Uncover the challenges of the role
Read more: Questions to Ask Your Future Manager before Joining The Team
4. What are the next steps in the hiring process?
Where do we go from here?
By asking this question, you set yourself up for the next round of the hiring process.
Here's when you can ask about when they would like to fill the position, and establish a line of communication with your hiring manager.
This shows that you're interested in the position, and that you're ready and willing to get started.
What insights will you gain?
The timeline to fill the position
5. What opportunities are there for professional development within your company?
If you're just starting out in an industry, personal development can set you on a solid path for the rest of your career.
This question shows you are a go-getter, someone who is ready to excel in the role and willing to gain as much knowledge and experience to do so.
What insights will you gain?
Ways to fast-track your career and understand the typical career path for someone in this role.
Learn about opportunities to develop new skills.
Questions to ask at the end of an interview if you're a senior employee or a team leader
You're a seasoned veteran who knows a thing or two about leading a team in your industry, but although you have a ton of experience in your industry, it's important to know more about the inner workings of the company to which you're applying.
Here are some questions you can use to dig deeper into the company you're applying to:
6. Could you share a little about the team that I will be overseeing?
This question may be one of the best ways to learn about your team before your first day.
This gives you insight into the practical workings of different teams within the organization. You can also learn how different departments work together by asking a follow-up question about the interconnected structures at the organization.
What insights will you gain?
Learn about the inner workings of your team, including the strengths of your team members.
Learn about the different structures within the organization and how your team will interact with them
7. What will be my responsibilities on my first day of work? How might that change going forward?
It's always best to know what you're getting into before your first day.
This question can help you learn the expectations that your managers have for you on the first day in the office, while also allowing you to gain an understanding of how your role might change over time.
What insights will you gain?
Gain a good understanding of what you'll be asked to do on the first day.
Learn how your role might shift overtime.
8. What would success look like within the first month? What about the first quarter, first six months, or first year?
Every employee wants to succeed in their role, that's why it's important to understand the metrics being used to evaluate success.
During the job interview, you can ask what success looks like, while also learning how it might shift overtime. mxpectations change from the first day to the end of the first year, and managers are expecting growth over time.
What insights will you gain?
Gain an understanding of what success looks like for you
Learn how your expectations may change over time
See how your success fits into the overall company's success
9. What are the major challenges facing the company in the next 5 years?
Here's your opportunity for you to discover some of the major challenges that the company is facing.
Whether it's issues with the supply chain or difficulties in keeping up with growth within the market, the answer that your interviewer gives will allow you to understand the ways this company meets challenges head on.
What insights will you gain?
You can learn a lot about the company by the struggles that they're going through.
Specifically, you'll learn how there are changing dynamics within the company to meet those challenges.
10. What are some ways that team leaders are expected to maintain the company's vision, values, and culture?
Company culture is one of the most talked about things within the organization, but seldom do you learn the practical elements that maintain that culture.
Here's a question that will not only make you look interested in the company, but will show that you are dedicated to upholding its vision and values.
What insights will you gain?
Learn the practical ways in which a company keeps and maintains their values and culture
Discern ways you can add to the company culture in your own unique way.
Questions to ask at the end of an interview if you're applying for an executive position
Interviewers for executive positions are looking for candidates who go above and beyond, providing past successes and evidence which shows that they'll be a great fit at the company.
Follow these five questions below, and you will show your interviewer that you have the right stuff to be a rising star at their company:
11. Where do you see the company heading in the next five years?
This question allows you to see the long-term goals of the company that you are applying for. Just like you should have a five-year plan for your personal goals, every company should also have long-term goals.
Essentially, it puts the ball in your court, as you can feel out whether you could see yourself in a leadership role as you strive for success over the next five years.
Out of all the good questions to ask at the end of an interview, this one gives you a glimpse into the future.
An interview is a two-way conversation where both participants are trying to see if they fit. If you don't see a future in that company, then you can keep looking.
What insights will you gain?
Understand what the future looks like for that company
Assess whether you see yourself in that role at the company in five years
12. What would the average day look like in this role?
Ever interviewed for a position, but forgot to nail down day-to-day specifics for the role that you're applying for? Only to learn that the job description on paper is wildly different from the expectations that they have for you?
That's why it's always important to learn what will be expected of you from the first day you start. Also, consider asking if there would be any changes to your schedule over time.
What insights will you gain?
Nail down specifics to the role.
Check to see if there would be any changes to the schedule over time.
13. Can you tell me a little more about the culture of this company and how you practically maintain this?
A lot of companies mention their company culture during the interview process, but you may want to ask a little more about it, especially learning more about the initiatives they use to maintain it.
This question paints you as insightful and someone who is interested in the company values.
What insights will you gain?
The systems in place to promote employee wellbeing
Define company values
14. Who is your company's top competitor?
This is one of the best questions to ask at the end of an interview because you can gain an understanding of the company's place within the market.
By learning the top competitor, you can come in on day one with some strategies to crush the competition, or be informed to start a conversation among your team about the competition.
An informed leader is an effective leader.
What insights will you gain?
Learning about the competition can help you develop strategies for success
15. When you come in to work, what are the things that make you happy?
This question might be great to ask if you're being interviewed directly by your manager. You can learn a lot about someone by how they prepare themselves for the day.
What insights will you gain?
You'll learn about the habits of the interview team
You can understand ways that the company's culture leads to happiness in the staff
Tips and tricks on how to ask questions at the interview
Coming up with questions for your next interview can be difficult, but with a little consideration you can wow your interviewer. Here are some tips to keep in mind when asking questions at the end of an interview.
What questions should you NOT ask
There are some end of interview questions that you may not want to ask an interviewer:
Questions related to salary and perks: Although you may be tempted, discussions about pay can really only start to develop when they've made an offer to you.
Questions about first promotions: Getting that corner office is something that you can worry about when you've got the job.
Questions about remote work: Unless otherwise stated in the job description, avoid asking about work from home opportunities.
Questions that start with why: These questions are much more philosophical and combative.
Polar questions that lead to 'yes' or 'no' answers: You'll want your questions to lead to more developed answers than a simple 'yes' or 'no'. Try to ask more open-ended questions to draw more out of your interviewer.
Key insights
It's important to learn what to ask an interviewer at the end of an interview.
Asking questions at the end of an interview allows you to seem interested in pursuing the role.
A significant question can unveil more about the role that isn't covered in the job description.
Try to ask follow up questions for more clarification.Sometimes it's hard to come up with a question to ask at the end of an interview just off the top of your head, but Enhancv has a stellar career counseling service which can help you succeed. Check it out and you'll meet with a dedicated career counselor who will walk you through how to show your strengths through every question you answer.
Make your move!
Your resume is an extension of yourself.
Make one that's truly you.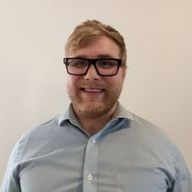 Dave Van Kooten
Is a human resource expert that helps passionate jobseekers to put their best foot forward to prepare for an interview. He believes that success can be achieved through going out of your comfort zone.