Quick Answer:
Templates are as cookie-cutter as they can get, take away from your creative freedom, and are based on a one-size-fits-all approach
Oh boy, how many times have I asked myself this question in the past!
Every time I applied for a new job, it was one of the first things that crossed my mind.
"Is using a template for my resume okay? Or, is it more on the bad side? Should I use a resume template or should I create my own? My design skills are kinda limited…Ah, what should I do?"
I second-guessed my decisions a lot. And the internet helped create a strong aversion to resume templates in my mind.
That is until I realized – it's not a one-size-fits-all.
Using a resume template might not work for someone else with different skills, experiences, and goals. Someone might get their dream job using a template; another person might have more success with a fully customized document.
It all depends on the circumstances, the job, yourself, and, most of all, how you use the template.
So, stick around! In this post, you'll learn more about:
Why people might think that resume templates are bad;
Why using templates and examples works;
Why you shouldn't worry about using resume templates and focus on the content instead.
I'll also throw in answers to some frequently asked questions.
But before we start – does the thought of creating a resume from scratch chill you to the bone?
Don't worry! Enhancv is here to save the day with our easy-to-use resume builder! It will take care of all your needs – from the design to the content, you're in good hands!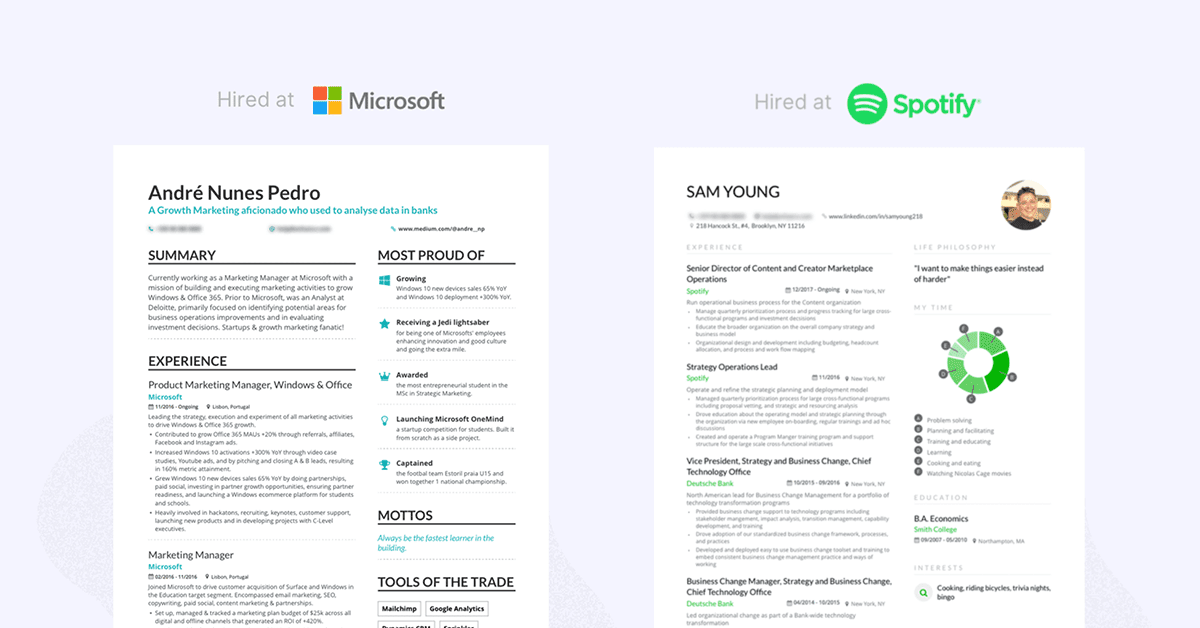 What is the "resume template" hate based on and is it really that bad to use one?
If you've done any research on whether you should use resume templates, you've probably come across a number of people absolutely despising them. To them, resume templates are bad and you shouldn't use one, by all means. Imagine what they would think of our resume builder.
While I think that's a little harsh, they do have some good reasons to do so.
Templates are as cookie-cutter as they can get
If you don't use templates properly, you're just going to blend into the crowd. Millions of people go online, find a resume template they like, and just substitute the information. Now imagine how many of these recruiters see every day. Exactly.
Templates take away from your creative freedom
If you're starting your resume from scratch, you have all the freedom in the world to make it look however you want! Templates, on the other hand, are pretty limiting, as they already have a set design and layout. Some of them let you play around with the different sections, but not all. Lots of template layouts can't be tinkered with, as that will ruin the whole design and make it look like a mess.
Templates are based on a one-size-fits-all approach
You might remember an article of mine where I talked about targeted resumes. The essence of it is that you need to tailor your resume to every job you apply for. So, is it a good idea to use a resume template in this case? Not unless you change it up a bit. Most templates are made to "fit" all job applications, regardless of the requirements, making them pretty basic. And they might not actually suit the job you're after!
Well, I'd be pretty put off by all of this. That sounds like a good argument against using resume templates, right?
But let's hear what the other side has to say.
Why is it perfectly okay to use templates and examples?
Yes, it's just fine to use resume templates, if you use them wisely. They aren't as "evil" as some people claim them to be. In fact, sometimes resume templates can be quite helpful.
So, let's look at some of the benefits they offer.
Templates allow you to send more resumes in a shorter time frame

The more resumes you send out, the higher your chances of getting hired, right? Using a template can help you with that. If you're applying for the same position in many different companies, a template can help you save time, as you won't need to craft an entirely new resume for each job. Sure, there will be some differences in each company's requirements, but you can easily tweak resume sections to make them fit the job description.
They help you remember things you should include
There are certain sections employers expect to see in a resume. If you skip any of them, you run the risk of having yours thrown in the trash. Templates work pretty well here, especially if you find a template specifically designed with your coveted position in mind. They can remind you which sections you need to include, so you give the recruiters all the information they want.
Examples give you insight into other professionals and how they cut through the noise
It doesn't hurt to gather some inspiration from other people who have been successful with their resumes. You can take a resume example, analyze why it worked, then take that information, and apply it to your own document. Of course, you shouldn't copy an example completely. You need to make it work for you. Take the tactics, the key sections, etc., and craft a document that speaks for you, not someone else.
There you go – an excellent counter-argument. Templates are starting to sound pretty good now, aren't they?
But that doesn't really answer your question. You're still asking yourself, "Should I use a resume template?"
In short – yes, but only if you use it properly. Plus, you really need to decide for yourself.
Templates won't work for everyone, though. Imagine a graphic designer or illustrator using a premade resume template where they don't showcase their skills. Would you hire them? While some of you may, others won't. Wouldn't risk it if I were you.
An engineer might not need anything fancy, but they would need certain sections in their resume. So, a template can work for them.
In the end, it's up to you, your circumstances, and your personal opinion.
Whether or not you should use a resume template shouldn't be the highest thing on your priority list. There's something else you should be focusing on instead.
Why you should customize your resume for each application rather than worry about templates
While a resume builder helps take care of things like design, features, tips, and the overall form of your resume, it's up to you to prepare the actual content.
So, instead of worrying about whether you should use a template or not, focus on making the resume ingredients suit you, your skills, and the job at hand. If you get this right, using a resume template is just fine.
I can't stress enough how important customizing your resume to the position is. I guarantee a recruiter is more likely to care about what your resume says than whether it's the right shade of cerulean.
Of course, your resume should be visually pleasing, but that doesn't make up for lackluster content.
A hiring manager expects to get the information they need for the specific job opening, and tailoring your resume to fit that position only boosts your chances of getting noticed.
Frequently asked questions about resume templates
Now that I've shared both the positives and the negatives of resume templates with you, allow me to answer some common questions about them, too.
Should I use a resume builder and how does it help me?
There's a difference between resume builders and resume templates. I've already talked about the benefits of using templates; now, let's focus on the builders.
Using a resume builder can be a saving grace for lots of applicants with no idea where to start and are just sitting there staring at a blank page, getting their creative juices flowing.
Resume builders let you craft a visually pleasing, attractive design that stands out. So that's the visual side taken care of.
But what about the content? We've got you covered there, too! You can get all sorts of bullet suggestions, writing tips, unique sections, and all of this tailored to different positions.
Naturally, resume builders save you time, too, being incredibly straightforward to use. And, if you ever want to update your resume, add or remove anything, and change up the sections to match another job, you can do that in the blink of an eye.
Overall, a resume builder is a great solution for most professionals, no matter where they are on their career path.
Should I use a Canva template for my resume?
Canva's resume templates can seem tempting – they're beautiful, unique, and seem to have it all. But are they the best choice?
The first thing I want to mention here is that they can do more harm than good, as you might have some trouble with the ATS (Applicant Tracking System) because of the way these templates are formatted.
Another thing to consider is that the platform has a pretty clunky and difficult editor, which might discourage people who aren't used to it or haven't used it before.
It's fantastic when it comes to designs and variety, but this can sometimes backfire, as employers struggle to locate important sections or wrap their heads around what they're looking at.
In conclusion, using Canva for inspiration is great, but if the company you're applying to is using an ATS, then I'd keep looking.
Should I use a Microsoft Word resume template?
There's not that much to say about Word templates, except that they're by far the most generic ones out there.
Sure, they do the job, and they look professional, but they're not the best direction to go if you want to stand out, as they're quite limited.
You might also have problems with the ATS, too, as not all Word templates are optimized for it.
So, should you use a Microsoft Word resume template?
Not really (sensing our proverbial bias here?), unless the job you're after has specific requirements, or if you're not after that wow factor and want a basic document with a basic, albeit professional, design.
So, should you use a resume template?"?
Well, that's entirely up to you… However, here are some takeaways for you to act on:
Templates can save you time, allowing you to send more applications in a shorter period, but they can sometimes limit your creativity and your ability to stand out.
Using a resume template can help you remember important sections to include, give you good examples, and help your thoughts flow when you're stuck, but not all recruiters want to see the same things on a resume.
Using resume templates and builders is a good idea, as they not only help you craft a visually pleasing design, but they give you content tips and suggestions, too. They're also very straightforward to use, and oftentimes, customizable.
***
Still wondering whether you should use a resume template? Share your thoughts and fears in the comments!
Make your move!
Your resume is an extension of yourself.
Make one that's truly you.