The interview with your dream company is just around the corner, and you are slightly freaking out, as you don't want to blow it. You know you have to prepare properly, but where do you start? In this blog post, we will help you crack the code of a rock-solid interview performance by covering the following key topics:
Preliminary interview preparation tips:
Don't skip the prep
Craft a captivating presentation for the 'Tell us more about yourself" question
Practice with a sparring partner or a job coach
At the interview:
Interview Questions:

Tell us about yourself?

why do you want to work here?

What do you know about the company?

Why are you leaving (left) your job?

Why do you think you are the best match for this role?"?

What is your greatest strength?

what is your biggest weakness?

Where do you see yourself in five years?

What is your most significant work achievement? \

Turning around the "Do you have any question for us" trap

Body Language

Appearance
At the end of the article, not only will you be able to recognize omissions from your past interviews, but more importantly – you will be all set to grab any job you want with our tips. So, are you ready to say Bye-Bye forever to interview stress and performance insecurity? Cool, let`s dive in!
Preliminary interview preparation tips
One widespread mistake is the tendency not to do anything before the interview. Not only beginners fall for this mistake, but also seasoned professionals with years-long experience! Rookies typically think the expectations towards them will be low, while Senior-level experts assume no job interview question can surprise them! To succeed - you don't need to predict all the questions, write the perfect script, and recite it. While typically, candidates find interview preparation dull, heavy, or completely unnecessary, you can make the prep exciting. "How?"- you would ask.
Get to know your interviewers.
Dig out intriguing or little-known facts about the company and quote them in your answers (founding year, intentions, awards, public sales records, partners, and international offices).
Read the latest industry news online, in specialized literature libraries, or find them out via your network
Your up-to-date knowledge shows high professionalism and commitment to the field and, respectively, to the company.
Know thyself and show up authentic.
Print the job description and highlight all the duties and requirements for which you have the right skillset in your pocket. We recommend revisiting past achievements from your career that showcase you possess the expertise the HR needs! Bonus points if you tell your Success stories engagingly. For PRO guidance on storytelling, please refer to our Enhancv blog post for the STAR Method.

For the skills you still don't have, think about what would be an excellent way to acquire them. Show drive and a straightforward (yet realistic) plan! Just keep in mind to stay grounded and humble the whole time! While determination is good, you don't want to appear too pushy or as the next career ladder sprint climber.

If your grandma would notice on your Resume that you have a gap in your work history, no doubt – HR would have already spotted it with their "eagle eye." Do expect to be asked for the gap. Prepare your answer in advance, and diffuse the stress of the question. You will appear calmer and in control. Anything that demonstrates you stayed active, even during non-employment, would impress HR. Stay upbeat and steer clear of Debbie Downer-infused negative comments about your past employer/s.
General rehearsal
So you followed all the above steps and "unveiled" some invaluable info for the employer and your glory story? Next – practice time! Have you heard the old expression "Practice makes perfect"? Well, your goal here is not perfection but integrity! Think in advance about likely interview questions and plan your answers to add salient taste, flow, and congruity to your presentation.
Making fewer unnecessary pauses will ensure you appear confident! However, do not rush challenging questions! Asking for 1-2 minutes and jotting your answer down on paper is acceptable. You will win the respect of the hiring team.
Practice with a friend
Apart from being able to do an interview mock practice with one of our Career experts, you can always ask a trusted colleague or a close friend to listen and provide constructive feedback.
Play around with the camera
Another alternative is to record yourself answering the questions. Watching these videos will allow you to apply corrective self-analysis to your performance.
The good old-fashioned writing
Some people are visual, and others are kinesthetic. Based on your predisposition, it may be just enough for you to write down some notes for the company and potential answers.
At the interview (Interview Questions, Body Language and Appearance)
If you did the preparation phase right, next, you would need a mood boost, confidence, and some appearance grooming to deliver a lasting impression! Let`s start with the Interview questions you should have by now nicely crafted during the preparation.
Here is a non-exhaustive MUST-PREP list of Interview questions to get you started:
Tell me about yourself?
This opening question has become a favorite routine for HRs from all industries. So why do Interviewers love it so much? First, it is a very clever way to put the candidate at ease and get them to talk in what initially seems a low-expectation question! But don't be tricked - it`s a trap query! HR checks if you will take the bait and drift off venting about hobbies and personal matters or if you will grab the chance from the start and steal the attention with a professional summary of yourself, packed in 5-10 sentences. Such a spiced-up start sends a strong statement of your value as an experienced and driven communicator who doesn't rely on any "blah-blah."
Important! A new tendency emerged with the boom of online interviews after the pandemic.
What better way to leave your virtual interviewers with chins dropped from surprise than to prepare a PDF self-introduction and ask if you can share it when they shoot the "tell us about yourself" question?
Why do you want to work here?
If you are applying for a role that is not your dream job, don't fake the enthusiasm, as that will be obvious and will only do you a disservice! On the other hand, if you`d die to get the job but still lack specific skills, be honest about it and try to compensate with your motivation and upbeat attitude. In most cases, this is more than enough for recruiters, especially now that most are waking to the idea that they can hire for aptitude and train for skills!
What do you know about the company?
Now is time to pull your research "bag"! Is it a leading international ICT company that you as a Developer have followed from the start of your career? Have you used their products and they are much better than the competitors`? Do they have an exciting diversity and inclusion policy that attracts you like a bee to honey? Bring on not only dry facts but show your attraction to the company that proves you and them are an undeniable match!
Why are you leaving (left) your job?
Model appreciation for your past employers. List a few achievements you conquered: expanded_ professional network, specific professional training, or winning company competitions. _If the role is in the same domain but at a higher level, highlight that you are ready for a challenge. If you are moving into an entirely new type of work, confidently own your career change transition and point out the steps you have planned and undertaken to arrive at this interview today! Be proud of your journey! And remember - don't feel self-judgemental or not good enough, as it will lessen the power of your presentation.
Why do you think you are the best match for this role?
Bring the interviewers' attention again to your TOP SKILLS 1, 2 & 3 you have highlighted in the "Tell me about yourself." In this way, you take an active role in the Interview process and control the narrative`s direction and tone. Then, quote skills crucial for the function, not just any skill!
What is your greatest strength?
Think of your superpower skills and select those which are the closest match for the role! Then give that "candy" to the interviewers and watch what happens. For example, at a Lifeguard job interview, saying that you can swim long distances and have won multiple competitions would make more sense than boasting about your outstanding Mathematical mind.
What is your biggest weakness?
DO NOT answer that you don't have or can't think of any weakness! It is an instant turn-off, as, let`s face it – no one likes know-it-alls. The trick is to choose to talk about a weakness that is irrelevant to the job duties. So, for example, if you are after a Clerical position and say you are not so brilliant with Reporting, then you smash the entry door to the company in front of your face. You can, however, let your guard down and speak of failures related to the job if you do demonstrate how you overcame your weakness and turned it into an asset.
Where do you see yourself in five years?
As dull as it may sound, there is a chance that you will get this question too! So follow these two guidelines:
Demonstrate consistency and desire to grow into the role and make a difference within the company! No organization likes to hear you plan to only be there for 1 season and take off for your new playing field!

Bring passion; however, dose the ambition carefully, as HR may interpret it negatively. Better say less than to share too many needless details. For example, talk on professional topics solely, and only if HR invites you to tell a bit about "who you are outside work" can you let your hair down and mention some hobbies or personal interests.
What is your most significant work achievement?
This question gives you a chance to shine like a rare diamond. If you can't think of an achievement related to the job role, choose the most significant success you have! Examples showcasing your planning, negotiation, and polished professional persona are always good, as these are so-called transferable skills.
And lastly, the:
"Do you have any question for us" trap
Most candidates are exhausted or stressed out if they did well - especially at the interview final. However, you didn't fight through the tough cookie" questions to drop the ball at the end! Asking a meaningful question shows your engagement! If you come to the table with a well-thought-off query, such as:
"What is the biggest challenge in the role for the upcoming six months?"
"What would my work day look like if you hire me?"
This one is great, as it indirectly invites the recruiter to imagine you already functioning in the role.
"What is the team's biggest success in the last year?"
Want more ideas for savvy end-of-the-interview questions to charm your interviewers? Then check our article Questions to ask at the end of an interview.
Disclaimer! It is still too early to start salary negotiation at this stage. Such a move during the interview would make sense only if the employer opened the topic. However, you can expect that if you follow our tips, the interviewer will already be immensely impressed by you! To be ready, look at our article How to calculate your salary requirements.
Body language and appearance
It is not a secret that we perform well when we look well. Therefore, the Appearance common-sense rules you need to follow are:
Take a good night's sleep the day before the big event.
Especially if your interview is early in the morning, try to push any party/ gathering invites for after your appointment, no matter how tempted you may be to go. Thank us later for that one!
Coordinate your outfit based on the company culture.
For example, if the organization follows a formal dress code, you should adhere to it.
For ladies – business shirt and skirt/trousers;
For gentlemen – official suit with or without a tie.
Even if the culture fosters Casual Friday outfits on any weekday, choosing something in-between Sporty-Elegant style is advisable. Above all, ensure you don't choose outfits that contradict the role specifics. You should avoid clashes, such as a trial interview day at a kindergarten on high heels or a five-star hotel receptionist interview with ripped jeans. TOP interview performance depends on those three components:
How you look – presentable and smart outfit;
What you say – based on your preliminary preparation;
How you say it – your body language.
Here's how to leave a solid and unforgettable impression at the interview, regardless of its format:
Give a good handshake, not the "dead fish" hand on all onsite interviews;
Smile and be courteous to everyone – from the CEO to the cleaning lady;
Keep eye contact with ALL the interviewers
Speak at average speed – not too rushed or too slow
Take the time you need to think on tough questions and shoot your absolute best answer. Making proper pauses adds "breath" to your speech and keeps others focused on actively listening to YOU.
Sit up straight with an open body posture;
Try not to look down as you speak - it may give off an insecure vibe;
If it is a video interview, look straight into the camera;
Ultimately, make calm, fluid hand gestures that accentuate your words
There you have it – the secrets of how to look, walk and talk for success in your interview! Apply all you learned, and don't forget to inform us of your success!
Make your move!
Your resume is an extension of yourself.
Make one that's truly you.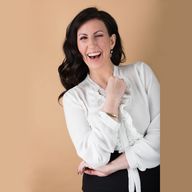 Liliya Foteva
Work Psychologist and Grant writer with 10 yrs experience in the Corporate & Social domain. Communication is my middle name! I love to travel, read (usually a la playa :) ) and chill with friends!