At least once per day, you meet someone who works in the customer service sector.
Clients judge a book by its cover.
If companies are the books, then people like you are the cover.
Therefore, organizations look for good professionals to represent them.
They expect you to be positive and empathetic, to deal with every problem, even on bad days.
Proving that you are a top customer service worker is hard, but we've got a solution for you!
Here is a customized guide with real resume examples that you can follow to conquer every job position in 2022.
We see our customers as invited guests to a party, and we are the hosts. It's our job to make the customer experience a little bit better.
This customer service resume guide will teach you:
6 customer service resume examples that prove your remarkable approach towards customers
How to balance soft and hard skills
How to provide evidence for industry knowledge relevant to the position
Ways to fill up the gaps in your resume
How to explain your experience and summary on your resume
How to make recruiters call you for an interview by writing an excellent resume
Customer service resume samples
Entry level customer service resume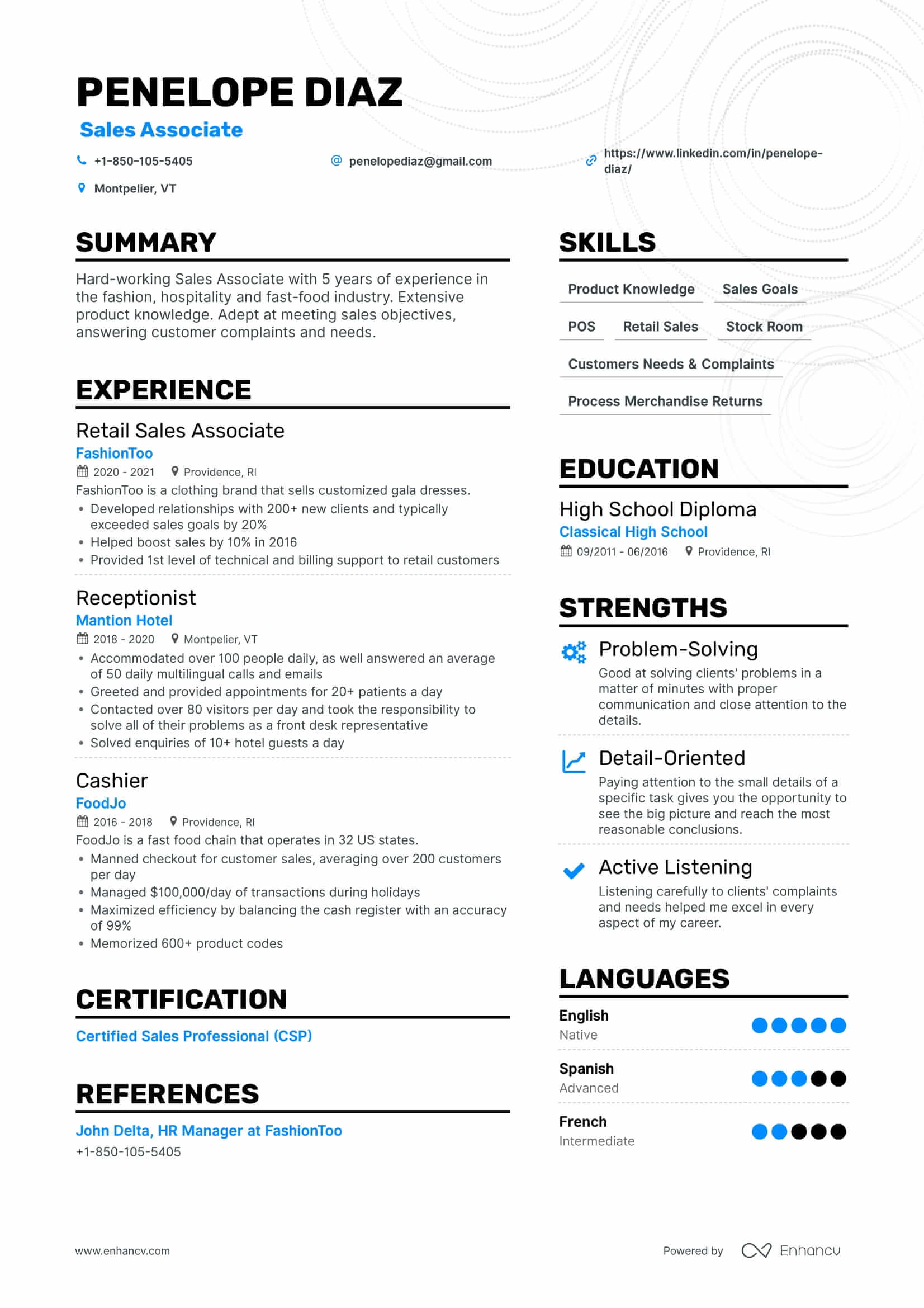 Why this resume works?
The following resume has a compelling summary with quantitative data and specific hard skills relevant for the position.
The Experience section consists of:
action verbs
achievements backed up with numbers
specific and accurate statements
Strengths also positively impact the Customer Service resume.
They provide extra evidence for industry knowledge.
Additionally, the certificate proves that the person is a trustworthy professional.
Customer service representative resume example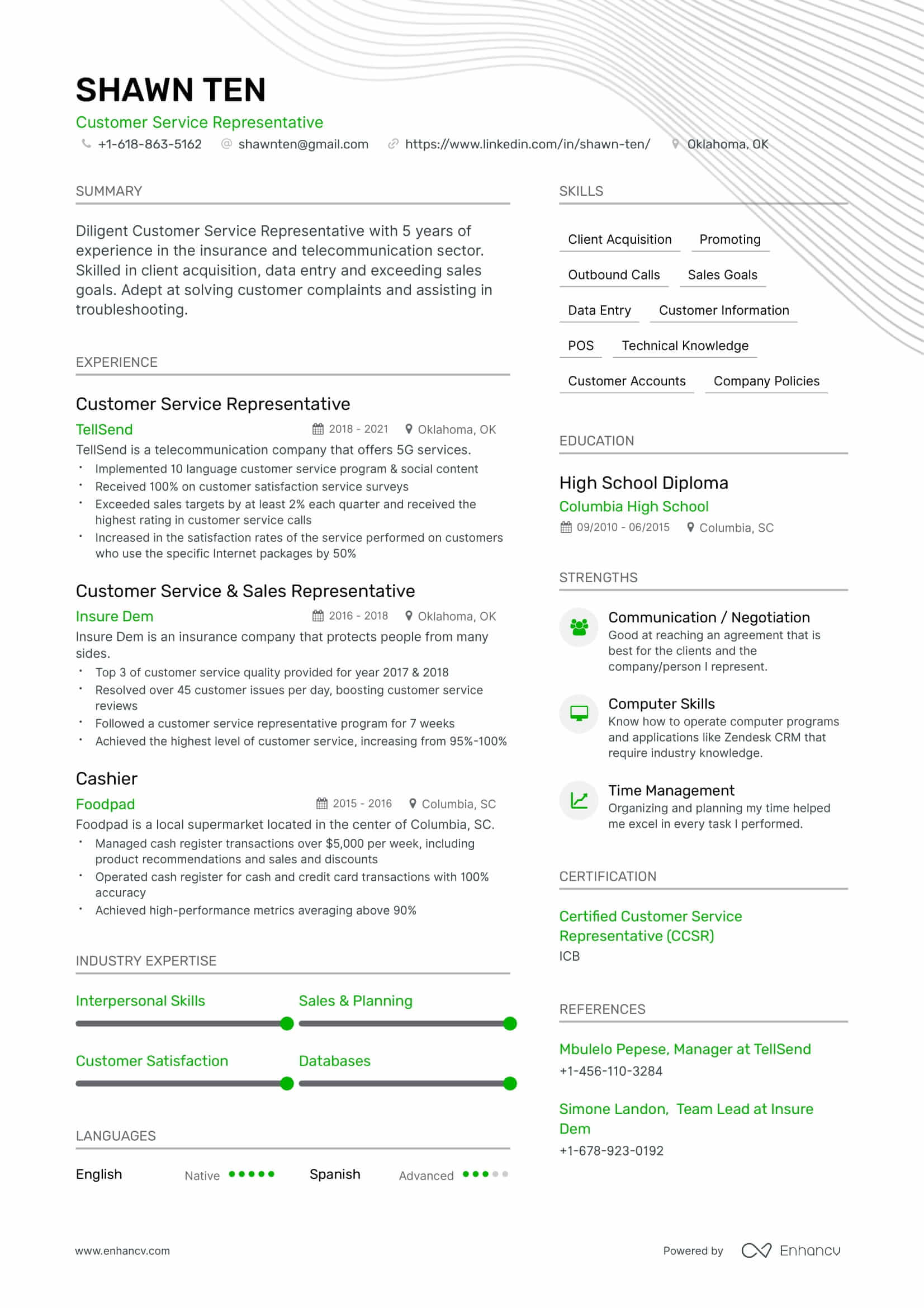 Why this resume works?
The summary provides relevant data that perfectly describes a Customer Service Representative
The Experience section proves deep industry knowledge and professionalism
Soft and hard skills support the Experience section
References show that the applicant knows how to establish valuable relationships with colleagues
Communication and negotiation skills are desired for this position
Retail customer service resume example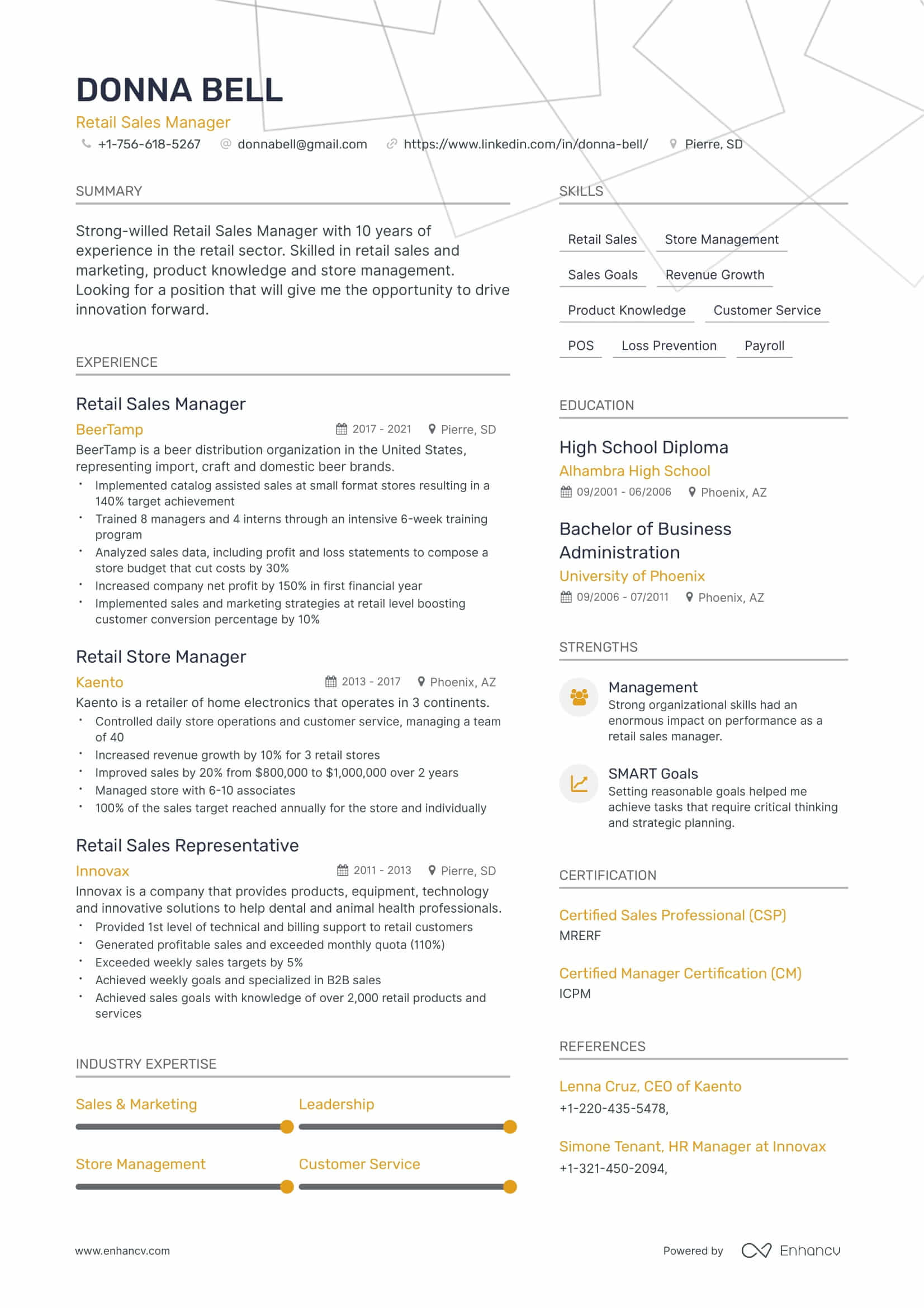 Why this resume works?
Quantitative data in the Experience and Summary section prove deep expertise
Management, SMART goals and Industry Expertise section provide evidence for strong knowledge and adaptability
The use of action verbs perfectly supports all the statements listed as experience
High-performance metrics indicate strong interpersonal and problem-solving skills
Candidate's education proves that they are reliable
Call center customer service resume example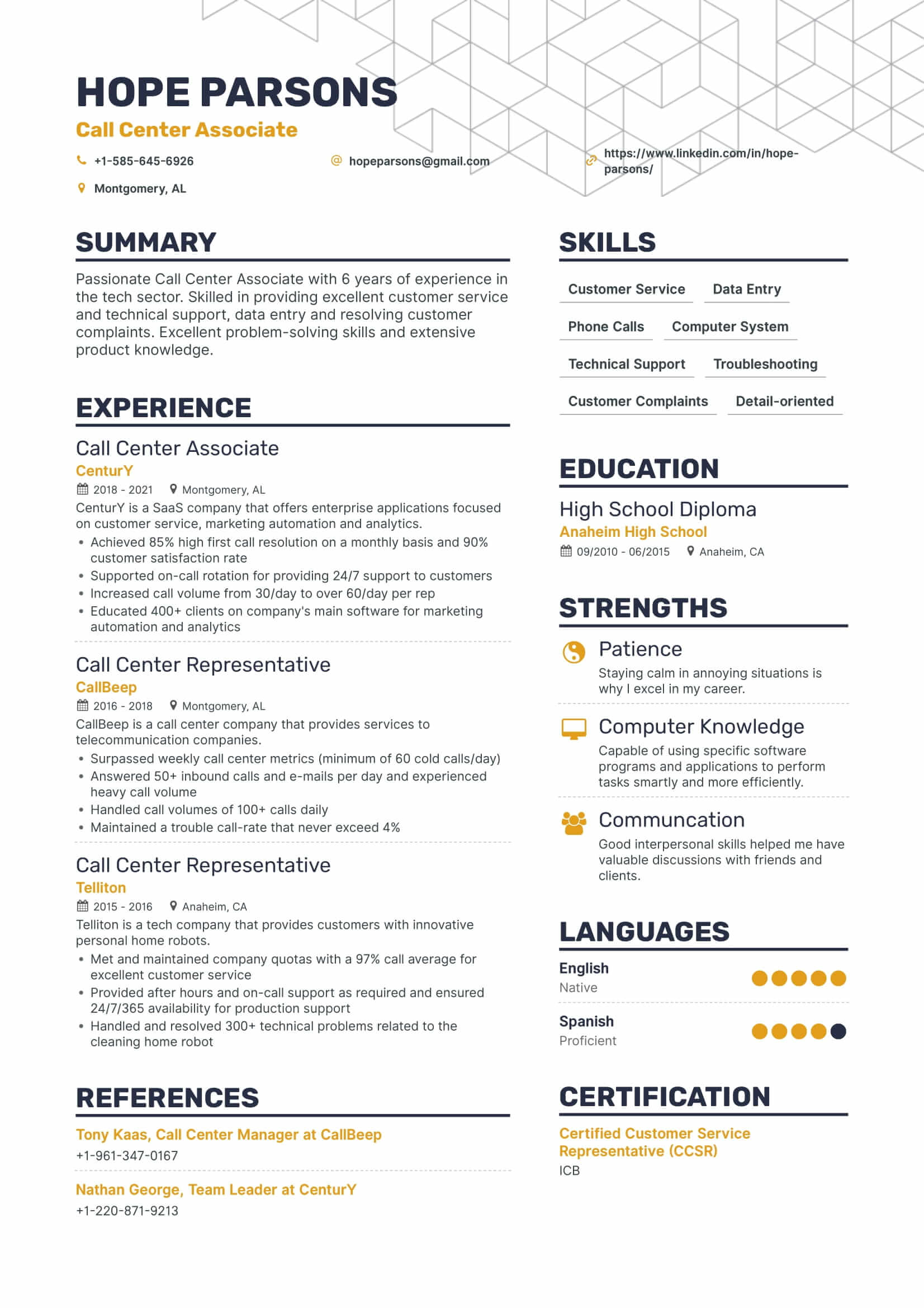 Why this resume works?
The strengths of the following candidate indicate a balance between hard and soft skills.
Applicant's experience shows:
Valuable information about industry knowledge and skills
Quantitative data and action verbs are a must-have in a Customer Service resume
A clear sign that the professional achieves high-performance metrics
Good communication skills are the basis for top future performance
Customer support resume example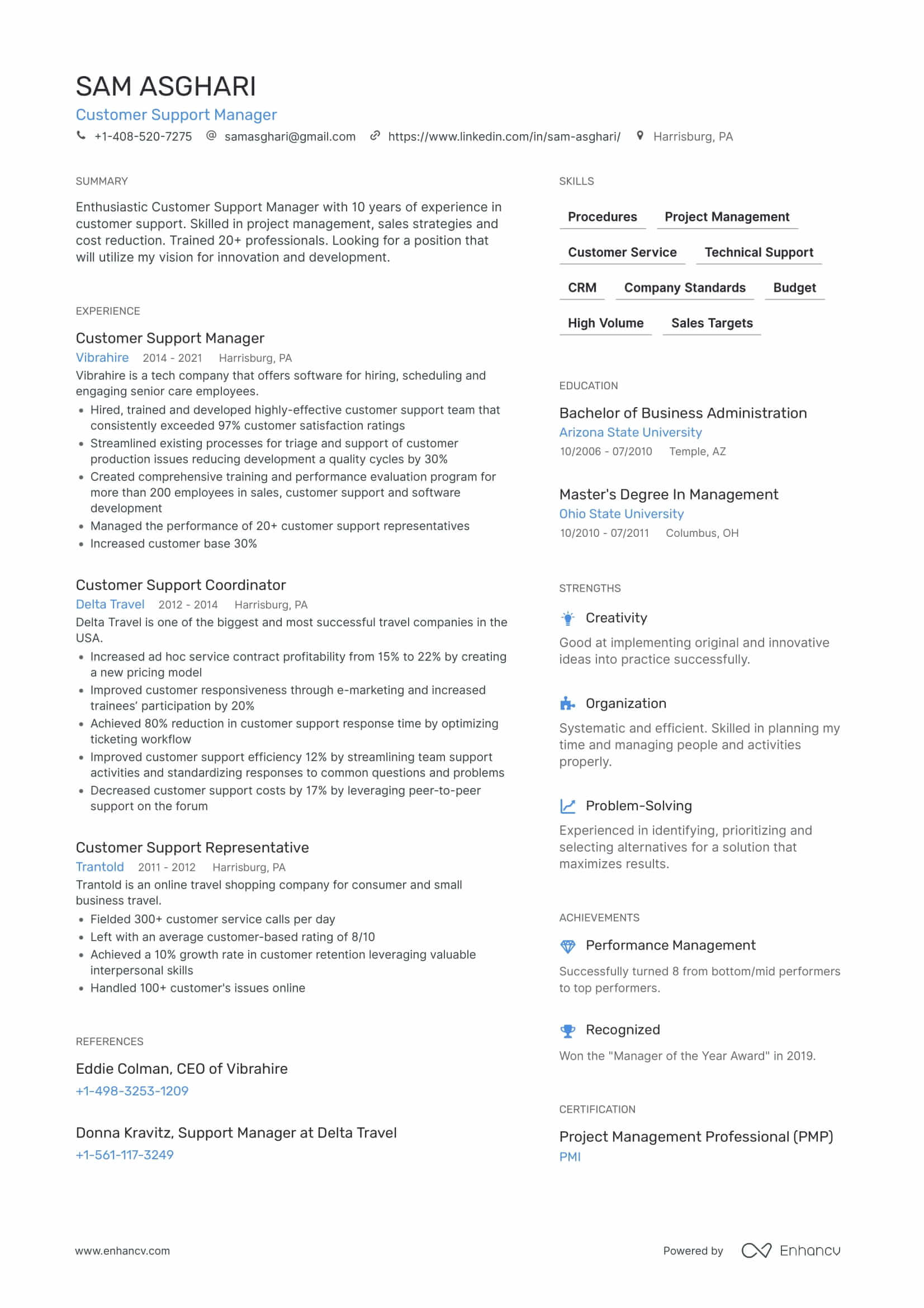 Why this resume works?
Problem-solving skills stated in the Strengths section indicate deep experience
Achievements also prove this person is a go-getter and a reliable professional
Admirable education signifies deep industry knowledge and literacy
The Summary section perfectly overlaps soft and hard skills in this resume sample
This professional has deep expertise in customer support, which is what many recruiters look for
The customer service job market
The annual salary for customer service representatives in May 2020 is $35,830. The lowest 10% earned less than $24,120, and the highest 10% more than $57,830.
This sector is experiencing high resignation rates. Customer service is not declining, despite the hit of the pandemic.
Employment of customer service workers is projected to show little or no change from 2020 to 2030.
How to write a customer service resume
It is important to emphasize skills, experiences and achievements that will make you stand out from the competition.
Now, you must focus on the key factors.
Let's start from the fact that good professionals leave clients satisfied. Customers will use the company's product/service again only if you:
Solved their problem
Had professional and polite attitude towards them
In other words, pay serious attention to your communication and problem-solving abilities.
Include these skills in different sections like Experience, Summary and Strengths.
Do not forget to mention technical skills like computer literacy, technical support and data entry.
Client acquisition, negotiation and company policies are also valuable skills.
Provide evidence that you know how to manage client information and accounts.
Do you have any courses taken?
Management, marketing, and sales certificates might have an enormous impact on your resume.
Mention similar skills in the experience section to prove that you know how to put things into practice.
And last but not least, tailor your Customer Service Resume to the job posting-it is crucial!
Customer service resume formats
There are 3 main resume formats:
Your choice of resume formats should be influenced by 2 factors:
Years of experience
Industry experience
Reverse-chronological resumes correspond to professionals with a couple of years in the niche.
Functional resumes are relevant for jobseekers and career changers. Have in mind that this format is less popular among recruiters.
Hybrid resumes combine the best characteristics of the previous two formats. They are suitable for all types of professionals-entry-level and seniors.
Do not forget the style and layout! Here are some resume tips:
Also, learn how to make your resume stand out by writing exceptional Education and Language skills.
Here is what a recruiter will look for in your resume:
What is your customer service experience and how deep is it?
Can you provide evidence for problem-solving skills?
Are clients and bosses satisfied with your performance?
Do you have any additional knowledge like sales, marketing or databases?
How did your interpersonal skills help you excel in your previous job?
Top resume sections."
The resume summary is the first thing the recruiter sees, so it's really important
Remarkable Experience Section helps you stand out
Highly-specific and technical skills might be critical
Marketing/Sales/Management Courses might be a good bonus
References from industry experts are a vital sign of success
Every section should show how you provided value to your previous employer and what value you could give to the future one.
Building an intriguing resume summary
The Summary section might be the critical point that will define whether you will receive an interview call or not.
The recruiter is searching for someone who will represent their company exceptionally well.
If you are this person, you should introduce yourself in 2-3 simple sentences.
Therefore, you should focus on giving the most valuable and accurate information about yourself.
Here are some tips for writing your Customer Service Summary:
It should be short and clear
Include action verbs and accurate numbers
Add a certification/course or something that will indicate industry knowledge
Mention 2-3 specific tasks/duties/achievements that you performed in your previous job
Add communication/problem-solving skills and back them with an example
Things you should avoid in your Customer Service resume:
Scattered and vague information about your experience
Starting the first sentence with "I"
Complex sentences with no specific examples and quantitative data
Build an intriguing summary that won't be forgotten in 5 minutes!
5 resume summary samples
Spirited Guest Services Agent with 7 years of experience in the hospitality industry. Exceptional organizational and communication skills. Capable of providing excellent hotel services, managing hotel staff and resolving guests' complaints.
RIGHT
Detail-oriented Teller with 5 years of experience in the bank sector. Profound knowledge of bank products and financial services. Excellent communication skills backed by 98% positive client feedback.
RIGHT
Hard-working professional with 4 years of experience as a Patient Coordinator. Skilled in providing accurate medical information to patients, performing administrative tasks and setting treatment plans. Looking for a position that will motivate me to be 1% better every new day.
RIGHT
Enthusiastic Account Manager with 8 years of experience in the financial and healthcare sector. Skilled in strategic planning, performing administrative and operational tasks. Adept at working with CRM and achieving sales goals and customer satisfaction.
RIGHT
Resourceful Paralegal with 3 years of experience in the field of law. Skilled in providing legal advice and preparing legal documents. Adept at performing clerical tasks, conducting legal research and managing trial preparation.
RIGHT
Pro tip
If you have no experience to add to the summary, mention something extraordinary. It might be a skill or a specific situation. Moreover, you can always add what you are looking for/expecting from the position. Thus, the recruiter will understand that you have goals and motivation to excel.
customer service experience to die for
Experience is the other thing that will push you ahead of the competition.
When it comes to writing this section, there is one thing that should pop up in your head:
Be specific!
This means:
Numbers-back up your statements with quantitative data
Action verbs
Exact soft/hard skills that helped you excel
Extraordinary achievement in this position
Every sentence that lacks the 4 points above is useless and won't get you anywhere.
When tailoring your resume to the job description, remember to focus on two main factors: communication and problem-solving skills
How did proper communication and negotiation increase your customer satisfaction rate or sales?
How did soft skills help you achieve high-performance metrics?
What programs and operations helped you solve customer problems or perform better at the position?
Ask yourself similar questions when building your resume, and write down your answers.
Customer service resume experience examples
Tracked and resolved technical support cases
Analyzed different configurations
Provided systems administration support
Achieved customer excellence
WRONG
Obviously, these experience bullet points are too general. There are no numbers, achievements or skills that could support them.
This candidate states they resolved technical support cases but did not mention any software program.
If you don't show industry knowledge in your Customer Service resume, then you won't have the chance to show it in an interview either.
Maintained 24 hours operations to ensure 99.9% uptime for the servers and provided support/assistance to users
Led a team of 4 to maintain and support Linux and Windows systems
Utilized Unix, SQL and Java to identify solutions to 500+ clients
Managed support for 250+ onsite and remote users
RIGHT
This example is way different. The candidate proves that they added value to the company.
This Experience section indicates profound industry knowledge, leadership skills and ability to deal with tons of work.
How to describe the duties of a technical support engineer on a resume
Have in mind the following Technical Support Engineer responsibilities when writing your resume:
Maintain and manage a customer complaint tracking system
Solve computer software and hardware faults on laptops and desktop computers
Provide technical support to customers for Microsoft SQL base software
Provide systems administration support for Linux and Windows
Provide email and telephone technical support for users for installation and coding
Lead and train professionals on troubleshooting
If you wonder how to strengthen your resume for an entry-level customer service job, here are the answers:
Compelling Certificates/Courses taken
References
They will make you look like a reliable professional.
To fill up the gaps in the resume, you could:
Describe the practical knowledge you acquired from your undergraduate education
Include courses/training/practices that helped you gain real-world experience with clients
Add achievements that indicate professionalism and support your communication/problems solving skills
Add a Volunteering section that also involves organizational, management or other similar skills
Best skills for customer service resume
The most important thing to do in the Skill Section is to match your abilities to the job description.
A lot of applicants might decide to emphasize soft skills in their resumes.
However, this might be a huge mistake.
Recruiters look for candidates that have computer literacy and experience with software programs.
Therefore, finding the right balance between soft and hard skills is crucial. It is a clear sign of the value you could give to a company.
"Customer experience is the next competitive battleground. It's where business is going to be won or lost."
10 soft skills to include on a customer service resume
Problem Solving
Clear Communication
Assertiveness
Fast Learning
Attention to Detail
Product Knowledge
Responsibility
Also, remember to logically connect soft and hard skills to other sections of your resume.
A Customer Service Representative with the ability to spell complex words backward sounds extraordinary but won't help you get the interview call.
10 hard skills to include on a customer service resume
Troubleshooting
Enterprise Systems: Customer Relationship Management, Payment Processing, Automated Billing Systems
Google Drive
Productivity apps: Trello, Slack and others
Emails
Databases/Data Entry
Project Management
Bi/Multi-Lingual
‍Telecommunication
Key takeaways
Be specific-use action verbs and clear examples backed up with quantitative data
Build a logical connection between each section to form a cohesive resume
Emphasize communication and problem-solving and support them with technical knowledge
Use keywords from the job description to list skills/certificates/education and courses
Find the balance between hard and soft skills