Quick Answer:
A reconnecting email is important to establish and keep a strong professional and personal network. You can use them for previous clients and former colleagues. Personalize the email and give a tempting reason, such as an offer to meet in person. Keep the email friendly and professional, and always include a call to action that addresses the recipients' needs. Crafting an eye-catching subject line is key to getting the recipient to open the email.
One of the most difficult things about growing a business network is that as soon as you feel like you've connected with a wide group of people, you automatically start losing touch with them.
Life gets busy for everyone, and people find new jobs, move to different cities, and gain more responsibilities. But keeping a strong network allows you to gain insights, like learning when potential job openings are available and discovering more about industry standards.
Therefore, establishing and keeping a strong professional and personal network are important assets for any businessperson. Although you can meet people in many settings, from company get-togethers to trade shows, and even at family get-togethers, the most common way to reconnect with people is through email.
In this article, we will discuss:
Why sending a reconnecting email is important to establishing your network
Reconnecting email templates
How to craft eye-catching subject lines
Some tips and tricks to create the perfect reconnecting email
Whether you are starting out in a new industry or you're a seasoned pro, the career counselors from Enhancv can offer valuable professional advice on how to establish professional connections.
Why should you send a reconnecting email?"?
Upload & Check Your Resume
Drop your resume here or choose a file. PDF & DOCX only. Max 2MB file size.
A reconnecting email is a message sent to someone who you've lost touch with, either in a professional setting or through personal connections. You can use them both for previous clients and former colleagues.
They can be a great way to boost response rates if you've built up an email list for clients. In fact, reconnecting emails can be sent to people who unsubscribe from your newsletter email. Although it may seem like an arduous task to win back people who have left, reconnecting emails can offer new value to former clients.
Alternatively, a reconnecting message can also be used as a networking email, one where you are reconnecting with old colleagues. You can also easily reconnect with old connections by sending a simple thank you email.
Reconnecting and networking email templates
Reconnecting email from a trade show
Subject line: It's Dan (From the trade show in Toronto last week)
Hey Mike,
It's Dan Hislop, and we met at the construction trade show in Toronto, Canada. One thing I really enjoyed about my time speaking with you at the trade show was how passionate you are about the construction work that you do.
I shared with you all the benefits our new table saw produces—providing a perfect cut every time with innovative safety features that save fingers. And I am so convinced by the product, that I'm willing to offer it to you for a reduced price than what I told you last week.
If you have a chance, I can swing by the job site and share with you about a few more products from SafeTee Tools.
Cheers,
Dan Hislop
Sales Director, SafeTee Tools
What does this email do well?"?
The best thing about this email is that it gets straight to the point, and the author of email shares exactly where he and the email recipient met last. Not only that, the author of email builds on the success that he had at the trade show, explains more details about the tools that he was selling, and creates a great call to action where he can meet the client in person.
Reconnecting email with old colleagues
Subject line: I'd love to catch up!
Hey Phil,
It's Steve, we used to work together at CE Salesforce. I wanted to check in and see how things are going with you. I knew you moved on to bigger and better things, and now you're working as a sales manager at Brian's Auctions.
I'd love to reconnect with you, and pick your brain about ways in which I can grow as a salesperson. I know you're still in the Colorado area, and would love to take you out for dinner at Chef Marco's Place.
Would that be something that interests you? How does next week sound?
Cheers,
Steve Falconbridge
What does this email do well?
Every email that you send out is going to be personalized to the recipient. This specific email is written informally, as the author of the email worked and knew the recipient. The reason for meeting up is also informal, as the sender is looking to catch up with an old colleague over a meal.
Networking email about a new job
Subject line: Re: Your open computer programmer position
Hey Mike,
It's Sarah Carpenter. I'm not sure if you remember me, but we used to work at Naiko Labs in the IT department. I know that you're now working for Unicell Labs, and that there is an opening computer programmer position in your department.
Since we last met, I've grown in my IT skills, gaining a better understanding of coding, as well as learning the basics of software development, cybersecurity, and company-wide intranets. I approach each and every day as an opportunity to learn more and gain new skills. Also, my work ethic makes me the ideal candidate to fill this position.
I'd love to reconnect with you, and if you're in the area, I would love to take you out for coffee and chat more. I've also filled out an application for this position, and attached my cover letter and resume to this email.
Sincerely,
Sarah Carpenter
What does this email do well?"?
This email is both a reconnecting email and also the first step in applying for a new position. The email sender includes both her resume and cover letter in the email. Also, in contrast to the other email templates above, this is more focused on sharing about the skills and abilities of the author of the email.
Service or product inquiry email
Subject Line: Interested in learning more about your CRM software
Hello Darren,
My name is Nathan Apple, and we spoke briefly on the phone two weeks ago about the customer relationship management software that Naiko Labs offers. I was really interested in the product, as I believe it can help to increase the sales figures by tracking customer loyalty and engagement.
As I mentioned in our phone call, I am the sales director of a sales force which reaches out to more than a hundred repeat customers regularly, and I'd love to reach my target audience's pain points.
If you have time next week, I'd love to meet up in person, and have you talk me through a little more about how to use the CRM software. I would love to purchase the software as well.
Sincerely,
Nathan
What does this email do well?"?
The best thing about this email is that it is straightforward, focusing in on one specific reason: the author of the email wants to purchase the products at the email recipient. There's no fluff or added information.
Seeking advice networking email
Subject line: Picking your brain on getting into the marketing industry
Hello Professor DeBoer,
I took your course economics 101 at Waterworth University last fall, and I really enjoyed your class, specifically because you have this way of condensing difficult to understand ideas into easy-to-understand tidbits of information. You actually helped inspire me to look for a career in the marketing field.
I was wondering if you had an open door policy where I could stop by and chat with you a little more about getting into the marketing field? I know you spent 2 decades in marketing and even built your own marketing firm from scratch. I feel you still have your finger on the pulse of the industry, and you could help lend some advice to somebody just starting out.
Would you be free if I stop by this next week? Also, what are your office hours?
Best wishes,
Dave Vandersaar
What does this email do well?
It's not always easy to ask for advice from a mentor, but what this email does well is it explains why this former professor can lend some advice on marketing efforts. It's also very personalized and sticks to relevant information. Generic emails are more likely to be lost within the clutter of an email inbox. This email also takes a friendly tone as the author seeks guidance.
How to craft eye-catching subject lines
Using a catchy subject line is one of the easiest ways to grab the attention of the recipient. Ask anyone in the sales industry, and they'll tell you that a great subject line is your foot in the door to start a conversation with the new client.
The best email subject lines are:
Personalized to the email recipient
Concise and to the point
Offer a tempting reason for the recipient to open the email
Crafting a great email subject line looks difficult, but can actually be pretty simple. Take a little time to learn about the email recipient, and this can allow you to personalize the email. Below, you can find some examples of eye-catching subject lines below:
Congratulations on the promotion!
I would love to collaborate with you on this next endeavor
I want to introduce you to Dan
I would love to catch up with you!
I would love to pick your brain on innovative sales techniques
I enjoy connecting with you at (name of location)
Tips to send a reconnecting email
Be direct about your request - Even if you feel uncomfortable with asking somebody for something, nobody likes it when someone beats around the bush about something that they have to ask. Try to say what you mean to say, and do it in a concise, easy-to-understand fashion.
Keep the tone of your email friendly - When reconnecting with potential customers or old clients, it's always a good idea to just keep a friendly tone. You can do this by using a friendly greeting, as well as asking about their life. Asking about their life and what's going on with them can help to show that you're not just interested in what you can get from them.
Offer to lend a hand - Sometimes it's better to give than to receive, and, whenever possible, try to share ways you could offer advice or practical help for the email recipient. Not only would they appreciate that, but it can also be a great way to reconnect with that person.
Key takeaways:
The best way to catch someone's attention is to create an eye-catching subject line.
Keep the tone of your email friendly and professional.
Email personalization is key to networking emails.
Offer something of value to your contact, even creative ideas.
Include a call to action which addresses the needs of the recipient.
Establishing new connections is never easy, but if you want to improve sales and move forward in your career, it would benefit you to speak with a career counselor at Enhancv. They can provide you with a few tips to reach your target audience and help you gain insights into professional networking.
Make your move!
Your resume is an extension of yourself.
Make one that's truly you.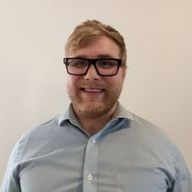 Dave Van Kooten
Is a human resource expert that helps passionate jobseekers to put their best foot forward to prepare for an interview. He believes that success can be achieved through going out of your comfort zone.