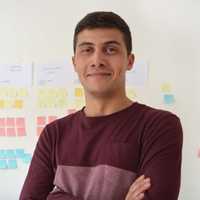 Volen Vulkov
8 minute read
Updated on 2021-04-21
You know spreadsheets.
You know accounts receivable, accounts payable, payroll and more.
Yup, you work in accounting.
But you're looking to switch positions and are worried your resume may not survive an audit?
Don't worry, what you're about to read has all the checks and balances you need to create a professional accounting resume quickly and easily.
"
"Expectations are for more companies, as they transform their business around data, to make these investments. Consequently, the onus is on accountants to acquire the expertise needed to wield these tools effectively"
"
Here's an accounting resume sample & how to use our resume builder
John Seamore
linkedin.com/in/__johnseamore__
Institute of Management Accountants
Certified Management Accountant (CMA)
Georgia State Board of Accountancy
Certified Public Accountant (CPA)
Organisation & time management
Verbal and written communication
Ability to work autonomously or collaboratively
complete projects before time, does more than required
Work effectively in a team, respect, listen to and encourage team members
Analyze problems to find causes, find possible solutions
President of the Student Council
Have won the scholarship for proactive students of my hometown - Sevlievo.
John Seamore
linkedin.com/in/__johnseamore__