You are the master of mixes but still can't find a job as a bartender?
Sometimes people underestimate the role of the person behind the bar.
These professionals are the core of every nightclub/restaurant.
Working in a dynamic environment involves exceptional teamwork and lots of stress.
They actively communicate with co-workers and clients and manage the overall organization.
Does it sound like an easy thing to do? We don't think so.
Fortunately, we've found out how to nail the bartender resume and will show it to you!
Follow this ultimate 2022 guide and learn how to convince recruiters to get in touch with you!
A professional bartender is someone who can do his or her best work when he or she doesn't feel like it…
Bartender Resume Examples
Entry Level Bartender Resume Example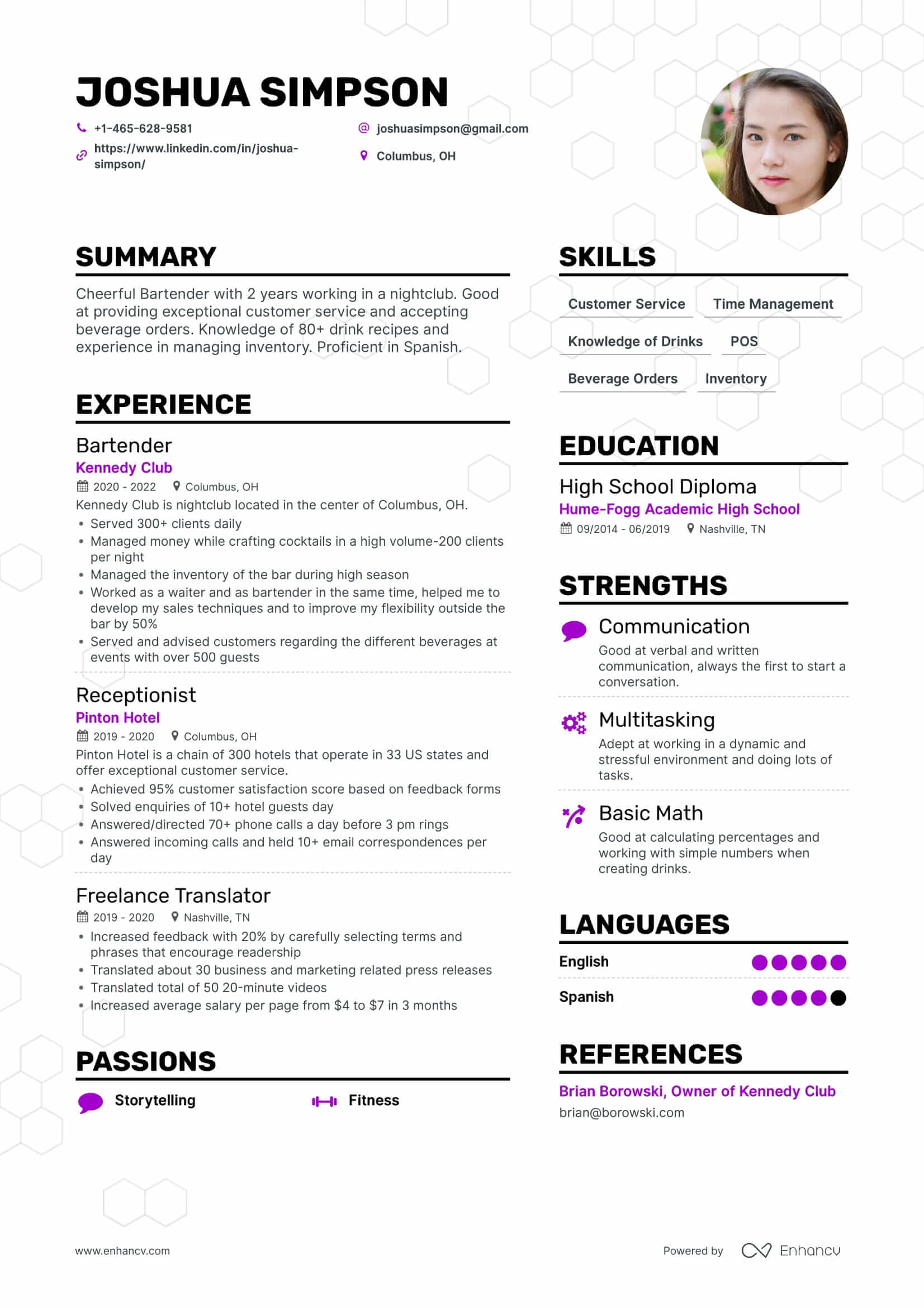 Why this resume works
This candidate might not have years of experience, but their job-winning resume is one of a kind:
Statements and responsibilities are supported with quantitative data
Their strengths reveal reliability: multitasking and good communication helps them excel
The Experience section offers high-performance metrics, action verbs and achievements that indicate self motivation
References and Languages are an advantage that might convince recruiters to hire this applicant
Fine Dining Bartender Resume Example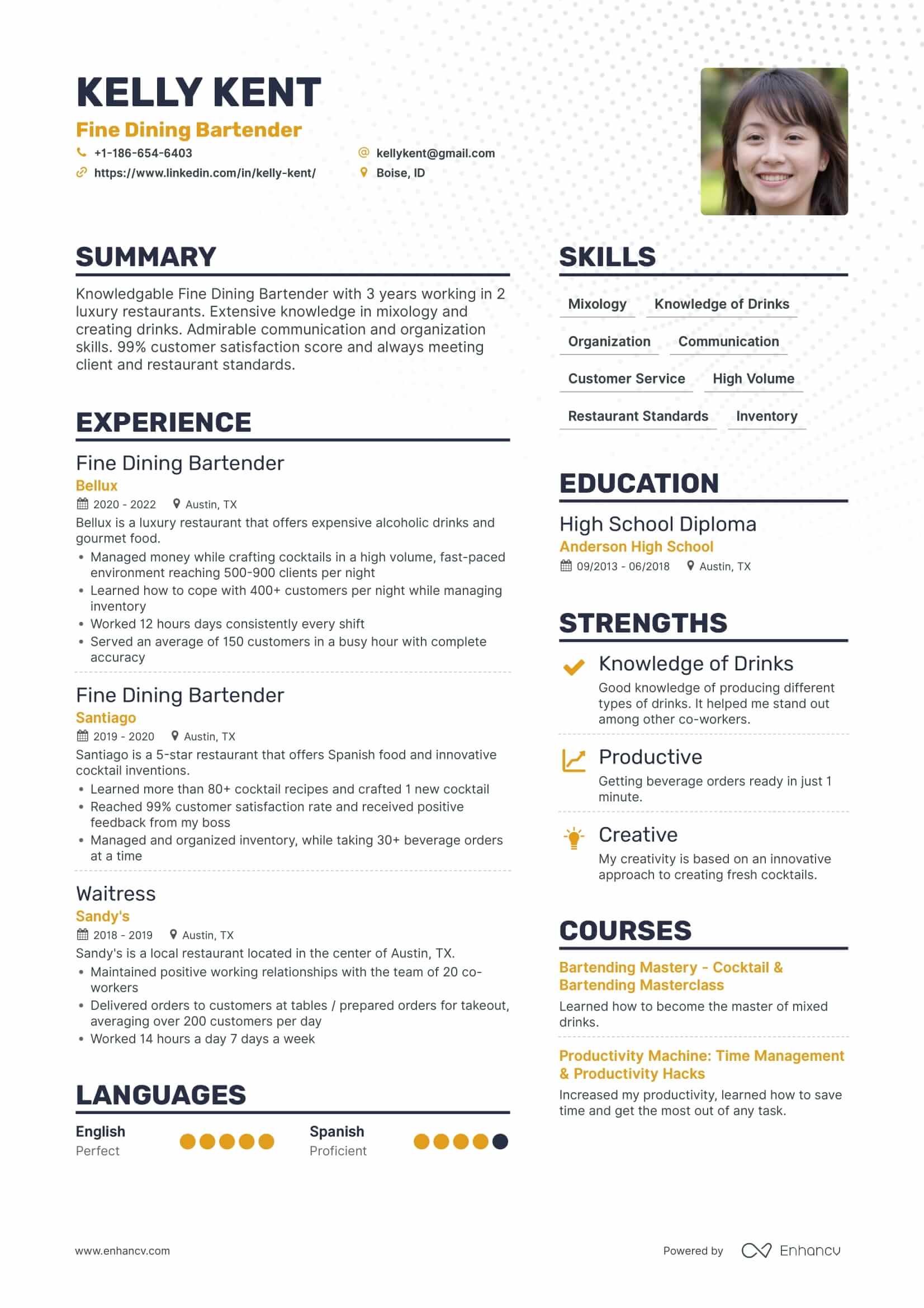 Why this resume works
Compelling summary consisting of duties, industry knowledge and high-performance metrics
Well-built expertise backed up with quantitative data, action verbs and vital achievements
Top hard and soft skills required by recruiters
Deep knowledge of drinks and creativity that will impress the recruiters
Additional courses indicate strong self motivation and a desire to learn
Nightclub Bartender Resume Example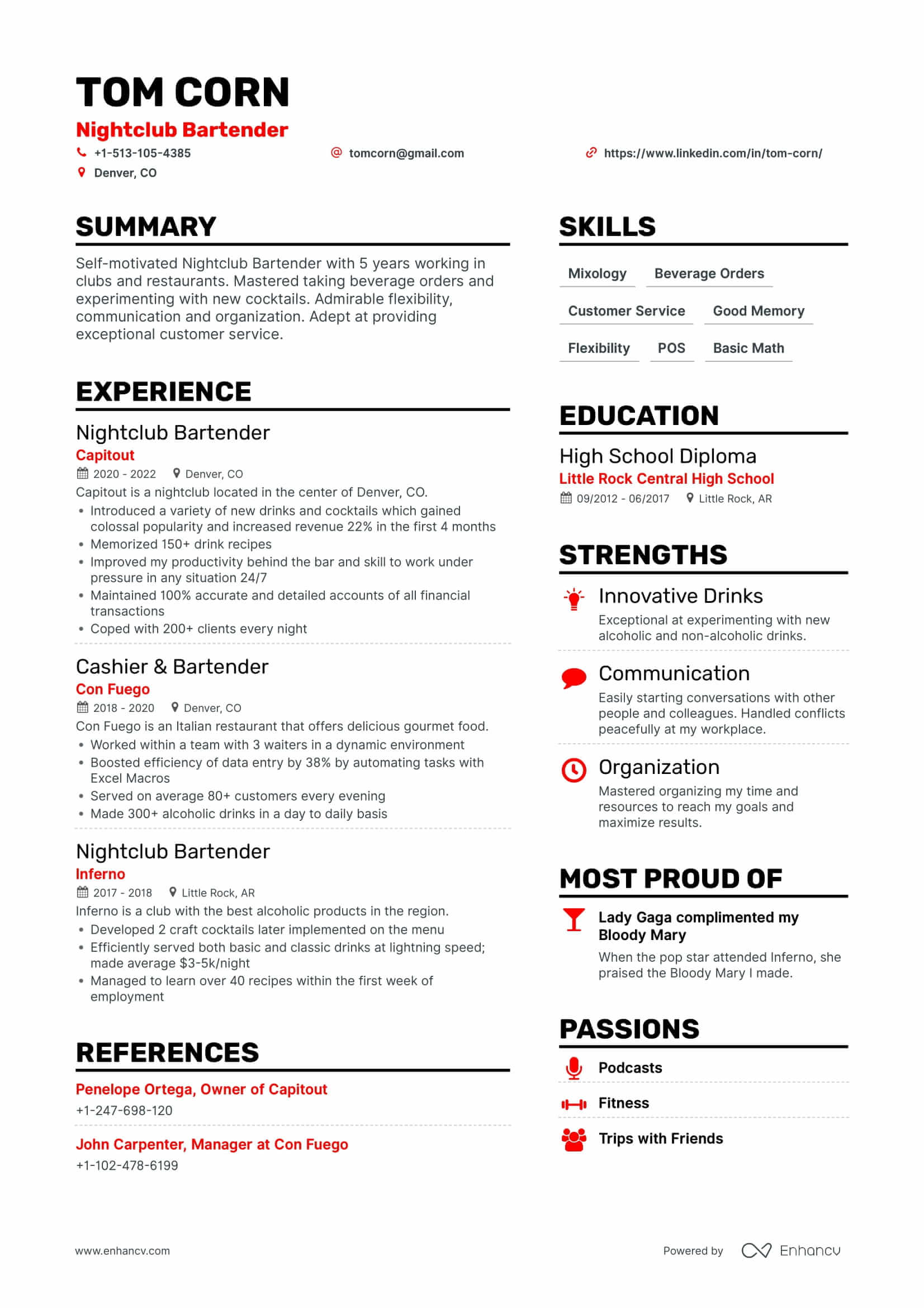 Why this resume works
The following candidate has a well-built and cohesive resume that offers 5 years of experience:
A coherent Summary section that perfectly describes skills and duties
The balance between soft and hard skills impresses with professionalism
Extraordinary achievements indicate an innovative approach and uniqueness
References from previous employers prove that the candidate contributed to their business
The Bartender Job Market
The annual salary of a bartender in 2020 is $24,960.
Employment of bartenders is projected to grow 32% from 2020 to 2030.
This growth is much faster than the average for all occupations.
It is a result of the need to replace workers who transfer to different occupations or retire.
Therefore, there are plenty of opportunities that you can grab. It's all up to you!
How to Write a Bartender Resume
Your resume is like your ID card-it shows that you are a unique individual.
That's why you should list only these facts about you that will help you stand out.
Good communication skills and knowledge of drinks are your golden ticket to success.
Connect them logically to every section of your resume.
What more?
Tailor your resume to the job description immediately!
Recruiters use ATS to scan your bartender resume for keywords.
"ATS Resume: ATS Friendly Resume Guide + Templates"
Therefore, you should pay more attention to the value you could offer.
Introduce yourself in 2-3 sentences in the Summary section by emphasizing your skills, talents and experience.
When it comes to your expertise, mention facts and achievements backed up with action verbs and quantitative data.
Do you speak foreign languages? If yes, write them down!
You can include references from previous employers to show reliability.
Additional courses are always a good fit for your resume as well!
Read the other sections of the guide and make recruiters fight for you!
Bartender Resume Formats
Focus on these three resume formats:
Each of them is defined by the niche and the years of experience:
Reverse-chronological resumes are a good option for individuals working years in a specific niche.
Functional resumes are suitable for people who want to change their career or search for their first job. However, they are less popular among recruiters.
Hybrid resumes match both newbies and skilled professionals. They consist of all the positives of the previous two formats.
Never forget the style and layout! Here are some resume tips:
If you want to make your resume stand out, pay attention to References and Language skills!
Top Resume Sections
Your experience is the basis of the whole resume
The Summary section offers essential information about you
Your strengths are a clear sign that you are the right person for the position
The Skills section also indicates strong expertise
Languages & References are the cherries on the top of the cake
What Recruiters Want to See
How did you gain experience, and what are your achievements in previous jobs?
How do you cope with stress in a dynamic environment?
Are you organized, self-motivated and communicative?
Do you have extensive knowledge about beverage orders?
Are your previous employers happy with your performance?
Stick to the advice in the panels and write your coherent bartender resume!
Bartender Summary That Makes Recruiters Crazy About You
"Fewer words, more actions."
This sentence should be your maxim when writing your resume summary.
No one person on the planet can tell you otherwise.
Recruiters want to see what value you could add to their business.
Two to three sentences are the optimal range of a cohesive and well-built introduction.
How to write the perfect bartender summary:
Add valuable and measurable information about your experience
Add communication and knowledge of drinks
Emphasize actions and quantitative data
Mention extraordinary achievements that make you stand out
Describe 2-3 responsibilities that you excelled
Always stick to these rules as well:
If you offer a vague summary, expect a poor response from recruiters!
Hard-working Bartender with 4 years working in a hotel bar. Studied mixology and mastered innovative cocktail recipes. Strong time management and organizational skills. Adept at working with a team in a dynamic environment.
RIGHT
Diligent Bartender with 2 years of experience working in a restaurant. Met all restaurant standards, managed and created beverage orders. Worked in a multilingual environment and learned Spanish. Excelled organizational skills and communication.
RIGHT
Motivated Fine Dining Bartender with 5 years working in a luxury restaurant. Mastered creating cocktails and other alcoholic drinks. Adept at working with POS terminals and providing exceptional customer service. Reached a 98% customer satisfaction rate and positive feedback from managers. Skilled in working in a dynamic environment with a multinational team of 10 co-workers.
RIGHT
Enthusiastic Nightclub Bartender with 3 years working in a whiskey bar. Learned how to serve alcoholic drinks and take beverage orders. Managed inventory and received positive feedback from employers. Proficient in Spanish and German.
RIGHT
Energetic Bartender with 6 years working in restaurants and bars. Mastered creating cocktails, serving alcoholic and non-alcoholic drinks. Managed a team of 5 and inventory levels. Skilled in communicating in 3 languages: English, Spanish and French. Received 96% customer satisfaction and created valuable relationships with colleagues and employers.
RIGHT
Pro tip
It's always a good idea to add industry knowledge to your resume summary. Maybe you learned how to make a specialized alcoholic drink? Mention it! Your knowledge proves that you are educated and well-prepared.
The Bartender Experience You Could Present
Building the bartender experience section is quite tricky.
Some candidates might decide to list non-challenging duties that every bartender has.
Unfortunately, this action will cost you the interview call!
Look at your experience as an opportunity to stand out.
It's not about how many hours you've worked, but the value you provided.
Therefore, follow these 3 rules when writing your bartender resume:
Focus on communication and knowledge of drinks/beverage orders
Mention extraordinary facts/duties and achievements
It's needless to say you should tailor your resume experience to the job description.
Pay attention to the communication skills and the knowledge of drinks.
They will help you build trust in recruiters and receive an interview call.
How did these skills help you receive positive feedback and achieve your goals?
How did you manage to work in a dynamic environment?
What drinks did you learn to make? Did the clients like them?
Did you solve conflicts between co-workers or clients?
Answer the following questions and build your experience section!
Bartender Resume Experience Examples
Created delicious cocktails
Managed the cash register
Provided exceptional customer service
WRONG
Do you find these points specific or valuable at all?
Absolutely not!
Your expertise should trigger amazement and curiosity, not boredom.
They won't make you stand out among the fierce competition.
Worked effectively within a team of 5 bartenders in busy conditions
Learned how to cope with many customers-500-per night
Incorporated 70+ recipes of innovative cocktails and alcoholic drinks
Reached 98% customer satisfaction rate by providing exceptional customer service
RIGHT
Here is the real deal!
The following statements follow all the rules mentioned above.
This candidate is a go-getter, self-motivated and creative.
How to Describe the Duties of a Bartender on a Resume
Pay attention to the following bartender responsibilities:
Manage the bar operations and communicate properly with co-workers
Master beverage orders, manage inventory and operate POS terminal
Mix and serve drinks, check IDs, handle cash and other forms of payments
Check IDs of guests to verify age requirements for alcohol purchase
Ensure safety inside the bar by providing crowd control
Post drinks or food orders in the micros system efficiently
Help new employees adapt to the dynamic environment
To Fill up the Gaps in the Resume, You Could:
Emphasize Languages to prove that you worked in a multilingual environment
References from previous employers indicate reliability
Additional courses show that you are a go-getter and self-motivated professional
To shorten the distance with the recruiter, add passions.
Crucial Bartender Skills
Good communication and knowledge of drinks are obligatory for every bartender resume.
Flexibility and organization will help you manage the stress and earn a reputation.
Moreover, strong memory and basic math will help you save time and effort.
So far it looks like you will need a special blend of soft and hard skills for your skills section.
List similar skills to get hired!
"The greatest accomplishment of a bartender lies in his ability to exactly suit his customer…"
Top 5 Soft Skills
Communication
Flexibility
Organization
Time Management
Problem-solving
Find the right balance between hard and soft skills.
Add only those abilities you can prove on the first workday in this position.
Top 5 Hard Skills
Mixology & Knowledge of Drinks
Good Memory
Basic Math
Physical Stamina
Cash Management
Key Takeaways
Mention facts & achievements backed up with action verbs and quantitative data
Focus on communication and knowledge of drinks/beverage orders
Tailor the whole resume to the job description
Add Languages, References and Passions to win the recruiters
Add skills that you are good at and refer to keywords in the job description