Believe it or not, Registered Nurses are the backbone of the healthcare system.
Yes, those professionals with blue scrubs do the hard work for the physicians.
However, only a few of them receive the appropriate salary and respect.
Studying for 4 years to save peoples' lives is not enough to be recognized by employers.
Top-rated hospitals and medical centers search for candidates with extraordinary skills and approach.
But don't worry, we got you back!
No matter if you are an entry level nurse or a seasoned veteran, you are in the right place.
We excelled in creating captivating Registered Nurse resumes that build respect and trust in recruiters.
Follow this guide and learn how to impress recruiters and land your dream job.
"Save one life, you're a hero. Save 100 lives, you're a nurse."
Registered nurse resume examples
Entry level nurse resume example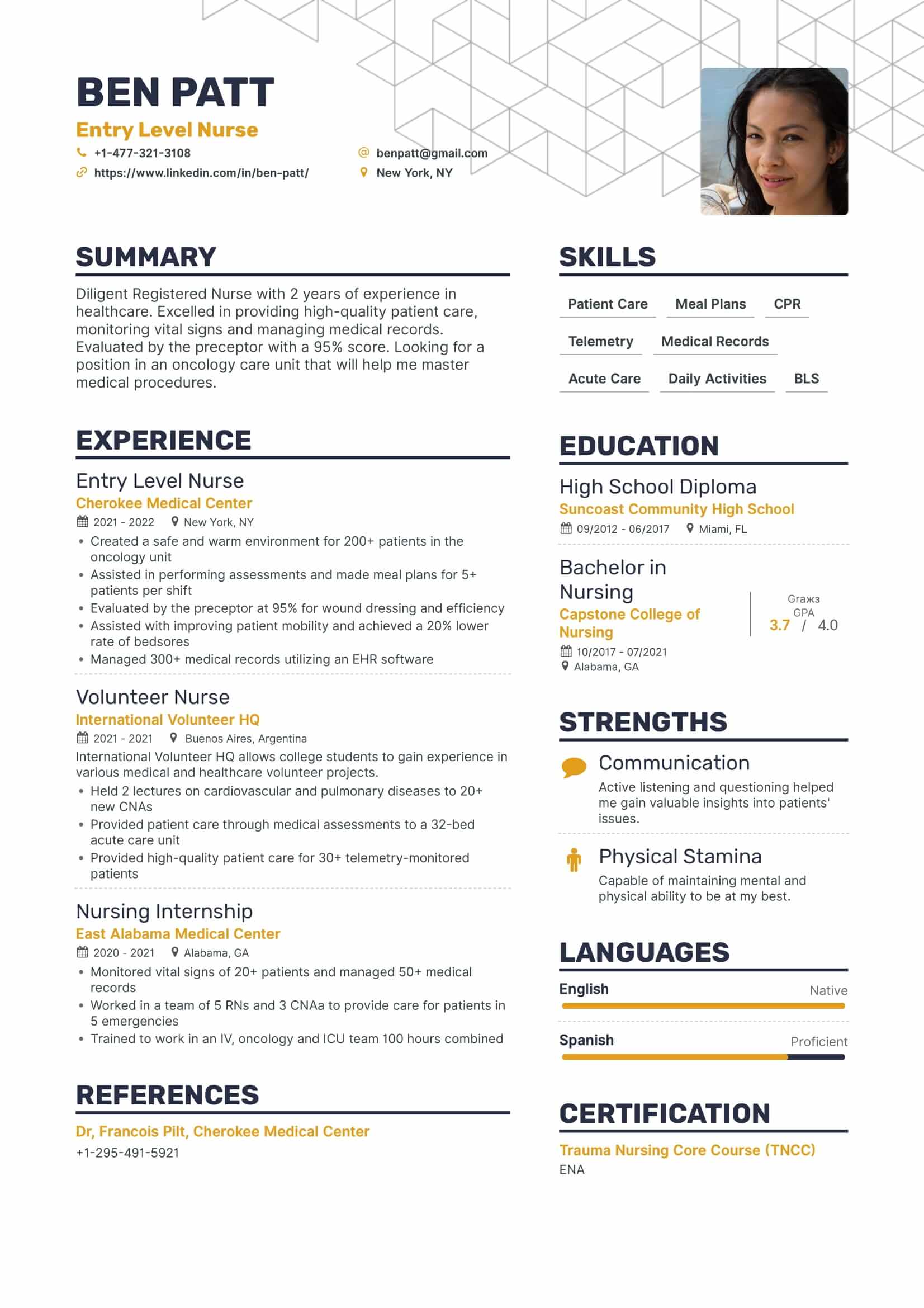 Why this resume works:
95% favorable preceptor evaluation speaks volumes
The Experience section contains the internship, volunteering and the candidate's first job
Strengths like physical stamina and communication show that the applicant is ready for the hard work with people
Certifications and References are a sign of trust
Languages indicate that the candidate can freely communicate with both Spanish and English patients
emergency room nurse resume example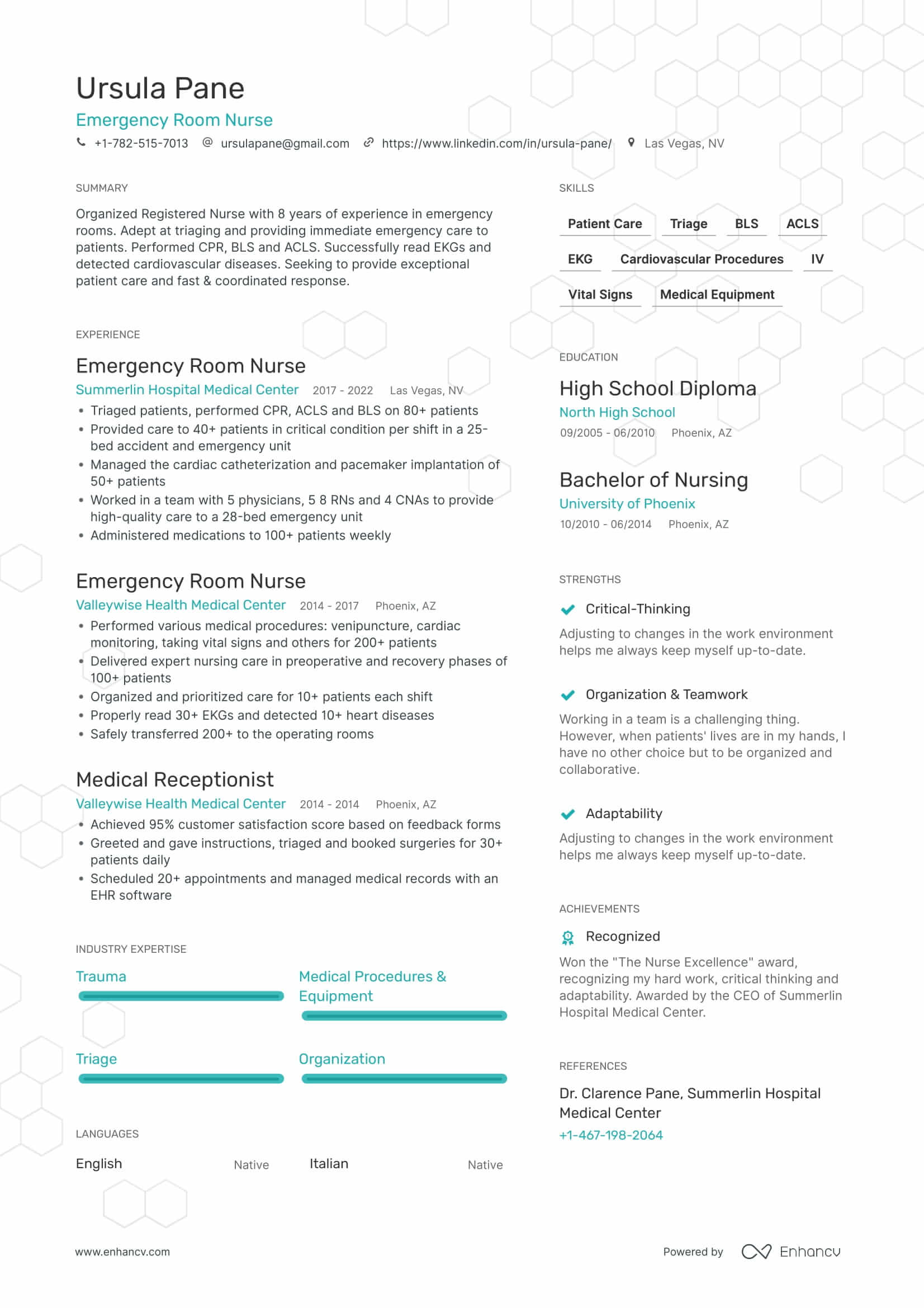 Why this resume works:
An exceptional summary that mentions the applicant's duties, skills and intentions
Strong expertise in healthcare backed up with action verbs, numbers and achievements
Critical thinking, organization & teamwork and adaptability are strengths that cannot be found in every employee
Industry expertise and Achievement sections show professionalism, reliability and self motivation
References from seasoned veterans are a sign that the candidate possesses all the medical and soft skills mentioned
Medical surgical nurse resume example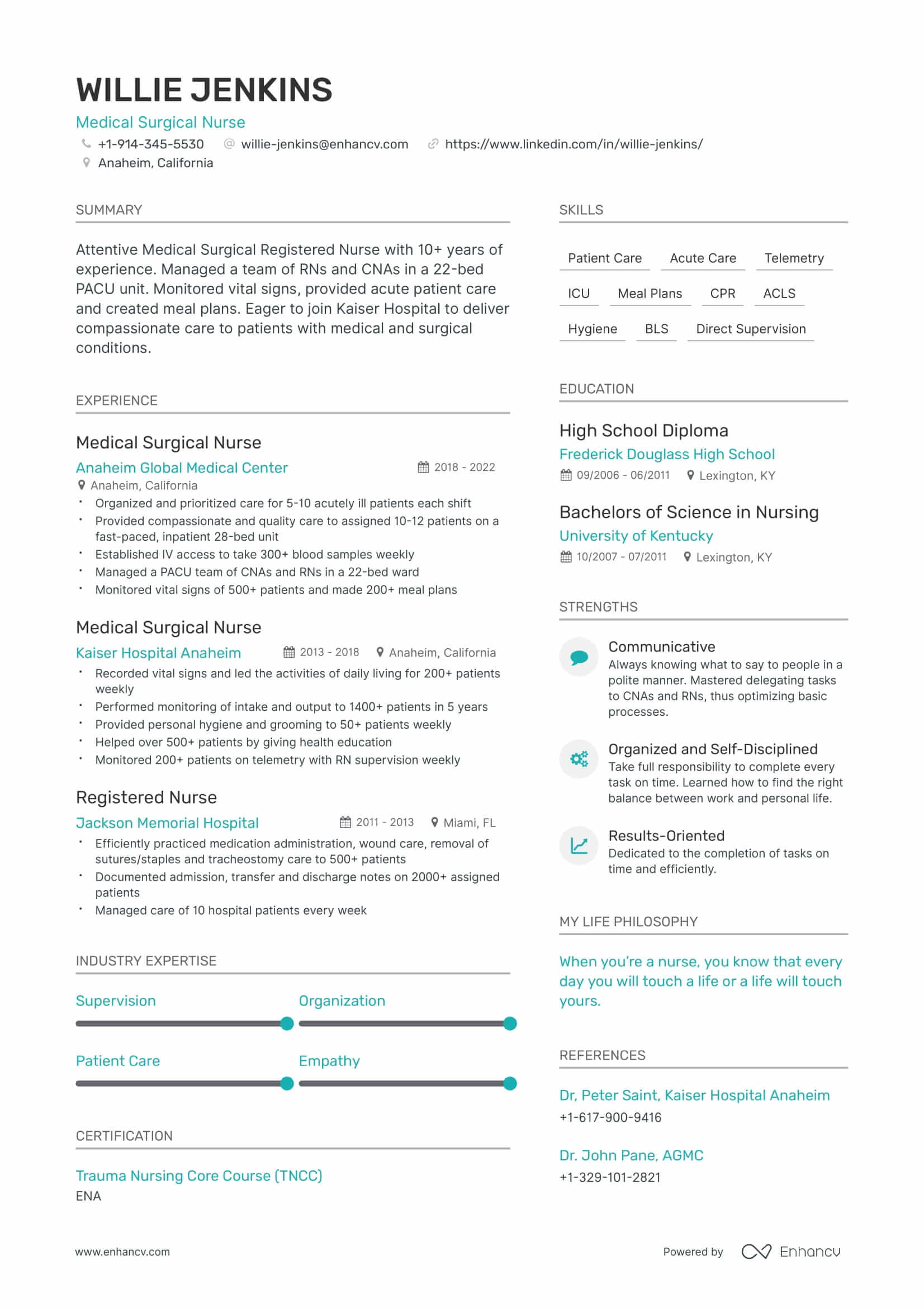 Why this resume works:
The applicant wrote down admirable duties and skills in the Summary section
The 10 years of experience consists of quantitative data and high-performance metrics that deserve recognition
Strengths and Industry Expertise describes the balance between clinical and soft skills that every healthcare professional should have
The quote and references prove that this person wants to add value to the society and others trust them
The registered nurse job market
$75,330 (May 2020) is the median annual wage for registered nurses.
9% from 2020 to 2030-this is the expected growth of the number of Registered Nurses in the USA. The healthcare system provides 194,500 registered nurse positions each year, as most of these openings result from retirements or career changes.
Obviously, there is a huge demand for registered nurses, so the median salary is expected to grow even more.
On the other hand, if you want to be in a great workplace, you must stand out.
That's why we are here to teach you to build a top-notch resume that will leave a positive impression.
How to write a registered nurse resume
Registered nurses and physicians should be treated equally.
We think so because they both have challenging tasks that require:
Specific medical skills
Excellent communication and organization
Deep knowledge and hard work
If your desire is to work at your dream hospital, all those skills should be present on your Registered Nurse resume.
Focus on abilities and duties that make nurses extraordinary professionals.
For example, it's preferable to provide examples of empathy and mental support for patients.
Proper communication with both patients and your team is the only way to give value and maximize patient outcomes.
Moreover, concentrate on the highlights of your career that require admirable strengths.
If you participated in cardiovascular surgeries, mention all the procedures: catheterization, pacemaker implementation and defibrillation.
Your Education section is vital if you are an entry level nurse:
Describe the acquired knowledge to fill up the gaps in your resume
Add Industry Expertise and References to prove professionalism.
Do you know how to organize activities, manage CNAs and work in a dynamic team environment?
Can you provide high-quality acute care to patients?
Have you managed medical records or created meal plans?
Answer these questions, follow the tips above and write a jaw-dropping Registered Nurse resume.
Registered nurse resume formats:
You can use these three resume formats:
The following two factors define your choice of a resume format:
Years of experience
Industry experience
Reverse-chronological resumes are perfect for candidates with a couple of years in the niche.
Functional resumes match professionals that change careers or job seekers. However, this format is not widely popular among recruiters.
Hybrid resumes combine the best of both worlds. They are suitable for all types of professionals-beginners and seniors.
Pay attention to the style and layout! Here are some resume tips:
If you want to get the interview call, you should definitely add References and an Achievement section.
Top resume sections:
A summary section that lists duties, extraordinary skills, achievements and certifications
Your experience should provide evidence for how you helped patients, backed up with numbers and action verbs
Skills and strengths should focus on what you applied and acquired from your experience
Education/Courses/Certifications show your professional knowledge in healthcare
References are the best way to build a reputation as a reliable professional
What recruiters want to see:
How long have you been in the healthcare sector? How did you contribute to it?
Do you have soft skills (empathy, organization, critical thinking) and obligatory clinical skills?
Are physicians and hospital managers satisfied with your performance?
What were your day-to-day tasks and duties? What did you achieve?
How do you cope with stressful situations? Are you adept at working in a dynamic environment?
Registered nurse resume summary
When it comes to applying for a position in healthcare, it's vital to be specific to the tiniest detail about your professional life.
The first 2-3 sentences from the summary are crucial. If your points bring no value, they are useless.
Your job is to highlight what makes you an extraordinary human being and a skilled professional.
It's preferable to take a more human-centered approach and explain:
How your work made patients' experience at the medical facility better
How your clinical skills saved lives and encouraged your team
Focus on giving examples of positive personality traits such as empathy, good organization and teamwork.
Here are some tips for writing your Registered Nurse resume summary:
Write down clinical and soft skills to emphasize professionalism and self motivation
Include admirable achievements, backed up with actions verbs and quantitative data
Add a GPA or preceptor evaluation if applying for an entry level position
Certifications, licensures and references will be an advantage
Things you should refrain yourself from in the Registered Nurse resume:
Vague or misleading information that might cause damage to your reputation
Unnecessary details or too general data providing nothing valuable
Figurative language or complex phrases that are not related to the position
Check out these examples and produce a praiseworthy Registered Nurse resume with ease!
Empathetic Registered Nurse with 4-year experience in providing mental support and patient care. Adept at working in a 30+ bed ICU. Performed IABP and coronary care supportive therapies. Developed communication skills by working in a team of 4 physicians and 7 other RNs. BCLS and CCRN certified.
RIGHT
Sharp-witted Emergency Room Nurse with 9 years of experience in emergency nursing. Adept at providing care for severe injury and trauma. Enjoyed working with a team of 3 physicians and 5 other RNs. Administered medications, monitored health conditions and maintained a clean work environment. Seeking to offer high-quality patient care to patients at Methodist Hospital of Chicago.
RIGHT
Motivated Registered Nurse with 1 year of experience in healthcare. Learned how to provide high-quality care, monitor health conditions and maintain a sanitary work environment. Achieved 98% favorable preceptor evaluation at the internship. Looking for a position in the acute care unit at the Harlem Hospital, New York.
RIGHT
Action-oriented Medical Surgical Registered Nurse with 6 years of professional experience. Provided high-quality care to pre-and post-operative patients. Adept at supervising other RNs and CNAa, acquired strong organizational and critical thinking skills. BLS and CPR certified.
RIGHT
Hard-working Registered Nurse with 5 years of specialty experience in home health nursing. Developed strong organizational skills and meal planning. Excelled in analyzing vital signs and providing adequate mental support. Looking for a position that will allow me to make the life of elderly and terminally ill people better.
RIGHT
If you follow a specific set of rules, nothing is impossible.
These candidates built top-notch Registered Nurse resume summaries and are highly likely to get the desired jobs.
Do not act like a genius and think of a new methodology.
The answer is in front of your eyes. Take advantage оf it!
Pro tip
It's preferable to act specific and convincing in the Summary section. Mention your duties, certifications, or volunteering. Recruiters want to see medical and soft skills, expertise and self motivation.
Registered nurse experience
We won't lie to you:
Recruiters and patients are more likely to trust a seasoned veteran than a beginner.
Yes, in healthcare, your expertise speaks volumes.
However, this doesn't mean that you cannot gain experience from internships, training programs, etc.
After all, the important thing is to bring value and save patients' lives.
If you are a resourceful candidate with the required clinical skills, focus on resume delivery.
Here are some tips you should consider before writing your Registered Nurse resume experience:
Make up to 3-5 bullet points that describe impressive achievements
Customize your nursing experience to the job description
Start sentences with action verbs, backed up with quantitative data
List duties and tasks that you excelled
Consider adding the knowledge that you gathered and show how you applied it
Remember to focus on providing cohesive bullet points that underline your clinical skills and positive personality traits.
Did critical thinking and good organization help you in emergency situations?
Did you provide mental health support and maintain a sanitary work environment?
What was the patient feedback on your performance?
How did you find working in a team?
Did you utilize the medical equipment to deliver exceptional patient care?
Write down the answers to those and similar questions to build a remarkable Registered Nurse resume.
Registered nurse resume experience examples
Created a safe and clean environment
Assisted with patient mobility
WRONG
You should ignore this example and act as if you never saw it.
It's vague and obscure!
Obviously, this candidate did not prepare themselves to build a good resume.
Thus, they missed the chance to get the interview call!
Created a safe and clean environment for 200+ patients in the oncology unit
Performed assessments and created treatment plans for 5+ patients per shift
Assisted with patient mobility and achieved a 20% lower rate of bedsores
Managed 300+ medical records utilizing an EHR software
RIGHT
Thankfully, there are some positive examples.
The following applicant took the advice from above and turned it into success.
The chances to impress the recruiters and go on an interview are high.
Pro tip
If you are an Entry Level RN, you can write down what skills and insights you acquired and learned. It's not obligatory to have deep expertise. However, you should prove that you are a reliable professional with the right approach and skills to save lives.
How to describe the duties of a registered nurse on a resume
Here are some of the responsibilities of a Registered Nurse:
Manage patient care for adults with various diagnoses
Manage CNAs and patient care units
Monitor patient response and manage treatment plans
Complete and record vital signs, including activities of daily living
Assist in the operating room for obstetrical procedures and provide patient care during surgical recovery in PACU
Perform emergency medical procedures, such as BLS and other condition stabilizing interventions
Provide direct patient care to adult and geriatric patients in telemetry settings
Maintain competency with all emergency operational procedures and initiate CPR
Provide patient education and emotional/mental support
Here is how you can strengthen your Entry-Level Registered Nurse resume:
References-this section will build trust in recruiters
Languages-they will help you excel in a multilingual environment
Be creative and try to pass the functional and emotional barriers to make employers crazy about you.
To fill up the gaps in the resume, you could:
Certifications & licenses will help you build trust in recruiters
Add extraordinary achievements that underlie your clinical and interpersonal skills
Mention Volunteering or a project that is a sign of positive personality traits and empathy
Registered nurse skills
During the 4-year education period, Registered Nurses acquire and apply essential medical skills.
They perform repetitive activities that define the patient outcomes.
Unsurprisingly, people and recruiters will trust professionals with broader expertise and knowledge.
Therefore, it's crucial to mention your clinical skills in the resume.
"The trained nurse has become one of the great blessings of humanity, taking a place beside the physician and the priest."
8 medical skills for your resume
Patient Care
Vital Signs
Medicine Administration
Treatment Plans
Triaging Patients
Assessment
Patient Education
Record Keeping
Furthermore, it's wise to include soft skills and positive personality traits.
Uncontrolled behavior or recklessness are not accepted in medical circles.
Focus on abilities that help you build a strong connection with patients and work in a healthy and organized environment.
8 soft skills for your medical resume:
Organization
Teamwork Skills
Problem Solving
Attention to Detail
Key takeaways
Focus on specific clinical and soft skills that you excelled and fit the job description
List duties, responsibilities, extraordinary achievements and acquired skills
Show how your work in the medical center affected patients and co-workers
To fill up gaps, include References, Languages, Industry Expertise, or Life Philosophy
Every section of your resume should support your Strengths