Resumes have changed so much in recent years. Just listing your previous jobs is no longer enough, and more and more factors start showing up, confusing people, and causing chaos.
Fret not, as we are here to shed some light in the dark world of the multiple resume styles.
We will see how they are divided by purpose, design, length, benefits, resume examples for each type, and who they are suited for!
Let's dive in, then!
Already excited to create your unique resume and steal the heart of every hiring manager? Go to our professional and user-friendly resume builder and create your future with Enhancv!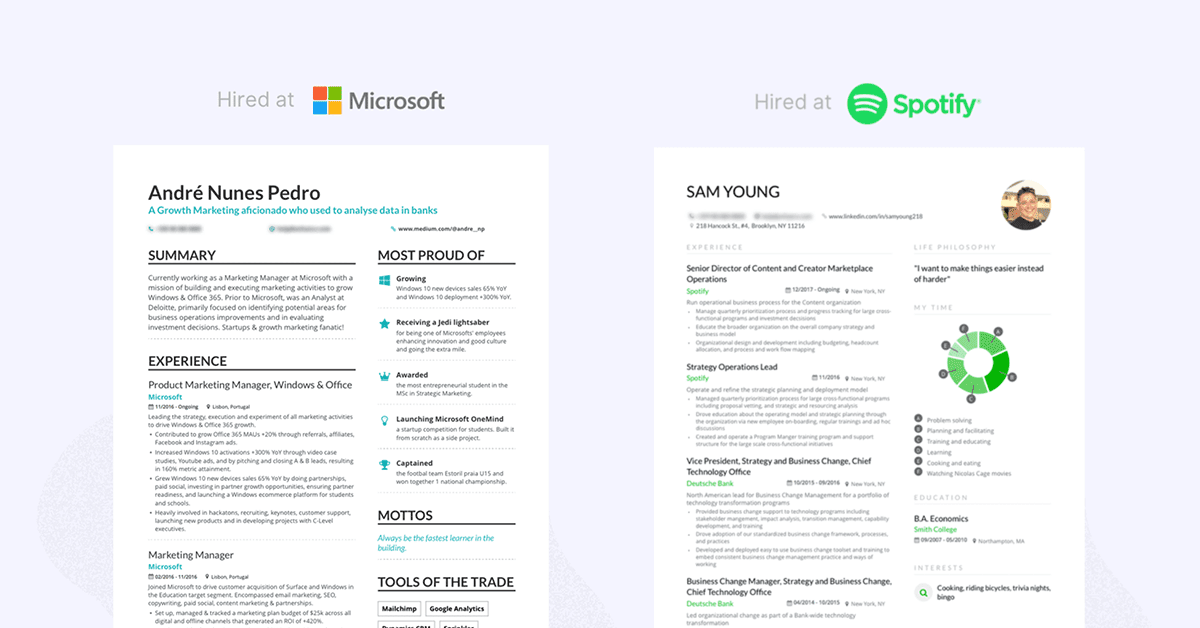 Resume styles by purpose
Here we will show the different variations of resumes depending on the type of information they are showing.
1. Reverse-chronological resume style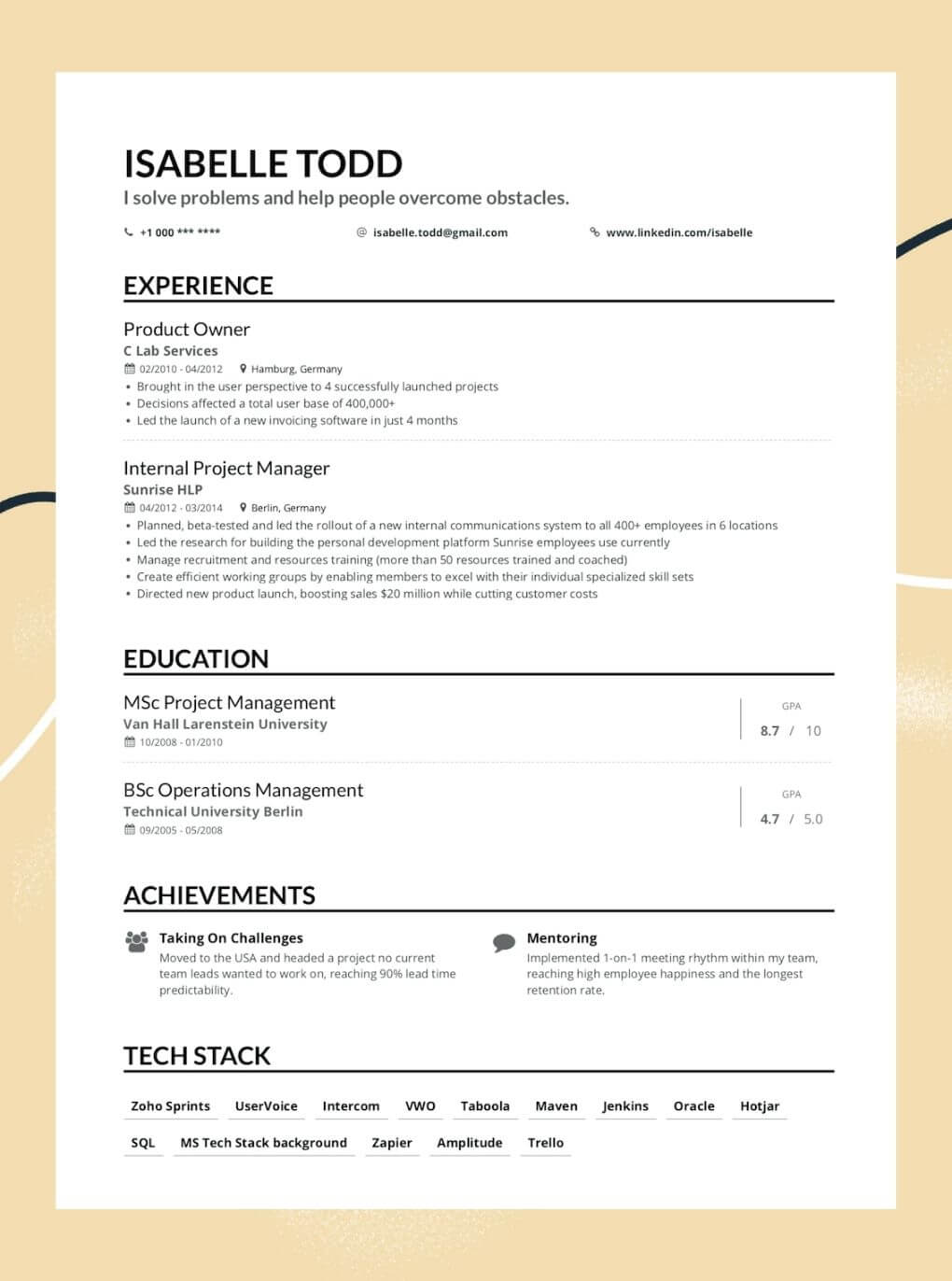 Father of all resumes, the chronological resume is structured just as you think it is. It simply lists one's work history, starting with the most recent one working its way to the first job or volunteering you ever did.
The reverse-chronological resume format quickly became a global standard, and it still is. It's good if you want to play it safe, you don't have any gaps between jobs, and the most recent one is relevant to the position you're applying for.
Read more about the chronological resume and decide if it's the right one for you
2. Functional resume style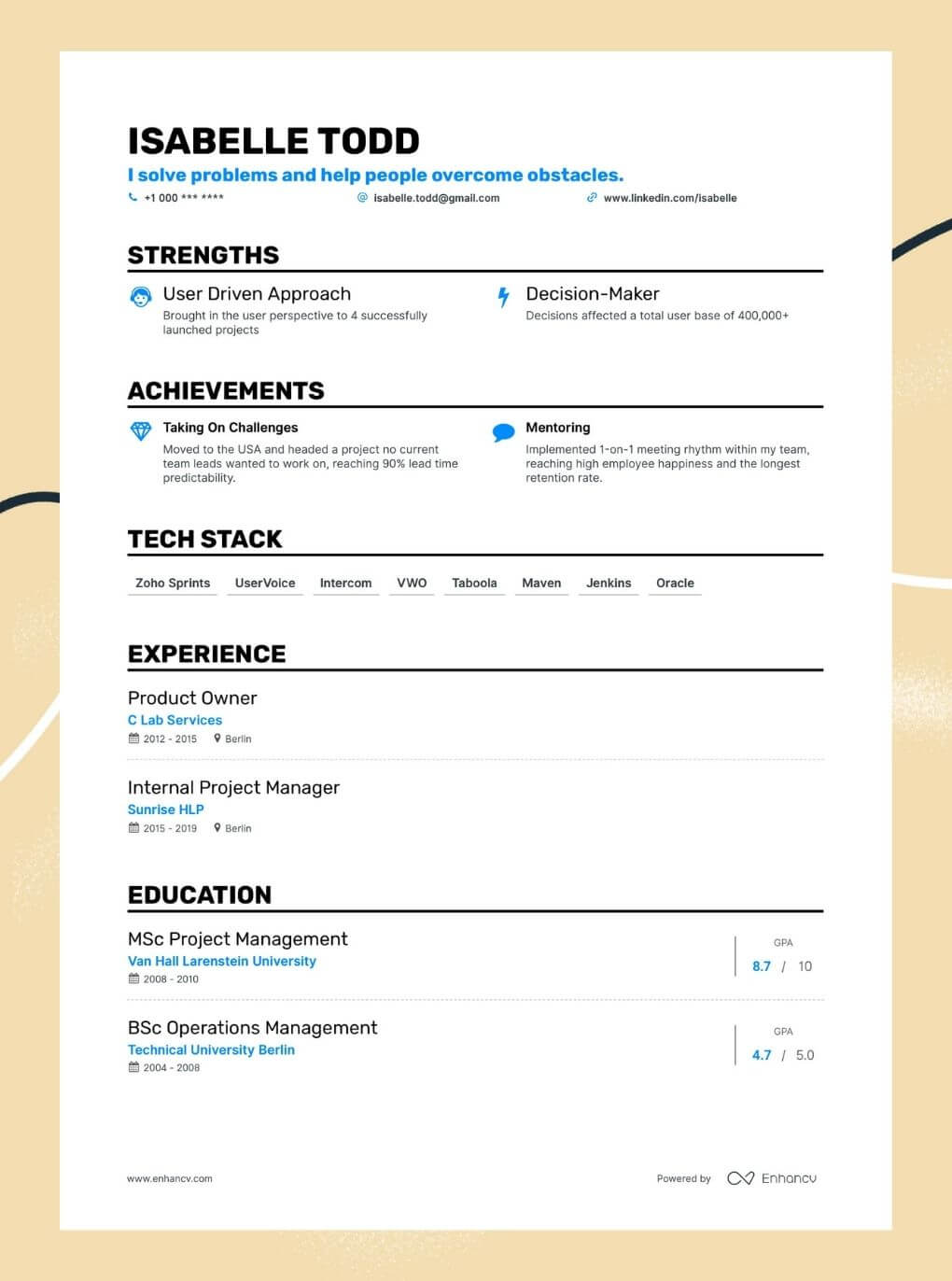 The functional resume format was born after the chronological format became irrelevant for people with limited work experience or the ones who are looking for a career change.
It focuses on the parts of your employment history directly related to the position you're aiming for. The functional resume showcases the applicant's most significant achievements
Learn more about it here and check out our functional resume templates
3. Hybrid or combination resume style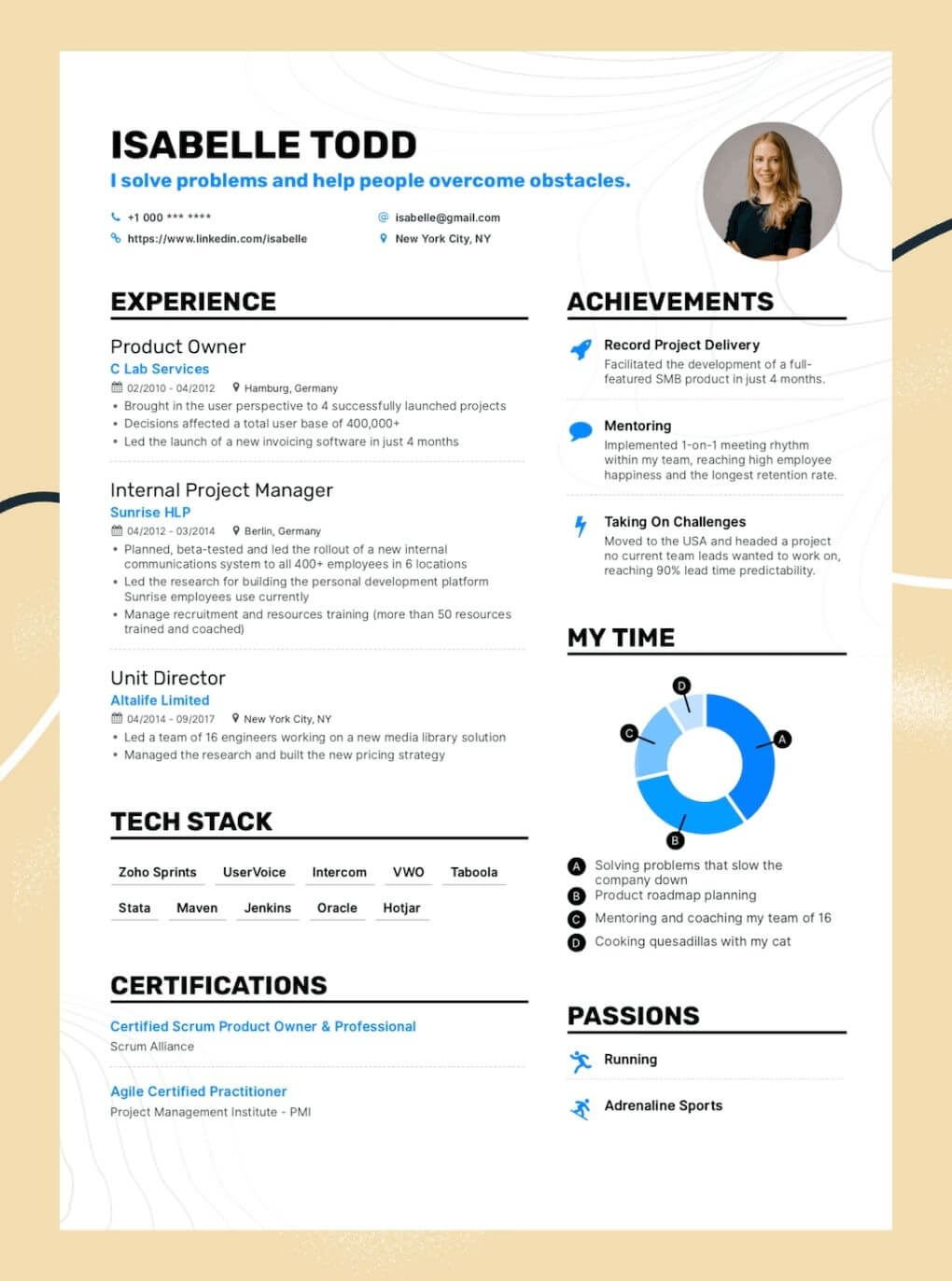 The combination resume format takes the best of both worlds and shows your relevant work accomplishments in chronological order. It's perfect if you want to show off your professional skills but still emphasize your work history.
The hybrid resume is accepted well even by the more strict hiring managers. It's suitable for employees who don't have enough material for a chronological or functional resume.
Check our full guide on the combination resume format and its uses
4. Targeted resume style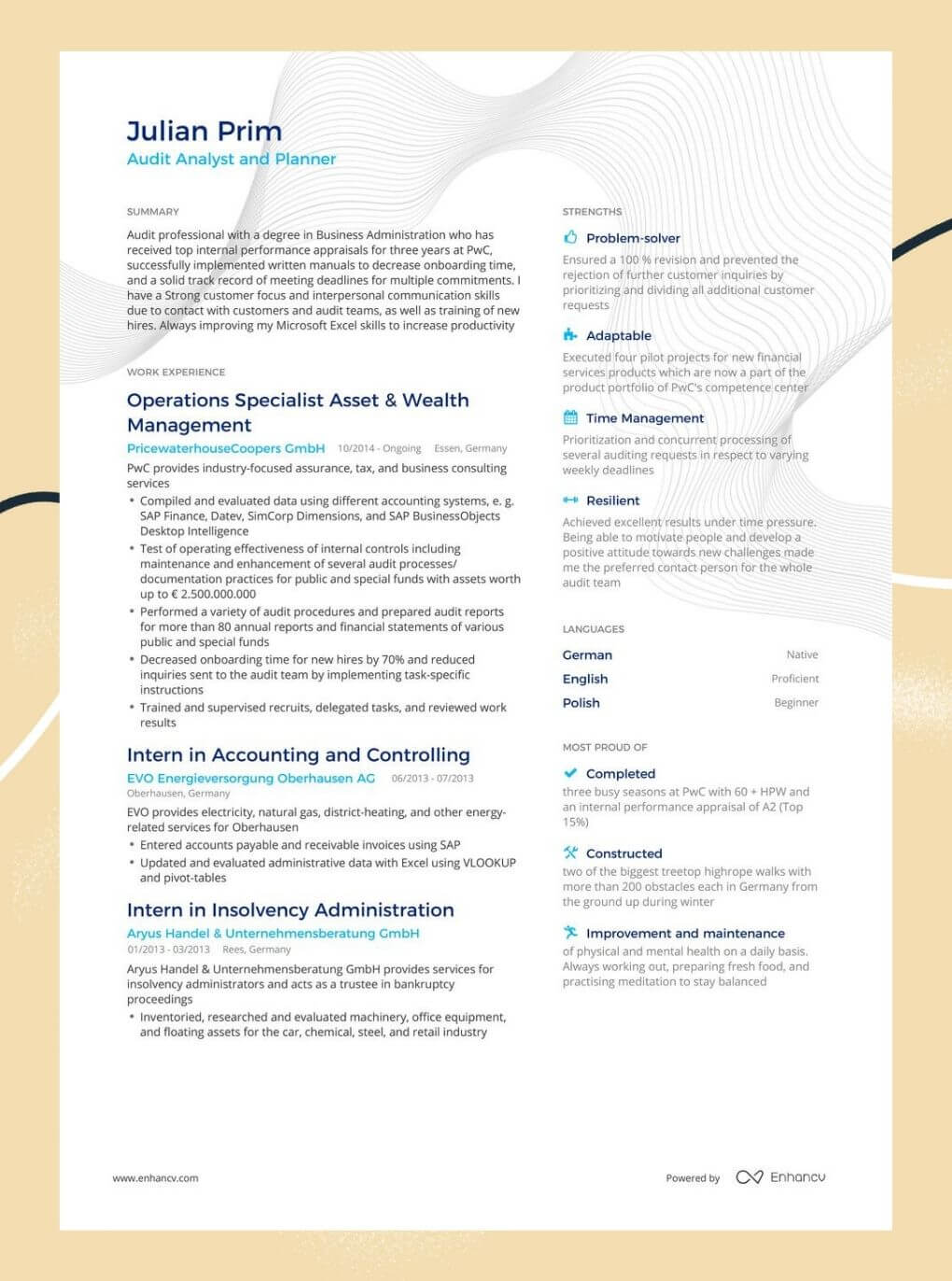 The targeted resume template, also known as a tailored resume format, is created to suit the specific position the applicant is pursuing. It's incredibly useful and popular, especially when you're applying for a higher position.
The tailored resume works because it points out all the skills, passions, and experience of the employee related to the position of their choice. Employers are rarely left unphased after seeing such a specific resume.
See how you can tailor your resume and wow the recruiters in no time
5. American resume style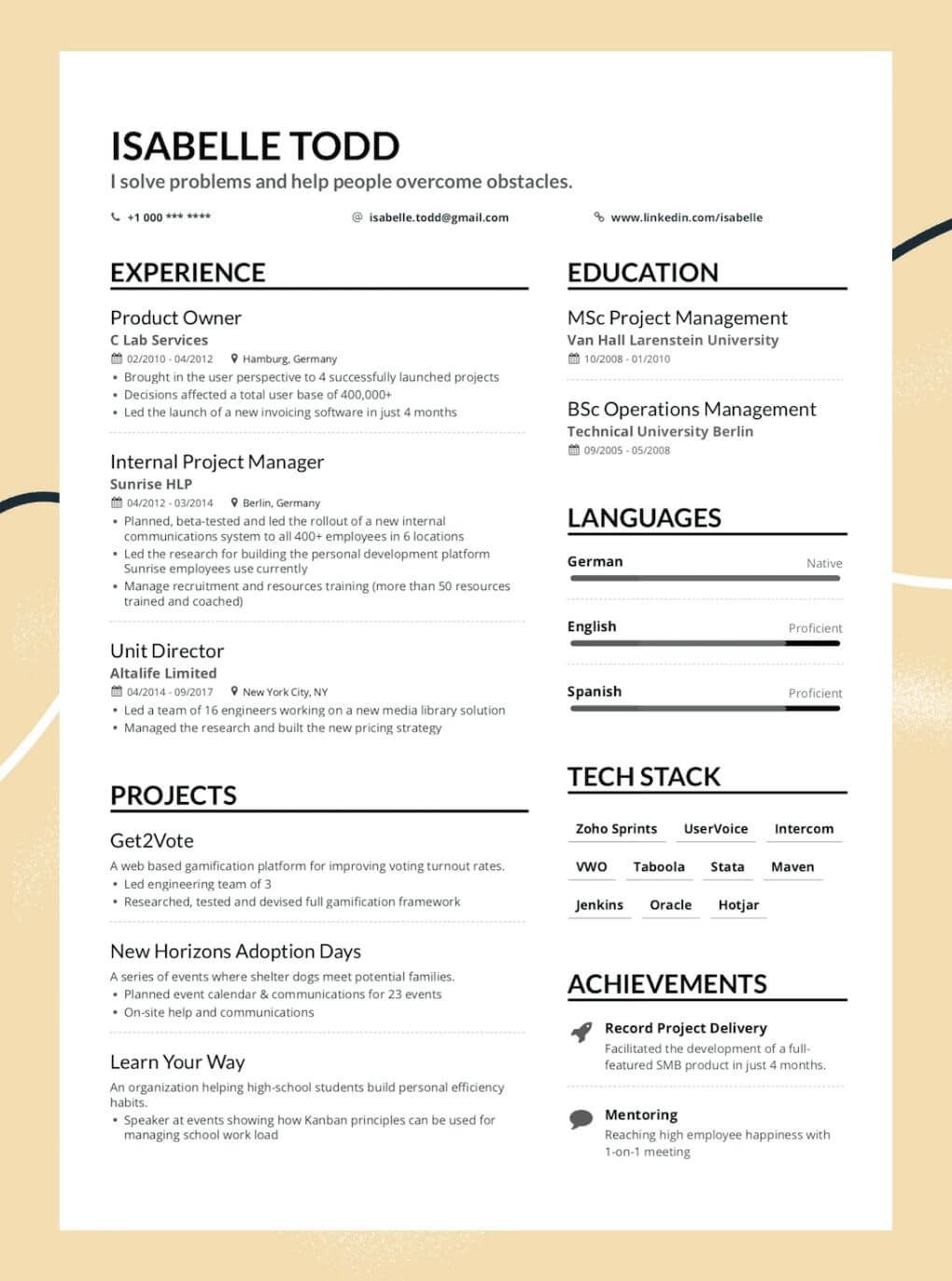 Since US companies have many different requirements than other countries do, the American resume format was born. It's a one-page, reverse chronological resume, with no photo of the applicant and a small section with why they are perfect for the role.
Most American hiring managers want to see all the relevant work experience, soft and hard skills, education history, professional accomplishments, and contact info. It's a lot to fit in just one page, we know.
If you want to make a resume that will genuinely impress American recruiters, take a look at our guide here
Resume styles by design
Let's take a look at the most popular resume styles by the way they are designed or not.
1. Basic Resume Style style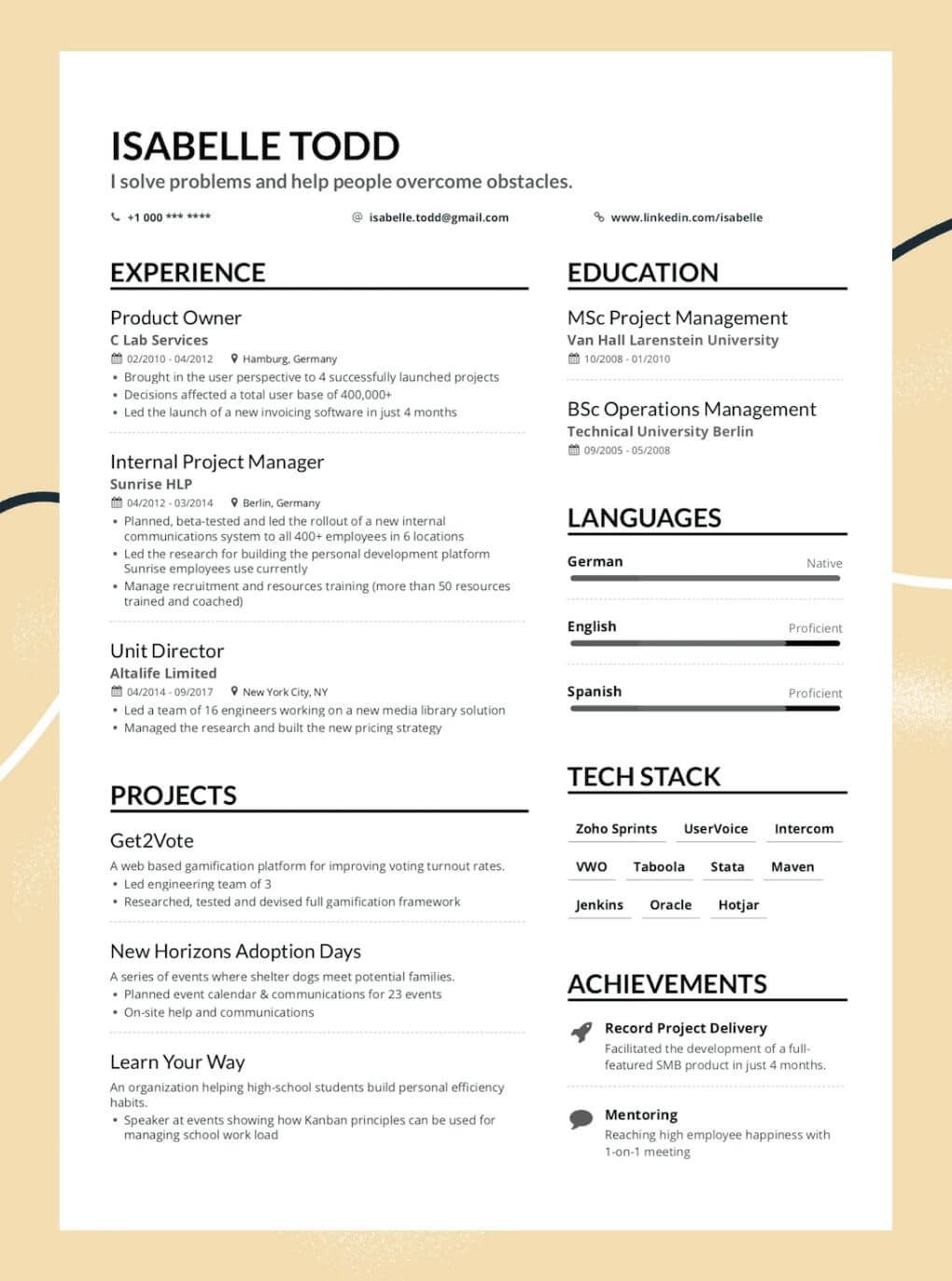 This is a clutter-free, single-column, simple design resume that emphasizes the information rather than the layout. It makes it easier for hiring managers to find the data they need.
The content related to your work experience is the most important. Use many resume keywords and show that you match all the qualities the employer is looking for in a worker.
2. Creative resume styles style
As you can probably tell, creative resume formats are useful for jobs in the creative field – graphic, motion designer, illustrator, content writer, etc. It's not recommended for other positions.
The design is not just to make the resume prettier. It's a chance to showcase your skills and will undoubtedly make the right impression on every HR expert that stumbles upon it.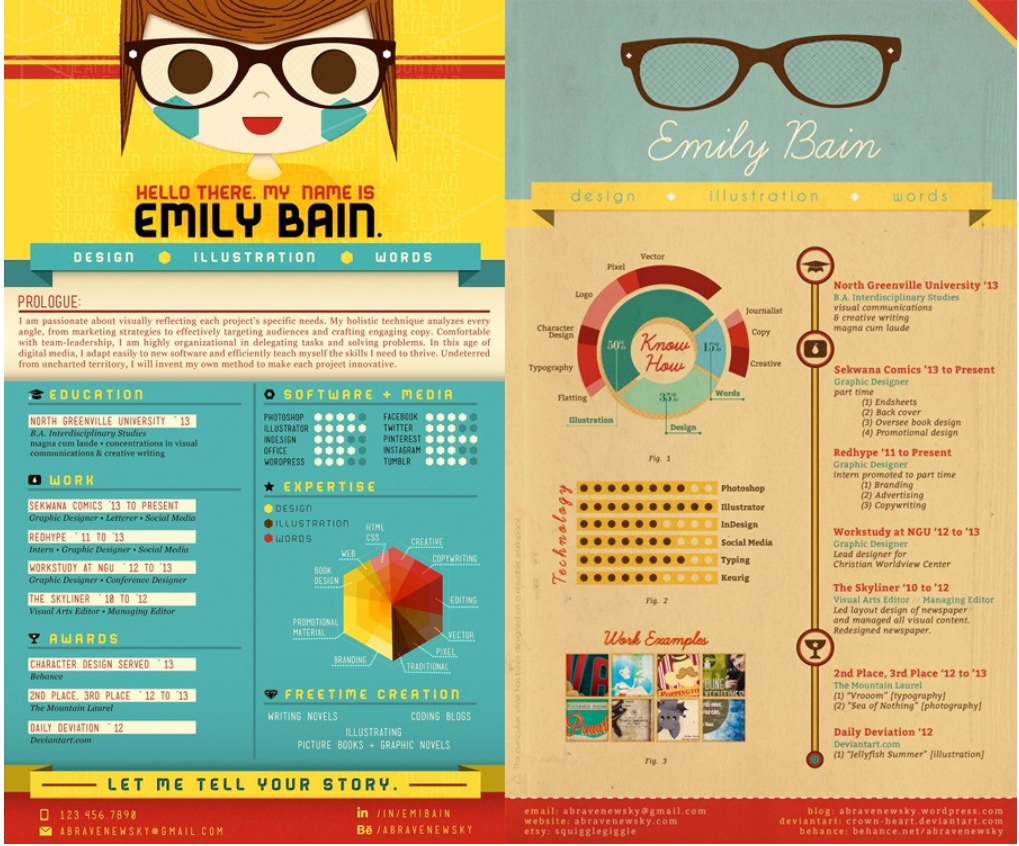 3. infographic resume styles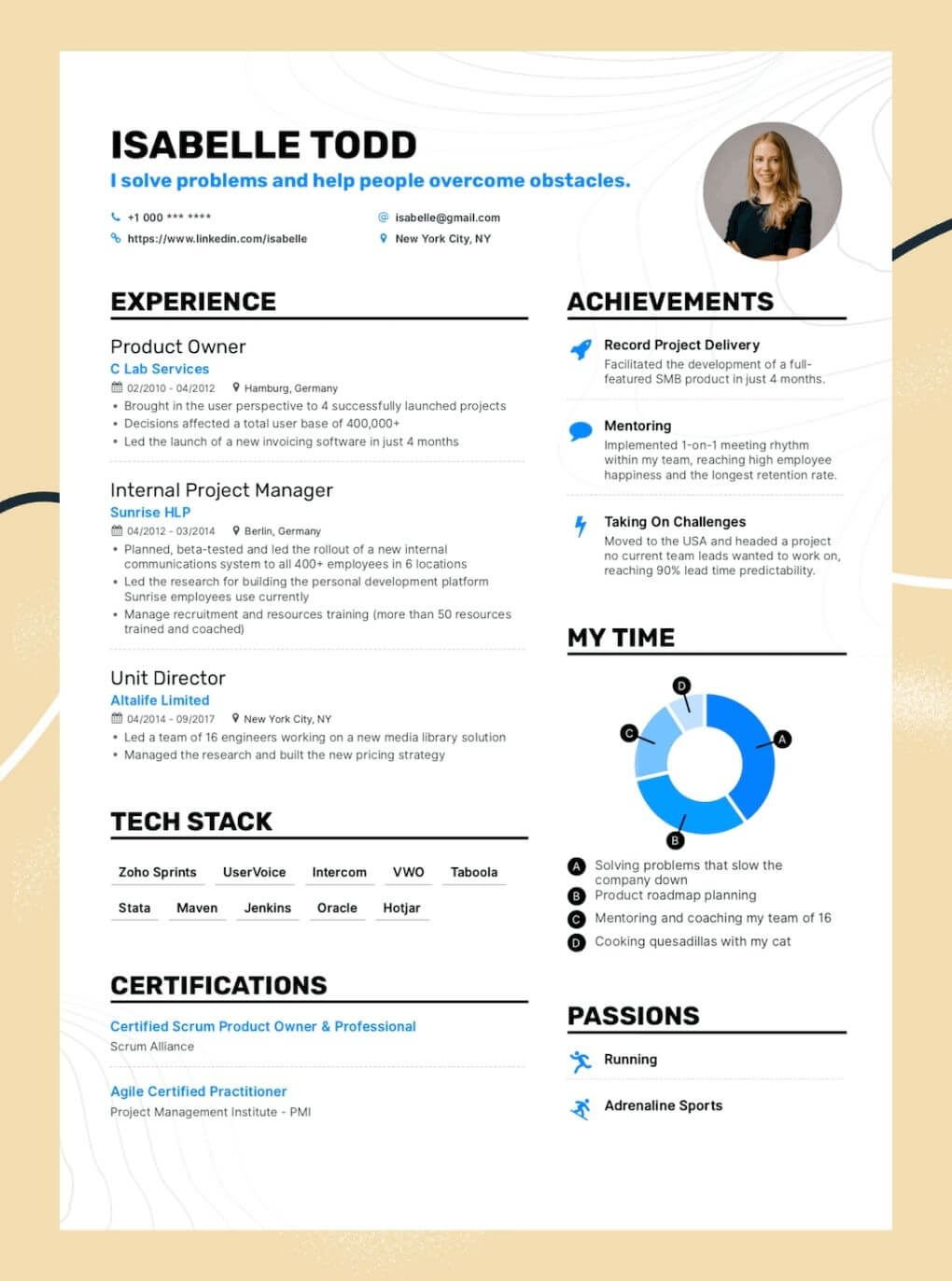 Like the above example, the infographic resume format is great if you want to visualize the vital information about you in a creative way that will grab your recruiter's attention.
Use charts, graphs, and other data-visualization methods to impress the hiring managers and show them both your professional and quirky side.
4. Minimalist Resume Style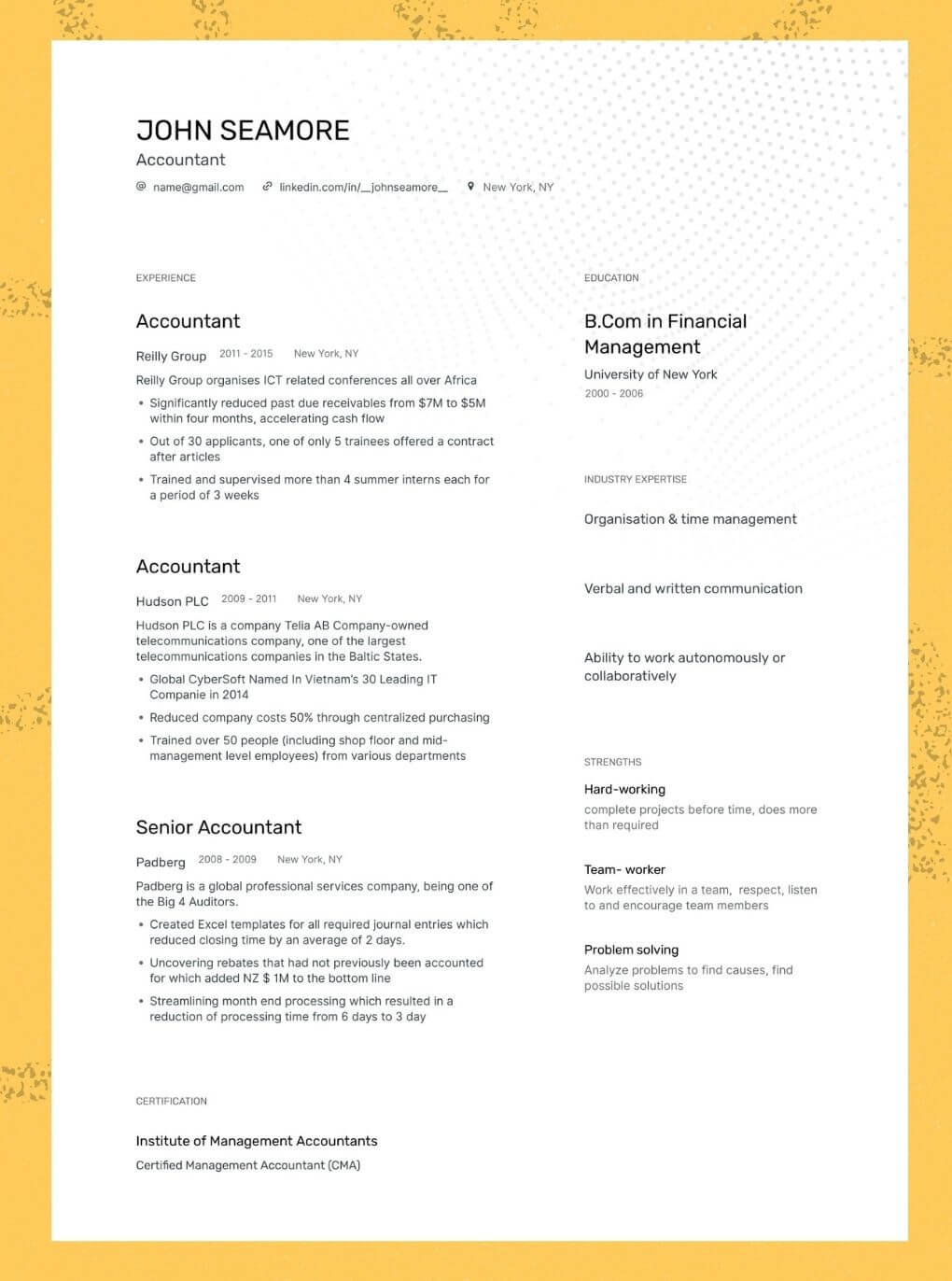 Similar, but not too much, to the basic resume, the minimalist format still has some creative design, but it's not anything that stands out or distracts from the resume's content.
It's also, most commonly, a one-page resume filled with only the most essential information with no "fluff" whatsoever. The perfect example of "less is more", giving your hiring managers only the things they need the most.
5. Plain text resume style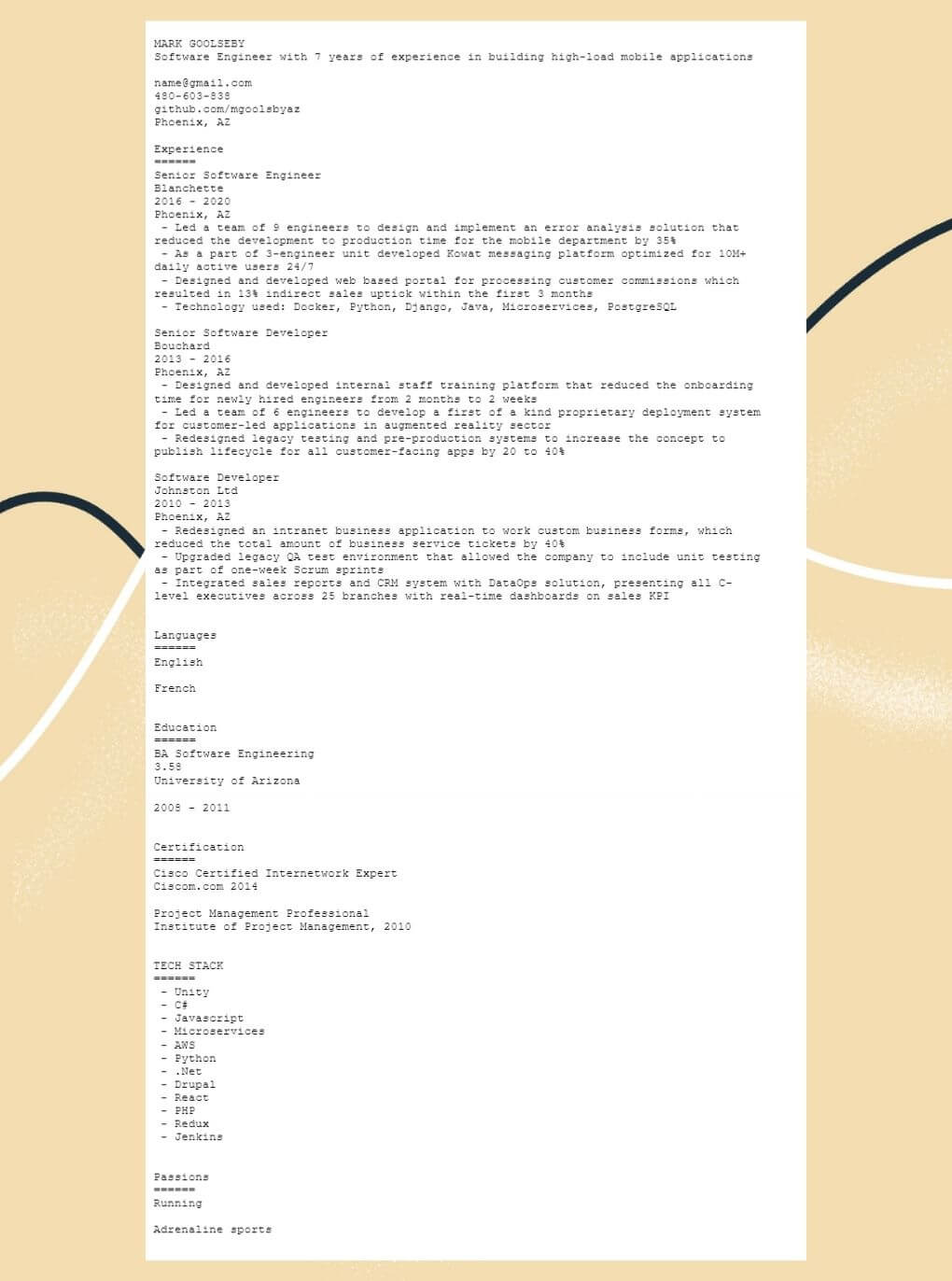 Again, pretty self-explanatory. A resume format containing only plain text, no formatting, no bullet points, no design elements, and no bold or italics lettering.
It's suitable when you have to send the resume over email since they are not formatted, and the file is small. They are also quite ATS friendly since they are so easily readable.
Resume styles by length
And finally, let's see, in short, how long can your resume be when it comes to the number of pages.
One-page resume style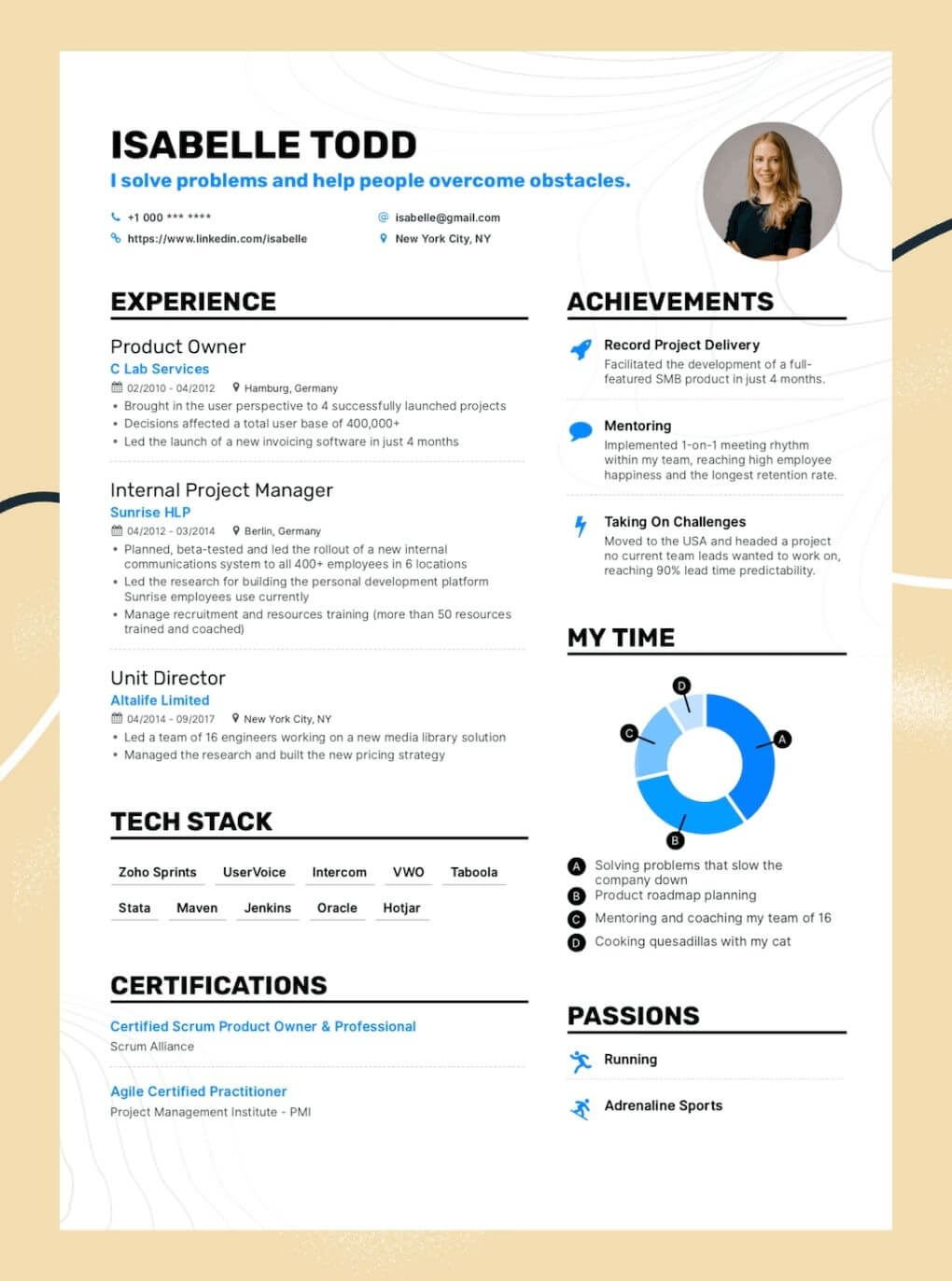 The one-page resume style is widely preferred since it allows the hiring managers to quickly scan all your info without turning the page. It contains only the most relevant and essential data.
The one-page resume format works with every type of design and style by purpose, and it's the most preferred one, for sure, since it's universal and easy to comprehend.
Two-page resume style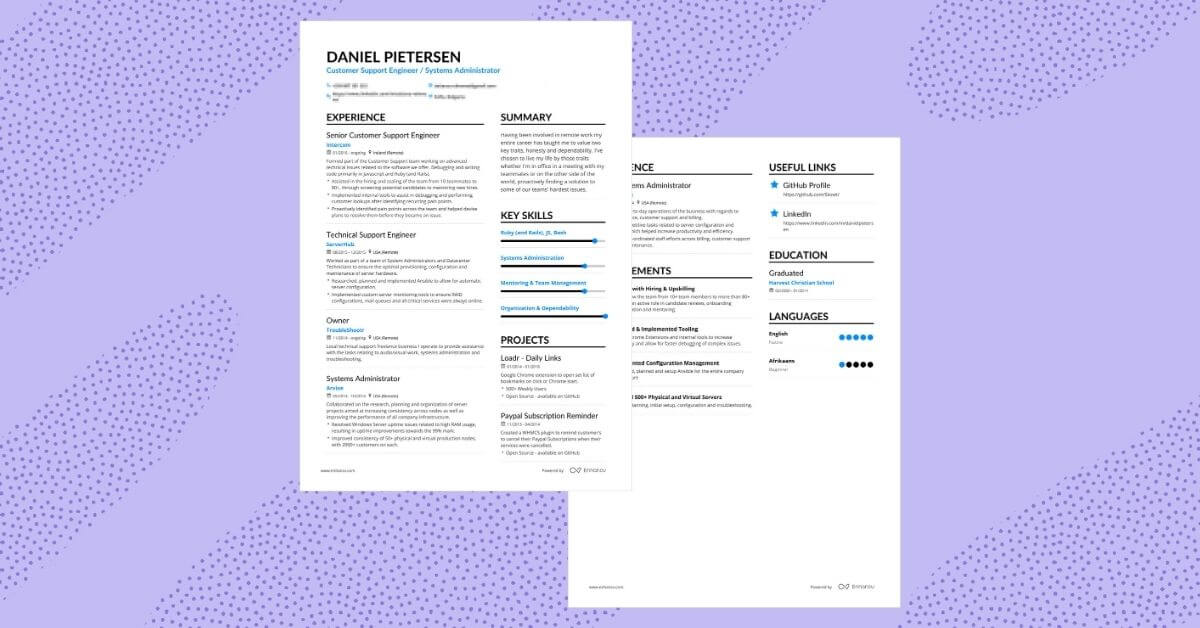 The two-page resume format works best with modern styles like the functional or combined resume. If you have a long history relevant to the job and a lot of skills to showcase, why not do it in two pages?
Especially if you're applying over the internet, there is no printing cost and no need to keep track of extra pages. It's suitable for companies that are not as traditional and would not be put off by more information.
Multiple-page resume style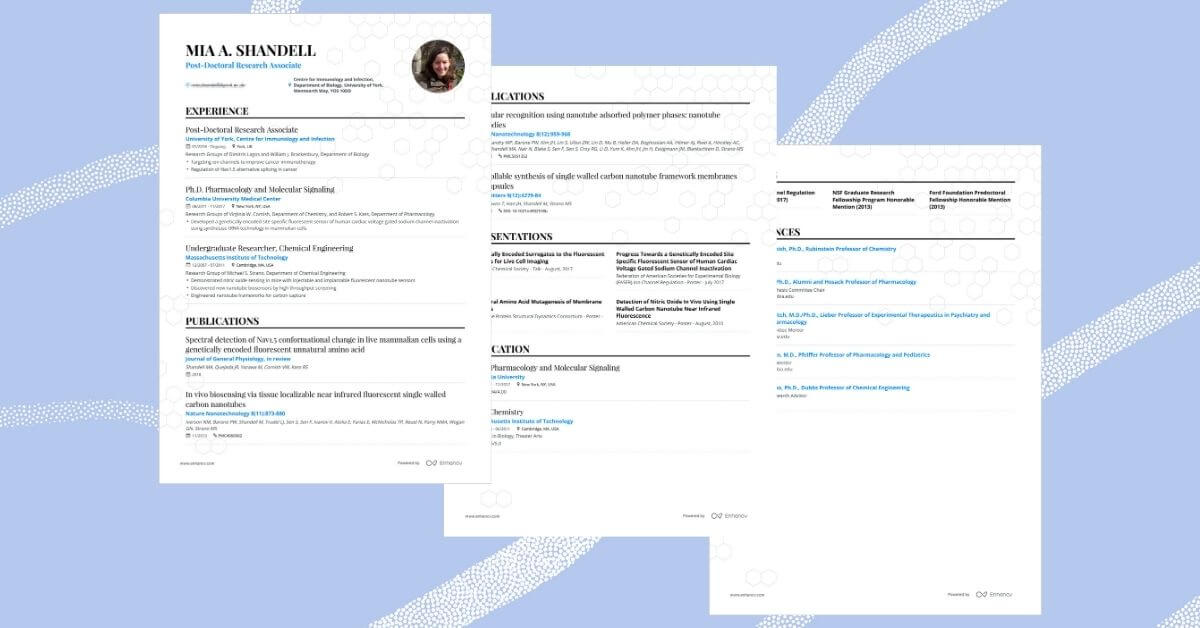 A risky one, but still not as rare, a multiple-page resume format will certainly show all the information you want to share with the recruiting managers. It gives a lot of freedom when it comes to formatting and design.
However, it's important to research your hiring company and make sure they don't care about going against the one-page rule that most follow strictly. If you have the opportunity, just go for it!
Gotchas & Takeaways – Which Resume Style to Choose
Tailor your resume according to your specific needs.
Research the company you're applying for and make sure you are following their standards.
Don't be afraid to experiment with styles to find the one that fits you best.
Look at resume templates to see what you like the most.
***
Did you like the article? What's your experience with different resume styles? Share your thoughts below in the comments section.
Make your move!
Your resume is an extension of yourself.
Make one that's truly you.