Trying to land a job, volunteer position, or any other opportunity? A personal resume is a great tool to have in your pocket. This version of your resume gives a more personal view of who you are, your interests, and your accomplishments.
Personal resumes are great for people who aren't job searching, who are looking for speaking or personal opportunities, or who are currently studying in college and aren't employed.
A professional resume focuses strictly on your work accomplishments and skills, whereas a personal resume gives more insight into your personal and professional achievements.
You can also add a personal statement or details in your professional resume, creating a hybrid between the two.
Your resume is always going to need to have some personal information. Too much and it could leave a bad impression, but just enough and you'll have a personal resume that stands out and shows who you really are.
Let's break down each aspect of a resume and explain how to decide what personal information to include.
Resume Photo – To Add or Not to Add
Your photo should be a clean headshot, without sunglasses or other people on. The goal is to present yourself as a professional, after all.
In Europe, using a photo on a resume is normal and some employers even require it. In some US states, though, overly detailed information is illegal in order to prevent discrimination.
That's why many companies don't like to see a photo on resumes as it reveals information about your gender, age and in some cases religion.
From our experience, there is no right or wrong when it comes to including a photo on your resume. The answers from hiring managers vary.
Decide whether it would add value to your resume based on your research of the company you're applying for and check your local laws and company policies (you can always email the HR department to ask).
Keep it Professional – Add A Well-Formatted Email
Your email has to be professional, with the usual format being "name.lastname". What it definitely shouldn't be is the email you came up with in middle school.
HotChic1993@aol.com, for example, is a no go. Also, using a modern email (Gmail, for example), means you're up-to-date with technology. While using AOL means you're still in the 90s.
In case you already have a job and are planning on quitting, you should NOT use your employer's email to apply for different jobs. This sounds pretty simple at first glance, but it's actually a frequent mistake. It will not make you look more important, nor skilled.
Chances are that hiring managers might reject you. No one would like someone in their team that could use his current company to get a job in another.
If you're a student, you can use your student email, especially if you study in a high profile university. mark.jones@stanford.edu will seem pretty impressive to anyone, for example.
How to add your name
Write your first and last name on your resume. You can leave out your middle name, as that will just make it unnecessarily long. Also, don't add any prefix or suffix before or after your name, except if there is some justified reason to do so.
Also, pick one name and stick with it on all of your social profiles, resume, and other documents. Nowadays, 92% of recruiters use social media to find high-quality candidates. Can't really blame them, seeing how you appear on Facebook versus on a resume can be eye-opening for them. Your online persona matters, whether you like it or not.
In his article, Mike Volpe, former CMO at Hubspot, talks about how someone could interpret your online presence as a factor in hiring. While the chances of being rejected because a recruiter didn't find your Facebook are slim, it's better to be safe than sorry.
Should you add your degree
These days, Bachelor's and Master's degrees are a common sight. There's no point in including these as a title in your resume (B.A John, M.A Dave).
If you have a Ph.D., however, it's a must-have. A rule of thumb when using a title is that the desired reaction from a recruiter should be "Wow" not "Meh." Include your title especially if you're applying for certificate-sensitive jobs. Think, MBA, CFA (Chartered Financial Analyst), etc.
How to add your location on the resume
Including your location in your personal information section is another must-have. These days, most of the big companies use Applicant Tracking System (ATS) to filter out candidates and make their job easier.
It helps companies match resumes up to certain criteria and the location is one of them. If a company is looking for a programmer located in Boston, MA, the ATS will automatically discard those that aren't from that area.
"Exclude your home address" (Brian Brandt)
Having a full address on your resume is not relevant. In the 21st century, no one is going to send you a letter or will find something interesting about your street name. It's good to include only your city and state, or city and country if you are outside of the USA.
Adding phone number
Before hiring managers actually invite you for an interview, they prefer to call you ''for a quick chat''. Even though they name it a ''casual chat'', it is an initial interview. They want to understand how you react to different questions and what your phone manner is.
When adding a phone number to your resume, it's a good idea to include the country code – especially if you're applying from a different country or to an international company. Make it easy for a hiring manager to reach you.
Your Title – Great Way to Personalize Your Resume
This doesn't have to be your current job title such as ''Digital Marketer'' or ''Full Stack Developer''. It can also be something more creative. You need to make sure, though, that it states clearly what you do or who you are as both a professional and an individual.
A short title is a good way to convey your background in a crisp and narrative format.
Here are some examples our team members used:
''Devout seeker of simplicity and clarity in code and life itself'' – Full Stack Developer
''Rockin' a positive attitude, media relations and copywriting'' – Media Relations Coordinator and Editor
Personal Resume Objective
The resume objective is your space to highlight what makes you shine in a few sentences. For a personal resume, this is where you'll talk about your personal or career achievements, your main skills, and your future goals.
Keep the personal resume objective short and snappy, at about 2-3 sentences.
Personalization tips in your experience section
In a traditional professional resume, the experience section will list the jobs that you've held in reverse chronological order.
In a personal resume, you can and should still list your work experience, but you can also include other experiences too, like volunteering, being a part of clubs, traveling, speaking, etc.
Incorporate experiences from both your personal and professional life.
Keep these tips in mind when writing about your experience:
Use bullet points to organize the information
Bold your job title or position title
Include the location and date of when you were involved
Focus on the positive impact you made being apart of that experience
Pro-Tip
Quantify your achievements whenever possible. Use real data and stats to back up any claims that you've made to boost your credibility!
Achievements
Speaking of achievements, you can also include a separate section to highlight your Achievements in your personal resume.
Choose 2-3 of your biggest achievements that you're most proud of and give them their own section to shine. Add a descriptive title and a small blurb summarizing what you did so well. When you can, use real numbers to support your points.
Certifications or memberships
Do you have any certifications, or are you part of any memberships, associations or societies?
Dedicate a section for certifications and memberships in your personal resume.
Mention the type of certification or membership and dates active (or when you became certified).
Skills
Every effective personal resume has a Skills section.
Your skills show whoever's reading what you're good at, opening up potential opportunities for you.
It's important to list both soft and hard skills on your personal resume to get a full picture of what makes you a superstar.
Hard skills describe your technical abilities, based on what you're trained in or what you studied. For example, if you studied Architecture in college, your hard skills will be centered around the technical aspects of architecture.
Soft skills are not as teachable. They're based on your character as a person. Are you hardworking? Can you collaborate with a team? Are you great at communicating?
Here is a list of hard and soft skills you can use as inspiration. Keep in mind that the more specific you are, the better.
We can't list every skill related to every industry, so use these as general ideas that you can add more detail to. Click through on a skill to see job-specific resume examples.
23 examples of hard skills to inspire your personal resume
20 soft skills to inspire your personal resume
Communication skills (written & verbal)
Teamwork & collaboration
Independent work
Self-motivated
Time management
Prioritization
Leadership
Emotional Intelligence
Customer Service
Client Management
Problem Solving
Analytical
Strong Work Ethic
Creative
Compliant
Ethical
Public Speaking
Presentation Skills
Diligent
Productive
Add it all together and you've got a personal resume that stands out.
Frequently asked questions
How should I format my resume?
Formatting your resume to be easy to read and scannable is key to success. Keep these tips in mind while writing your personal resume:
Use an easy-to-read font like Arial or Times New Roman
Write in 12pt or higher
Bold headings and subheadings
Use bullet points to organize your thoughts
Export your personal resume as a PDF to make sure it looks the same across all browsers and computers
Don't use any hard to see colors, like yellow
What resume layout should I use?
There are three common resume layouts: the reverse chronological format, the functional format, and the hybrid format.
It's up to you which one you choose. It won't make or break your personal resume. However, since you emphasize both your personal and professional qualities, either the functional layout or hybrid layout might be best to fit everything you need to say in one page.
Can my personal resume be two pages long?
It's always best to keep your resume on one page long. Longer resumes are rarely read all the way through.
Looking for more inspiration? Check out our resume examples section that got people hired at their dream jobs. After that, you can build your own resume in our resume builder and pick from five customizable resume templates.
Make your move!
Your resume is an extension of yourself.
Make one that's truly you.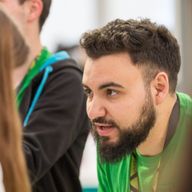 Kal Dimitrov
Kal is a resume expert @ Enhancv. He frequently publishes blog posts around resume writing, cover letters & job applications. Kal also runs a Career Accelerator Bootcamp for young graduates.