If you think that a good resume can only get you the job you deserve, you are wrong. Apparently, a great resume can get you a date now too! Joey's dating resume created on the Enhancv platform has been trending on Buzzfeed since yesterday.
The whole story began in a class Facebook group post. A girl was looking for a formal date for her roommate who "lives in the library" and one of Joey's friends tagged him in the post. Joey was ready, as he had already prepared a resume – a dating resume, to be precise.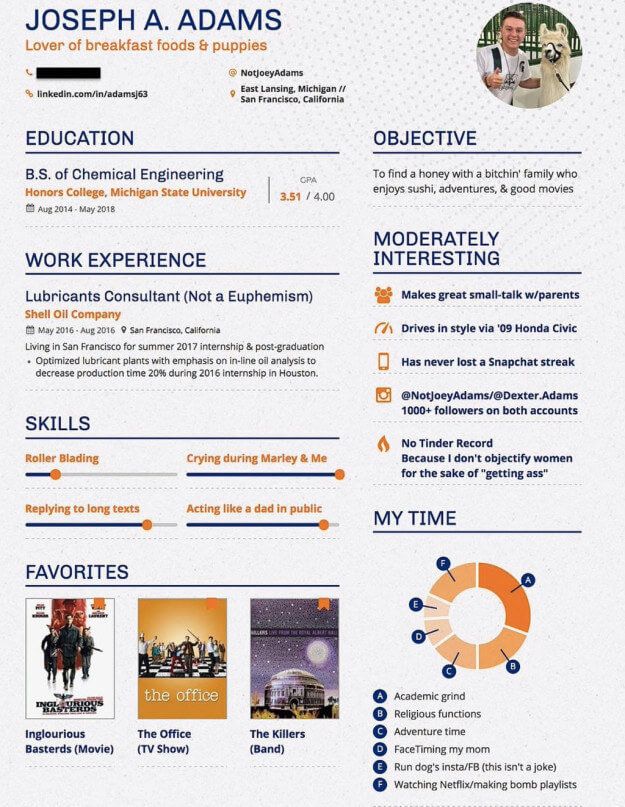 How come did he have one at hand? It appears that a girl he invited for a date earlier this year refused going out with him because he didn't have a dating resume. This was the moment he decided to craft one, so he'd be prepared for when other beautiful girls with this ''strange request'' come along.
In his dating resume, Joey mentioned all the necessary information any girl would like to know. His education, and also his work experience which states ''Lubricants Consultant''. Oh boy! Does he know how to attract attention!
He also mentioned what his objective was. Again, straight to the point, revealing his intentions.
In his ''Moderately Interesting'' section, he states No Tinder Record – because I don't objectify women for the sake of ''getting ass''. Another imaginary +1 for many girls! When it comes to his skills, all of them are pretty amazing. He not only replies to long texts, but he cries over Marley & Me.
One of the best parts is his My Time section. It's obvious he loves his dog, (Run dogs Insta/FB), he loves his mom (FaceTiming my mom) and he spends a lot of time studying (Academic grind). As an employer, you get a good idea – the guy doesn't just sit around. As a girl receiving such dating resume, you'd know the guy is a diamond!
It seems that Joey laid the foundations for a whole new way of getting a date. His sense of humor applied in our personality revealing sections is the right mix to getting any girl's sympathy.
If you are on a hunt, try Joey's way of attracting attention and craft your resume on the Enhancv platform too. It seems to work pretty well!
Make your move!
Your resume is an extension of yourself.
Make one that's truly you.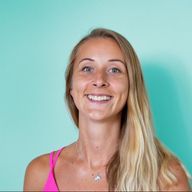 Tatiana Rehmova
A glass half-full kind of a girl and a believer that everything happens for a reason. Loves writing, editing and researching the newest ways of doing things.