Are you a jack of all trades on the way to creating your first-ever professional resume? We're sorry to say, but you've definitely hit the wall with this guide.
It's definitely not for you.
Resume area of expertise, please take the center stage!
Areas of expertise (AoE) allow for skilled professionals within both hi-tech and creative industries (especially managers, leaders, and c-level executives) to showcase what makes their experience unique.
Imagine AoE as a further key selling point to highlight your prominent skills through niche-specific experience.
The key skills you should spotlight using your area of expertise are most often related to the job you're applying for.
They could certainly include hard and soft skills, gained through experience, education, certifications, projects, etc.
When curating your resume via your professional AoE, you'd ultimately focus on answering some of the most important questions for your potential employers, as listed below.
1. Why should recruiters care about this experience item and your skills?
Use AoE to hash out each experience item even more so, while focusing on niche-specific skills attained and results.
2. What impact did your accomplishments make on the organization, team, or your skill set?
Highlighting something you did that was above and beyond, using the precise skills within your AoE.
3. Who you are as a professional: what's it like to work with you?
Your area of expertise certainly hints at a couple of personal skills, including how you'd ultimately define success.
Also focusing on your future-facing abilities: your goals, vision, and dreams for growth within the industry.
Resume AoE should serve to
qualify you for the job in light of your background, including technical and soft skills and interests;
highlight your industry-specific knowledge and achievements;
help you stand out by fitting within a specific niche, thus answering the organization's needs;
sell your story as a leader within the specific area you've decided to excel in.
Area of expertise resumes shows recruiters that you can not only talk the talk but also walk the walk.
This Enhancv guide will show you:
Best practices when curating your resume using your area of expertise;
Why the top one-third of your resume sets the whole tone for your AoE?
Filling in the whole story: how to decide on which industry-specific skills to include?
AoE keywords in the professional experience and those nitty-gritty details;
Interests and hobbies: other resume sections to fill in the blanks and show the depth of your area of expertise.
How to show your area of expertise using your resume?
Before we get into the how-to, here's the biggest red flag about your professional area of expertise.
AoE resumes are most relevant for professionals with many years of experience or at a more senior level. Ones that have become subject experts, thought-leaders, and/or can boast a high level of competency in using a specific skill set.
AoE-tailored resumes shine a better light on what makes you a unique asset to a given organization and ultimately help you to stand out against competitors.
Some jobs have very specific requirements to differentiate successful candidates from everyone else. Take for example:
Wanted: PPC expert with 10+ years of experience!
Hence, professionals with a resume focused on their PPC expertise would be the big winners at the end of the day.
But why isn't having an area of expertise recommended for entry-level roles?
Junior professionals may not be that well-versed within a specific niche or may not have practical experience.
Imagine how bland a resume would look, focusing on just three particular skills, that have been "mastered" over a very short period of time.
E.g. Python, C++, and HTML with a total of 6 months of experience and just one project behind their backs.
Professional areas of expertise show recruiters your capabilities and interests. But how should you go about narrowing down your skills to be more focused on your expertise?
Here's what you can do to ensure you get your AoE resume right from the very start.
Help recruiters understand how you'd be the right person to fill the shoes by aligning your area of expertise (and skills) with job keywords (requirements).
Determine your level of proficiency within each skill requirement and select only the ones you excel in.
Provide specific examples for each skill item, focused on the big picture, results attained, and your level of expertise.
Curate a job-specific portfolio that includes your publications, home labs, and projects that best answer the needs of the role.
Include client-success stories to show your previous achievements using both hard and soft skills.
Wondering what else you could do to highlight even further your resume AoE?
Don't forget these three rules
1. Tailor your application for each job you apply to, always using active, specific language to highlight your achievements.
2. If you've basic knowledge of a specific job requirement or skill, leave it out of your resume. If the skill is a must-have, use your cover letter to highlight your determination in investing your time (both on and off the job) to attain this skill.
3. Use various resume sections as proof of your area of expertise by highlighting the specific field and skill set you've mastered.
Now for the part, you've all been waiting for: let's look at how professional areas of expertise apply to your resume.
Area of expertise and the top one-third of your resume
Did you know that the top one-third of your resume is the break-it or make-it moment at the assessment stage?
It's when rejection rates by recruiters and the Applicant Tracker System (ATS) are the highest.
This is as candidates have listed irrelevant experience, missed keywords, or presented a generic headline and/or summary.
If your resume focuses on your area of expertise, seize the moment from the get-go!
Use both your resume headline and summary to showcase your industry knowledge.
The headline is the first sentence that could be either keyword-heavy or focused on the problems you solve within your work. Make sure that it hints at what your area of expertise is.
Your professional summary may be just up to five sentences, yet it has to entice recruiters with your professional story by
using job-specific buzzwords;
demonstrating your ability to excel in your line of work;
highlighting impressive projects for your niche.
Take your time to assess what are the most important skills for your industry. From there, be as specific as possible to showcase what you've achieved using these particular skills.
Whether that's completing a $75 million program deployment in 6 months for 25K users; or integrating LinkedIn adverts that have generated a profit of $7.5 million in 3 months.
Need more examples? Check out how the area of expertise is integrated within the industry leader's resume headline and summary:
Scrum Master PM, PSM I Certified: Applying Agile Principles to Ensure 20+ Team Members' Professional Success
RIGHT
Scrum Master and Project Manager with 12+ years of experience in ensuring software teams (of up to 20 members) continuously improve their day-to-day workflow by integrating Agile practices, principles, and values. Efficient sprint planning and reviews to identifying 65% more key challenges that impeded the team from reaching their goals and building bespoke Scrum and Kanban solutions. Highly experienced in integrating Jira and Trello to ensure that all project deadlines are met and in most cases: projects are submitted by an AVG of 5-work days before the deadline. In the past year, have helped 6 team members attain promotions to leadership roles by growing their agility to fit their potential roles.
RIGHT
Skills-heavy resumes showcasing area of expertise
There is one final section within the top one-third of your resume, which most professionals tend to underestimate.
That's the skills section, which allows you to embed as many relevant job advert keywords as possible.
Choose wisely when curating your:
technical skills - your capability to use specific software/technologies;
soft skills - personal and character traits you've gained thanks to your whole work-life experience.
Always focus on selecting the skills you excel in that are relevant to the job advert.
Enhancv allows you to build up your AoE with dedicated strengths or achievements sections.
Whether you decide to choose either resume section, remember to include a healthy mix of
hard and soft skills;
how you've applied those skills;
outcomes with numbers, percentages, etc.
Leading a team of 50+ professionals to understand their dreams, ambitions, and capabilities. Kept employee retention rate to be +93% over the past 3 years.
In the past year, have worked to ensure new products meet all quality standards. Assessed and decreased the customer-facing risk by 45% while investing more into perfecting the technologies.
Tech department popularity
Built excellent professional relationships with 60+ colleagues from different departments that ensured smoother communication and more company-wide understanding of the role of the Tech department.
RIGHT
Want to take your skills section to the next level with your area of expertise?
Select the crucial skills to the role you're applying for and build a skills section in which you also include:
the number of years you've practiced the skill;
most recent use of the skill;
level of comfort with the particular software (for technical skills).
6+ years of experience in both frameworks in ensuring project management is 45% more efficient. Integrating both solutions in data quality management to ensure data is available and secure across 5K systems.
10+ years of experience in applying SQL to query data, assess, and always provide value. Currently leading a team of 3 Junior Project Managers and ensuring they apply the best SQL principles in their day-to-day work.
Presenting up to 3 weekly analyses to key stakeholders with Tableau: installing data-based decision-making across the company to ensure positive ROI in the last 2 years.
RIGHT
Apart from dedicating these few sections, remember that your resume should focus on your skills all through.
Just make sure that all the information you include is relevant and shows your expertise in that particular skill.
Resume experience: how to highlight your area of expertise
When assessing resumes, recruiters should immediately be able to understand your area of expertise, subtly hinted at in your experience.
Have you ever wondered how to master the art of selecting the correct roles to shine the best light on your experience?
If you'd like to position yourself as a niche expert, it's important to establish which most recent roles have helped you build your unique skill set.
Remember that your resume is a limited space of up to two pages (and that's only if you have many relevant years of experience).
So choose your experience items wisely to show not only that you're the best person for the job, but that you know what you're talking about when it comes to the particular field.
We'd recommend that within this brainstorming stage, you select the most important (and possibly specialized) skills for your industry and then match them up with each experience item.
Continue on to write each experience bullet item using active and concise sentences that portray:
how you've applied hard and soft skills in a particular role;
the immediate results of your actions;
what you've actually achieved in the big picture for the organization.
You have to get down to the nitty-gritty details of your role, while sticking to the one sentence-per-achievement format.
Need more help with writing your niche experience section? Hope the example below helps.
SaaS startup that secured $25M in first round of funding: offering bespoke communication solutions to brands across the state.
Creating consistent B2B SaaS strategies for all company channels to ensure demand generation always excels KPI by 65%

Leading organizational rebranding across various communication channels (digital, BTL, PR), adapting the message, and ensuring brand recognition is up by 450%

Installing Trello for project management of all departments (marketing, content, PR, graphic design) which ensured that task allocation and prioritization became effortless
RIGHT
AoE portfolio, projects, and publications
The best way to highlight your area of expertise is by showing what you're capable of.
At the top of your resume, make sure you've included a link to either your blog, GitHub, home lab(s), or LinkedIn profile.
Your portfolio should showcase relevant projects that follow the latest industry trends.
If you decide to link to your home lab, do so with intention.
Make sure that your projects hint at both your knowledge and experience within your area of expertise.
E.g. a penetration tester could include a home lab of how they've dealt with incoming cyberattacks.
A well-curated portfolio for the job goes a long way.
If you want to take your resume a step further, include a concise projects or publications section with noteworthy achievements.
Here are a couple of helpful questions that could get you thinking about your project presentation:
Why was this project important?
How big was the budget?
How many users did it affect?
What were the project milestones?
Built e-commerce marketplace
In just under 6 months, built and launched an e-commerce marketplace, allowing game dev freelancers to grow their portfolio of work.
Designed and programmed in Ruby on Rails

Conducted +10K interviews that affected the UI/UX's functionalities

Achieved +25K freelancer registrations within the first month and projects, worth +$150M
RIGHT
Resume education and certification sections - further proof of your area of expertise
Many professionals often tend to underestimate the value of education and certifications on their resumes.
These two sections are a chance you don't want to miss out on, especially if you're trying to position yourself as an expert within a particular niche.
Of course, you don't need to list all of your degrees and certificates, rather tailor them to your area of expertise.
Include on your resume the degrees that:
are relevant to the job (e.g. your degrees in AI/ ML, etc.);
showcase your determination to learn and progress (e.g. at M.A./Ph.D. level)
When it comes down to your training and certifications, once again, select ones that match the job advert and carry some sort of weight in the industry.
Other resume sections to position you as an expert
Your resume (that hints at your area of expertise) doesn't have to just be limited to the few sections, listed above.
Sometimes, it's a good idea to think outside the box in curating what would carry the most value for recruiters and your potential employers.
This would lead to integrating a more personal approach to show your values, interests, and hobbies. Use:
My Time - to show what you care about in your day-to-day. Don't forget to highlight your daily dedication to perfecting your niche skill set.
Passions - people always have and will always want to work with people. This section can provide recruiters with great conversation points during the interview process.
Get inspired with these 10 resumes from different areas of expertise
To get you further thinking about your area of expertise, we've selected 10 niche guides to show you how experts have integrated their experience:
Key takeaways
Areas of expertise are the perfect resume solutions for senior professionals or subject-matter experts, who wish to shine a better light on their skill set.
Select the key skills you'd like to focus your resume on by considering job advert keywords and your proficiency level.
Integrate skills that hint at the area of your expertise in the top one-third of your resume to get noticed by recruiters.
Curate your project portfolio to be specific to the role you're applying for, while showing your unique know-how.
Include various other sections as proof of your area of expertise, but also to hint at what it's like to work with you.
Make your move!
Your resume is an extension of yourself.
Make one that's truly you.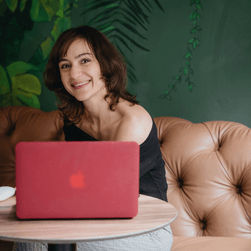 Reny Mihaylova
I'm a professional storyteller: where my 10+ year journey through various industries (media, PR, communications, and corporate) has brought me one step closer to my big WHY. That is, to use narratives and practical knowledge to help individuals achieve their purpose and feel happier by the work they do. In my free time, find me devouring the classics: from Austen to Tolkien to King, or being dragged uphill by my +50KG / +110 lb dog.