At the beginning of the new year or new quarter, one word is whispered; foreshadowed in the air all around you. And as much as you may dread it, layoffs continue to be the reality of many industries and will continue to happen through 2023.
Just in Q4 of 2022
Amazon decided to make redundant 10,000 jobs worldwide;
Netflix laid off 2% of its workforce;
Twitter laid off nearly half of its global employees;
Facebook (or Meta) accounted for losing 13% of its workforce.
The thing to remember is that layoffs are a business decision based on budget cuts and downsizing. It may not necessarily reflect upon your performance.
And you may not want to get into it straight away, but sooner or later, you'll have to start writing your resume.
Consider your resume as a clean slate to focus on the future. It has to be equally accurate, forward-facing, and optimistic.
Pro tip:
Your resume should represent who you're on your very best work day at the ideal workplace.
And recruiters, assessing it, would like to find out:
How your experience will help you and the company you're applying for progress in the future?
What have you learned from past roles?
Ultimately, should potential, new employers take a chance on you?
Read on to find out:
How to handle layoffs in different sections of your resume?
Basic resume formatting to stay concise, goal-oriented, and clear about your purpose.
How to make the most out of each experience item you have?
Where to substitute experience with skills and achievements?
How do the lessons learned from your past mistakes make you an ideal candidate?
How to write your resume after you've been laid off?
Within the next section of this guide, we'll provide a couple of tips and ideas on how to think about your resume after being laid off.
The first thing to remember is this: you've now gained the once-in-a-lifetime opportunity to present the most exciting "product" or "service" in the world. Your experience.
You want to generate healthy expectations from the get-go of the application process. That's why complaining about the past - and having the "why me?" mindset - won't set a good tone.
Instead, focus on the skills and the experience you've gained, proving your potential as a new employee.
Here comes the tricky part, should, or shouldn't you mention that you've been laid off when writing about your experience?
There are a couple of indications to take into account.
1. You can leave out any experience items that have ended up in redundancy due to layoffs if:
they're not crucial to the role you're applying for;
your experience gap is less than six months;
carry no weight as to your skill set and accomplishments.
2. There are some industries that have constant job cuts (e.g. hospitality, creatives, etc.).
Writing your resume within this space, you could mention that you've been laid off, either during the interview process or in your cover letter.
Wording matters, so you can use any of the following phrases:
"position was made redundant"
"company is downsizing"
"budget cuts".
3. Never, ever lie on your resume - especially about end dates.
Because recruiters always have a way to find out. Your past seniors or HR departments are just a phone call away.
There's no need to turn the perfectly pleasant recruitment process into a sticky situation.
4. Check how previous employees in similar situations have dealt with layoffs. LinkedIn is a good place to start.
Perhaps the most important step you can take is to find as many job adverts as possible and discover what's important for the new roles.
Enhancv six simple steps to formatting your resume
Step 1: Keep it simple
Find a good template for your resume that's Applicant Tracker System (ATS)-friendly.
Usually, a good resume is one-page long.
Step 2: Tailor
Target potential employers by integrating as many crucial keywords from the job advert that are relevant to your experience.
Step 3: Formatting
You could use:
Step 4: Proofread
Always proofread for typos and to ensure that your resume is consistent.
Step 5: What You Do Matters!
Dedicate a section to how you've constructively used the time after you've been laid off. This could entail dedicated volunteering, learning new languages, or other relevant sections.
Step 6: Behavioral Interviews
During these, you'd have to answer questions using stories to narrate your experience.
Use your resume bullets as prompts for these stories to show you in the best light possible.
With a one-story-per-bullet approach.
Trust us, you'll thank us later, as preparation is always halfway to success.
A good resume summary marks for an exciting narrative
Your resume summary has to be between three and five sentences long. It should highlight what makes you attractive to potential employers.
Basically, the summary previews your experience so that recruiters are excited to read on.
The resume summary may not be the best area to mention that you've been laid off.
It could serve to show your accomplishments; job-specific expertise and knowledge.
A little confidence from the very start goes a long way.
How to note layoffs in the experience section
​​Yes, you can list that you've been laid off within the description of your most recent experience item. But recruiters don't want you to go into details about why your role has been made redundant.
Instead, they'd like to see what you've learned from your whole experience.
Consider each bullet to mark transferable skills that use accomplishments as proof of your aptitude.
Relevant experience bullets could hence include:
Details about leading or managing a team;
Awards and reasons why you've won them;
How did your work impact the big picture for the business?
There's no need to list all your experience items (entry-level jobs and internships) from decades ago. Remember to always select only the most relevant ones to the role you're applying for.
Each bullet item can be listed as so:
Clear, Actionable Verb (e.g. improved, reduced, etc.) + Result
Achievement + Tool or Technology Used
STAR: Situation, Task, Action, Result
You could also dedicate a separate section to go into curated items of your experience within…
Project section: adding more depth to your experience
We are sure that within your experience, you probably have a project or two that's very noteworthy.
One that can not only showcase you're able to achieve outcomes, but also use various technical and soft skills. And as a cherry on top - your project covers all the buzzwords used within the job advert.
Dedicate a separate section on your resume for precisely those projects that show you can plan ahead by evaluating your work.
Pro tip:
Numbers for your project actually matter. Don't forget to list the dates it was completed within, the amount ($) or percentage (%) it improved, or hours saved.
Thus, shifting your resume focus from "desperately looking for a job" to a "go-getter" mindset that can bring organizations added value.
Hiring candidates with transferable resume skills
Recruiters are well aware that introducing new technology to employees - and having them become comfortable at using these on a day-to-day basis - could take up to six months at a time.
Even though, you've been laid off, your resume carries all the technical and people knowledge you've gained from previous experience.
Those transferable skills are actually a golden mine for recruiters, as this would save up so much company time.
So, dedicate a separate section to list both your:
Education and other resume sections to focus on
While your current work engagements may be on hold, this provides you with plenty of time to master additional skills and gain new knowledge.
You can curate this on your resume by listing all relevant:
Workshops
Online Courses
Certifications
Degrees…
…you've attained during this time period.
Just remember to always filter these with relevancy to the role you're applying for.
It's all about perspectives
You may have applied to 100+ jobs at the moment and still haven't heard any feedback.
Don't lose hope.
Yes, the market may at times be tough, recruitment may be slowing down or freezing completely. But this won't always be the case.
Consider that in five months or five weeks or even five days, the job market could be completely altered.
Professionals are getting job offers out every single day.
Companies have always and will always hire people who have been laid off.
It's all about what you bring to the role as experience, qualities, and mindset. And your resume is the sole opportunity to prove that you're the ideal candidate for the job.
Make your move!
Your resume is an extension of yourself.
Make one that's truly you.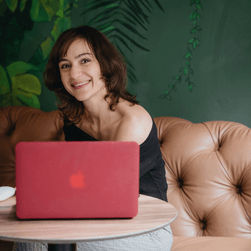 Reny Mihaylova
I'm a professional storyteller: where my 10+ year journey through various industries (media, PR, communications, and corporate) has brought me one step closer to my big WHY. That is, to use narratives and practical knowledge to help individuals achieve their purpose and feel happier by the work they do. In my free time, find me devouring the classics: from Austen to Tolkien to King, or being dragged uphill by my +50KG / +110 lb dog.