Writing a Executive cover letter might feel like skating on thin ice – choosing between buzzwords mentioned in the job description and original content, while worrying about making even the slightest mistake.
And what can make this experience a bit more fun and exciting? You guessed it. Relying on expert advice and examples.
Luckily, we have you covered. Check out our tips on writing a memorable cover letter below.
Make your executive cover letter stand out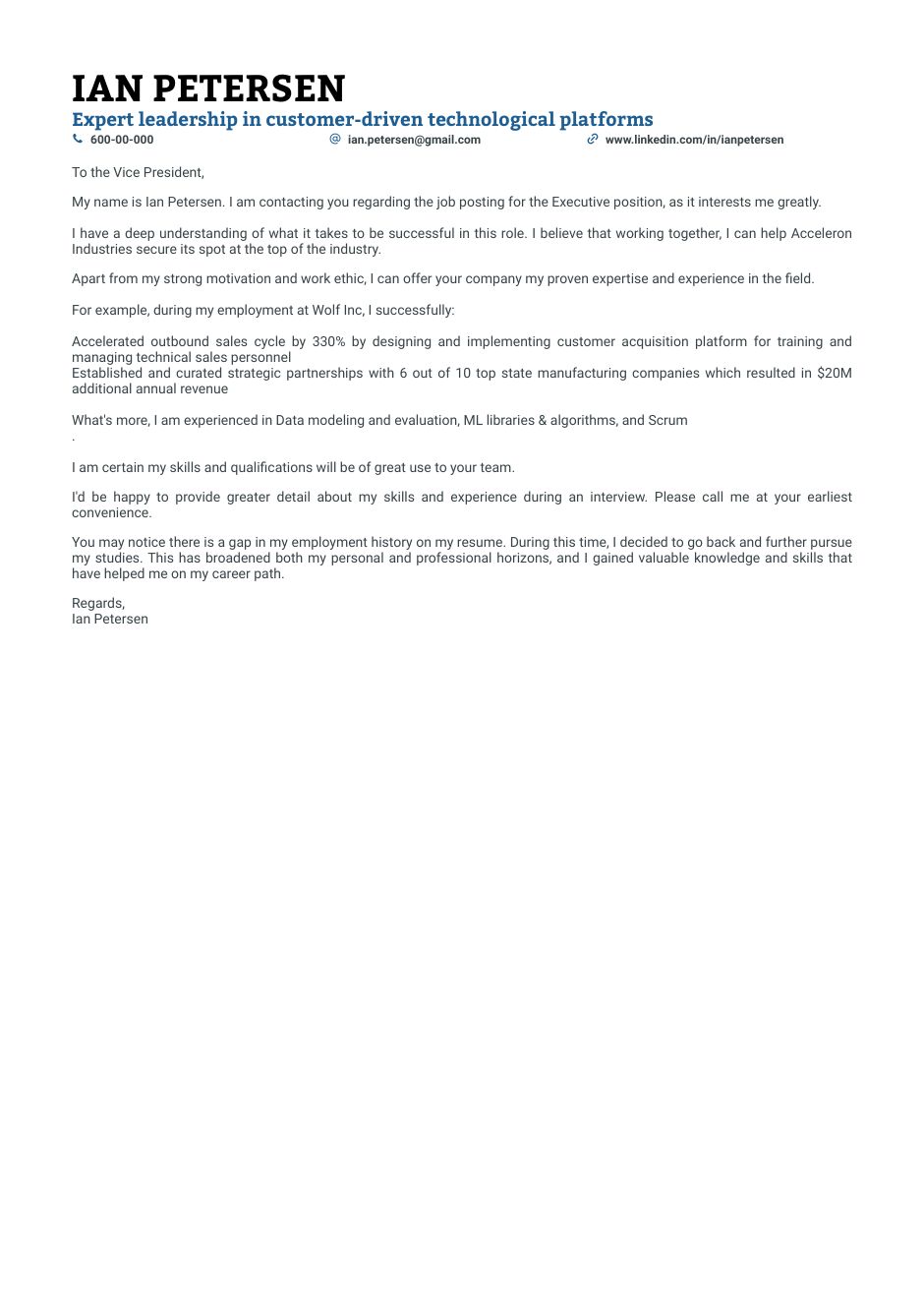 At first, you may think that the cover letter should repeat all information from your resume but in a story-like form. However, that's not true.
Instead of re-writing your resume, you need to focus on making the right impression.
You can do that by talking about the skills that help you overcome challenges, your excitement when it comes to the industry, your past achievements, and your knowledge of the company.
Now let's look at some other things that will make your cover letter stand out.
We've made an in-depth guide on what should your cover letter include that you can check out!
Choose the right salutation and show your eagerness for the job
We advise you to address the cover letter directly to the person responsible for the recruitment process. If you don't know their name, take some time to research it.
This will show that you're attentive to detail and are willing to go the extra mile when necessary.
Here's a list of salutations you can never go wrong with. Note that some of them can be used even if you don't know who the hiring manager is.
Dear Mr. James,
Dear Human Resources Manager,
To the [team you're applying for] Department,
Dear [company name] Recruiter
The introduction of your Executive cover letter is what will get you remembered. But how can you make sure that your opening line is good enough?
Rumor has it, many people out there have started using phrases like "I found your job advert on website X and decided to apply" ever more often. But more importantly – that recruiters are already getting tired of it.
So instead of saying what everyone else is saying, we advise you to go for a more honest approach. Begin your cover letter by explaining what excites you about the company and how this excitement will help you on your journey towards success.
Combine your soft and hard skills for an unbeatable match!"!
While the resume is considered the best place to showcase your hard skills and achievements, the cover letter should tell a story and prove your enthusiasm for the field.
This is why we advise you to focus on soft skills and results. Think about all your soft skills and how they have helped you grow as a professional and crush your goals. Then turn this into your own very short success story.
Make sure to include some hard skills too, especially the ones listed as part of the requirements section of the job advert. This will guarantee that you pass applicant tracking systems (ATS) that screen applicant documents for keywords.
And remember – the cover letter should include new information without repeating your whole resume. It needs to offer additional value to the recruiter.
Show that you know the company and its problems well
Showing that you've researched the company and are familiar with it is a good way to prove your work-readiness.
It will also point the recruiter to the fact that your skills and qualifications will have a long-term impact on the company. Just link some of your strengths to the ways in which current or potential issues can be resolved.
Finish your cover letter with a call to action
While the introduction is the best way to make a good impression, using the right words to end your cover letter can help you get a callback.
Our advice is to make sure that your closing line matches the company culture. However, "Looking forward to hearing from you" and other traditional phrases are always a safe choice.