Web developer cover letters are the opportunity you may be missing out on to make a good first impression on recruiters.
As we all know, the demand for professionals in this competitive field is on the rise.
It comes as no surprise that the requirements for web developers (in 2022) are even more particular regarding skills and qualifications.
Not only this, but recruiters are searching for web developers who would be an ideal fit in the company culture.
Here's your chance to let hiring managers know that you are the candidate that they are looking for - with Enhancv's step-by-step guide to writing web developer cover letters.
Read a real web developer cover letter example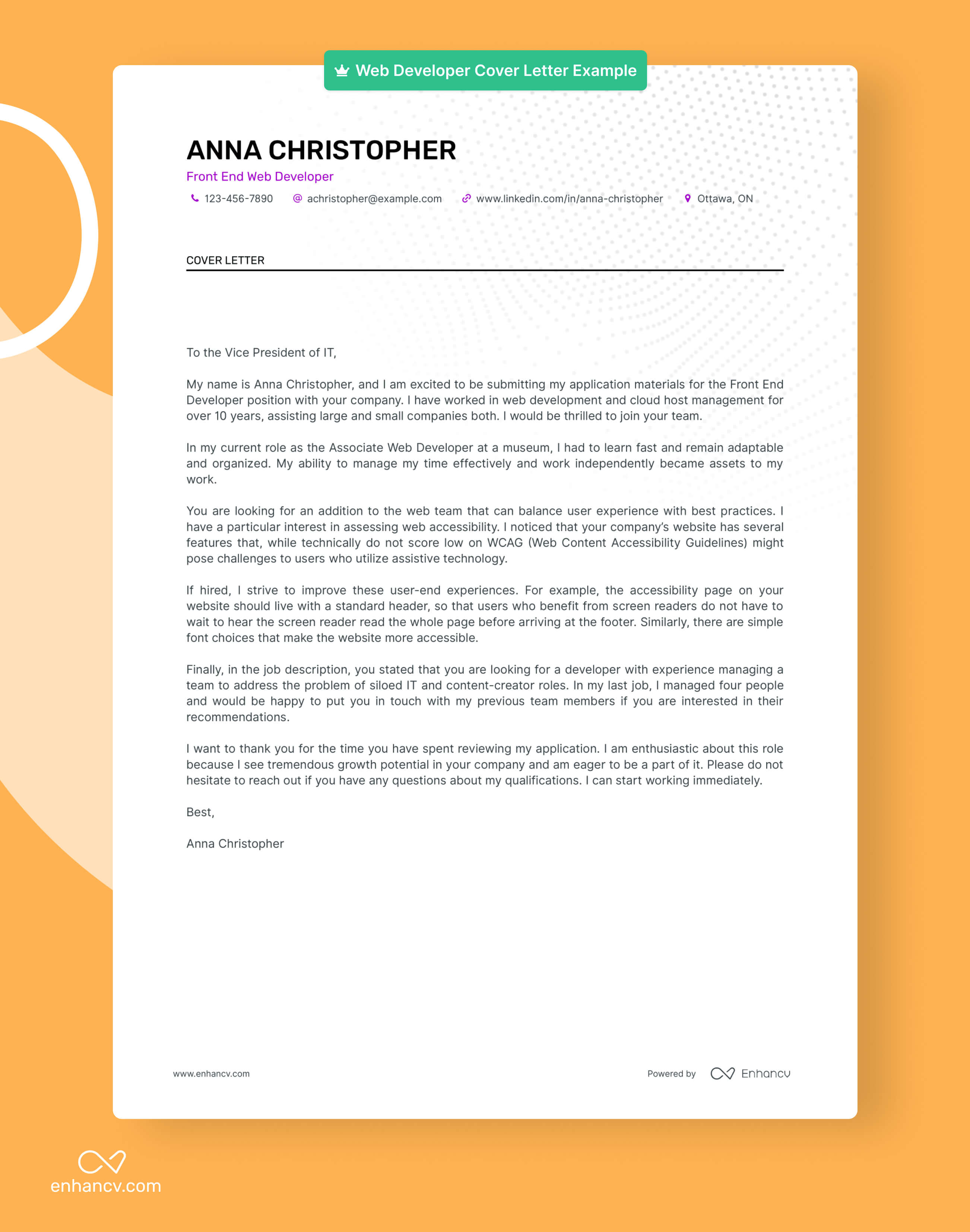 What to write a web developer cover letter
You never get a second chance to make a first impression.
That's one of the main reasons why you should curate your web developer cover letter as personalized (user) experience for recruiters.
Still not convinced that you need a cover letter to go along with your job application? Find out why they are your winning strategy to get your dream job in 2022 and beyond.
Your web developer cover letter's different sections should include:
salutation and introduction;
skills that make you a great web developer;
research into the company;
ending with a call to action.
To make your cover letter even better, add some brief and catchy professional storytelling with a balanced hint of enthusiasm.
Interested in finding out more details about storytelling and cover letters? Then check out our detailed article on how to tell a story in your cover letter.
There's so much more about the structure you don't want to miss out on, so let's go!
Choose the right salutation
Your web developer cover letter's intent is to prove you are the candidate for the job (and also personable).
That's why you need to pay attention to the slightest details - starting off with the salutation.
This should reflect upon your knowledge of the person you're writing to.
Whether that's:
Dear Mr/Ms/Mrs [Last Name],
Dear [First and Last Name],
Or, perhaps, the more vague (but still appropriate) cover letter salutations:
Dear [name of team or department you're applying for a position in],
Dear [company name] Recruiter,
To the [name of the team you are applying for a position in] Department,
Dear [hiring manager, recruiter, or name of point of contact],
The only mistake you can make here is to address recruiters with the clichéd "Dear Sir or Madam".
Want to see more options about how to start off your cover letter? Read our in-depth guide on what's the best way to address a cover letter.
Craft a strong introduction
What is all the fuss about the introduction of your web developer cover letter?
Well, those first few (and brief) sentences are the magnet that reel in your readers - enticing them to find out more.
The web developer cover letter introduction should showcase your enthusiasm and commitment towards the given role and company.
And also answer why you are applying.
While writing the introduction, you can:
Fill it with web developer technical terms. Use the job advert as a reference for the technical skills that are sought out. A good idea here would be to include numbers, as well as your years of field experience.
Highlight your accomplishments. The introduction could also pinpoint your biggest accomplishments. When writing about them, remember to use all relevant technical skills you used to build/maintain websites.
Whatever approach you decide to take for the introduction, remember not to go into too much detail.
Emphasizing on your web developer skills in your cover letter
When writing a web developer cover letter, use the skills segment to highlight that you meet the technical description of the role.
It may vary if you are applying for a front-end, back-end, or webmaster role.
To pass any recruiters' applicant tracking systems (ATS), use the job requirements as a reference to write about your most relevant skills (and experience).
Your skills section should hence highlight your qualifications, accomplishments, and years of experience within a systematic framework.
So you can think about your experience with the following:
User interface /responsive design;
Coding (e.g. HTML, PHP, or XML for front-end developers; Python, JavaScript, or Ruby for back-end developers);
Testing and troubleshooting;
Technical SEO.
Describe situations around your experience with these skills, and always focus on results and numbers.
Don't just tell – but show you understand the given technology.
This would go to prove to recruiters that you are an excellent fit for the role.
If you don't happen to have any experience as a web developer, you still have a good shot. Check out our complete guide on what you should include in your cover letter.
Top soft skills for web developers
Client care - within your work as a web developer, you'd have to collaborate with different associates (e.g. stakeholders, designers, and clients) to achieve results. Your ability to show respect and an understanding of their thoughts would be vital.
Patience - this essential skill would show that you are resilient when facing challenges; that you don't let emotions affect you and rather have a calm and systematic approach to problem-solving.
Visual thinking - as a web developer, you need to be able to visualize how your clients' ideas should look within the digital space. They may present you with unclear instructions, but you need to have a bit of imagination to help them get the website they need/want.
Show that you did your research before applying
Towards the end of your writing, it's a good idea to remind recruiters that you are diligent within all aspects of your work - especially your web developer cover letter.
This is the section to show them that you've done your homework about the company/organization.
Seize the moment to congratulate them on any recent recognitions or awards they might have won.
You can even talk about their impressive portfolio - with a focus on projects you really like.
Or, if you want to follow a different train of thought, you can write about how you'd imagine developing within the role.
This would highlight that you're not only familiar with their line of work, but have the ambition to grow beyond what's expected.
The final call to action
The closing words of your cover letter are a chance to go full circle.
Within the previous sections, you've proven to recruiters why they should select you and what your technical and soft skills are.
Now it's time for action!
Use these final couple of sentences to suggest what should follow - with your availability for an interview or your willingness to work within the team.
You can even make recruiters' lives easier by including your contact details and any relevant links to your work.
Check out our guide for more advice on ending your cover letter.
Pair your cover letter with a web developer resume that beats luck
Your web developer cover letter is only as good as your resume.
Have you considered what the design should be for both documents?
We have two detailed guides about the formats of cover letters and resumes to help you out.
The thing to remember about writing both documents is to take your time, be consistent, and pay attention to the details.
Because your resume and cover letter are part of your job-winning strategy in 2022.
Key takeaways
Use your web developer cover letter to make a good impression on recruiters with achievements, qualifications, and professional storytelling
Take your readers on a structured journey with intent - always remember that by the end of your cover letter, recruiters need to know why they should choose you
When talking about your experience or skills, always remember to show the key outcomes and illustrate them with numbers
Your cover letter should end with a call to action - think about what your preferable next steps would be and suggest them. It's up to you to get that dream job
Pro tip
If you include a link to your portfolio towards the end of your web developer cover letter, this would further highlight your technical skills and creativity. It would also ensure that recruiters are actually looking at your work.