According to 83% of hiring managers, cover letters are an important part of every recruiter's decision-making process.
What's more, 72% of them will expect you to hand in a great cover letter, even if this part is listed as 'optional' on the job advert.
And if you ask our experts, cover letters are an amazing opportunity to tell a personal story and make the right first impression.
But what exactly is a cover letter and how to write a good one? Let's see…
Tips to write a memorable solutions architect cover letter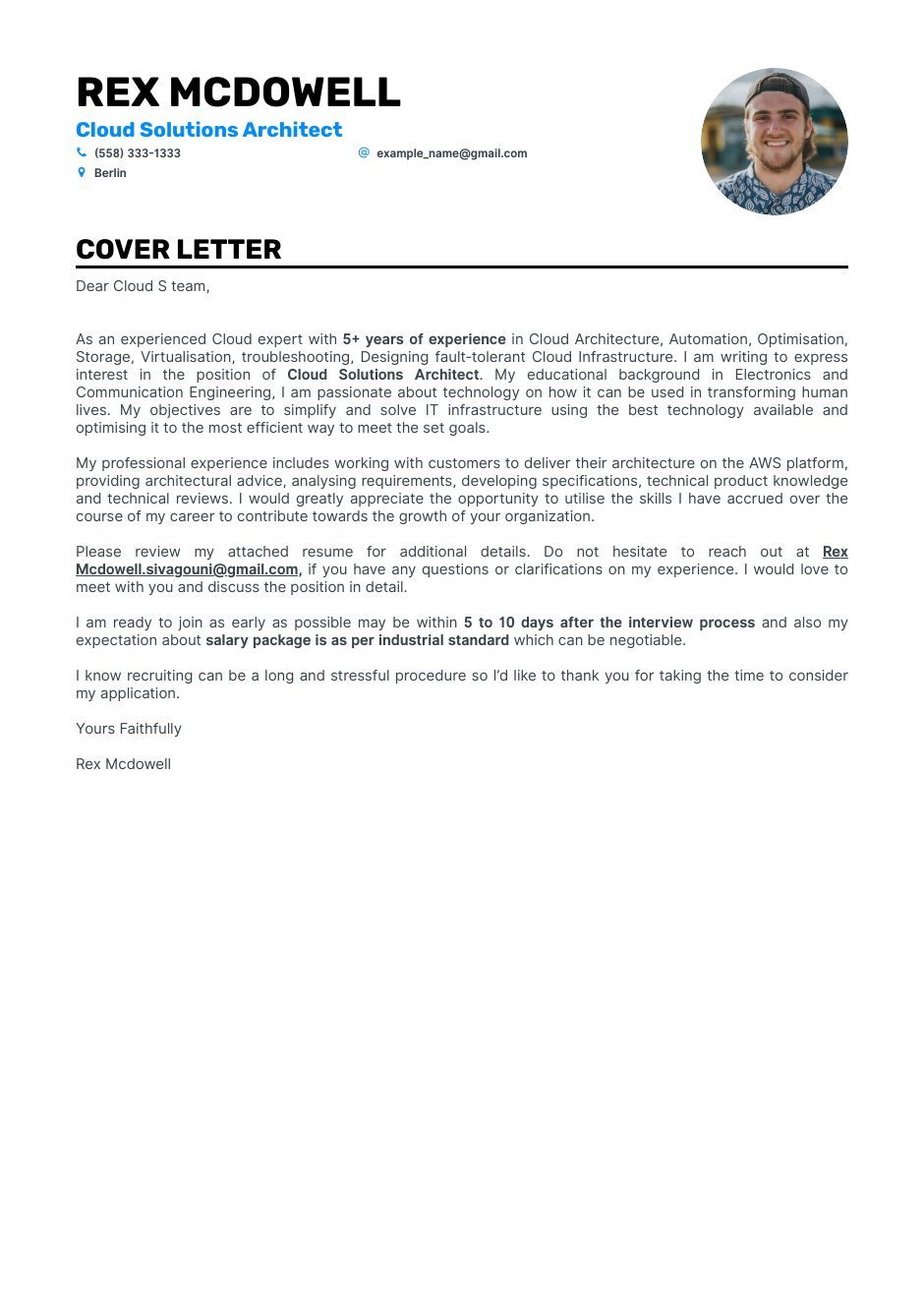 First off, you need to remember that a cover letter should build upon the information in your resume, rather than just repeat it.
Second, make sure that the tone of voice you use matches the company culture.
And last but not least, try to convey your enthusiasm for the position and the field. This will give your text a personal touch.
But how can you make your cover letter grab every hiring manager's attention? Let's see…
Choose the right salutation and craft an introduction that gets you remembered
Choosing the right salutation for your cover letter is crucial – after all, it's the first thing the hiring manager will read.
For this reason, we've gathered several classic salutations. Note that some of them could be used even if you don't know the hiring manager's name.
Dear Hiring Manager
Dear Head of [team you're applying for]
Dear [company name] Recruiter
Dear Alex Johnson
Coming up with a good introduction is your chance to make the right impression and give the hiring manager a solid reason to remember you.
So instead of going for popular opening lines such as "I found your job advert on website X", prove that you are actually passionate about the position. Share why you would like to grow in this field and what makes the company exciting.
Emphasize your Solutions Architect soft skills and mention your hard skills
So you've listed all your hard skills on your resume, now what?
It's time to think about the soft ones. But remember, it's essential to not just list your soft skills but to link them to the actual ways they can help you do well in the future.
And what about hard skills, have we completely crossed them out? No, not at all. You still need to mention some of these if you want to pass applicant tracking systems that screen texts for certain keywords. Check the requirements section of the job advert for a complete list of phrases you need to include.
Prove your passion about the company
How can you prove your excitement about the company? By showing that you've taken the time to research its issues, goals, and plans. You can also link them to your skills and experience if you want to show that you're really a strong candidate.
In addition to making a great impression, researching the company will help you find out if you really want to be part of this team or not. After all, interviewing is a two-way process.
Go for a strong ending
Ending your Solutions Architect cover letter in a suitable way can help you land an interview. Why? Because strong endings portray applicants as considerate and, what's even more important – passionate about the job.
Just make sure that your ending (just like your cover letter's body) matches the company culture. If you prefer to be on the safe side, go for traditional closing lines such as "Looking forward to hearing from you".