Read for inspiration or use it as a base to improve your own Computer Technician cover letter. Just replace personal information, company application data and achievements with your own.
Make your computer technician cover letter stand out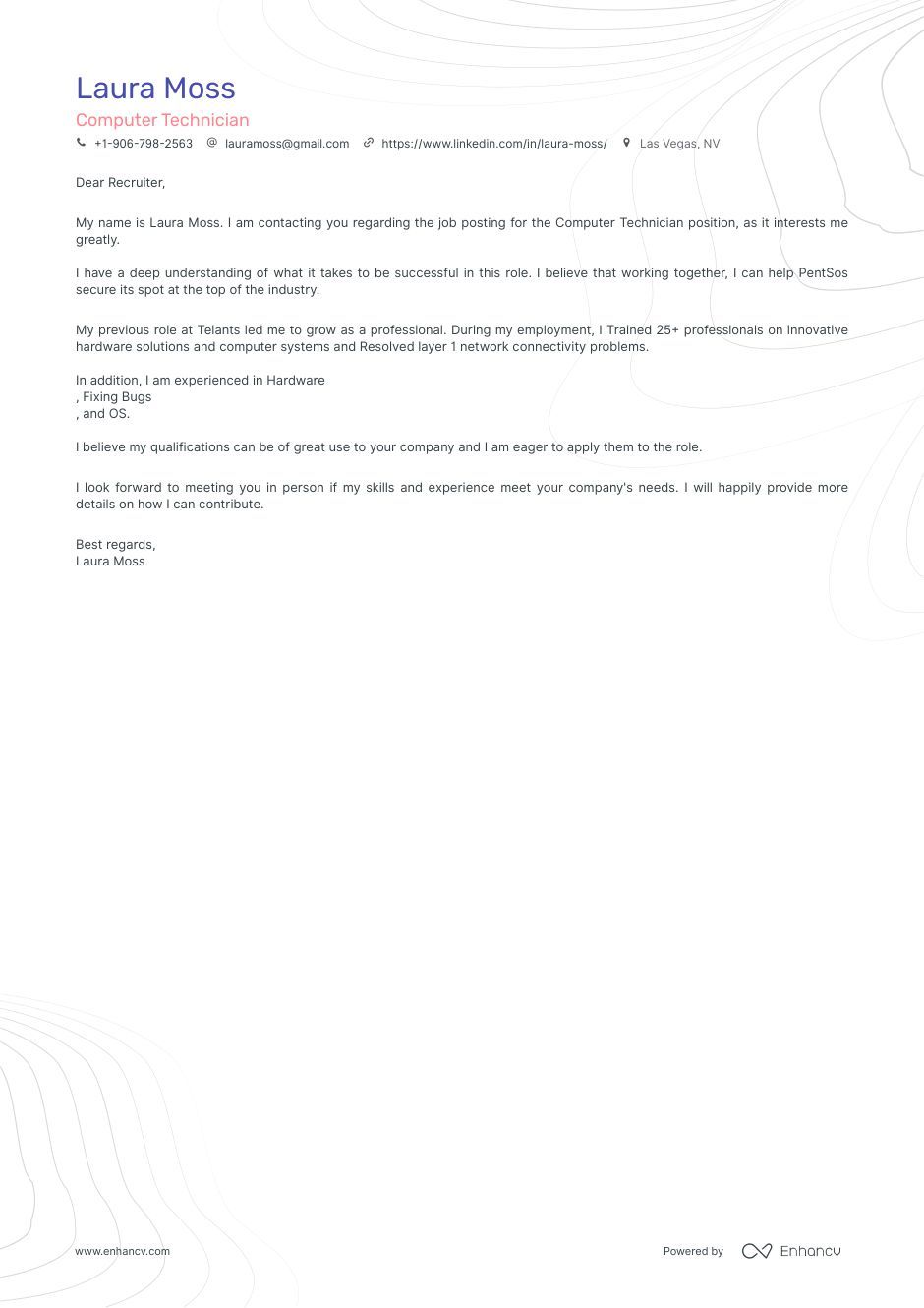 So what's the difference between a cover letter and a resume?
In short – the resume showcases your achievements and skills, while the cover letter focuses more on your personality and motivations.
Of course, you should mention some of your relevant skills in the cover letter as well. But make sure you're not repeating your resume word by word.
Now let's move on to the things that make every cover letter great!
How to choose the most suitable salutation and make a good impression
Addressing your cover letter to a specific person works in your favor for two reasons: it shows your attention to detail, and it proves that you've taken the time to research who the person might be.
However, sometimes this might be much more difficult than expected. On such occasions, we advise you to focus on salutations that go beyond the impersonal "To Whom It May Concern".
Here's a brief list of suitable phrases:
Dear Ms. Smith,
Dear Peter Roberts,
To the [company name] Recruitment Team,
Dear Hiring Manager
The introduction of your Computer Technician cover letter is without a doubt crucial for the first impression you'll make as an applicant. But is there a way to make sure your opening line is good enough?
Yes, there is. You can start by sharing your enthusiasm for the job or the field (or why not both!). You could also share your reasons to find the company exciting.
Try to be original. Don't go for phrases like "I want to apply for the position that I saw advertised on platform X". They're outdated and sound like you've got nothing better to say
Talk about your hard and soft skills
The resume is the place to list all your hard skills. The Computer Technician cover letter, on the other hand, is the ideal place to emphasize your soft skills and link them to your achievements.
Think about times when your skills have helped you achieve certain goals that seemed too difficult. And don't worry about admitting some of your weak sides – this is a great way to show recruiters your potential and ability to grow, both professionally and personally.
Looking at the specific job posting requirements could also give you insight on what skills should be included in your resume by all means. This will help you pass applicant tracking systems (ATS) that screen cover letters for keywords before passing them on to recruiters.
Prove how your skills can help the company grow
Showing that you've researched the company and are familiar with it is a good way to prove your work-readiness.
It will also point the recruiter to the fact that your skills and qualifications will have a long-term impact on the company. Just link some of your strengths to the ways in which current or potential issues can be resolved.
Go for a strong ending
Ending your cover letter in an actionable way is one of the things that increase your chances of getting a callback.
The conclusion is also your opportunity to thank the recruiter for their time and consideration, so don't skip that.
Just make sure to go for an ending that matches the company culture and language. If you prefer to be on the safe side, choose traditional closing lines such as "Looking forward to your reply".