A guided tour of your career – this is what a social media manager's cover letter feels like. And the best thing about that – you get to decide which parts need to be highlighted and which can be skipped.
Listing all your skills and experience on your resume is great, don't get us wrong.
But mentioning the tools you've used to overcome challenges and improve your skill set is what will make the hiring manager want to learn more about you and invite you to the next step of the recruitment process.
Now let's move on to what you actually came for – our tips and examples that will help you write a spectacular social media manager cover letter, even if you have little prior experience in the field.
Read a real social media manager cover letter example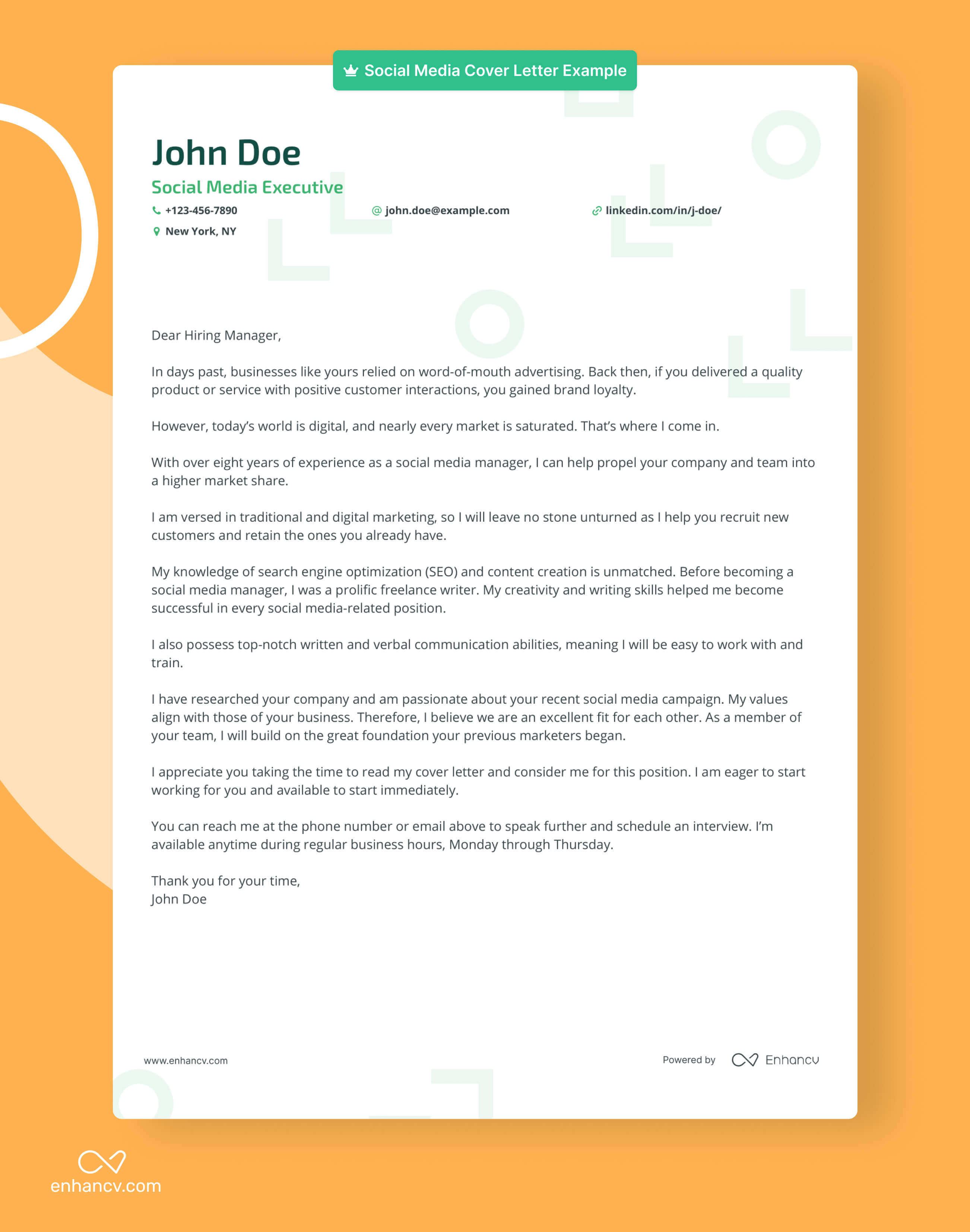 What to write in a social media manager cover letter
At first, you may think that a cover letter should mention all your hard skills, a detailed history of your experience, and maybe even your mother's maiden name.
But rest assured – you don't need to mention any of these. Rather, you should focus on making the right impression.
Some of the things your social media manager cover letter should include are:
Your ways to overcome challenges
Soft skills and how you have gained and strengthened them
What your contribution to the marketing team will be
Some of your achievements related to social media or marketing
Your knowledge of the company and why you believe it's the right place for you
Check out our additional tips on what to include in your cover letter.
Now let's look at some ways to make your social media manager cover letter stand out.
Choose the right salutation
It's always better to address your cover letter to a specific person when applying for a social media manager position. Don't forget to include Ms./Mrs. or Mr. if you know the person's gender.
However, in case you don't know the hiring manager's name, you could use one of the following:
Dear Hiring Manager
Dear [company name] Recruiter
Dear Human Resources Manager
To Whom It May Concern
To the [name of the department you're applying for] Team.
Keep in mind that sounding too friendly is not really what you should aim for. Overall, writing in a formal and polite way is your safest bet. And yet, it's worth remembering that the language you use should match the position, the company, and their culture.
Craft a strong introduction
The introduction of your cover letter is the first thing the hiring manager will read. This is your chance to get their attention.
But in order to do that, you need to be creative. Don't do what most people are doing. This means, don't just say "I found this job opening on that website and I decided to apply."
There are many other ways to show how excited you are to become a social media manager at your company of choice and why. For instance, you could mention your love for the industry or what you can bring to the table.
No matter what your opening line is – make sure to be honest. Hiring managers have gone over too many cover letters and know when applicants are making skills and achievements up.
Emphasizing your social media manager soft skills in your cover letter
Although you've probably listed all your skills on your resume, the cover letter is every social media manager's chance of telling a personal story and showing their enthusiasm for the job.
For this reason, focusing on your soft skills and leaving the hard ones behind is a good idea.
Maybe you want to mention a challenge that you overcame thanks to your conflict-management skills? Or maybe you prefer mentioning that time when you finished a task a month in advance, due to your ability to manage your time well?
In short – focus on your skills and how they've served you in the past. Presenting some of the important numbers behind your achievements would also work well – e.g. the number of accounts you've managed or how many junior colleagues you've mentored into becoming social media gurus.
Naturally, if there are some hard skills you are exceptionally proud of, you can mention them here. The point is to make sure you divide your social media manager skills between your resume and your cover letter, rather than to include the same information twice.
However, keep in mind that some recruitment officers use applicant tracking systems (ATS) that screen applicant cover letters for keywords. Thus, mentioning a few hard skills and tools every social media manager has in their arsenal can help you pass the ATS.
Social media manager top soft skills.
Show that you did your research before applying
Show that you are familiar with the company. This is definitely one of the best ways to make a good impression. It will point the hiring manager to the fact that you're already aware of the problems they're facing.
In addition, you should also mention how your personal social media and marketing skills can help you add value to the team and resolve current and potential problems.
The final call to action
The last paragraph of your letter should briefly sum up the whole text. This is also the time to express your enthusiasm to get to the next stage of the hiring process.
Remember – cover letters for jobs in social media and marketing should always end with expressing gratitude to the employer or hiring manager for their time and consideration.
You can also use common phrases like "Looking forward to hearing from you" or "Looking forward to your reply" as part of your cover letter's closing signature.
Pro Tip
Key takeaways
Focus on soft skills and achievements
Show that you have done your research before applying for the job
Share your excitement to become part of the company
Include some social media hard skills to make sure you pass applicant tracking systems