Your LinkedIn profile summary is the first opportunity that a recruiter or potential hiring manager gets to learn a little more about you. The biggest problem is that most people simply ignore their summary, or put off updating it.
In order to make sure that potential employers see your best qualities, you'll need to refine your summary, highlighting the most important things about your career and experience.
In this article, you will learn:
Why your LinkedIn summary is important
3 key elements to include in your own LinkedIn summary
How to write an interesting LinkedIn summary to improve visibility
Examples of effective summaries
If you are looking to wow potential employers with a great LinkedIn summary, speak with a career counselor from Enhancv. They can help you define your greatest strengths and unique selling points, which you could use to create a stellar summary.
Is your resume good enough?
Drop your resume here or choose a file. PDF & DOCX only. Max 2MB file size.
Why is a LinkedIn summary important?
Most people just skip the brief paragraph underneath the name on someone's LinkedIn profile. But if you've ever stumbled upon a really interesting LinkedIn summary, you can get sucked into reading it. In this short section, you can include your professional background and experience while also mentioning your career goals and aspirations.
It is the place you can tell people what you do, why you do it, and what makes you unique in your role.
Also referred to as the "About" section, your summary is effectively an elevator pitch where you can share all the reasons you should be hired. It is like a resume summary section. Some people even create a personalized 'hook', a distinct sentence that stands out and compels people to read further.
What's the purpose of a LinkedIn summary?
LinkedIn has over 900 million users, many of which are recruiters and employers looking for new employees. With your LinkedIn summary, you can attract the attention of recruiters by listing your experience and expertise in your field. You can also promote yourself as a thought leader by sharing insights you've gained through years of experience.
An interesting LinkedIn summary can stoke the attention of a recruiter, and can actually help you land your dream job. Often underutilized, your summary can be a great tool to allow you to take that next step in your career.
For further reading:
3 Key elements to include in your own LinkedIn summary
After analyzing several successful summaries, it's easy to see that there are certain key characteristics that make a good LinkedIn summary. These three key elements include:
Professional background and expertise: Whether it's your resume

or cover letter, you should share with a potential hiring manager your major strengths and abilities. Relevant skills are important to include in your summary because these might be unique keywords that people are searching for.
Unique selling points: While browsing your profile, some recruiters might ask themselves, "Why should we take a chance on this person?" Unique selling points offer a recruiter distinct reasons to pursue you. These unique selling points should be quantifiable, pointing to real-world examples.
Career goals and aspirations: Your career development can be just as important to a potential hiring manager as your experience. Many employers want to know that you have aspirations for where you'd like to go, and would enjoy getting a glimpse of some goals you've set for yourself.
How To Write An interesting LinkedIn Summary To Improve Visibility
Research your target audience and industry
One of the first things you can do when crafting your own LinkedIn summary is to sift through profiles from other people in the same industry as you are. You'll come across a few creative summaries, which you can use as a guide to writing your own.
Start with a hook
You should make your opening sentence as interesting as possible so employers click to "see more". A strong hook could be your greatest skill or unique job experience. It can also mention what motivated you to enter your field.
Showcase your skills, accomplishments, and experiences
One of the best tips that you can take from building out your own summary is to start by highlighting the hard skills that you have in your field. These can include technical skills, like computer, software, and other job-specific training. From there, build out your accomplishments and experiences which fit with your unique skill sets.
In addition, don't forget to include your soft skills, also referred to as people skills. You may choose to highlight your leadership skills in your LinkedIn summary, or your ability to captivate and motivate clients.
Include keywords for the type of job you want
Keywords can help you appear in more searches and give you more opportunities for jobs. Scatter keywords throughout your summary, especially from your previous work history. When you're coming up with keywords, think about these four instances where you could collect keywords to put into your summary:
Find relevant keywords for your industry or profession
Locate keywords that are specific to your experience and skills
Find keywords that are commonly used in job descriptions
Consider keywords that recruiters would likely use
Once you made a list of keywords, scatter them organically throughout your summary. There is nothing worse than a LinkedIn summary with too many keywords stuffed in, as it feels bloated and not like a genuine conversation.
Include a "Call to Action" at the end
The best LinkedIn summaries for job seekers feature a call to action at the end. A call to action prompts your reader to connect with you, even listing the best ways to reach out to you. A good call to action may provide a unique value proposition for a potential manager, offering them the reason you'd be the best in your field.
You might choose to include something like, "If you're interested in reaching out to me further, contact me at yourname@gmail.com. I would love to chat with you about any opportunities that you have."
Include numbers and data
When a hiring manager scans through your LinkedIn summary, they want to know that you are competent and able to complete the tasks that they have for you. Nothing does this better than practical, real-world examples like using data and numbers. Whether in dollars, percentage points, or even a head count of the people that you've managed, these numbers draw the eye and grab the attention of those who are reading your summary.
Personalize your summary with your own story and tone of voice
When people read your summary, they want to know a bit more about you. That's why it's important to include some of your personality in your writing. Include interesting anecdotes, your passions, and what drives you and your career path.
Alternatively, a job seeker should avoid using Chat GPT or other AI writing websites to write their summary. AI-written copy leaches all feeling out of the writing, leaving it lifeless and stale. But when you use your own words, you're able to showcase more of what makes you unique to a potential employer.
For further reading:
Use white space and small paragraphs to make your LinkedIn summary easier to read
Before you set out to write your summary, schedule a quick outline to see the most important things you want to cover. You may wish to include bullet points or you can also use brief paragraphs. By utilizing the white space, you can actually make it easier for people to read.
Include subheadings, so that is much easier to scan. Remember, people may quickly scan here summary for the first time, and then read it over in more detail later on.
Keep in mind that your LinkedIn summary should be between 200 and 300 words. In our research, we found that is the "sweet spot".
How do I write a LinkedIn summary if I have no experience?
If you have no experience or you're unemployed, you can still write an effective LinkedIn summary. Your summary is more than just what you currently do but combines aspects of your goals, aspirations, and the skills that give you a unique edge in the job field. Try to avoid using words like "unemployed" or "inexperienced" in your summary.
Instead, lean into any hard skills that you have, as well as any education and training you've received. Try your best to arrange them on a bulleted list, highlighting the most relevant skills at the top of your list. Although you may not have a lot of practical experience, even skills you picked up through training or schooling can make you sought after by hiring managers.
Effective LinkedIn Summary Examples
Summary Example 1: Recruiter
I've always found that I can find potential in people. Throughout my professional history, I have a proven track record of talent acquisition and human resources. Throughout my experience, I've worked to refine the process for internal hires while working at a large Fortune 500 company. Recently, I've left my human resources routes and branched out to work with the Vanderheusen Recruiter firm, which specializes in acquiring top-notch talent.
Recruiting specialties include data science and the IT field, software engineers, healthcare services and nursing, sales reps, and others in the sales career field.
Strategies to find and assess talent: Proficient in social media (LinkedIn, LinkedIn Recruiter, Facebook, Twitter), Job boards (Indeed, Monster, Zip Recruiter, Flex Jobs), personality profiles (Myers-Briggs personality assessment).
Hard skills: Adobe creative suite (InDesign, Photoshop), Microsoft Office.
This LinkedIn summary is effective because it is short and concise, while also highlighting the major skills and abilities that make this person a unique hire. The author of the summary even explains the thought process that goes into her work at Vanderheusen Recruiter firm by listing her strategies to find talent and then assess that talent.
Summary example 2: Content Marketer
I always knew I had a passion for writing, but I really didn't know how to turn that into a career. While in high school, I wrote for my high school paper. I branched out a bit more in college, becoming the editor of the college's newsletter. My way with words budded when I took my first tour of Europe during my Junior year, where I wrote extensively in my travel journal. Many of the notes that I made in my journal became the basis for a series of travel articles, and this skyrocketed my professional writer's journey.
After college, I branched out into content marketing, and have been working with jobinterviews.com as a staff writer ever since. My journey started out as an editorial intern and then progressed to become a staff writer, one who has published over 100+ articles, about topics including job interviews, tips for job seekers, and resume writing tips. These articles have been featured in Forbes, the New York Times, and the Wall Street Journal
Skills: SEO, excellent grammar skills, branding, guest posting, and content marketing
Countries I've traveled to: France, Italy, Poland, Germany, Spain, Colombia, Brazil, and Paraguay.
One of the unique things about this example is that the author shows a lot of themselves in it. They build a great 'hook' by sharing that what made them write was their trip to Europe, and this allows hiring managers to peek behind the curtain to learn more about their motivations and passions.
Key Takeaways
A great LinkedIn summary has heart and character, as it showcases not just your experience and skills, but also a little more about you. Try to pepper your summary with personal details, while also using real numbers and figures to lend credibility to your work experience.
When you take a step out to try something creative, it's always best to have another set of eyes to look it over when you're done. Speak with a career counsellor from Enhancv, as they can give you tips to refine your LinkedIn profile, allowing you to make the most out of the short amount of space.
Make your move!
Your resume is an extension of yourself.
Make one that's truly you.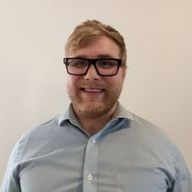 Dave Van Kooten
Is a human resource expert that helps passionate jobseekers to put their best foot forward to prepare for an interview. He believes that success can be achieved through going out of your comfort zone.