Quick Answer:
To get noticed by recruiters and differentiate yourself from other candidates who may be applying for the same position. Timing is crucial, so make sure to send a brief, professional email with an eye-catching subject line within 24 hours of meeting them. Be specific about the position you're applying for and ask for an interview.
In a perfect world, you could show up at a job fair and instantly get a job. Although sometimes this may be the case, in most cases, jobseekers are going to need to continue to reach out to recruiters and potential hiring managers.
If you want to succeed in the recruitment process, sending a follow-up letter or email after a career fair can help raise your chances of being noticed. If you send an email with a courteous and professional tone, you can expect to get ever so closer to landing an influential position at your dream company.
In this article, you will discover:
Why you should send a follow-up email after a career fair.
How to write a career fair follow-up email.
Examples of follow-up emails
If you're interested in leaving a great first impression with a hiring manager, speak with a career counselor from Enhancv. They can walk you through everything you need to know to present yourself as a strong candidate.
Why should you write a follow-up email after a career fair?
Upload & Check Your Resume
Drop your resume here or choose a file. PDF & DOCX only. Max 2MB file size.
The simple answer is to get noticed.
There may be dozens of other people applying for the same position, many of whom may have come to the career fair. Your goal is to differentiate yourself from the rest of the candidates, and you can do this by sending just a brief email to a recruiter's inbox.
How can you write an effective career fair follow-up email?
Keep it brief
A follow-up email is not the time to share about your whole career history or where you'd like to see yourself in 10 years, but a follow-up email is a chance to make yourself more memorable. Therefore, keep the follow-up email brief and straight to the point.
If you want an interview, be sure to ask that in a call to action at the end of the email. Maybe you'd like to learn more about the company, than mention that in the email, but just don't beat around the bush.
Email shortly after the meeting
Timing is everything! If your goal is to become memorable in the mind of a recruiter, send an email about 24 hours after you meet them. This similar way to emailing after an interview, as emailing right after meeting a hiring manager allows you to stay fresh in their mind. If you wait to email, there's a good chance that they may forget you, but if you strike while the iron is hot, you can be sure to leave a lasting impression.
Be professional
When you're sending an email to a potential hiring manager, try to make sure that you keep a professional and courteous tone in the email. This is especially true if you are applying for a position at a more conservative company, like at a bank or government facility
Reference the career fair follow in the subject line
A good subject line helps to draw the attention of the recipient, making them want to open the email. In this case, writing an eye-catching subject line is as simple as referencing the job fair you met at. Look at these examples below:
Subject line: Re: Orlando Springs Job Fair
Thanks so much for speaking to me at the career fair opportunity
Email Templates
Job fair follow-up email: Internship position
Subject line: Denver Job Fair
Dear Mr. Nichols,
Thank you so much for taking the time to chat with me about your organization Polytech, and explaining all the opportunities there. I want to pursue the internship marketing position at your organization, and I believe I will add a unique skill set to your organization.
In university, I majored in journalism and marketing, and I gained an understanding of how to craft interesting copy which can convert clients. I also was the leader on my university's debate team, and from there I gained great public speaking skills.
Please let me know if you need any additional information from me, I've also attached my cover letter and resume to this email. I like to sit down for an interview and chat more about the role within your organization.
Sincerely,
Dan Hammer
What does this email do well?
One of the best things that this email does is that it gets straight to the point. In the subject line, the author of the email explains the job fair location. They also shared the internship position they are applying for, and why they believed they would be a good fit for the organization.
Job fair follow-up email: Personal connection
Subject line: Thank you so much for chatting with me yesterday at the job fair
Dear Frank Connell,
Thank you so much for taking the time out of your day to talk to me yesterday about you and your organization. After we finished chatting, I realized we had a mutual connection, as I know Hank Vandervelde, who you went to university with. I spoke with him last night and shared how I'm met you at the job fair.
As I mentioned yesterday, I believe I would be the perfect fit for your organization as I am a lifelong learner, able to gain an understanding of new skills and implement them in my day-to-day work. I'm also passionate about doing the best job that I can.
I'd love to connect with you about a potential career at your company, and I'm excited to hear from you.
All the best,
Dave Henry
What does this email do well?
The author of this email mentions a personal connection with the recruiter, and this can help to open up doors with them. If the person who you're mentioning is a family member or close friend of the recruiter, then you can ask the personal connection to put in a good word for you.
LinkedIn Direct Message
Another way to reach out to potential hiring managers is to find them on LinkedIn, and to reach out to them there.LinkedIn is a great place to build your network, and may also provide you with an opportunity to reach out to a recruiter. In a LinkedIn message, you can also attach files, like your resume and cover letter. Below, you can find an example of a LinkedIn direct message:
Dear Stacey,
Thank you so much for taking the time out of your busy schedule to speak with me at the career fair in Austin yesterday. I really enjoyed learning more about your company, and I feel like would be a great fit there.
I'm an excellent candidate for the director of sales because my career goals line up perfectly with your organization, and I've used my leadership skills as an associate director of sales to motivate large teams of salespeople. Despite the recent economic slowdown, my team continued to hit record sales numbers.
I would love to set up a time to chat more about this position, specifically to interview for this position. thank you so much,
Dianne Fersma
What does this message do well?
Although sending a LinkedIn message may differ from emailing, they follow the same formula. Even in a LinkedIn message, you should share the location of the last touch point, as well as the position you're applying for. Don't be afraid to put yourself out there and ask for an interview. Your call to action should be specific to what you want from the exchange.
Takeaways
Keep a follow-up email brief, and to the point.
Use an eye-catching subject line to catch the attention of the reader.
Be sure to email shortly after meeting a potential recruiter.
Creating memorable first impressions is a difficult thing to do. But if you speak with a career counselor from Enhancv, you can learn ways to make yourself more memorable in a recruiter's mind.
Make your move!
Your resume is an extension of yourself.
Make one that's truly you.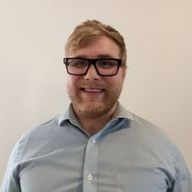 Dave Van Kooten
Is a human resource expert that helps passionate jobseekers to put their best foot forward to prepare for an interview. He believes that success can be achieved through going out of your comfort zone.