According to some experts, finding exciting job adverts is one of the most challenging problems job-seekers need to deal with.
But according to our own research, conveying your enthusiasm to a one-page cover letter might prove to be even more challenging.
After all, you don't want a bland and boring cover letter to represent you, we get it.
But how can you make a strong first impression in just a few lines?
Below, you'll find the best Salesforce Admin cover letter tips and examples that will help you find out.
Tips to write a salesforce admin cover letter that stands out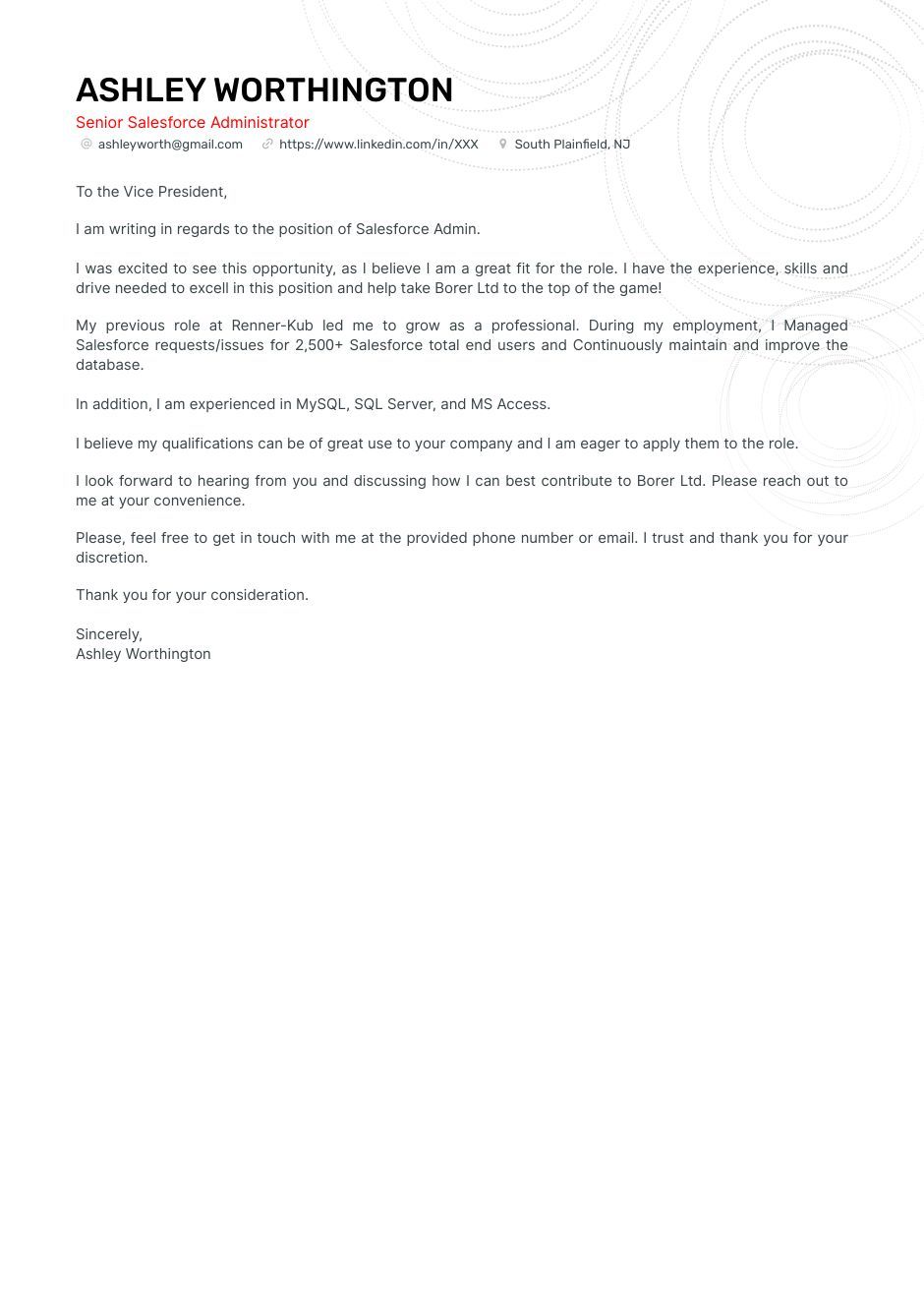 First off, you need to remember that a cover letter should build upon the information in your resume, rather than just repeat it.
Second, make sure that the tone of voice you use matches the company culture.
And last but not least, try to convey your enthusiasm for the position and the field. This will give your text a personal touch.
But how can you make your cover letter grab every hiring manager's attention? Let's see…
Choose the right salutation and write a strong introduction
It's always better to address your cover letter to a specific person. This shows that you've taken the time to research who the hiring manager might be and that you're attentive to detail.
However, in case you don't know the recruiter's name, you can go for traditional gender-neutral salutations.
Here are some of our suggestions:
Dear Mr. James,
Dear Human Resources Manager,
To the [team you're applying for] Department,
Dear [company name] Recruiter
The introduction of your cover letter is the first thing the hiring manager will read. Logically, having a strong introduction is your chance of getting their attention.
In order to do that, you need to get creative. Don't just do what everyone else's been doing for years, i.e. writing "I found this job opening on that website and decided to apply".
Rather, show that you are genuinely excited about the position and the company. You could do that by mentioning your love for the industry or what you can bring to the table.
Combine your soft and hard skills for an unbeatable match!
Although you've probably listed all your skills on your resume, it's worth mentioning them again, but by telling a personal story. Focusing on your soft skills and leaving most hard ones behind is also a good idea.
Maybe you want to mention the things that help you overcome setbacks? Or the things that help you reach your goals? It doesn't really matter what you choose, as long as you link it back to the specific job requirements.
Naturally, if the job advert mentions some hard skills explicitly, you should do the same in your cover letter. This will help you pass applicant tracking systems (ATS) that screen resumes and cover letters for certain keywords.
Show how passionate you are to join the company
Proving that you're familiar with the company is a great way to win the recruiter's heart. It shows that you've taken some time for research and that you're attentive to detail.
What's more, it will also help you find out the issues at hand. This way, you can link your own skills and qualifications to some potential challenges the company might have to deal with in the future.
Go for a strong ending
While the introduction is the best way to make a good impression, using the right words to end your cover letter can help you get a callback.
Our advice is to make sure that your closing line matches the company culture. However, "Looking forward to hearing from you" and other traditional phrases are always a safe choice.