When you're a recruiter applying for a new job it's different than if you're in any other field. You know how to write a cover letter, you also know how to craft a resume that stands out. But that's not enough. When you're applying for a recruiter position you also have to show potential employers that you're well aware of the recruiting process.
How ATS systems work? What makes a resume stand out? How do I structure a cover letter? – All questions that as a recruiter you should be well aware of.
In this quick guide you'll learn:
What to include in a cover letter in 2022 that will make you stand out from the clogged folder of applications currently sitting on the desktop of the recruiters laptop.
Quick tips for submitting a job application in 2022 (although we're pretty sure you've got this already figured out).
And finally, we also have a recruiter cover letter examples from a real-life person who's applied for a recruiter position.
Recruiter cover letter sample for you to use for inspiration or as a starting base.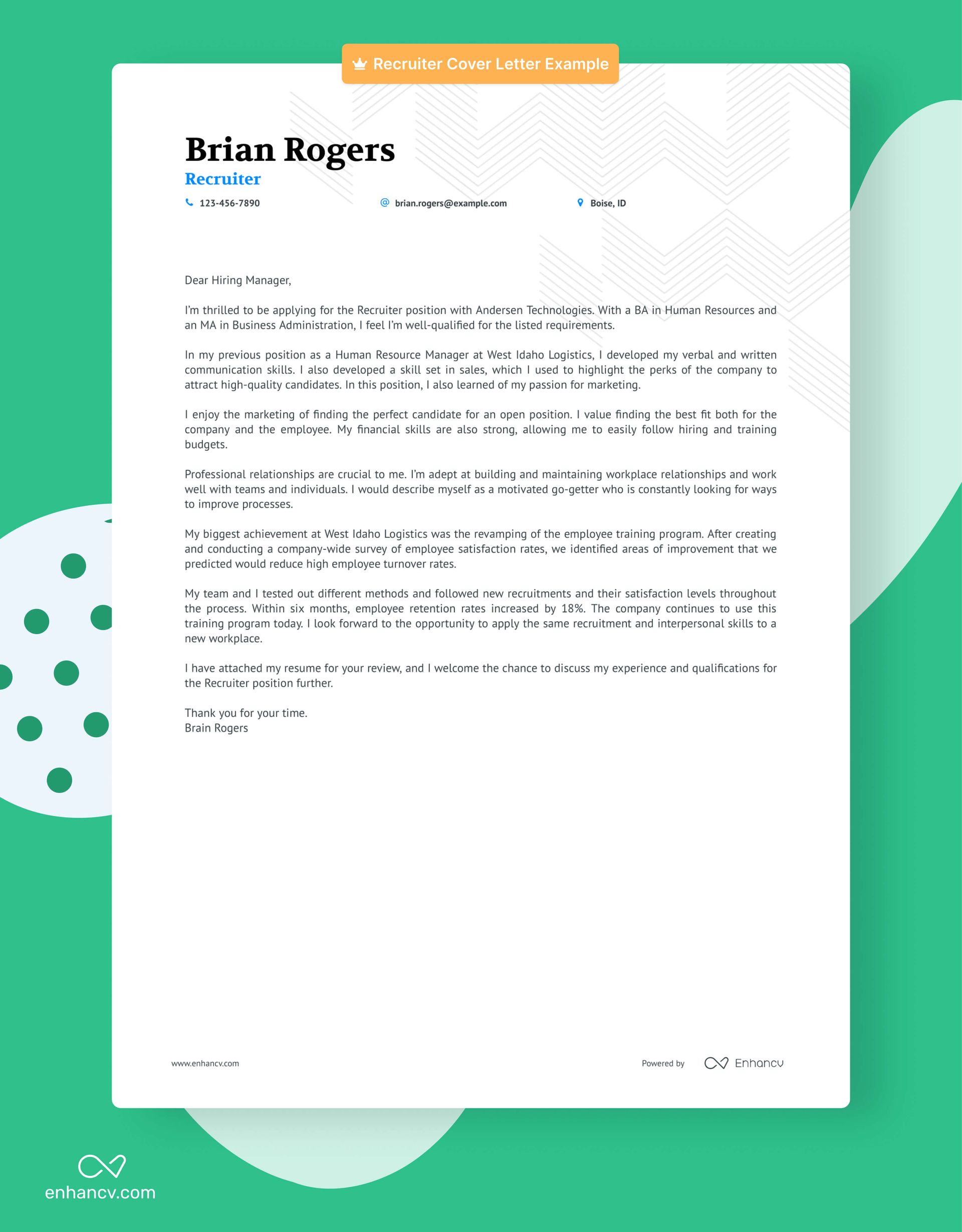 Quick tips to make sure your cover letter is good:
First off, a cover letter should build upon the information in your resume, rather than just repeat it.
Second, make sure that the tone of voice you use matches the company culture.
And third, try to convey your enthusiasm for the position and the field. This will give your text a personal touch.
But how can you make your cover letter grab every hiring manager's attention? Let's see…
Choosea salutation and an introduction that fits the company you're applying for.
Choosing the right salutation might be tough – we get it. After all, you don't want to sound way too formal or too friendly.
There are some things that should definitely be taken into consideration when it comes to addressing your cover letter. First and foremost comes the recruiter's name.
Even if you don't know who the person reading your cover letter might be, try to find out. Check company websites or social media profiles or even media articles.
If this doesn't help, you can go for traditional gender-neutral salutations that don't require knowing the hiring manager's name.
Here are some of our favorites:
Dear Hiring Manager,
Dear Head of [team you're applying for],
Dear [company name] Recruiter,
Dear Alex Johnson
You wonder what the key to good introductions is? (Moderate) Creativity!
You've probably read a lot of applications that have started using phrases like "I found your job advert on platform X and decided to apply", right?
And you know they're outdated and they definitely won't make you stand out, to say the least.
So go for something different. Begin your cover letter by sharing your excitement about the company, the position, and even the field.
Link your soft and hard skills to your achievements as a recruiter
While the resume is considered the best place to showcase your hard skills and achievements, the cover letter should tell a story and prove your enthusiasm for the field.
This is why we advise you to focus on soft skills and results. Think about all your soft skills and how they have helped you grow as a professional. Then turn this into your own very short success story.
Make sure to include some hard skills too, especially the ones listed as part of the requirements section of the job advert. This will guarantee that you pass applicant tracking systems (ATS) that screen applicant documents for keywords.
Some of the most sought after soft skills in a recruiter include the ability to solve conflicts, clear communication, ability to work on a team, and critical thinking. For a complete list of soft and hard skills visit our resume skills page.
The cover letter should include new information without repeating your whole resume. It needs to offer additional value to the recruiter.
Prove your passion about the company
Showing that you've researched the company and are familiar with it is a good way to prove your work-readiness.
It will also point the recruiter to the fact that your skills and qualifications will have a long-term impact on the company. Just link some of your strengths to the ways in which current or potential issues can be resolved.
Choose the right ending
The last paragraph of your cover letter should briefly sum up the whole text. This is the time to express your motivation to get to the next step of the hiring process, but also your gratitude for the reader's time and consideration.
You can be creative or use traditional closing lines here – it all depends on your preference and the company culture.