You probably know that cover letters complement resumes and that recruiters just love asking for them. But why are cover letters important?
Well, because they are your chance of telling a story.
And let's face it – listing different skills and achievements on your resume is essential. But connecting the dots in your cover letter and explaining what's helped you gain expertise will make you stand out.
Read our proven Network Engineer cover letter tips and examples below.
How to write a Network Engineer cover letter that makes you proud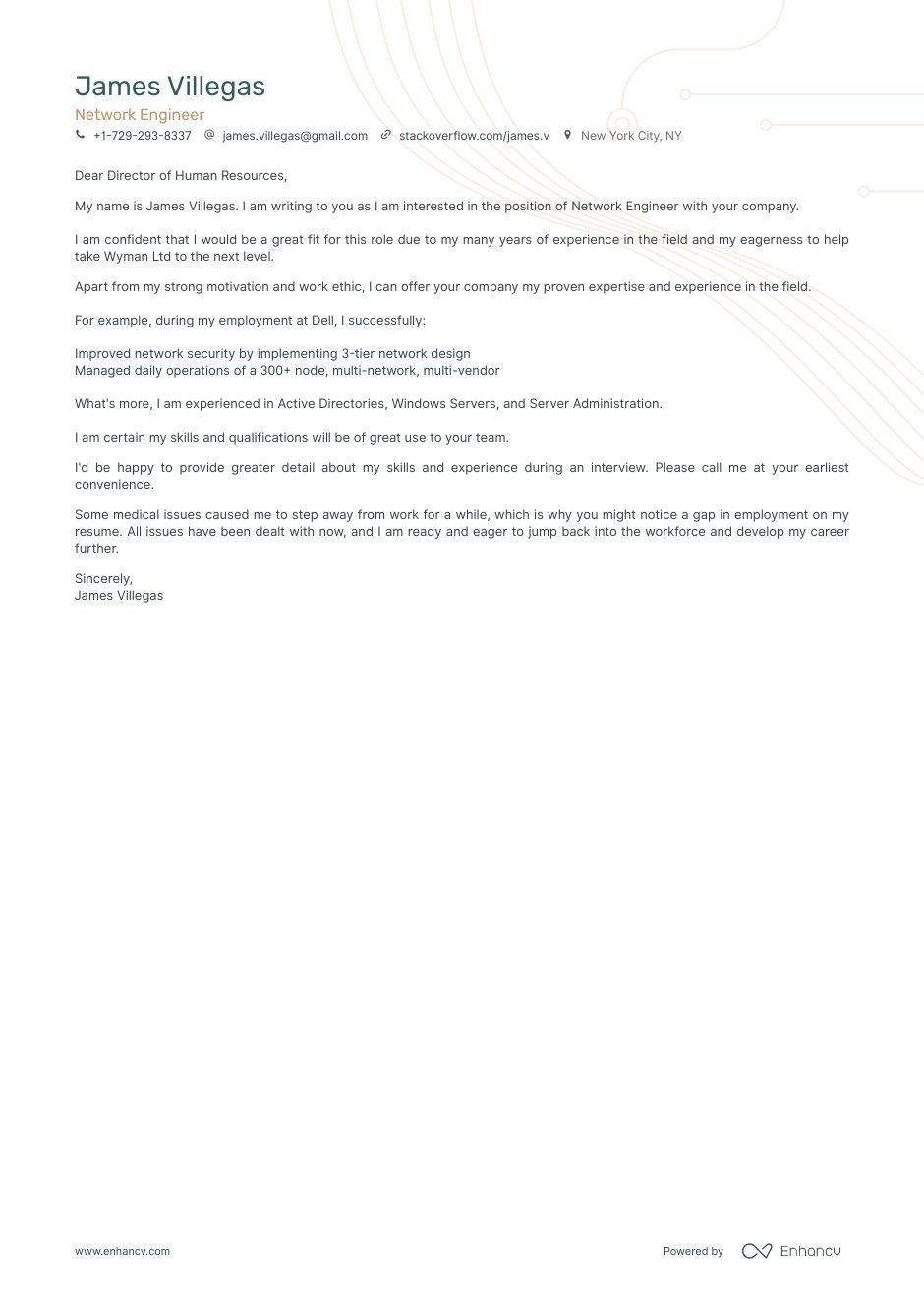 At first, you may think that the cover letter should repeat all information from your resume but in a story-like form. However, that's not true.
Instead of re-writing your resume, you need to focus on making the right impression.
You can do that by talking about the skills that help you overcome challenges, your excitement when it comes to the industry, your past achievements, and your knowledge of the company.
Now let's look at some other things that will make your cover letter stand out.
We've made an in-depth guide on what should your cover letter include that you can check out!
Address your cover letter to the right person and make your introduction strong
It's always better to address your cover letter to a specific person. This shows that you've taken the time to research who the hiring manager might be and that you're attentive to detail.
However, in case you don't know the recruiter's name, you can go for traditional gender-neutral salutations.
Here are some of our suggestions:
Dear Ms. Smith,
Dear Peter Roberts,
To the [company name] Recruitment Team,
Dear Hiring Manager
The introduction of your cover letter is the first thing the hiring manager will read. Logically, having a strong introduction is your chance of getting their attention.
In order to do that, you need to get creative. Don't just do what everyone else's been doing for years, i.e. writing "I found this job opening on that website and decided to apply".
Rather, show that you are genuinely excited about the position and the company. You could do that by mentioning your love for the industry or what you can bring to the table.
Mention both your hard and soft skills
So what skills do you need to include? Well, unfortunately, there's no one answer to this. It all depends on the job description and the skills you've currently got.
According to experts, what recruiters look for in cover letters is how you can link your soft skills to particular achievements and goals. So, try to figure out what has helped you on the way to success.
However, don't forget about hard skills. Even if they're not the focus of your happy story, you need to include at least the ones that were mentioned as part of the requirements section of the job posting. This will help you pass applicant tracking systems (ATS) that screen applicant documents for certain keywords and phrases.
Show that you've researched the company
Proving that you are familiar with the company, its problems, and its goals is without a doubt one of the best ways to stand out.
If you want to show your passion for the company, mention how your skills and previous achievements can help the team grow.
It's also worth mentioning how your experience can help resolve some of the most common industry issues.
End in an actionable way
Ending your cover letter in an actionable way is one of the things that increase your chances of getting a callback.
The conclusion is also your opportunity to thank the recruiter for their time and consideration, so don't skip that.
Just make sure to go for an ending that matches the company culture and language. If you prefer to be on the safe side, choose traditional closing lines such as "Looking forward to your reply".