You probably know that cover letters complement resumes and that recruiters just love asking for them. But why are cover letters important?
Well, because they are your chance of telling a story.
And let's face it – listing different skills and achievements on your resume is essential. But connecting the dots in your cover letter and explaining what's helped you gain expertise will make you stand out.
Read our proven Mechanic cover letter tips and examples below.
Have a mechanic cover letter that tells your story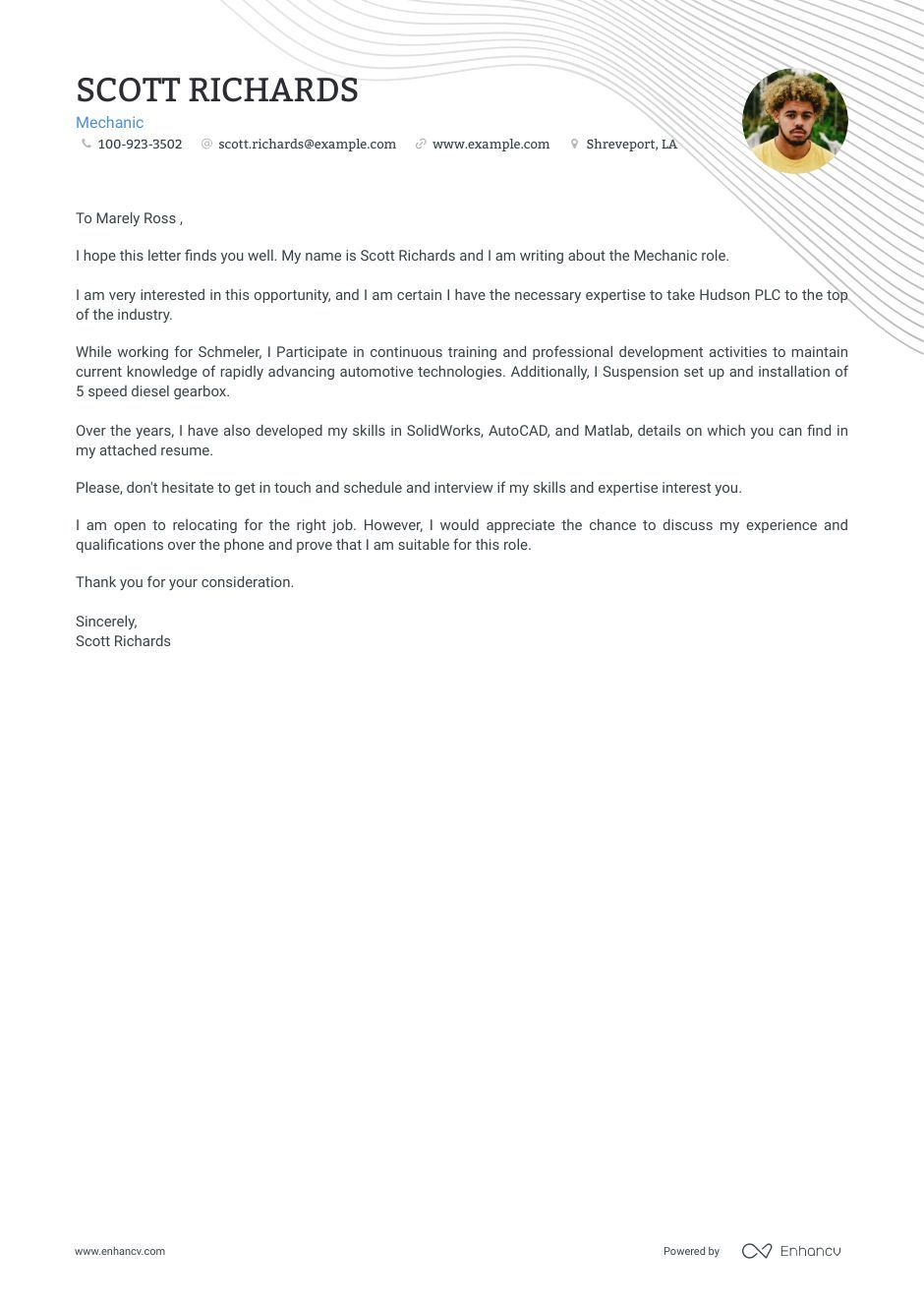 So what does a good cover letter look like?
Well, it's written in a tone of voice that matches the specific company's culture, and it's not just a long-form resume. It's also focused on making the right impression.
We advise you to talk about your achievements, goals, and motivations, rather than just plainly listing your skills and experience. Try to tell a personal story.
And if that's not enough, we have some additional pro tips for you.
Address your cover letter to the right person and make your introduction strong
Address your cover letter directly to the hiring manager, whenever possible. This has proven to be a good approach for two reasons.
First, it shows your attention to detail.
Second, it proves that you're willing to do some research and go the extra mile for the sake of success.
But if finding the recruiter's name is too difficult, you can go for a traditional gender-neutral phrase.
Here's our selection of strong salutations. Feel free to borrow any of them:
Dear [company name] Recruiter,
Dear Mr./Ms. Smith,
Dear Hiring Manager,
To the [team you're applying for] Team
The introduction is your chance of getting the reader's attention and giving them a reason to see you as a good fit.
So make sure you highlight your excitement about the company or the industry (or even both!) and the reasons why you'd like to grow in the field.
Avoid using clichés like "I found your job posting on website X and decided to apply".
Talk about your hard and soft skills
While the resume is considered the best place to showcase your hard skills and achievements, the cover letter should tell a story and prove your enthusiasm for the field.
This is why we advise you to focus on soft skills and results. Think about all your soft skills and how they have helped you grow as a professional and crush your goals. Then turn this into your own very short success story.
Make sure to include some hard skills too, especially the ones listed as part of the requirements section of the job advert. This will guarantee that you pass applicant tracking systems (ATS) that screen applicant documents for keywords.
And remember – the cover letter should include new information without repeating your whole resume. It needs to offer additional value to the recruiter.
Show that you know the company and its problems well
Showing that you've researched the company and are familiar with it is a good way to prove your work-readiness.
It will also point the recruiter to the fact that your skills and qualifications will have a long-term impact on the company. Just link some of your strengths to the ways in which current or potential issues can be resolved.
End in an actionable way
Ending your cover letter in an actionable way is one of the things that increase your chances of getting a callback.
The conclusion is also your opportunity to thank the recruiter for their time and consideration, so don't skip that.
Just make sure to go for an ending that matches the company culture and language. If you prefer to be on the safe side, choose traditional closing lines such as "Looking forward to your reply".