Writing a Database Analyst cover letter might feel like skating on thin ice – choosing between buzzwords mentioned in the job description and original content, while worrying about making even the slightest mistake.
And what can make this experience a bit more fun and exciting? You guessed it. Relying on expert advice and examples.
Luckily, we have you covered. Check out our tips on writing a memorable cover letter below.
Professional database analyst cover letter tips to help you stand out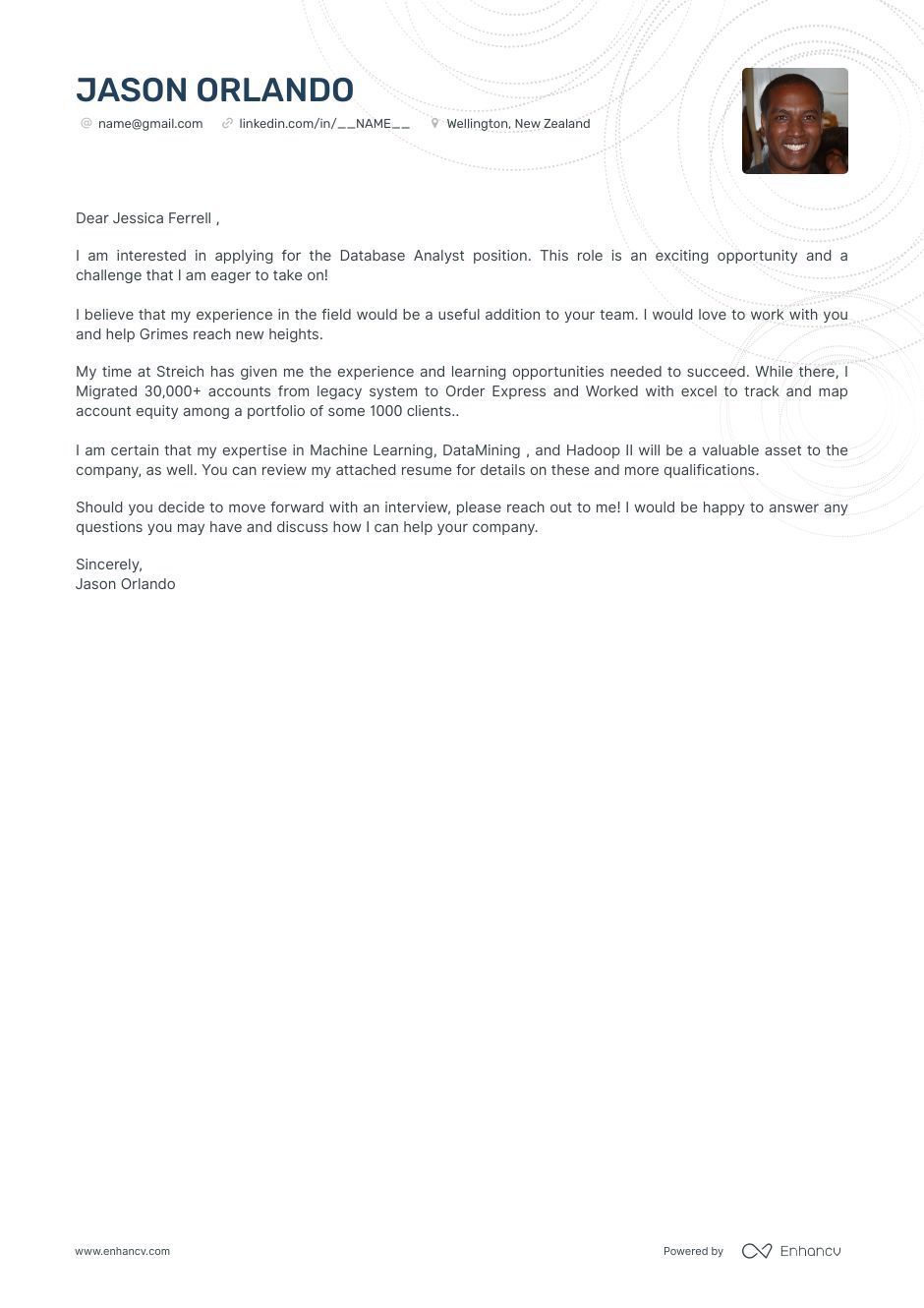 So what does a good cover letter look like?
Well, it's written in a tone of voice that matches the specific company's culture, and it's not just a long-form resume. It's also focused on making the right impression.
We advise you to talk about your achievements, goals, and motivations, rather than just plainly listing your skills and experience. Try to tell a personal story.
And if that's not enough, we have some additional pro tips for you.
Choose the right salutation and craft a strong introduction
We advise you to address the cover letter directly to the person responsible for the recruitment process. If you don't know their name, take some time to research it.
This will show that you're attentive to detail and are willing to go the extra mile when necessary.
Here's a list of salutations you can never go wrong with. Note that some of them can be used even if you don't know who the hiring manager is.
Dear Hiring Manager,
Dear Head of [team you're applying for],
Dear [company name] Recruiter,
Dear Alex Johnson
The introduction of your Database Analyst cover letter is what will get you remembered. But how can you make sure that your opening line is good enough?
Rumor has it, many people out there have started using phrases like "I found your job advert on website X and decided to apply" ever more often. But more importantly – that recruiters are already getting tired of it.
So instead of saying what everyone else is saying, we advise you to go for a more honest approach. Begin your cover letter by explaining what excites you about the company and how this excitement will help you on your journey towards success.
Mention both your hard and soft skills
Although you've probably listed (or are planning to list) your hard skills on your resume, don't forget to mention them in your cover letter as well. One way to do that is by telling a personal story.
You can share how some of your skills or qualities have helped you achieve goals in the past. Or perhaps you want to talk about the things that help you get over challenges. You decide.
Naturally, both soft and hard skills should be present here. It's especially important to include skills and qualifications that have been mentioned as part of the job description or the requirements section of the advert. This will help you pass applicant tracking systems that screen documents for certain keywords.
Show that you know the company and its problems well
Proving that you are familiar with the company, its problems, and its goals is without a doubt one of the best ways to stand out.
If you want to show your passion for the company, mention how your skills and previous achievements can help the team grow.
It's also worth mentioning how your experience can help resolve some of the most common industry issues.
End in an actionable way
The last paragraph of your cover letter should briefly sum up the whole text. This is the time to express your motivation to get to the next step of the hiring process, but also your gratitude for the reader's time and consideration.
You can be creative or use traditional closing lines here – it all depends on your preference and the company culture.