Read for inspiration or use it as a base to improve your own Translator cover letter. Just replace personal information, company application data and achievements with your own.
Have a translator cover letter that tells your story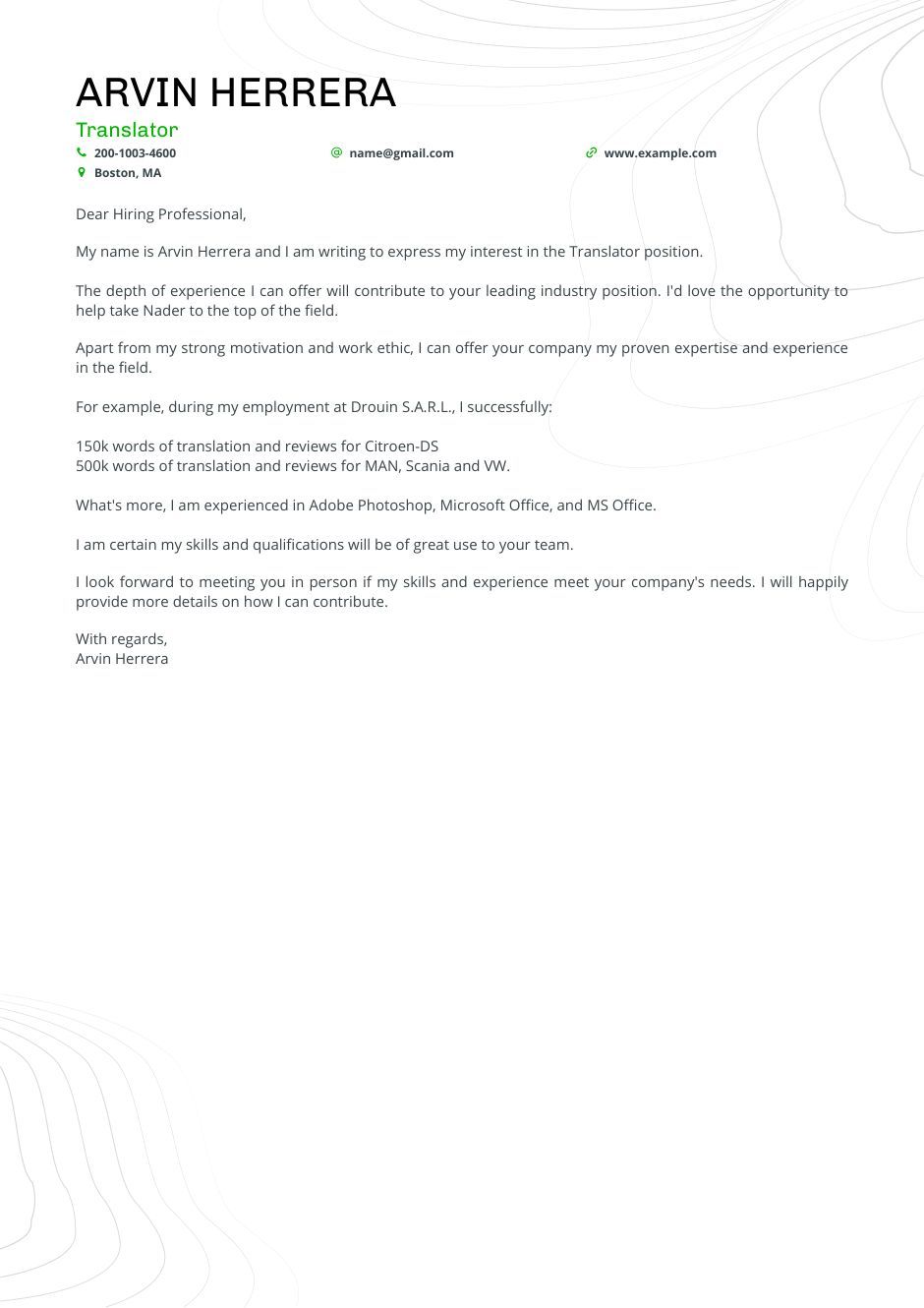 So what's the difference between a cover letter and a resume?
In short – the resume showcases your achievements and skills, while the cover letter focuses more on your personality and motivations.
Of course, you should mention some of your relevant skills in the cover letter as well. But make sure you're not repeating your resume word by word.
Now let's move on to the things that make every cover letter great!
Choose the right salutation and craft an introduction that gets you remembered
In general, the salutation you use depends on the tone of voice you've decided to go for but also on the company culture.
However, it's always a good idea to address your letter to the person responsible for the recruitment process. If you don't know their name, try to find it out. And only if that proves to be impossible, choose a generic salutation.
Here are some phrases you can use (note that some of them require you to know the hiring manager's name):
Dear Human Resources Manager,
Dear Mr. Johnson,
Dear Head of [team you're applying for],
Dear Nathan Lovelace
The introduction of your Translator cover letter is what will get you remembered. But how can you make sure that your opening line is good enough?
Rumor has it, many people out there have started using phrases like "I found your job advert on website X and decided to apply" ever more often. But more importantly – that recruiters are already getting tired of it.
So instead of saying what everyone else is saying, we advise you to go for a more honest approach. Begin your cover letter by explaining what excites you about the company and how this excitement will help you on your journey towards success.
Mention both your hard and soft skills
So you've listed all your hard skills on your resume, now what?
It's time to think about the soft ones. But remember, it's essential to not just list your soft skills but to link them to the actual ways they can help you do well in the future.
And what about hard skills, have we completely crossed them out? No, not at all. You still need to mention some of these if you want to pass applicant tracking systems that screen texts for certain keywords. Check the requirements section of the job advert for a complete list of phrases you need to include.
Show that you did your research before applying
Having a paragraph that shows you're aware of the company and the issues it faces is always a good idea. It proves your enthusiasm to join the team and makes a great impression.
For bonus points, you could also share how some of your strengths could help resolve company or even industry problems.
End on a positive note
Ending your Translator cover letter in a suitable way can help you land an interview. Why? Because strong endings portray applicants as considerate and, what's even more important – passionate about the job.
Just make sure that your ending (just like your cover letter's body) matches the company culture. If you prefer to be on the safe side, go for traditional closing lines such as "Looking forward to hearing from you".