Read for inspiration or use it as a base to improve your own Account Manager cover letter. Just replace personal information, company application data and achievements with your own.
How to write the perfect account manager cover letter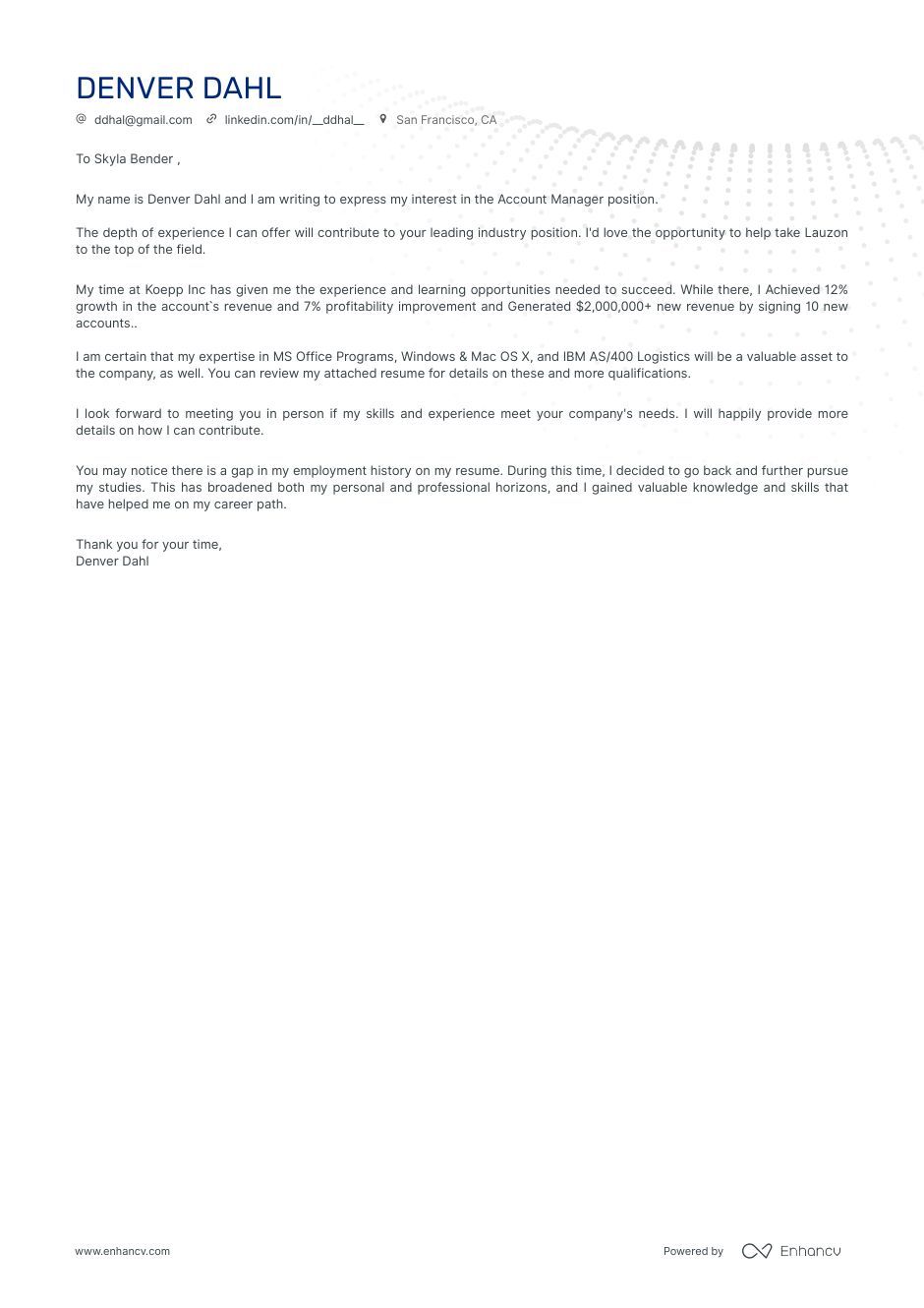 Let's begin by discussing the difference between a cover letter and a resume. The resume is the place where you should list all your hard skills, achievements, and talents.
The cover letter, on the other hand, is your chance to share more about yourself and show who you are.
But what's the way to grab the reader's attention? How can you make the hiring manager want to meet you and learn more about you?
Choose the right salutation and write a strong introduction
Addressing your cover letter to a specific person works in your favor for two reasons: it shows your attention to detail, and it proves that you've taken the time to research who the person might be.
However, sometimes this might be much more difficult than expected. On such occasions, we advise you to focus on salutations that go beyond the impersonal "To Whom It May Concern".
Here's a brief list of suitable phrases:
Dear Human Resources Manager,
Dear Mr. Johnson,
Dear Head of [team you're applying for],
Dear Nathan Lovelace
The introduction is your chance of getting the reader's attention and giving them a reason to see you as a good fit.
So make sure you highlight your excitement about the company or the industry (or even both!) and the reasons why you'd like to grow in the field.
Avoid using clichés like "I found your job posting on website X and decided to apply".
Don't skip on your Account Manager soft and hard skills
Although you've probably listed all your skills on your resume, it's worth mentioning them again, but by telling a personal story. Focusing on your soft skills and leaving most hard ones behind is also a good idea.
Maybe you want to mention the things that help you overcome setbacks? Or the things that help you reach your goals? It doesn't really matter what you choose, as long as you link it back to the specific job requirements.
Naturally, if the job advert mentions some hard skills explicitly, you should do the same in your cover letter. This will help you pass applicant tracking systems (ATS) that screen resumes and cover letters for certain keywords.
Prove how your skills can help the company grow
Every recruiter wants to know whether you've decided to apply because you're familiar with the company or because their job advert was the first thing you saw this morning.
So – show that you've researched the company and are aware of its strengths, weaknesses, and potential problems.
In addition, you can also share how your Account Manager skills can add value to the team.
End with a call to action
While the introduction is the best way to make a good impression, using the right words to end your cover letter can help you get a callback.
Our advice is to make sure that your closing line matches the company culture. However, "Looking forward to hearing from you" and other traditional phrases are always a safe choice.