Job searching has many challenges to it. You have to find the right job for you, create a resume that stands out, and finally – you see you also need to make a cover letter.
It stinks – we know. Making a cover letter is one of the hardest things, especially if you've never been good at it ot its your first time making one. But, by using our cover letter builder you can easily make a cover letter that stands out. After all, you don't want a bland and boring cover letter to represent you.
But how can you make a strong first impression in just a few lines?
Below, you'll find our time-proven tips on how to make a marketing coordinator cover letter checked with our career councelling team.
Build a cover letter to be proud of:
A good marketing coordinator cover letter example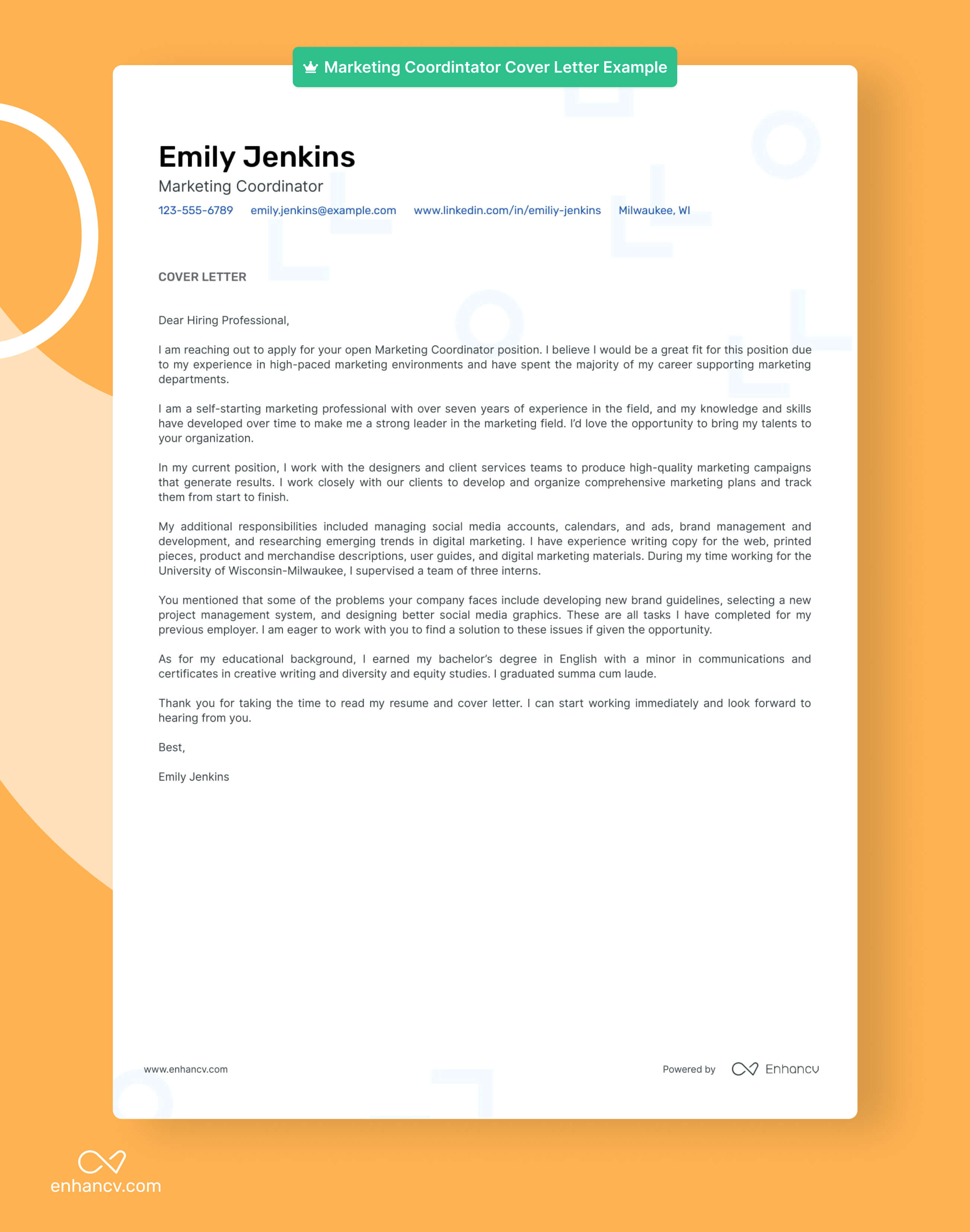 The most important rule of writing a cover letter is to be yourself. What makes a good cover letter is your personality and focusing everything on just one relevant example. So, as a marketing coordinator this might be how you managed to complete a project that involved multiple teams (like sales, or the UX and email marketing teams) and what results you achieved.
Don't simply re-write your resume too. While tempting, you want your cover letter to accompany and further complete your resume. Read more about the differences between a cover letter and a resume in our guide.
How to choose the most suitable salutation and make a good impression
Addressing your cover letter to a specific person works in your favor for two reasons: it shows your attention to detail, and it proves that you've taken the time to research who the person might be.
However, sometimes this might be much more difficult than expected. On such occasions, we advise you to focus on salutations that go beyond the impersonal "To Whom It May Concern".
Here's a brief list of suitable cover letter salutations:
Dear Mr. John,
Dear Ms. Petersen,
Dear Hiring Manager,
Dear Dr. Todd,
Dear Head of [team you're applying for]
But while the salutation is important, how you start your cover letter will be the deciding factor whether or not the recruiter keeps reading it.
Make sure to highlight your excitement about the industry and the reasons why you'd like to grow in the field. Avoid using clichés like "I found your job posting on website X and decided to apply".
Make sure to focus on your soft skills and support them with hard skills and quantifiable achievements.
This is the trick that separates the professional job hunters from the rest – they use their cover letters as the place to communicate their soft skills. You should too.
Think about all your soft skills and how they have helped you grow as a professional. Then turn this into your own very short success story.
Make sure to include some hard skills too, especially the ones listed as part of the requirements section of the job advert. This will guarantee that you pass applicant tracking systems (ATS) that screen applicant documents for keywords.
Keep your cover letter to a single page in length.
That's one of the most commonly asked questions – how long should my cover letter be. Well, the best length for a cover letter is one page.
Keeping things to a single page ensures that you're succinct enough. There's no extra fluff that should be cut. Also, it keeps your application printable. Remember – when you're submitting a job application it's made up of a cover letter and a resume. Two pieces of paper. If you have a two page cover letter things get hard to manage, so make sure you fit everything on a single page.
If you're emailing your cover letter, then a rule of thumb is between 300 and 400 words in length. This example of a marketing coordinator cover letter is exactly 305 words without the header.
Finish your cover letter with a call to action
The final thing left to write in your cover letter are the closing two sentences. Most people don't pay them much attention, but a good closing of your cover letter can be the difference between the recruiter picking up the phone and calling you or forgetting about your resume.
You have to make them act. Give a bit of a prompt to the HR. Try phrases like "Looking forward to hearing from you soon" or "Ready to talk". Make sure that the language you use fits the company you're applying at.
Read our guide on how to end a cover letter for a more in-depth look on the topic.