You've decided that you're going to strike out in a new direction, hit up several job fairs, and find several new positions to apply for.
But you don't want to spend the time to create a new cover letter from scratch every time you apply.
This is where a general cover letter template can help you out.
Creating a general cover letter, also called a master cover letter, can allow you to minimize the time you take to write each cover letter for each individual job, while also allowing you to create a personalized cover letter which tells your story.
A master cover letter template is a multipurpose document which promotes all of your skills and work experience, while also pointing to major highlights from your resume.
In this article, we will touch on:
What a template for a general cover letter looks like.
How to create a general cover letter without it becoming generic.
What to do if a cover letter isn't required.
Examples of different cover letter templates tailored to the needs of entry level, career-change, and creative job positions.
Want to save time by creating a custom general cover letter? Enhancv has over 500+ Cover letter examples updated for 2022. Check it out, and you'll be able to find tips to create your own master cover letter.
Template for General Cover Letter
Upload & Check Your Resume
Drop your resume here or choose a file. PDF & DOCX only. Max 2MB file size.
---
[your name]
[phone number]
[email address]
[date]
[hiring manager's name]
[hiring manager's position within the company]
[Company name]
[Company address]
Dear [Hiring manager's name]
I recently found the listing for [job position title] and I was excited to apply for the position because [company name] is a major player in the field. As I examined more about your company through your website, I learned that my skills and abilities make me a valuable asset to your company. I also feel like my personality and work style would allow me to fit seamlessly into the culture at your workplace.
Let's talk a bit more about why I feel like I'm the perfect candidate. The application for this position that I found on [name of place, i.e. company website, job board] states that the ideal candidate would have proficiency in [mention a unique skill or specilization that you have], which is also an area of expertise that I have gained experience in. I currently work at [name of current company], where I have significantly contributed to the overall organization of the company by [Skill or Task]. In fact, during this [Period of Time], I've worked with a team who has raised our [Relevant Goal] by [%]. This was a major key performance indicator for my team and me, and we significantly contributed to the overall goals of the company.
Over my career, I have prided myself on my ability to problem solve and adapt to any situation, as well as lead groups of team members to complete their goals. Given my track record with [skill], I've helped establish a culture of success at [Current Company].
Thank you for taking the time to read this cover letter. I'm really looking forward to learning more about the [Position name] role. If you need any more information from me on my end, please do not hesitate to reach out to me.
Sincerely,
[Your Full Name]
---
5 Tips To Create A Master Cover Letter Template
If you want to create a master cover letter, one that you will use for multiple positions, then you should create a personalized document which can be easily altered to add new details which apply to the position.
The best cover letters are ones that showcase both the passion you have for the position, and the relevant skills that you bring to the table that make you the ideal candidate.
You can do this even when keeping 90% of the words the same.
Don't believe me?
Here are some tips to keep in mind when crafting a master cover letter:

1. Minimize Work By Keeping Most of the Wording
The best thing about having a general cover letter is that you can keep almost 90% of the wording the same, and still create a personalized cover letter.
But how do you do this?
You can do this by creating spots within the document for personalization, like spaces where you can put in your hiring manager's name, the name of the company that you're applying for, as well as the position's name.
If you want to go one step further, skim over the company's vision and values, which you can easily find in a job description.
With an easy-to-follow, plug-and-play cover letter for multiple jobs, you can cut the work down from almost a half an hour to several minutes.
This way, you can crank out several cover letters for different job applications.

2. Show That You've Read the Job Description
Cover letters and resumes are completely different animals.
Your resume is something that is entirely yours: your work experience, your unique skills, and your education.
But your cover letter is for someone else to read.
Essentially, a resume is a one-way street, but a cover letter is an intersection of ideas and personalities.
Show the hiring manager you care within the first paragraph by learning a bit about the company, either through:
Their website
Their executive's social media posts
Promotional material
Through people that you know who work for them
According to the Harvard Business Review, it's important to do your research before applying for a position. You can glean information about the culture and values of the company, just by looking through the company's website.
More often than not, you can find a lot of information about the company in the job application. You may be able to find the mission statement of the company.
And please, whatever you do, try to find the name of the hiring manager. Try to avoid using the generic, "Dear hiring manager," salutation at the start of your cover letter.

3. Quantify Your Accomplishments
When creating a general cover letter, try to include accomplishments that you can quantify. This isn't always easy to do.
But if you look at your experience with the last company you worked for, what were the exceptional milestones throughout your time.
Did you help contribute to a major financial goal at your company?
For example, if you were on the sales team when you reached a profit increase of 7% for the first quarter of 2020, share about that. You played a role in that achievement, so mention your part.
You can also tie back into a specific skill that helped you lead to a key performance indicator.
Maybe you played an important role with updating the communications of your team by introducing them to a messaging program to help collaboration in the workplace.
You can point out the number of people who adopted using the platform, and show how productivity increased as a result of it.

4. It's Not Always about You
A cover letter is a place to brag about yourself, specifically about the skills and achievements that have led to your success.
However, mentioning your role within a team can show a hiring manager you are a team player, one that loves to collaborate and be involved in projects.
You can also mention your current manager, and the role that they have played in your life.
5.What To Do If A Cover Letter Is Optional
For some jobs that you apply to, cover letters will be optional.
One bit of advice: sending a generic, basic cover letter can hurt your chances of getting the job.
Instead, either send a more personalized cover letter, like a master cover letter, which is personalized to the business that you're applying for, or don't send one at all.
General Cover Letter Examples: Entry-Level, Creative, And Career Change

Entry-Level Cover Letter Sample
Dear Hiring Manager,
I am applying for the position of Drug Research Specialist (Entry Level) that I came across at PANDA Corp. I believe that my academic experience matches your requirements.
During my studies, I have gained experience in the field of medicine and pharmaceuticals. Moreover, during my master's program, I've completed my diploma in Pharmaceutical Research, which helped me in better understanding the processes and best practices in drug development.
Additionally, under the ImunoHelp program, I have undergone various professional and self-development training. Each training permanently added to my skill set.
Having spent the last seven years of my life outside the United States, my home country has made me multicultural. My vibrant experience traveling and studying at different institutions, in UAE, USA, Portugal, and France have undoubtedly contributed to my open-mindedness, creativity, and adaptability, as well as working in a diverse and multilingual team.
I'm excited to have the opportunity to discuss how my skills can help your company grow. I'm available for an interview at your convenience.
Thank you,
Anna Kendrick

If you choose to build your general cover letter off of the one listed above, your hiring manager will take one look at it, and hope that another organization hasn't snatched you up yet.
Work experience isn't the only thing that a hiring manager is looking for. Even if you have minimal work experience, you can always highlight your area of studies and why it was effective in gaining skills.

Creative Cover Letter Sample
Dear Mr. John,
Having recently completed my Master of Arts degree in Gender, Feminist, and Women's Studies, I am a passionate advocate for advancing the scholarship, publicity, and works of marginalized communities and underrepresented women of color.
I was excited to see the Publicity and Digital Marketing position at ACME Inc. because it fits well with my PR and communications experience and skills in gender advocacy, social issues, and political science.
With 4 years of experience in social media management and public relations for SaaS companies, here is what I can offer specifically to ACME Inc.:
Using social media, I can bolster the reach and visibility of promotional events and digital media coverage. As the previous communications lead of a gender advocacy center, I can engage young adult demographics by bringing products and events to life using strategic marketing plans and innovative channels.
I can analyze and harness social media analytics to reach demographics most likely to resonate with the ideal ACME customer.
Lastly, my academic experience in political and social sciences has given me a strong attention to detail, research skills, and precise communication skills.
I would greatly appreciate the opportunity to meet with you to discuss how I am the best person for the Publicity and Digital Marketing position at ACME Inc.
Sincerely,
Jack Austin

When you check out the example above, you see someone who is excited about the position, and has learned a little about the company to which they're applying.
Give concrete, authentic examples of why you want to be a part of their team because these examples help bolster your credibility.
If you are a social media expert, and you really enjoy the advocacy programs at a company, you can use it as an example of how you are passionate about driving views to the site.
Career Change Cover Letter Sample
Dear Hiring Manager,
My name is Nicholas and for the past 5 years, I've been the general manager for Coffi&Biscuits where I managed to increase the YoY revenue of the shop 10x in the past three years.
I was excited to see the Business Development Manager position for Bootstrap IO, as it is a career change that I'm looking forward to making.
Managing a team of 15 taught me a lot about budgeting, planning, and organizing the workload. I can help you with expanding your team in the next quarter and reach your goal of launching your new product across the United States.
I'd love to jump on a Zoom meeting with you to further discuss joining the team. I'm available at your disposal.
Thank you,
Nicholas Costa

When writing a cover letter, like the example above, always explain to the hiring manager how hiring you will help their company.
If you can show a hiring manager through practical examples that you're willing to jump on board the team, and lead them toward success, then you're going to get an interview.

How to create a general cover letter: key insights
A properly crafted simple cover letter can save you time, while also sharing your story.
Try to keep most of the words you use for each cover letter by creating spaces for personalization
Show that you've read the job description and know a little bit about the company in the first paragraph of your cover letter.
Quantify your accomplishments
Share credit when credit is due.If you're interested in crafting a customizable, easy-to-use general cover letter, then Enhancv's Cover Letter Builder is the tool that you need. When using the CL Building you can receive feedback on your cover letter and craft custom cover letters for each position that you're applying to.
Make your move!
Your resume is an extension of yourself.
Make one that's truly you.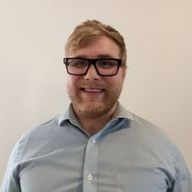 Dave Van Kooten
Is a human resource expert that helps passionate jobseekers to put their best foot forward to prepare for an interview. He believes that success can be achieved through going out of your comfort zone.