What's the best thing about writing a Librarian cover letter? You get to decide which parts of your experience need to be highlighted and which should better be skipped!
And what's the thing that will make every hiring manager want to learn more about you? Mentioning the tools that have helped you overcome challenges and improve your skillset.
Let's look at our professional tips and examples that will help you write a memorable cover letter and land an interview.
Tips to write a memorable librarian cover letter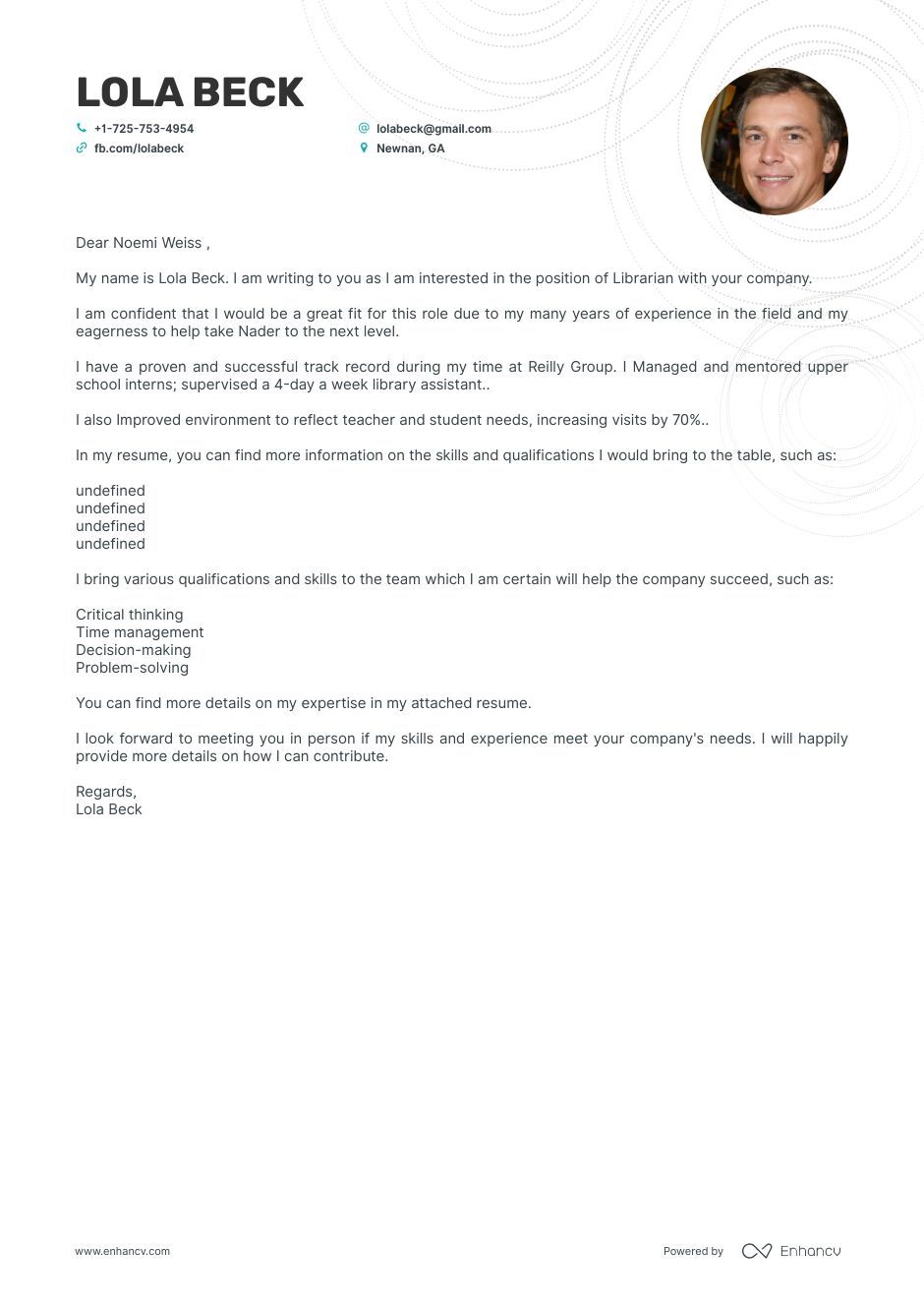 The secret to making your Librarian cover letter remarkable is to share your excitement about the company, the field, and the position.
It's also a good idea to aim not to re-write your resume, but rather to build upon it and expand on your competencies.
Now, let's look at some other things that will make recruiters remember you.
Choose the right salutation and craft an introduction that gets you remembered
It's always better to address your cover letter to a specific person. This shows that you've taken the time to research who the hiring manager might be and that you're attentive to detail.
However, in case you don't know the recruiter's name, you can go for traditional gender-neutral salutations.
Here are some of our suggestions:
Dear Hiring Manager,
Dear Head of [team you're applying for],
Dear [company name] Recruiter,
Dear Alex Johnson
We've all heard it – introductions are a big deal.
A good cover letter introduction can help you land an interview, while a bad introduction can ruin all your chances of getting your dream job as Librarian.
So what are the things that can make your cover letter stand out? Honesty, excitement, and motivation.
Show your motivation and excitement to join the company in an honest way. And if you think that'd suit the company – share your vision with the recruiter. Tell them how you think being part of the team can help both parties grow.
Link your hard and soft skills to your achievements
Although you've probably listed (or are planning to list) your hard skills on your resume, don't forget to mention them in your cover letter as well. One way to do that is by telling a personal story.
You can share how some of your skills or qualities have helped you achieve goals in the past. Or perhaps you want to talk about the things that help you get over challenges. You decide.
Naturally, both soft and hard skills should be present here. It's especially important to include skills and qualifications that have been mentioned as part of the job description or the requirements section of the advert. This will help you pass applicant tracking systems that screen documents for certain keywords.
Show how passionate you are to join the company
Having a paragraph that shows you're aware of the company and the issues it faces is always a good idea. It proves your enthusiasm to join the team and makes a great impression.
For bonus points, you could also share how some of your strengths could help resolve company or even industry problems.
Go for an actionable ending
The last part of your cover letter should briefly sum up everything you've said so far. It should also express your gratitude for the hiring manager's time and consideration.
The tone of the closing line depends on two things – your personal preference and the company culture. Don't go for overly creative phrases if the company you're applying for relies on strictly corporate language.
Traditional lines such as "Looking forward to your reply" are usually considered a safe bet. So when in doubt, stick to them.