What's the best thing about writing a Sports cover letter? You get to decide which parts of your experience need to be highlighted and which should better be skipped!
And what's the thing that will make every hiring manager want to learn more about you? Mentioning the tools that have helped you overcome challenges and improve your skillset.
Let's look at our professional tips and examples that will help you write a memorable cover letter and land an interview.
Easy-to-follow cover letter writing tips for Sports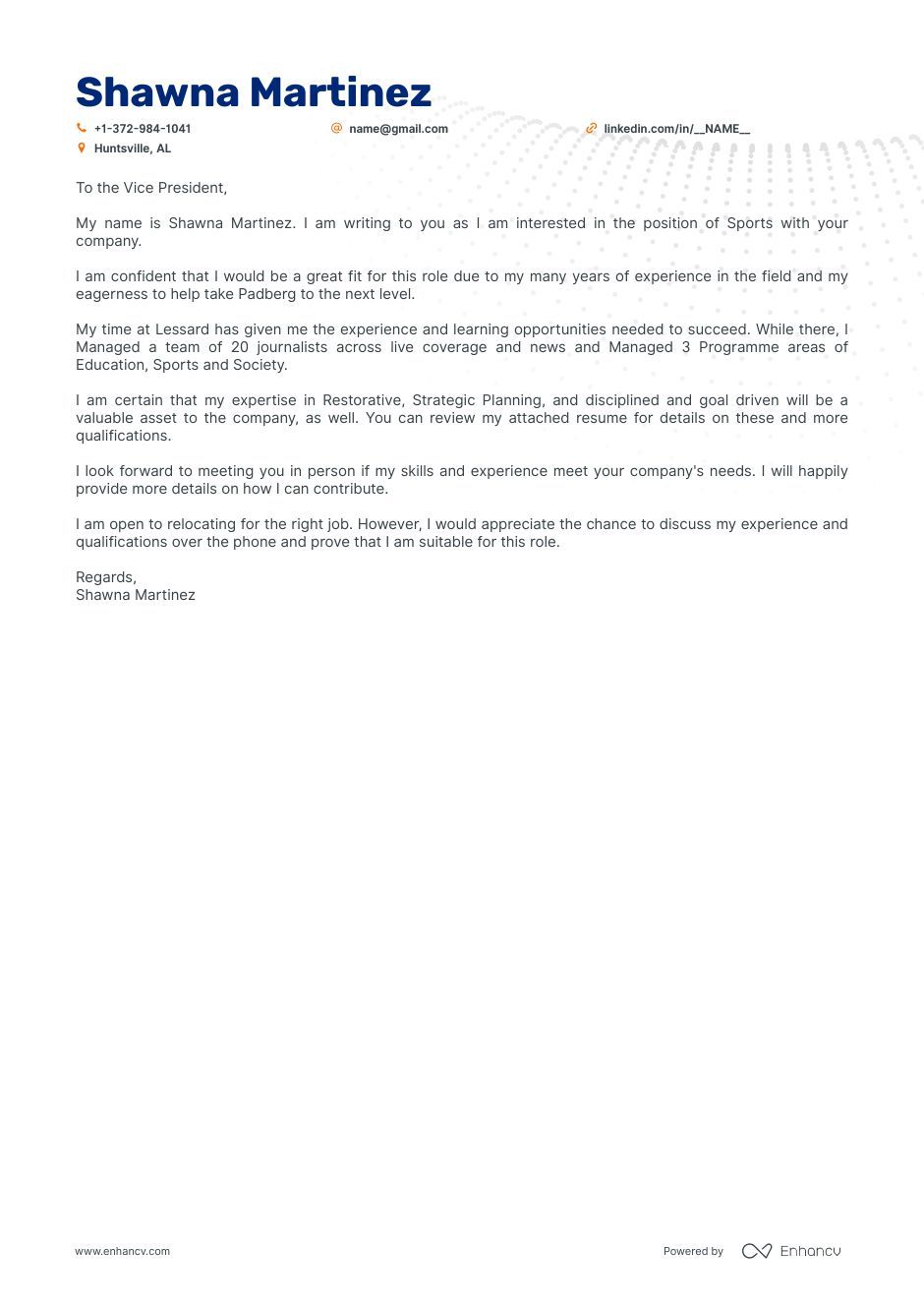 Let's begin by discussing the difference between a cover letter and a resume. The resume is the place where you should list all your hard skills, achievements, and talents.
The cover letter, on the other hand, is your chance to share more about yourself and show who you are.
But what's the way to grab the reader's attention? How can you make the hiring manager want to meet you and learn more about you?
Stand out with a strong introduction and an appropriate salutation
Address your cover letter directly to the hiring manager, whenever possible. This has proven to be a good approach for two reasons.
First, it shows your attention to detail.
Second, it proves that you're willing to do some research and go the extra mile for the sake of success.
But if finding the recruiter's name is too difficult, you can go for a traditional gender-neutral phrase.
Here's our selection of strong salutations. Feel free to borrow any of them:
Dear Hiring Manager,
Dear Head of [team you're applying for],
Dear [company name] Recruiter,
Dear Alex Johnson
The introduction of your Sports cover letter is without a doubt crucial for the first impression you'll make as an applicant. But is there a way to make sure your opening line is good enough?
Yes, there is. You can start by sharing your enthusiasm for the job or the field (or why not both!). You could also share your reasons to find the company exciting.
Try to be original. Don't go for phrases like "I want to apply for the position that I saw advertised on platform X". They're outdated and sound like you've got nothing better to say
Link your Sports soft and hard skills to your achievements
Although you've probably listed all your skills on your resume, it's worth mentioning them again, but by telling a personal story. Focusing on your soft skills and leaving most hard ones behind is also a good idea.
Maybe you want to mention the things that help you overcome setbacks? Or the things that help you reach your goals? It doesn't really matter what you choose, as long as you link it back to the specific job requirements.
Naturally, if the job advert mentions some hard skills explicitly, you should do the same in your cover letter. This will help you pass applicant tracking systems (ATS) that screen resumes and cover letters for certain keywords.
Prove that you've researched the company and are aware of industry problems
How can you prove your excitement about the company? By showing that you've taken the time to research its issues, goals, and plans. You can also link them to your skills and experience if you want to show that you're really a strong candidate.
In addition to making a great impression, researching the company will help you find out if you really want to be part of this team or not. After all, interviewing is a two-way process.
Choose the right ending
Ending your cover letter in an actionable way is one of the things that increase your chances of getting a callback.
The conclusion is also your opportunity to thank the recruiter for their time and consideration, so don't skip that.
Just make sure to go for an ending that matches the company culture and language. If you prefer to be on the safe side, choose traditional closing lines such as "Looking forward to your reply".