According to 83% of hiring managers, cover letters are an important part of every recruiter's decision-making process.
What's more, 72% of them will expect you to hand in a great cover letter, even if this part is listed as 'optional' on the job advert.
And if you ask our experts, cover letters are an amazing opportunity to tell a personal story and make the right first impression.
But what exactly is a cover letter and how to write a good one? Let's see…
Easy-to-follow cover letter writing tips for Warehouse Associate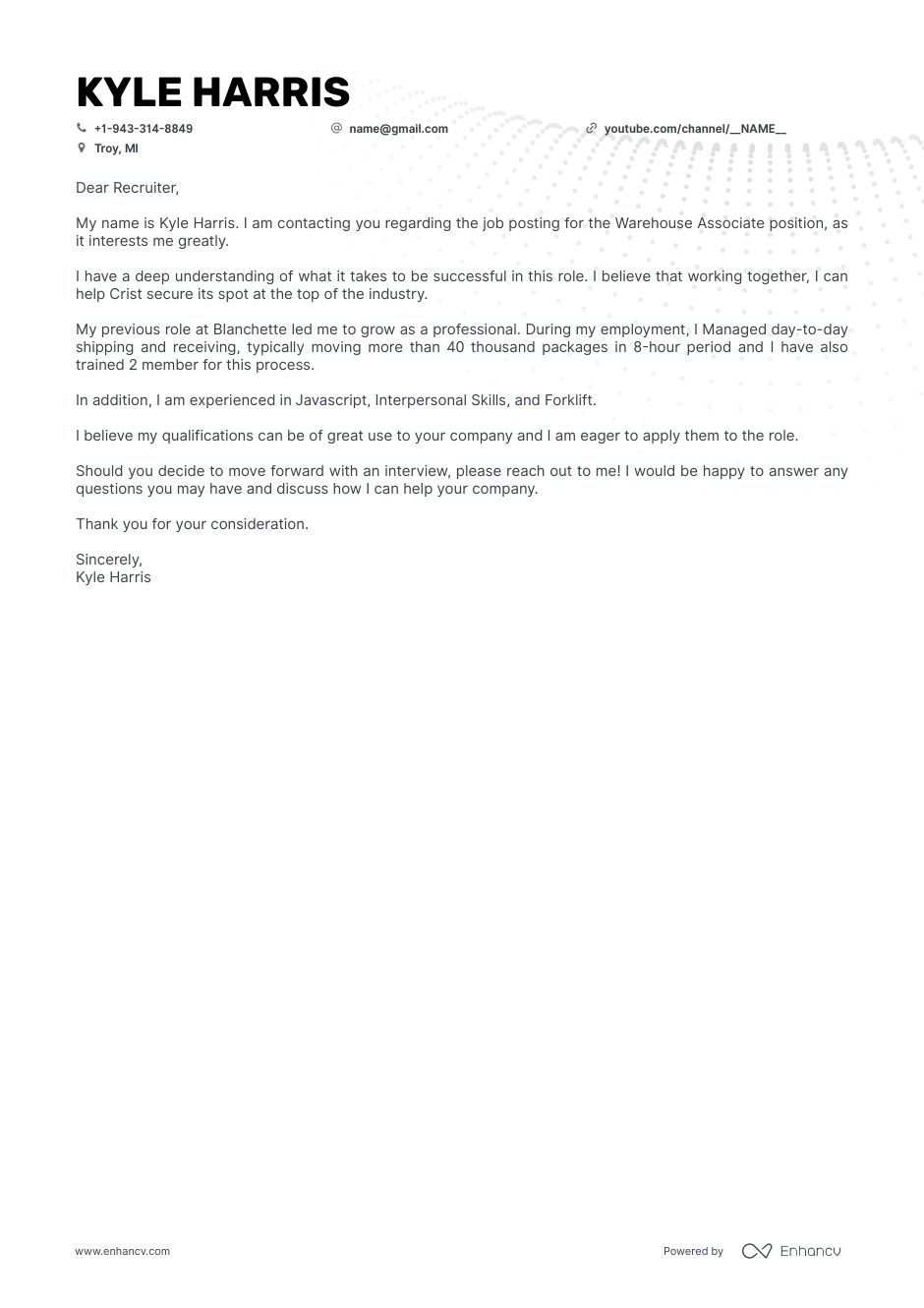 The secret to making your Warehouse Associate cover letter remarkable is to share your excitement about the company, the field, and the position.
It's also a good idea to aim not to re-write your resume, but rather to build upon it and expand on your competencies.
Now, let's look at some other things that will make recruiters remember you.
Stand out with a strong introduction and an appropriate salutation
Choosing the right salutation for your cover letter is crucial – after all, it's the first thing the hiring manager will read.
For this reason, we've gathered several classic salutations. Note that some of them could be used even if you don't know the hiring manager's name.
To the [team you're applying for] Department,
Dear Paul Black,
Dear Hiring Manager,
Dear Ms. Stone
A noteworthy introduction is what will grab the reader by the collar and make them want to get to know you better.
But what's the best way to begin your cover letter? Highlighting your excitement about the position!
Be honest and original – this will get you remembered. You can even link your excitement to the reasons why you'd like to grow in this exact field.
Don't skip on your Warehouse Associate soft and hard skills
Although you've probably listed all your skills on your resume, it's worth mentioning them again, but by telling a personal story. Focusing on your soft skills and leaving most hard ones behind is also a good idea.
Maybe you want to mention the things that help you overcome setbacks? Or the things that help you reach your goals? It doesn't really matter what you choose, as long as you link it back to the specific job requirements.
Naturally, if the job advert mentions some hard skills explicitly, you should do the same in your cover letter. This will help you pass applicant tracking systems (ATS) that screen resumes and cover letters for certain keywords.
Show that you did your research before applying
Showing that you've researched the company and are excited to become part of its team is definitely one of the best ways to prove you're a strong candidate.
Recruiters want to make sure that you're at least as passionate about the company and the industry as them.
It's also a good idea to mention how your previous experience could help you in your work and what impact it could have on your long-term performance.
In addition, showing that you are aware of industry or even company issues and are not afraid of facing them will give you additional points!
Go for a strong ending
Ending your Warehouse Associate cover letter in a suitable way can help you land an interview. Why? Because strong endings portray applicants as considerate and, what's even more important – passionate about the job.
Just make sure that your ending (just like your cover letter's body) matches the company culture. If you prefer to be on the safe side, go for traditional closing lines such as "Looking forward to hearing from you".