According to some experts, finding exciting job adverts is one of the most challenging problems job-seekers need to deal with.
But according to our own research, conveying your enthusiasm to a one-page cover letter might prove to be even more challenging.
After all, you don't want a bland and boring cover letter to represent you, we get it.
But how can you make a strong first impression in just a few lines?
Below, you'll find the best Sales Analyst cover letter tips and examples that will help you find out.
Tips to write a sales analyst cover letter that stands out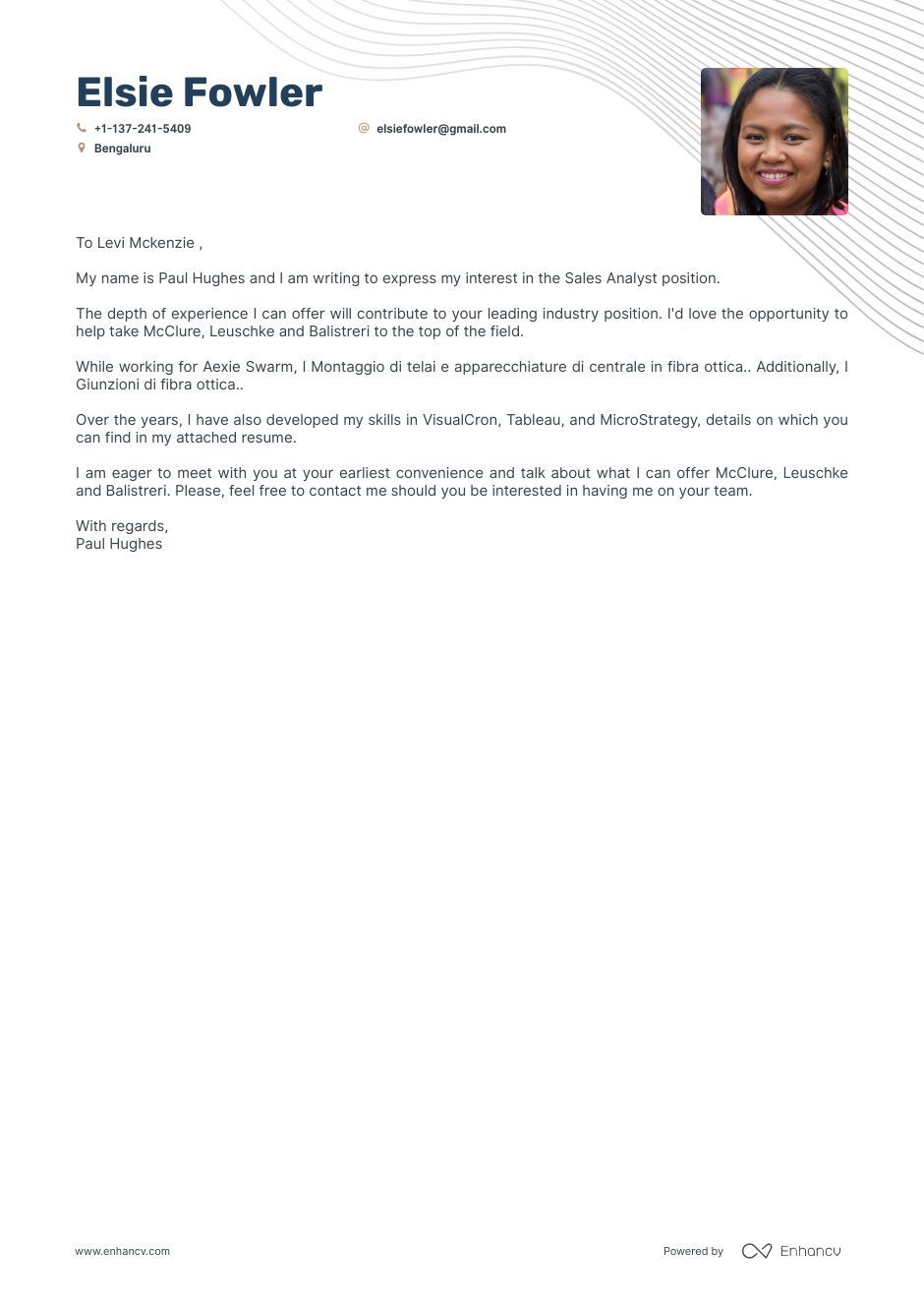 By now you've probably learned that a well-written cover letter will complement your resume and increase your chances of getting the job.
It will also introduce the recruiter to your strengths and your capacity to handle challenges.
In short - it will make them want to learn more about you!
Check out our guide on what your cover letter should include for some additional inspiration.
Now it's time to move on to what you actually came for – our professional tips and examples that will help you write a memorable cover letter and land an interview.
Address your cover letter to the right person and make your introduction strong
Addressing your cover letter to a person is always something you should aim to do.
But finding who's responsible for the recruitment process might not be the easiest thing. We get it.
In such cases, we advise you to stick to the gender-neutral cover letter salutations.
Here are some examples of suitable classic salutations:
Dear Hiring Manager,
Dear Head of [team you're applying for],
Dear [company name] Recruiter,
Dear Alex Johnson
We've all heard it – introductions are a big deal.
A good cover letter introduction can help you land an interview, while a bad introduction can ruin all your chances of getting your dream job as Sales Analyst.
So what are the things that can make your cover letter stand out? Honesty, excitement, and motivation.
Show your motivation and excitement to join the company in an honest way. And if you think that'd suit the company – share your vision with the recruiter. Tell them how you think being part of the team can help both parties grow.
Talk about your hard and soft skills
Although you've probably listed (or are planning to list) your hard skills on your resume, don't forget to mention them in your cover letter as well. One way to do that is by telling a personal story.
You can share how some of your skills or qualities have helped you achieve goals in the past. Or perhaps you want to talk about the things that help you get over challenges. You decide.
Naturally, both soft and hard skills should be present here. It's especially important to include skills and qualifications that have been mentioned as part of the job description or the requirements section of the advert. This will help you pass applicant tracking systems that screen documents for certain keywords.
Show that you did your research before applying
Proving that you are familiar with the company, its problems, and its goals is without a doubt one of the best ways to stand out.
If you want to show your passion for the company, mention how your skills and previous achievements can help the team grow.
It's also worth mentioning how your experience can help resolve some of the most common industry issues.
Go for a strong ending
While the introduction is the best way to make a good impression, using the right words to end your cover letter can help you get a callback.
Our advice is to make sure that your closing line matches the company culture. However, "Looking forward to hearing from you" and other traditional phrases are always a safe choice.