According to 83% of hiring managers, cover letters are an important part of every recruiter's decision-making process.
What's more, 72% of them will expect you to hand in a great cover letter, even if this part is listed as 'optional' on the job advert.
And if you ask our experts, cover letters are an amazing opportunity to tell a personal story and make the right first impression.
But what exactly is a cover letter and how to write a good one? Let's see…
Tips to write a memorable Product Engineer cover letter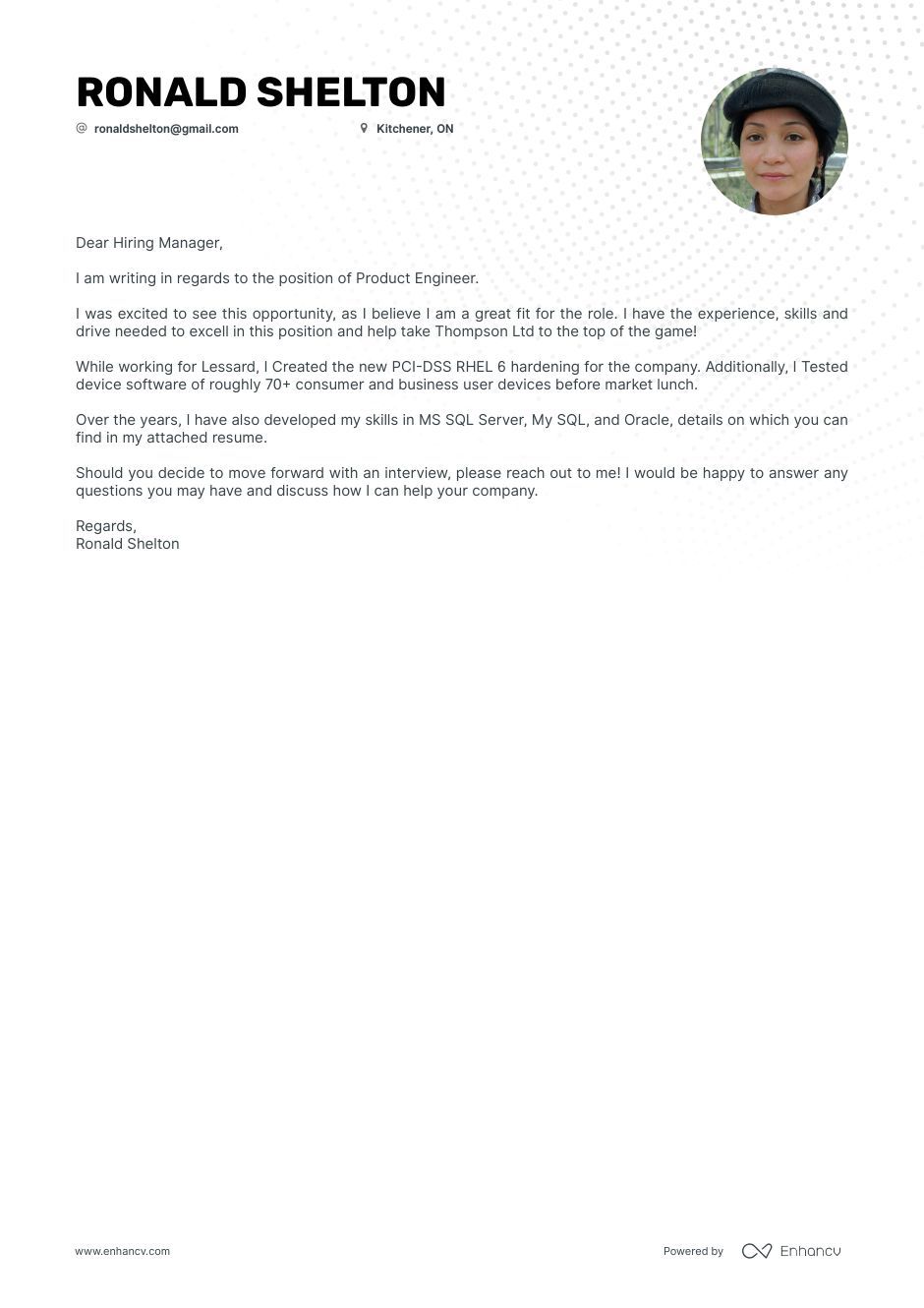 So what does a good cover letter look like?
Well, it's written in a tone of voice that matches the specific company's culture, and it's not just a long-form resume. It's also focused on making the right impression.
We advise you to talk about your achievements, goals, and motivations, rather than just plainly listing your skills and experience. Try to tell a personal story.
And if that's not enough, we have some additional pro tips for you.
Choose the right salutation and craft a strong introduction
In general, the salutation you use depends on the tone of voice you've decided to go for but also on the company culture.
However, it's always a good idea to address your letter to the person responsible for the recruitment process. If you don't know their name, try to find it out. And only if that proves to be impossible, choose a generic salutation.
Here are some phrases you can use (note that some of them require you to know the hiring manager's name):
To the Human Resources Department,
Dear [company name] Recruiter,
Dear Angela Stone,
To the Recruitment Team
The introduction of your Product Engineer cover letter is without a doubt crucial for the first impression you'll make as an applicant. But is there a way to make sure your opening line is good enough?
Yes, there is. You can start by sharing your enthusiasm for the job or the field (or why not both!). You could also share your reasons to find the company exciting.
Try to be original. Don't go for phrases like "I want to apply for the position that I saw advertised on platform X". They're outdated and sound like you've got nothing better to say
Combine your soft and hard skills for an unbeatable match!
Listing hard skills on your resume is quite straightforward, isn't it? But when it comes to writing a memorable Product Engineer cover letter, you need to be a bit more creative.
The thing is, cover letters are designed to tell a story. To show the thought process behind your achievements and motivations. To put the recruiter in your shoes and allow them to get to know you better.
Maybe you want to share how you deal with challenges? Or what helps you reach your goals? It doesn't really matter.
And while soft skills are important, hard skills shouldn't be skipped either. Mentioning some hard skills (especially the ones listed by the recruiter) is always a great idea. This will help you pass applicant tracking systems (ATS) that screen documents for certain keywords.
Show how passionate you are to join the company
Every recruiter wants to know whether you've decided to apply because you're familiar with the company or because their job advert was the first thing you saw this morning.
So – show that you've researched the company and are aware of its strengths, weaknesses, and potential problems.
In addition, you can also share how your Product Engineer skills can add value to the team.
Choose the right closing line
By now you've managed to make a good impression on the hiring manager, and it's important not to ruin it. That's why you need your ending to be just as great as your cover letter's body.
But what are the things that make up a memorable closing line? Expressing gratitude for the reader's time and consideration, and saying that you look forward to their reply, to name a couple.
You can stick to traditional phrases (e.g. Looking forward to hearing from you soon) if you wish to be on the safe side. Just make sure that the language you use matches the company culture.