Job hunting is a tricky business. In many cases, you are judged as an applicant from one or two pieces of A4 (i.e. your resume and cover letter). Talk about high stakes!
This trickiness is compounded when you have informal experiences and informal education that could give you a leg up, but don't necessarily fit into a typical resume or cover letter template.
Knowing how to present your unconventionally-acquired skills and experiences can make all the difference when job hunting. Most companies want employees who are passionate and take initiative, traits that are exemplified by those who do things like spend their weekends organizing events for charity, take online courses, or attend industry conferences.
This is particularly handy for those who have recently graduated, are changing careers, or are returning to the workforce. In the first two cases above, it can showcase the informal steps you have taken to ready yourself for the workplace or a different career path. For the later, it highlights that you have kept your skills sharp and will not miss a beat upon returning.
Here are some guidelines to make your informal education and experiences shine.
Include it on your resume
When listing online courses, ensure that the ones you list are taught by a well-known instructor or institution. Include any tangible qualifications, certificates, or metrics (for example, your final exam score or time spent learning) where possible. If this is a tailored resume for a specific position, ensure your courses are relevant for that exact job.
Below you can see two ways a program manager and data scientist showed their non-university courses.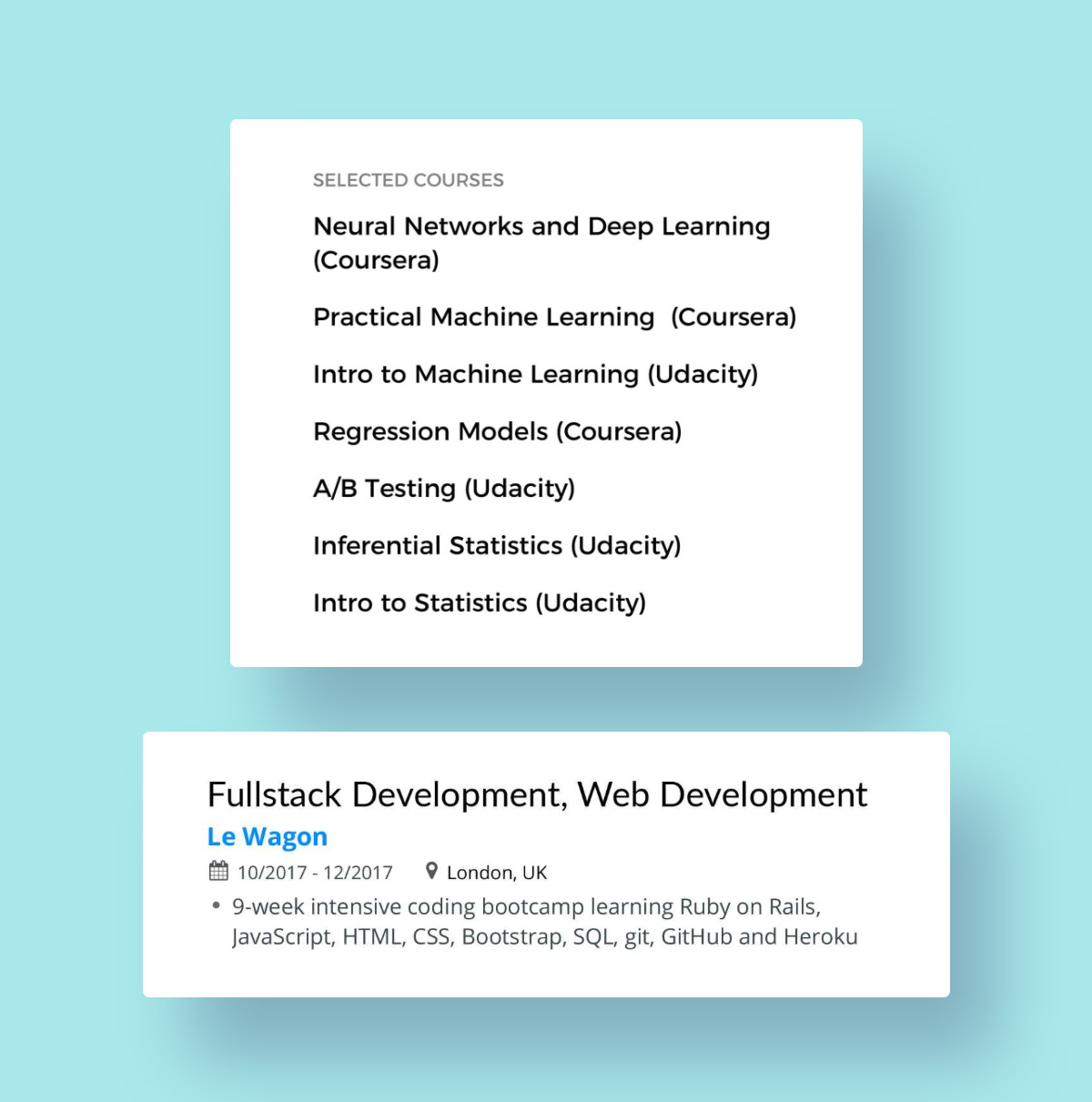 You can also mention instances where you've applied the skills and knowledge learned in a course. Perhaps you do freelance number crunching after completing a course in Excel or have competed in Kaggle competitions after completing a course in Python. A short sentence or a quick metric can lend weight to your skillset. Kevin demonstrated this by applying his finance education towards paying off his student loans.

Volunteer or charity work can be added to the 'experience' section of your resume if it's relevant to the job you're applying for. Ensure that you flesh out the transferable skills you learned, include any metrics, and perhaps get a recommendation letter too.
If the volunteer or charity work you undertook does not relate to the job you're applying for, you can include your experience in a separate 'volunteer' section on your resume. Steffany demonstrates a variety of skills and passions in her volunteering: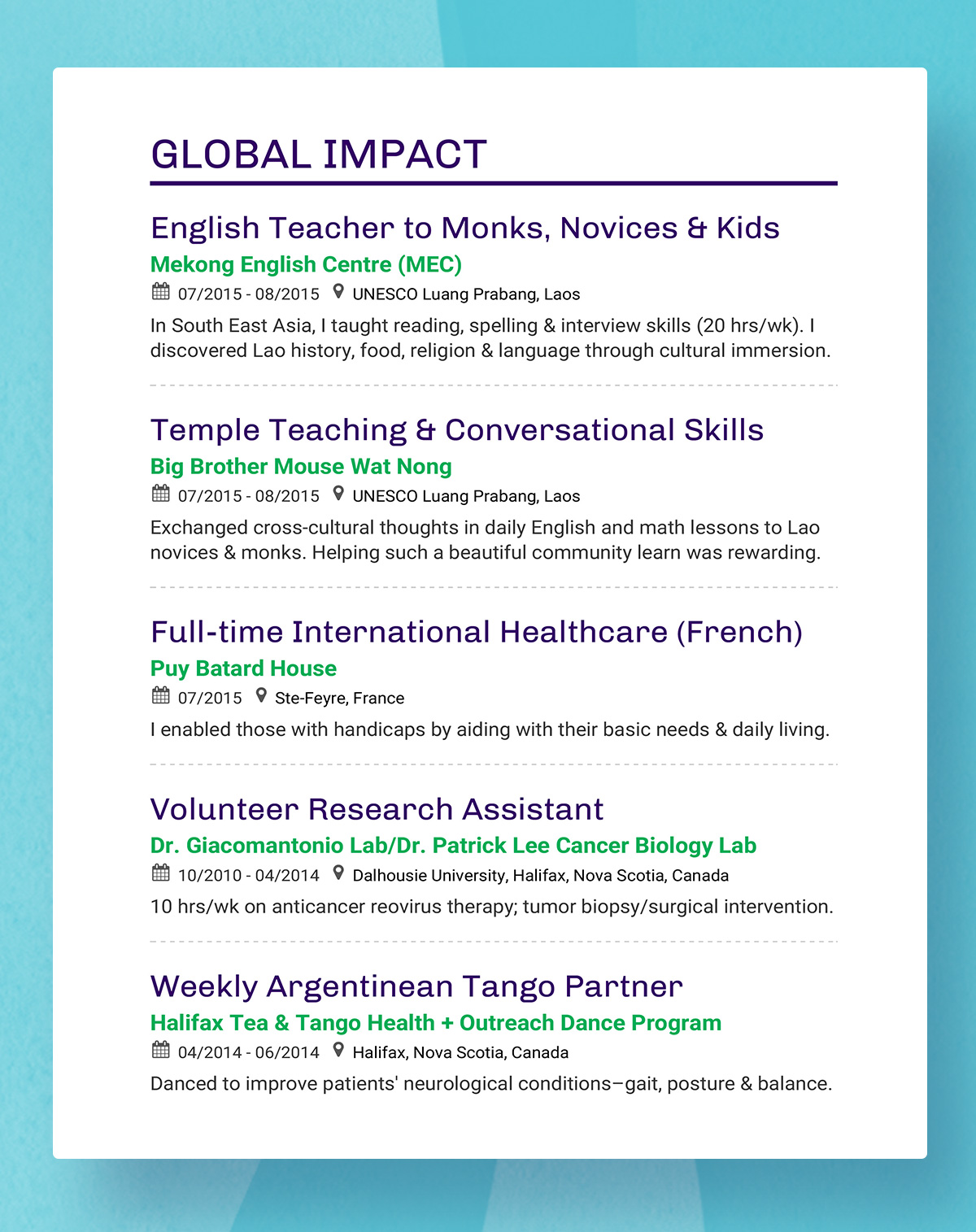 If you have attended industry-related conferences you can also include that in a separate section on your resume entitled 'Conferences Attended'.
Connect the dots on your cover letter
Your cover letter is like a conversation you want to have with the hiring manager. Use this opportunity to highlight the skills you gained through your informal education or experience, as long as they are relevant to the job description.
For example, Simon is a fresh grad applying for a job in programming but he doesn't have any formal work experience he can share just yet. In his cover letter, he can write about his experience participating at hackathons and the chrome add-in he programmed.
Leveraging your cover letter is particularly important if the connection between your informal education or experience and the job you're applying for isn't immediately apparent.
For example, Paula wants to apply to a role in marketing and she is a formally trained graphic designer who has spent the last two years creating commissioned work on her online store. In the past two years, she has taught herself how to SEO optimize her listing, reach out to influencers, and use online analytics tools. Sharing this in her cover letter will show that she is not only a qualified candidate, but she is one who takes initiative.
Tailor your LinkedIn profile
According to MarketWatch, 93% of recruiters scour LinkedIn for potential recruits. Which is why it's vital to optimize your profile page to showcase both your formal and informal education and experiences.
There are four sections on your LinkedIn profile you can utilize to do that – the summary, accomplishments, and volunteer experience.
The summary is where your personal brand should shine. There are many ways you can go about this, but for the most part, it should convey what you're passionate about and any experience you have relating to that passion.
The accomplishment and volunteer experience section is fairly straightforward. The accomplishment portion breaks down into multiple sections, including certifications, courses, projects, test scores, and languages.
You can also leverage LinkedIn to post announcements that highlight your projects and achievements.
Show rather than tell
For most, seeing is believing. If you completed an online web development course, use your newfound skills to build a website. If you illustrate in your free time, compile your work into a portfolio – either offline or online.
Having your accomplishments at the ready is not only motivating but allows you to easily share your skills and knowledge with hiring managers easily.
Some candidates have received job offers by going the extra mile to showcase their skills. Should you decide to do something like this, ensure it stays relevant to the job and in line with your personal brand.
This article was brought to you by Krystal Tolani:
Krystal does all things Marketing at GoSkills. She's a recent Boston University graduate with a B.A. in international relations and a minor in communications. When she's not at work, you can find her listening to podcasts or watching comedy specials on Netflix.
Make your move!
Your resume is an extension of yourself.
Make one that's truly you.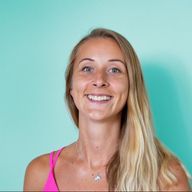 Tatiana Rehmova
A glass half-full kind of a girl and a believer that everything happens for a reason. Loves writing, editing and researching the newest ways of doing things.