So are cover letters necessary for а nursing assistant position?
Well, the cover letter is your chance to tell a personal story to the hiring manager. It can help you prove you're a real professional who knows what they bring to the table.
It's also your opportunity to get into more detail about your personal qualities and success stories. But most importantly – it's the first place to show your motivation.
So yes, having a cover letter is essential. But what should yours look like? Let's see…
How to write a nursing assistant cover letter that makes you proud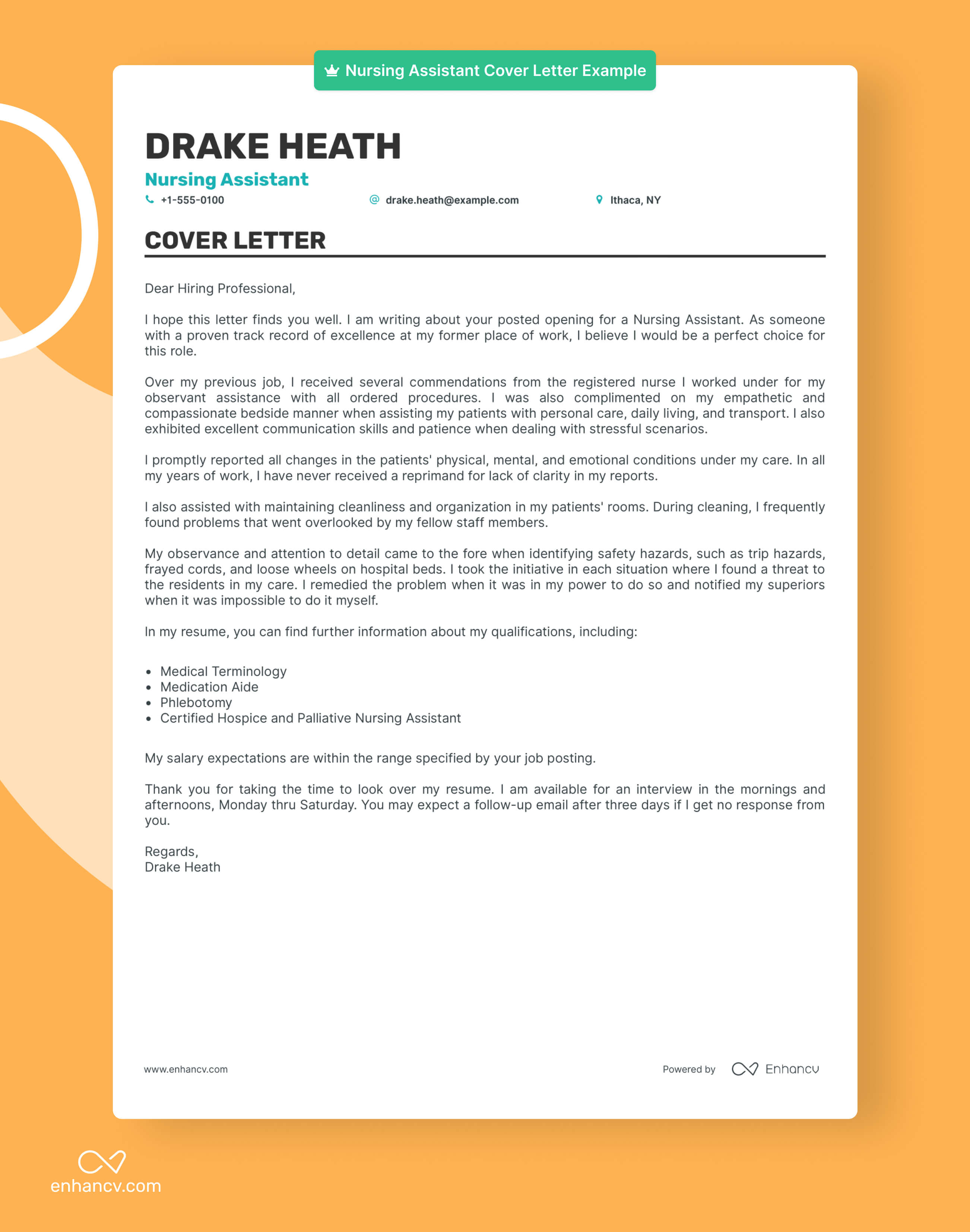 First off, you need to remember that a cover letter should build upon the information in your resume, rather than just repeat it.
Second, make sure that the tone of voice you use matches the company culture.
And last but not least, try to convey your enthusiasm for the position and the field. This will give your text a personal touch.
But how can you make your cover letter grab every hiring manager's attention? Let's go down the rabbit hole.
Choose the right salutation and write a strong introduction
In general, the salutation you use depends on the tone of voice you've decided to go for but also on the company culture.
However, it's always a good idea to address your letter to the person responsible for the recruitment process. If you don't know their name, try to find it out. And only if that proves to be impossible, choose a generic salutation.
Here are some phrases you can use (note that some of them require you to know the hiring manager's name):
To the [team you're applying for] Department,
Dear Paul Black,
Dear Hiring Manager,
Dear Ms. Stone
The introduction is your chance of getting the reader's attention and giving them a reason to see you as a good fit.
So make sure you highlight your excitement about the company or the industry (or even both!) and the reasons why you'd like to grow in the field.
Avoid using clichés like "I found your job posting on website X and decided to apply".
Read our full guide on how you should start your cover letter.
Focus on your soft skills but don't forget about the hard skills too
So what skills do you need to include? Well, unfortunately, there's no one answer to this. It all depends on the job description and the skills you've currently got.
According to experts, what recruiters look for in cover letters is how you can link your soft skills to particular achievements and goals. So, try to figure out what has helped you on the way to success.
However, don't forget about hard skills. Even if they're not the focus of your happy story, you need to include at least the ones that were mentioned as part of the requirements section of the job posting. This will help you pass applicant tracking systems (ATS) that screen applicant documents for certain keywords and phrases.
If you're in need of a bit of inspiration, browse over 300 skills that you can use on your cover letter or resume.
Prove how your skills can help the company grow
Adding a line or two about the company can help you prove your excitement and readiness to become a valuable team member.
You might also choose to link your previous work-related tasks and achievements to current industry or even company issues and how you think they can be resolved.
Finish your cover letter with a call to action
The last part of your cover letter should briefly sum up everything you've said so far. It should also express your gratitude for the hiring manager's time and consideration.
The tone of the closing line depends on two things – your personal preference and the company culture. Don't go for overly creative phrases if the company you're applying for relies on strictly corporate language.
Traditional lines such as "Looking forward to your reply" are usually considered a safe bet. So when in doubt, stick to them.