So are cover letters necessary for Charge Nurse jobs?
Well, the cover letter is your chance to tell a personal story to the hiring manager. It can help you prove you're a real professional who knows what they bring to the table.
It's also your opportunity to get into more detail about your personal qualities and success stories. But most importantly – it's the first place to show your motivation.
So yes, having a cover letter is essential.
But what should yours look like? Let's see…
Tips to write a Charge Nurse cover letter that stands out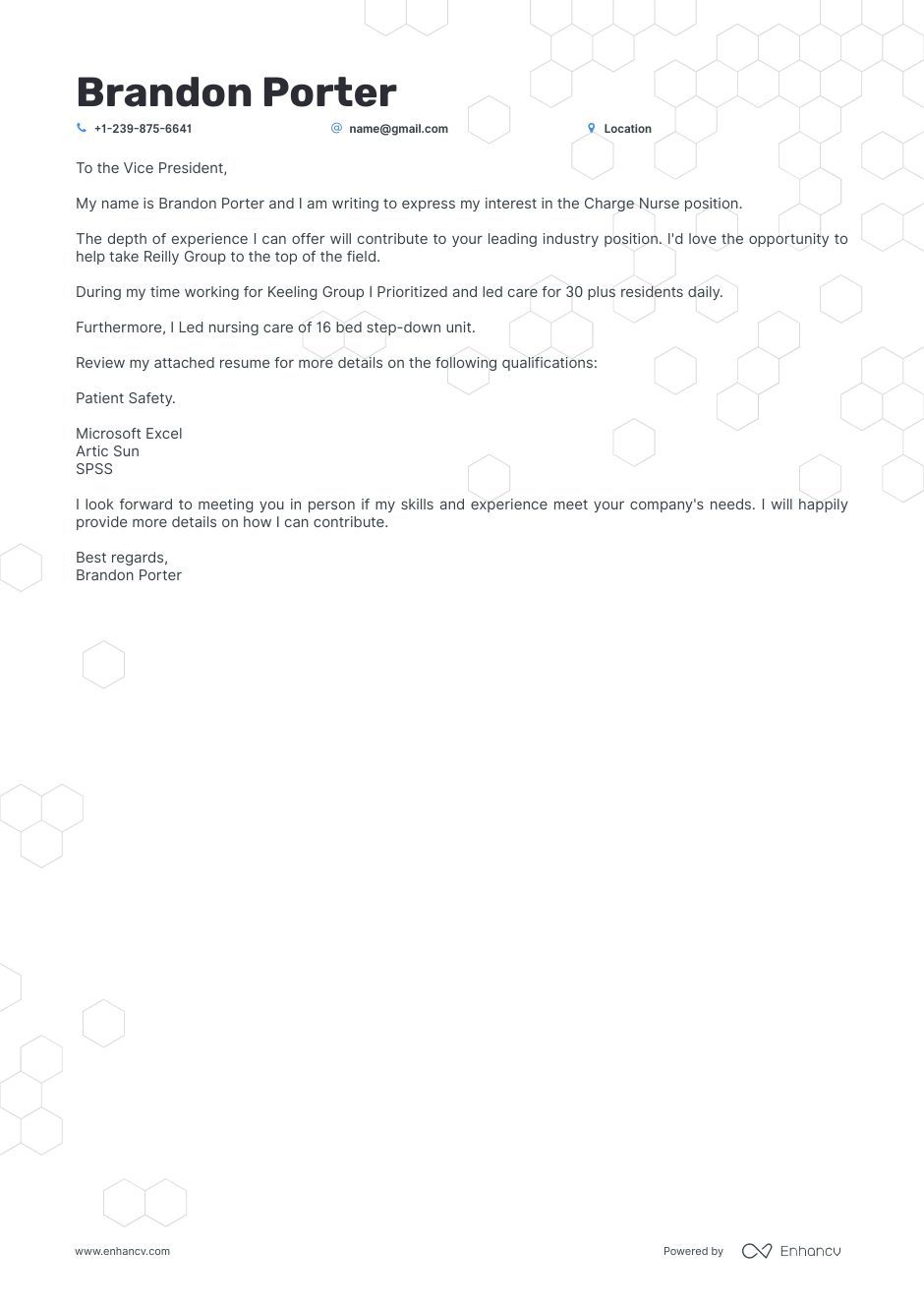 At first, you may think that the cover letter should repeat all information from your resume but in a story-like form. However, that's not true.
Instead of re-writing your resume, you need to focus on making the right impression.
You can do that by talking about the skills that help you overcome challenges, your excitement when it comes to the industry, your past achievements, and your knowledge of the company.
Now let's look at some other things that will make your cover letter stand out.
We've made an in-depth guide on what should your cover letter include that you can check out!
Address your cover letter to the right person and make your introduction strong
Addressing your cover letter to a person is always something you should aim to do.
But finding who's responsible for the recruitment process might not be the easiest thing. We get it.
In such cases, we advise you to stick to the gender-neutral cover letter salutations.
Here are some examples of suitable classic salutations:
Dear Human Resources Manager,
Dear Mr. Johnson,
Dear Head of [team you're applying for],
Dear Nathan Lovelace
A noteworthy introduction is what will grab the reader by the collar and make them want to get to know you better.
But what's the best way to begin your cover letter? Highlighting your excitement about the position!
Be honest and original – this will get you remembered. You can even link your excitement to the reasons why you'd like to grow in this exact field.
Focus on your soft skills but don't forget about the hard skills too
Although you've probably listed all your skills on your resume, it's worth mentioning them again, but by telling a personal story. Focusing on your soft skills and leaving most hard ones behind is also a good idea.
Maybe you want to mention the things that help you overcome setbacks? Or the things that help you reach your goals? It doesn't really matter what you choose, as long as you link it back to the specific job requirements.
Naturally, if the job advert mentions some hard skills explicitly, you should do the same in your cover letter. This will help you pass applicant tracking systems (ATS) that screen resumes and cover letters for certain keywords.
Show that you've researched the company
Every recruiter wants to know whether you've decided to apply because you're familiar with the company or because their job advert was the first thing you saw this morning.
So – show that you've researched the company and are aware of its strengths, weaknesses, and potential problems.
In addition, you can also share how your Charge Nurse skills can add value to the team.
Choose the right closing line
The last paragraph of your cover letter should briefly sum up the whole text. This is the time to express your motivation to get to the next step of the hiring process, but also your gratitude for the reader's time and consideration.
You can be creative or use traditional closing lines here – it all depends on your preference and the company culture.