[This resume was updated on 09/11/2016 to reflect the results of the elections.]
In the midst of this crazy 2016 election, I set about researching and creating resumes for both candidates using the Enhancv platform. The idea was to cut through the horse-race media coverage and hopefully learn something insightful about the candidates.
I posted Hillary Clinton's Resume a few days ago, so now it's time to bring out Trump's. What did I learn here?
There were years of uncertainty
The biggest takeaway here is the general shift of Donald Trump's life from a kid without much direction (he went to military school and spent some time at Fordham University before deciding it wasn't for him) into someone who seemed to know exactly what he wants. Honestly, that's something he seems to want to forget.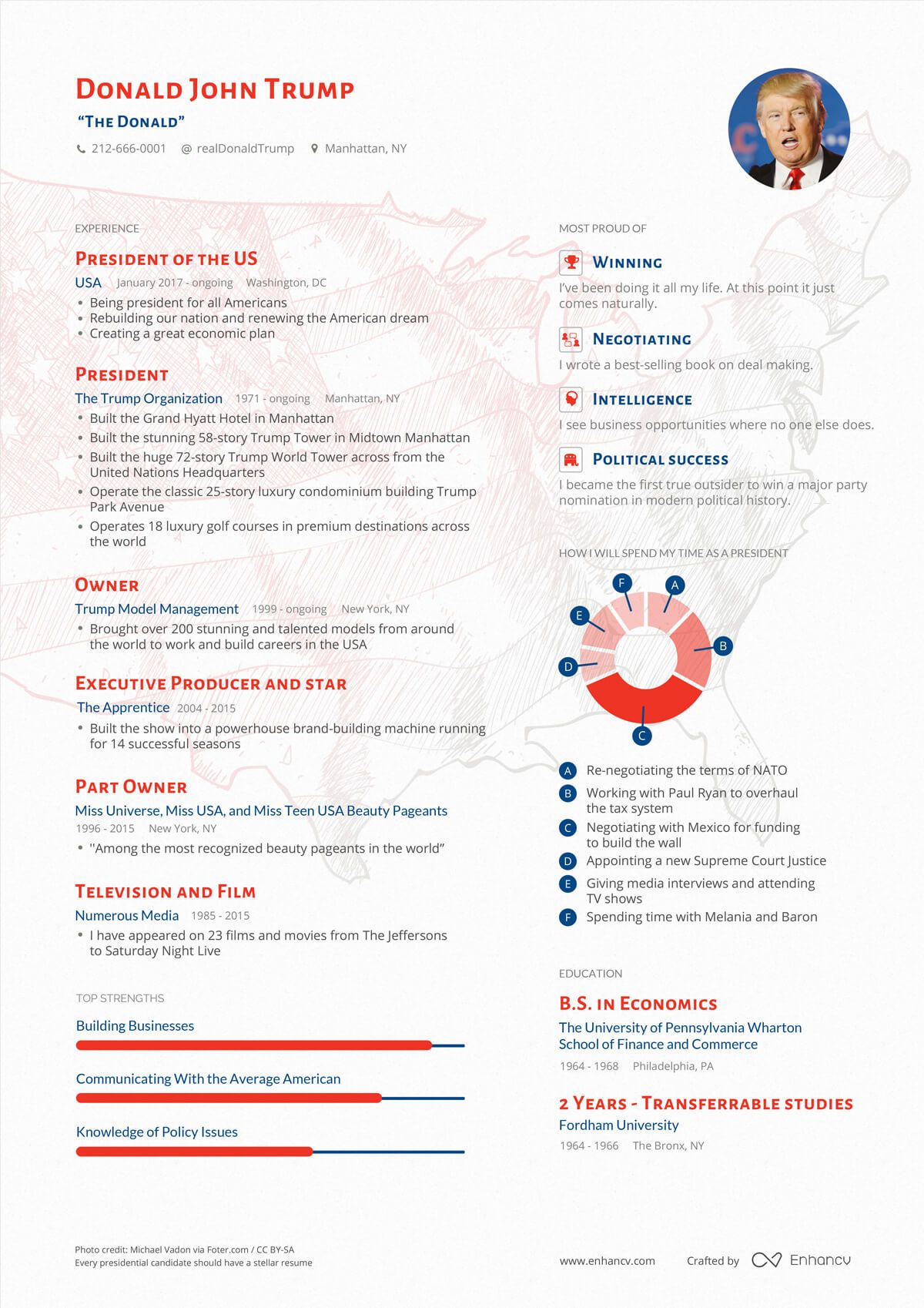 Trump famously doesn't like being too introspective, so this aspect of his past has been really left out of his campaign. It seems 1964 was a pivotal year when he both left Fordham University to enter The Wharton School at the University of Pennsylvania and when he started working for his father's real estate company.
This really places Trump in the context of the 60s. In 1964 he could have made a lot of choices. It was a time when many people his age were beginning to question the economic and political systems their parents helped build. But he chose the real estate business, his father's real estate business.
The 80s changed everything
Aside from a failed attempt at being the co-producer of a Broadway play, the rest of the 60s and 70s seemed to be times spent focused on building his real estate business. It's not until the 1980s when Trump, the aspirational media star, comes through in his resume. This shift really turned Trump into the character we know today.
What's interesting is how that media and brand development business interacts with Trump's more basic real estate business. The idea is that one reinforces the other, which hasn't always worked out. But you can't deny that Trump has stuck with it.
The future
Of course what you don't see anywhere on Trump's resume is politics. Right now, it's an open question what his future will be whether he wins or loses the presidency. Even if he wins, would he return to business after his term in office? It's connected to the age old question "what does a man with everything want?"
What we do know is that a great resume really gives a clearer picture of a person. Looking at how Trump spends his days, what personal attributes he would choose to emphasize tells us a lot about his values and desires. We'll just have to wait to see how he remakes himself this time.
If you're looking for your next opportunity and have a great story to tell, check out our resume building tool at Enhancv.
Make your move!
Your resume is an extension of yourself.
Make one that's truly you.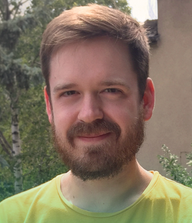 Eric D. Halsey
A writer with a passionate belief in the power of peer to peer learning and storytelling to change lives. Wants nothing more than to spend a day cooking, reading books, or playing board games.