According to some experts, finding exciting job adverts is one of the most challenging problems job-seekers need to deal with.
But according to our own research, conveying your enthusiasm to a one-page cover letter might prove to be even more challenging.
After all, you don't want a bland and boring cover letter to represent you, we get it.
But how can you make a strong first impression in just a few lines?
Below, you'll find the best Tableau Business Analyst cover letter tips and examples that will help you find out.
Tips to write a Tableau business analyst cover letter that stands out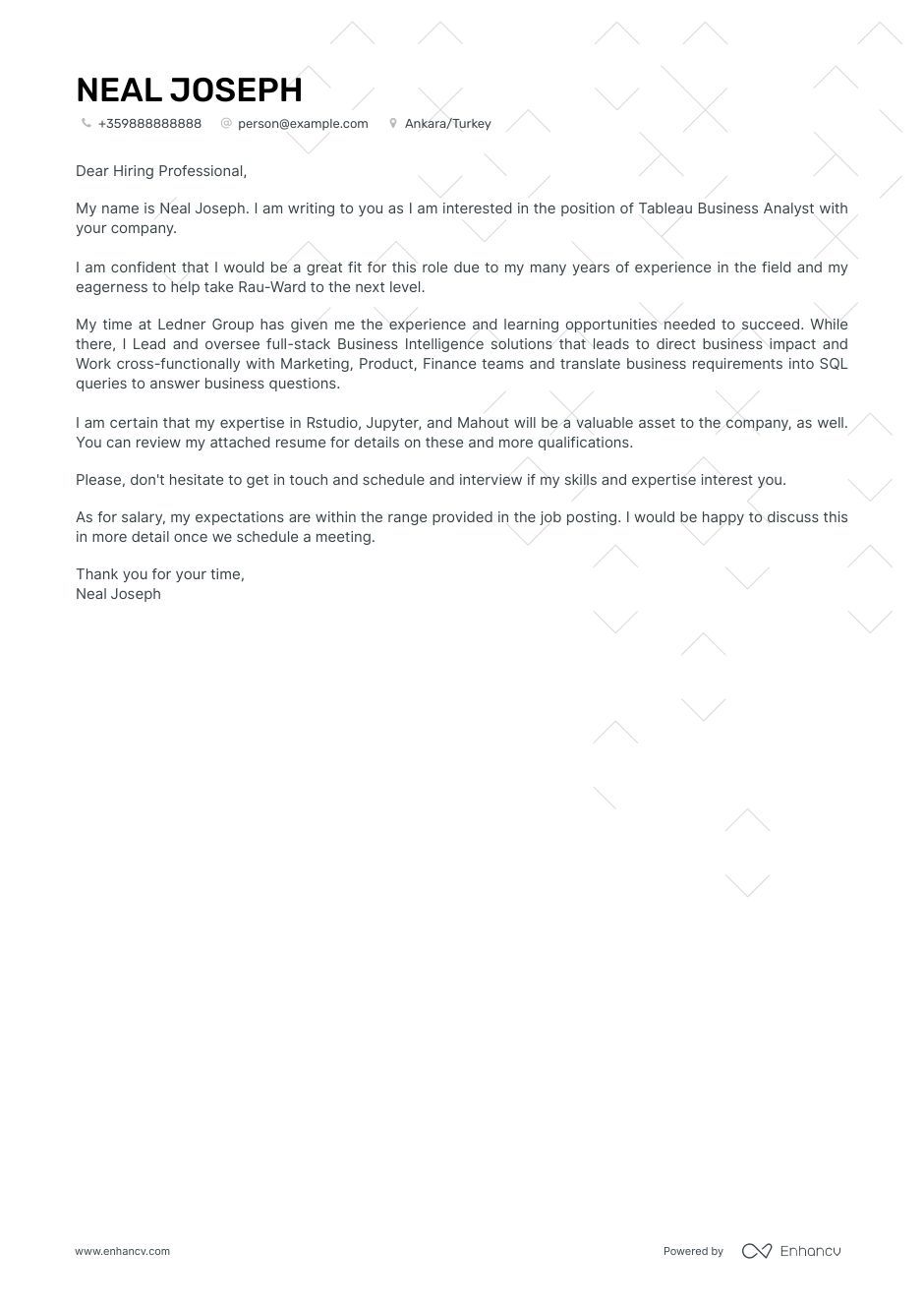 So what's the difference between a cover letter and a resume?
In short – the resume showcases your achievements and skills, while the cover letter focuses more on your personality and motivations.
Of course, you should mention some of your relevant skills in the cover letter as well. But make sure you're not repeating your resume word by word.
Now let's move on to the things that make every cover letter great!
Choose the right salutation and craft a strong introduction
Address your cover letter directly to the hiring manager, whenever possible. This has proven to be a good approach for two reasons.
First, it shows your attention to detail.
Second, it proves that you're willing to do some research and go the extra mile for the sake of success.
But if finding the recruiter's name is too difficult, you can go for a traditional gender-neutral phrase.
Here's our selection of strong salutations. Feel free to borrow any of them:
To the Human Resources Department,
Dear [company name] Recruiter,
Dear Angela Stone,
To the Recruitment Team
A noteworthy introduction is what will grab the reader by the collar and make them want to get to know you better.
But what's the best way to begin your cover letter? Highlighting your excitement about the position!
Be honest and original – this will get you remembered. You can even link your excitement to the reasons why you'd like to grow in this exact field.
Link your hard and soft skills to your achievements
Listing hard skills on your resume is quite straightforward, isn't it? But when it comes to writing a memorable Tableau Business Analyst cover letter, you need to be a bit more creative.
The thing is, cover letters are designed to tell a story. To show the thought process behind your achievements and motivations. To put the recruiter in your shoes and allow them to get to know you better.
Maybe you want to share how you deal with challenges? Or what helps you reach your goals? It doesn't really matter.
And while soft skills are important, hard skills shouldn't be skipped either. Mentioning some hard skills (especially the ones listed by the recruiter) is always a great idea. This will help you pass applicant tracking systems (ATS) that screen documents for certain keywords.
Show that you've researched the company
Adding a line or two about the company can help you prove your excitement and readiness to become a valuable team member.
You might also choose to link your previous work-related tasks and achievements to current industry or even company issues and how you think they can be resolved.
End with a call to action
Using the right words to end your Tableau Business Analyst cover letter is essential for two reasons.
First, it supports the great first impression you've already made. Second, it's a way to express your gratitude for the recruiter's time and consideration.
The closing line you choose depends on your preferences and the company culture. If you want to be on the safe side, stick to more traditional phrases, such as "Looking forward to hearing from you" and "Thank you for your consideration".