You probably know that cover letters complement resumes and that recruiters just love asking for them. But why are cover letters important?
Well, because they are your chance of telling a story.
And let's face it – listing different skills and achievements on your resume is essential. But connecting the dots in your cover letter and explaining what's helped you gain expertise will make you stand out.
Read our proven Dance cover letter tips and examples below.
How to write a dance cover letter that makes you proud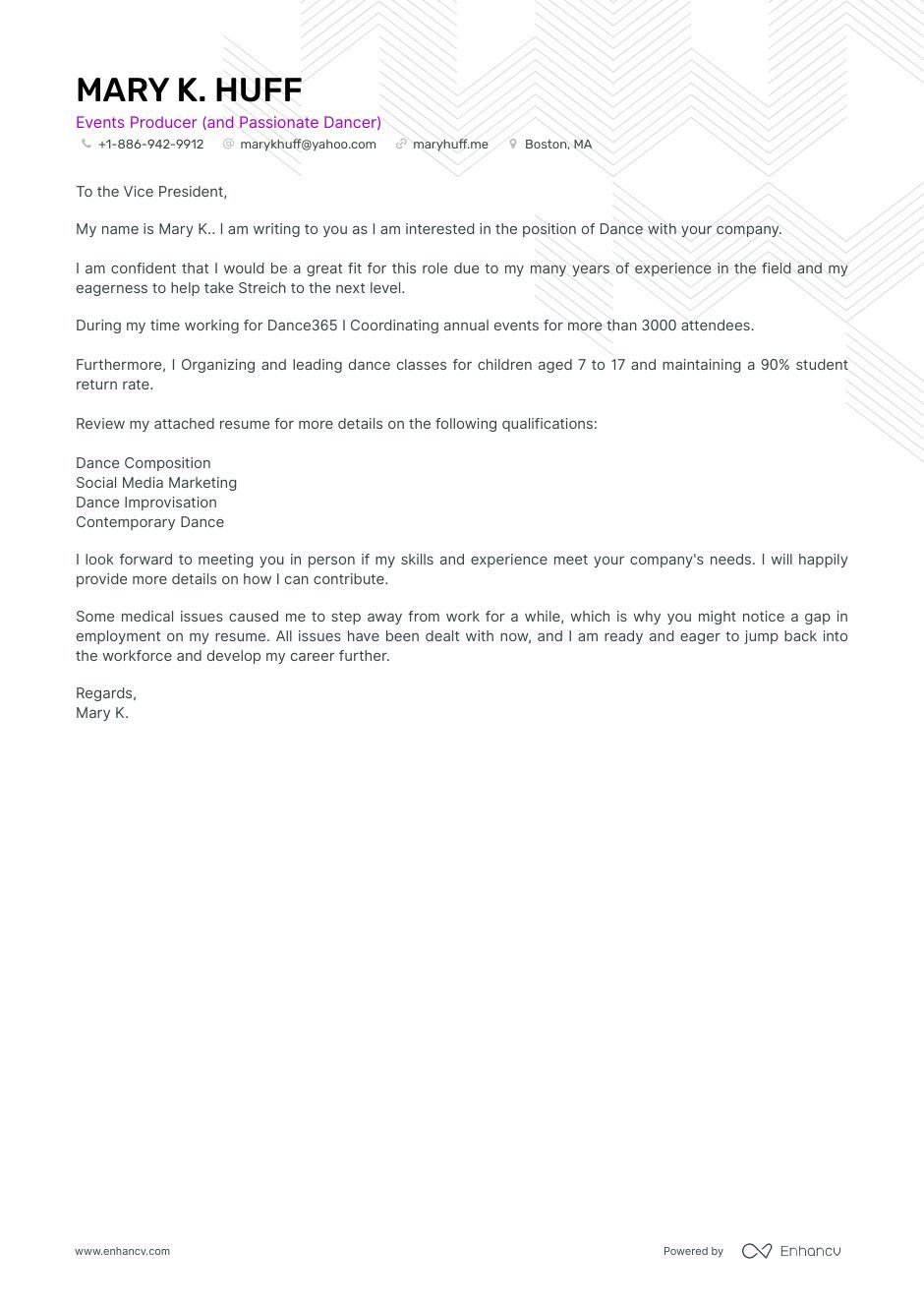 Let's begin by discussing the difference between a cover letter and a resume. The resume is the place where you should list all your hard skills, achievements, and talents.
The cover letter, on the other hand, is your chance to share more about yourself and show who you are.
But what's the way to grab the reader's attention? How can you make the hiring manager want to meet you and learn more about you?
Choose the right salutation and craft a strong introduction
It's always better to address your cover letter to a specific person. This shows that you've taken the time to research who the hiring manager might be and that you're attentive to detail.
However, in case you don't know the recruiter's name, you can go for traditional gender-neutral salutations.
Here are some of our suggestions:
Dear Ms. Smith,
Dear Peter Roberts,
To the [company name] Recruitment Team,
Dear Hiring Manager
You wonder what the key to good introductions is? (Moderate) Creativity!
You've probably heard that many people out there have started using phrases like "I found your job advert on platform X and decided to apply", right?
And what's wrong with such phrases, you may ask. They're outdated and they definitely won't make you stand out, to say the least.
So go for something different. Begin your cover letter by sharing your excitement about the company, the position, and even the field.
Emphasize your dance soft skills and mention your hard skills
While the resume is considered the best place to showcase your hard skills and achievements, the cover letter should tell a story and prove your enthusiasm for the field.
This is why we advise you to focus on soft skills and results. Think about all your soft skills and how they have helped you grow as a professional and crush your goals. Then turn this into your own very short success story.
Make sure to include some hard skills too, especially the ones listed as part of the requirements section of the job advert. This will guarantee that you pass applicant tracking systems (ATS) that screen applicant documents for keywords.
And remember – the cover letter should include new information without repeating your whole resume. It needs to offer additional value to the recruiter.
Prove how your skills can help the company grow
Proving that you are familiar with the company, its problems, and its goals is without a doubt one of the best ways to stand out.
If you want to show your passion for the company, mention how your skills and previous achievements can help the team grow.
It's also worth mentioning how your experience can help resolve some of the most common industry issues.
Go for an actionable ending
The last part of your cover letter should briefly sum up everything you've said so far. It should also express your gratitude for the hiring manager's time and consideration.
The tone of the closing line depends on two things – your personal preference and the company culture. Don't go for overly creative phrases if the company you're applying for relies on strictly corporate language.
Traditional lines such as "Looking forward to your reply" are usually considered a safe bet. So when in doubt, stick to them.